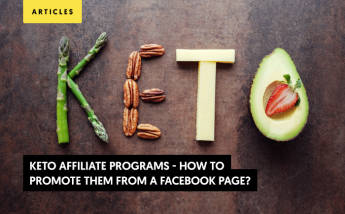 How to Promote Keto Affiliate Programs From a Facebook Page
You are into the Ketogenic lifestyle and you are willing to promote some keto affiliate programs on Facebook? We have you covered!
In this article, you have a step-by-step on how to promote Keto Affiliate Programs on a Facebook page and by the end of it, you will be set to go.
Let's jump into it by setting your Facebook for affiliate marketing
Facebook Affiliate Marketing
One recurring question is if we can use Facebook pages for affiliate marketing. Well, yes we can, but we have to follow some rules and a simple organization that guarantees you to succeed.
1. Create a Facebook Business Page or a Facebook Group
Most probably you have your Facebook Personal Page. That's great but to promote ketogenic diet products you need to create a FB Business page or a Facebook Group.
In either case, you will create it from your personal page as facebook requires every business page to be linked to a personal page. No worries, pages are linked but information like photos, likes comments, etc. are separate.
If you want to establish a brand and promote your business to a large number of people, a Facebook Page makes sense. If you're a new or small business looking to establish a presence, a group can be of great help, especially if you sell niche products.
2. Build your audience
As with any other business, start with friends and family. Focus on the people you think might be interested in keto and all the knowledge you have to share about this theme. This part takes time but the more personal you make it, the more likely your friends will support you giving you that "follow" click we all love. Craft a simple message telling them (in singular) about your new page and how much you will appreciate it if they follow and share.
We know you aim to reach way more people but this is essential for starters. Having legit followers likes and comments gives you already positive points vis-a-vis Facebook.
3. Engage with your audience
You don't want to be seen like the shopping channel. You want to build a community that believes in your advice and that comes to you to learn what's new and what's best.
The best way to do it is to give them 80% content 20%promotions. For every 10 pieces of content, a maximum of 2 of them should be product promotion.
If you want to promote keto bars or anything in the keto lifestyle, you must probably be creating content about health, fitness, weight loss, diets and trends, recipes, and more.
Your content can come in different forms. It can be a blog post on what kinds of ketogenic diets are out there, a video of a keto diet step-by-step recipe… When you create this content think about how it brings value to your audience. Why will they click to read on or like, or share. Create something you would click on.
4. Some Content Ideas
- Tell Your own story
One thing is sure: People love stories otherwise we would only learn from dictionaries. Think of all the reasons why you chose this niche and why you think keto products are interesting to your audience.
Why did you get into the ketogenic lifestyle? The best way to engage "as a brand" it's always by showing that there is a real human behind it.
- Be vulnerable
Failure is another way to engage with strangers. By showing that you are not perfect they can sympathize with you. What is the moral behind your story? What situations have you overcome in the pursuit of a healthy lifestyle?
- What's trending?
What is trending in the keto world? Discoveries, new awesome cases? What new diets that are trending can you maybe compare to keto and show that keto is still the best?
- Be curious
Ask your community for content ideas! What would they like you to review or why did they join your community? Know them better to propose things that adapt to their needs is a good resource of content.
- How To
How to-s are great to engage with your audience. You can go from the very basics "How to start a ketogenic lifestyle" to "How to go on vacations with non-keto-friendly people"... timing is a great marker for your content creation. If summer vacations are around the corner, think about the best keto tricks for the summer, you know, the things people would like to read according to the season.
- Quotes
Cool quotes that inspire your audience are a cute way to keep your content alive and fresh.
- Tips
Give an expert tip! Short knowledge that makes them socially smarter. Sounds silly, but fun facts are catchy and we all like to know stupid things that probably not many people know.
- Events or achievements
What happens in the keto industry is a priceless source of content for you. Well-known restaurants installing their keto menu, or meal kit programs with new keto meal plans… Your job is to be well informed of anything cool happening around your niche and use it in your favor.
- Start a Challenge or contest
Speaking about meal kits, an idea can be to challenge your users to join a meal kit delivery subscription. Make a photo contest of the dishes. As everyone is getting the same ingredients, you will have the same recipe tagged with your hashtag. And guess from what link they all bought the meal kit subscription?
There are so many ways you can engage with your users. Just make sure you always deliver great content quality, of course. The more creative you get, the more likely people will follow you, like you, share you and of course, click on your affiliate links.
- Diversify
Keto affiliate programs include all kinds of products from pet food to measurement devices. When promoting, try to choose different price range offers. Don't focus only on the commission rates as sometimes a lower commission product can have a higher conversion rate. Focus on good quality products or services that can really add value to your audience's life.
5. Use Facebook Ads
Well yes. Facebook also wants to eat a piece of that pie, but it's really worth it. With Facebook ads, you can target the audience of your ads with demographic filters and geolocators and reach almost precisely the people you want to reach.
Before you start using ads, make sure your page is complete, that you already have a good follower base and that your content looks great.
With a bit of budget, you can build your Facebook audience and of course, make more money and make it faster. When paying for FB ads, you are not pushing the ads to your few followers, but to the people that fit into your designed target. The quantity of people that you will reach, depends of course on the amount of money you put into the campaign.
Do you know how to choose affiliate programs for Facebook? We made a special article that will give you many ideas on which programs choose to promote on this social network.
Find the best affiliate programs for Facebook right now, and start building your Facebook page for some passive income.
Conclusion
You can promote keto affiliate programs from a Facebook page as long as you don't spam everyone with affiliate links otherwise you'll get banned.
The ratio we suggest is 2 out of 10 posts to be promotions and 8 educational or fun content pieces.
Try to be creative and unique in your content. If you lack ideas remember you can always rely on your personal experiences and stories. Showing that you are a real vulnerable and authentic human will set you apart from the robotic competition.
Always try to think about subjects or products that interest you and push them in a way that would be attractive to you. If you don't like it, probably no one else will. Don't waste time and money by posting unworthy content.
Paying Facebook ads will help you increase your audience and make more money faster as you will reach more people with similar interests.
If you want to access great offers, apply as a publisher in our affiliate network. We sure have very interesting keto affiliate programs that you and your audience will love.
If you are interested in learning more ways to promote your affiliate programs and bloom in your affiliate marketing journey, don't forget to subscribe to our newsletter.
You might like checking out this article on the Best Keto Affiliate Programs for you to have a better range of keto products to promote.
Accelerate your Conversions, Increase your Revenue
with lemonads
---
You would like