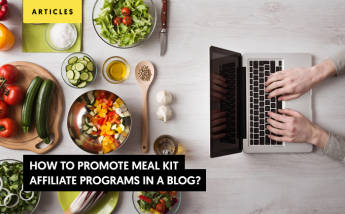 How to promote Meal Kit Affiliate programs on a Blog
Meal Kit Affiliate Programs- Affiliate Marketing 2021
Meal Kit delivery affiliate programs are a hot topic. The offer is huge. Today we can find kits in all price range and for every dietary preference or even diet. From vegan to Keto, Gluten-free to Paleo, you name it. So the thing is, how can you promote them from your Blog?
As we always say, the only way that you can be seen as an authority amongst your audience is your relevancy. You can promote anything you want as far as the offer is relevant to your niche.
In this article, we will tell you some ways how you can promote meal kit delivery affiliate programs, getting your users to click on the offers, and earn money.
What niches can meal kits be relevant to?
If you are a smart blogger you have a well-defined Niche. You know who your audience is and why they come to you. You almost instinctually know the questions they are asking themselves and how they need them to be answered.
In this segment of our article, we chose these next niches and created some examples of how meal kits can be promoted in an interesting way for each audience and give you some pretty cool ideas.
Parenting
As every new parent knows, there is no manual for having and raising kids. That's why parenting blogs will never disappear. Parents need constant advice on daily matters they go through with their kids.

One of the things that concern parents the most is how to spend quality time with their kids. We know parents are tired. On top of time, we all can lack the creativity to plan a healthy meal several times a day every single day.
Just by going deep into this, you already have the clues to create some good articles.
You can propose to them to use meal kit services as "the new Tuesday night activity". Follow a recipe can be fun with little ones and there are some cool offers to discover new cultures thru food and so much more meal kit affiliate programs that you will love.
Lifehacks
Life hacks blogs are a great place to promote meal kit delivery offers. Basically, if you have one of these blogs, your audience is constantly searching for ways to make their life easier. Guess what? By offering meal kit delivery services, you will not only give them a time saver but a healthier way to travel life at the speed of light.
You can write a piece on a meal kit delivery service that provides everything you need to cook in a badge for one whole month. It means the user will invest a whole afternoon cooking and then freeze amazing homemade dishes for the family to just heat and serve along the month.
All the ingredients, measured and brought to their doorstep. No more meal planning for a whole month! That's a great life hack.
Beauty Blogs
If your audience is interested in looking nice, encourage them to start from within! A healthy system is a healthy skin. And we know you have a million articles on how to make your skin look like a million dollars. So meal kit delivery services are relevant for your blog too.
As we said at the beginning of this entry, it's all about your understanding of your audience. So, think about how to link the words beauty- healthy-food and study which meal kit affiliate program is the one that your public will love the most.
Babies and kids
Imagine how convenient it can be for parents with toddlers to receive fresh ingredients to prepare their toddler's snacks or lunch boxes!
Make them change the chips or other unhealthy options for nutrition-balanced delicious options by joining one of the meal kit subscription services.
Make the nutritional comparison of an all-American average snack box to these organic, balanced, healthy options. Most of the affiliate brands even guarantee that the kids will adore everything they propose. You can check also these food affiliate programs list for a lot more options.
Fitness
We know we are feeding your uses with the ultimate gear, courses, or supplements. Guess what? Meal kit delivery services can be a great partner for you. Why? Almost everyone who is into fitness is into a strict diet or at least taking care of every single thing they consume.
You can write an article about the delicious meal delivery service you subscribed to for one month. This particular plan offers meals under 600 calories and you needed to lose a bit of weight after the holidays, so it was a great way for you to achieve your goal while staying healthy.
Foodies
Who says foodie says curiously. Foodies are up to trying good stuff but also new stuff. You would be surprised by the quality and creativity this meal kit chefs have. Even Martha Stuart has her own meal kit.
Get creative! We think that a cute way to promote a meal kit affiliate program on your blog can be for you to show a step-by-step of what you got and the results.

Another fun way can be to challenge your audience to a contest. Everyone gets the same kit and making the most instagrammable result out of the same ingredients get something.
Senior citizens
If you have a senior citizen blog, or your target is seniors, meal kit delivery services are super relevant for your content. Stimulate them to cook a meal instead of just unfreezing it at least at dinner times. There are also some meal kits designed by doctors so the elderly get the nutrients they really need. Flash-frozen meal options too.
Lifestyle
Lifestyle blogs are a good place for these affiliate programs. What's not to love in making our life simpler and healthier? Encourage your readers to order 3 dinners a week to cook at home. This can be a way to save money by staying in while eating delicious chef-designed dishes.
Another cool way can be instead of inviting "the guys" for a frozen lasagna, you can plan a cook together and drinks! These programs bring step-by-step recipes to cook in under 30 minutes. So it can be a fun experience while offering a different activity.
Health and wellness
The health and wellness niche is definitely a great environment for meal kit delivery affiliate programs.
On the health side, almost every company offers meals suited for diabetic patients or people with heart issues.
Also, if we think that having control over our weight is part of being healthy, the meal kit universe is as healthy as it gets. All portioned, balanced recipes with whole ingredients and dietary restrictions-friendly options.
How to bring traffic to your blogs?
You already have the perfect article with the perfect offer but you are simply not getting any reads?
There are some things you can do to bring traffic to your blog, have better brand awareness, more loyal subscribers, and get those affiliate links clicked and clicked again.
Social Media Marketing
1. The first thing you need to know if you don't know it by now is where are your customers socially speaking.
It's better to focus on the platforms your audience is hanging out at, than being everywhere unfocused. If you are talking to teens, you will surely waste your time on Linkedin. The example is a bit extreme but you get the point. Learn where your audience is at and get there asap.
2. Create the right content for each platform.
Learn what has a better impact on the specific content you want to push. Is it stories or is it carousels? Is it TikTok or Instagram? Study all your options and invest smartly.
3. Make an effort on the visuals. The nicer your images are the more likely your customers will click and visit your page. If you are not a graphic designer, try canvas! You have a free tool you can start with and we promise it is as easy as it has ever been to get a quality image for your posts.
Chose the right size format for each visual depending on the channel you are using. You can check the "TECH SPECS + The platform " on google and you will find the dimension options and descriptions.
4. Post frequently on your channels. You want to stay at the top of mind of your audience. Fresh content means you are active. Just think that whenever we search for quality advice, we all skip the old posts. Be present and be actual. Speak about trending topics in your niche.
5. Don't forget about Pinterest. If you don't have a Pinterest profile yet, start by checking if your competitors are there. If you are in the beauty, fitness, or food niche, you need to be on Pinterest!
6. Invite your readers to share instead of inviting them to like. WE WANT TRAFFIC
SEO
Search engine optimization means basically being at the top of Google's SERP (Search engine result page). The more you optimize your content for Google, the more likely you will be on the first pages = the more people will land in your blog.

Just think how many pages you check once you click enter for a search in google. That's how important it is to appear on the first pages.
Learn SEO If you want to make it big with your blog and you are not very familiar with SEO we recommend the Semrush SEO free course.
Content marketing
It refers to the marketing that involves creating and posting online material such as blogs, videos, e-books, infographics, and more.
Content marketing is meant to answer your audience's questions. You can build trust with your audience, improve conversions, connect with your customers and generate leads.
1. Create great quality content: Educate yourself about each subject you get to write about. Make it interesting and valuable for your readers.
2. Make sure the meal kit delivery affiliate program you are promoting is truly great. We strongly recommend that you always try the products you promote first so you can really give an objective and valuable opinion.
3. Make "Top List" or "Ultimate guide" Type of Blog Posts:
Another good idea for you to promote your affiliate programs is to compare a bunch or rate them. People are more likely to share this kind of content than long boring ones.
4. Publish Rich articles: Show your authority in the theme by providing a complete article. Blogs with less than 2k words are less likely to be shared because they simply don't cover the whole subject.
5. Writing is great promoting is better.
Once you have great posts invest your time in marketing your content.
Conclusion
Meal kit delivery services are a great product to promote on your blog if you are into affiliate marketing and you think that it can bring value to your audience.
As we did with some niches above, make the exercise to think about how you can link this product in a creative way for your audience to click and convert.
SEO is crucial if you own a blog. If you are not very familiar, you can find great free courses to learn in a couple of days how to make your articles appear on the firsts google search result pages.
Social Media Marketing and Content Marketing are great ways to bring traffic to your website. Study your audience, find them where they hang out, and provide them with amazing visuals that make them click and land at your place.

Always try to be smart on how to invest in your ads to reach the right audience.
If you want to keep learning about affiliate marketing and the best affiliate marketing opportunities in your niche subscribe to our newsletter.
Accelerate your Conversions, Increase your Revenue
with lemonads
---
You would like