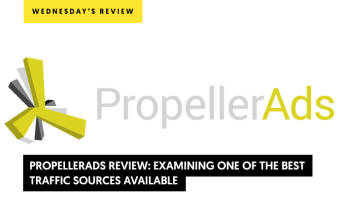 PropellerAds Review: Examining One of the Best Traffic Sources Available
Before launching a campaign, affiliates have to find the tools and platforms that will give them access to quality traffic while allowing them to monitor the performance of their ads. This PropellerAds review will help you make good decisions to launch a campaign.
We've seen thousands of lemonads members try out dozens of different ad networks with mixed results, especially if opting for more obscure networks. However, we've also noticed that affiliates who use PropellerAds tend to consistently produce awesome campaigns in different verticals, which makes sense because it's one of the biggest ad networks in the world.
After careful consideration and extensive research, we've decided it's time to create a PropellerAds review to help affiliates understand the benefits of this network and what makes it one of the best traffic sources available.
Without further ado, let's jump in!
What is PropellerAds?
Established back in 2011, PropellerAds is one of the leading ad networks that stays up-to-date with the latest trends to provide the best features for all stakeholders in the affiliate ecosystem. This platform is one of the best networks for affiliates because it offers traffic from 195 countries and multiple ad formats that are suitable for marketers of all levels.
PropellerAds boasts of more than 1 billion monthly unique users and thousands of new campaigns being launched every day. Not only this, but Propeller has assembled a multi-national team that provides support in multiple languages.
Benefits of Working with PropellerAds
There are hundreds of great benefits affiliates and publishers enjoy when working with Propeller, including but not limited to:
Accepts various payment methods
Easy campaign setup and launching
Dedicated support is available around the clock
State-of-the-art security features
The Lowest CPC and CPM bids in the market
Allows retargeting for all formats, resulting in 7 billion daily ad impressions network-wide
Unique targeting options
Compatible with the most popular trackers
Reliable smart rotator and other campaign optimization tools
Overview of Propeller's Self-Service Platform
While Propeller started as a managed platform, the ad network has developed its own self-service capabilities that are powered by in-house technology. Once logged in, this ad network has an intuitive interface that gives you access to the rest of its features.
Three of the most important parts are the dashboard, payment options offered, and the traffic chart that we will describe now in this PropellerAds review.
Dashboard
PropellerAds' dashboard is simple and intuitive. It provides a summary of the campaigns that are currently active and it allows users to access the traffic charge, tracking, as well as other options via a navigation bar on the left-hand side.
Payment Options
You can choose to pay via a variety of methods including wire transfer, credit card, UnionPay, Skrill, PayPal, American Express, and many others.
Traffic Chart
One of the best features available in PropellerAds is the Traffic Chart. This option allows you to see traffic statistics from the day before so that you can plan your campaigns according to the most recent trends. You'll have the ability to select the OS, ad type, and device you want to target to get an accurate estimate to hit the ground running.
Campaign Settings
PropellerAds features one of the most comprehensive lists of features we've encountered so far. Some of the campaign settings you can play around with include, but are not limited to:
Ad Formats
There are three ad formats you can choose from when working with PropellerAds, including:
Pop-Unders
Push Notifications (+In-Page Push, also known as Floating Push Notifications)
Interstitials
These three are suitable for all types of mainstream traffic, although specific niches may perform best with certain ad formats.
Pricing Models
As with other networks, Propeller has two main pricing models, which are cost-per-click (CPC) and cost-per-mille or 1000 impressions (CPM). Also, Propellerads boasts advanced auto-optimization ad formats: CPA Goal 2.0 and SmartCPM.
Tracking Capacities
In addition to a robust internal tracker, PropellerAds also integrates with 3rd party trackers such as Voluum, Binom, PeerClick, Bemob, etc. The ads network actually developed a fully automatic feature that allows you to choose from a list that features the most popular trackers for affiliates, so all you have to do is select the one you want, copy the link, and paste it in the right place.
Traffic Types
The reason why PropellerAds has the ability to reach billions of unique monthly active users is the extent of their own inventory and premium websites, as well as broker traffic purchased from trustworthy providers. PropellerAds is the biggest Push and Popunder traffic provider worldwide.
Targeting Options
As for targeting, affiliates can choose from standard filters as well as specific options that Propeller developed according to the different trends. These include:
Device type
OS type
OS version
The browser and browser language
Connection type
Internet service provider
GEOs
Website and IP Black and whitelist capacities
User activity
Auto Optimization Features
Additionally, users can try out SmartCPM and CPA Goal 2.0, the platform's automatic bidding options. These allow you to identify the best placements and automatically optimize your ads to drive more conversions depending on which one you choose.
Fraud Prevention
PropellerAds features world-class security that revolves around constant monitoring, risk assessment, modeling user behavior, and machine learning to identify ad fraud of all types. This includes impression and clicks fraud, fake conversions, ad stacking, hitbots, and other common issues.
PropelerAds Alternatives
Stay Tuned to Learn More About PropellerAds and Other Traffic Sources
All in all, there's a reason why PropellerAds is one of the top ad networks at a global level. Thanks to its robust structure, superb support team, intuitive design, and dedicated features, it's earned our recommendation as one of the best in the industry.
If you enjoyed this PropellerAds review or want to learn more about PropellerAds and other networks, stay tuned or contact us today.
Accelerate your Conversions, Increase your Revenue
with lemonads
---
You would like