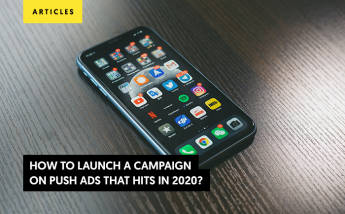 How to Launch a Campaign on Push Ads that Hits in 2021?
New ad formats are developed every year, but not many of them have changed the affiliate landscape like push notifications. Now a favorite among affiliates, push notifications are among the most exciting ads you can run because they allow you to communicate with consumers like never before.
With this in mind, push notifications were developed a while ago and consumers are now used to getting this type of advert. This had led many affiliates to think that the ad format is too competitive to be effective, but this couldn't be further than reality. Surprisingly enough, recent metrics indicate that push campaigns still provide stellar performance, as long as you structure them properly and monitor them closely after they are launched.
Let's take a look at a few tips to help you create on how to launch a campaign on push ads that hits in 2020.
What Are Push Notifications?
Push notifications are ads that are sent directly to a user's device and they appear on the screen like other announcements. This type of clickable ad allows affiliates to send personalized messages to users once they have opted into the service, so you'll need your audience's consent before you start sending ads their way.
While there are variations of push notifications, they usually consist of two parts, which are the opt-in message and the notification itself.
The Opt-In Message
The opt-in message is the first notification you send to a user. This notification acts as a request that consumers have to accept in order to get pushes sent directly to their device. For this reason, the initial message needs to be crafted in a friendly, non-threatening way that gives users an idea of the benefits they'll enjoy through your ads.
The Anatomy of Your Push Notifications
Now that we've discussed the opt-in message, it's time to go over the push notification itself. Depending on the device, push notifications may come in a variety of formats. That said, they usually feature a title, body, and URL, as well as an icon, settings button, image, and action icons.
There is no silver-bullet formula to create the best push campaign. You'll have to analyze your audience, vertical, and goals in order to determine how to create campaigns that have high conversion rates.
Push Notifications By the Numbers
The most primitive form of push notification as we know it was introduced by RIM, the company that developed BlackBerry smartphones. Push ads notifications have changed a lot since, but they still remain an effective way to reach consumers in all corners of the world.
The average opt-in rate of push notifications is more than 53%, but it's worth noting that this type of ad is much more effective for Android users (91.1%) than iOS users (43.9%). Moreover, the average reaction rate to a push notification is 7.8% and daily unsubscribe rates have remained at less than 1% since the ad format materialized in 2008.
Types of Push Notifications
The term "push notification" can be used to describe ad formats that are slightly different but share general characteristics, like the usage of push technology. The different types of push notifications include:
Web Push Notifications
In web push notifications, users approve opt-in requests sent directly to their browser. As long as the browser is active on the user's device, he or she will receive notifications that come from different sites, but are processed through the browsing app. These can be sent to both mobile and desktop devices, but they are always triggered by the browser instead of another app.
App-Based Mobile Push Notifications
When users install an app on their mobile device, they usually allow these platforms to send out push notifications. Unlike web-based pushes, this type of notification is triggered by a specific app and it can be sent out even if users are not using or running the application in the background.
Bonus: In-Page Push Notifications
In-page push notifications, also known as floating push ads, have been recently introduced as the newest variant of this ad format. Floating pushes appear directly on the page that the user is browsing and they don't require any opt-in, so affiliates can take advantage of this type of interaction without having to worry about getting opt-ins first.
How to Launch a Successful Push Notification Campaign in 2021
Despite the fact that push notifications have been around for a while, not all affiliates succeed with this ad format because it requires a lot of planning and premeditation. Crafting a successful campaign requires a deep knowledge of the audience in order to produce alluring messages and send them to users at the right time.
In addition to this, you also have to learn which campaigns produce the best results and identify the areas that need the most attention.
Best Types of Campaigns You Can Run Via Push Notifications
Push ads are suitable for all types of campaigns because they deliver a message to users in a safe and non-threatening way. According to our research, some of the best performing types of push notification campaigns include:
Rich Push Campaigns
Rich push notifications feature an image, video, or some form of media that helps create a more attractive ad. This means that you can have up to three different clickable areas in your ad, which makes this format perfect for ecommerce, dating, and finance campaigns.
Abandoned Cart Push Campaigns
Every day, millions of consumers start to place an order and eventually run into a problem that forces them to abandon their cart. Push campaigns allow you to identify these issues, send reminders that encourage consumers to complete their order, and recover sales that were believed to be lost.
Trigger Push Campaigns
If you have a deep understanding of your audience, you can create trigger campaigns that send push notifications at crucial stages of the decision-making process. You can select whether consumers receive a set number of notifications or if this varies depending on how they react to each ad.
Location-Based Push Campaigns
Location-based pushes are among the most effective types of push notifications. These send an alert to consumers whenever they are in a specific area, making it ideal for fast food offers, in-store retail sales, and other physical industries.
Tips to Create a Successful Push Campaign
As we mentioned before, the definition of a successful push campaign will vary from one affiliate to another. To get the best results, you'll have to keep your goals in mind and develop a plan that helps you achieve them without going over your budget.
Here are a few tips to improve the performance of your push campaign.
Targeting and Segmentation
Push campaigns are supposed to have a personal touch, so you should create different versions of your ads for the various demographics you want to attract and toggle your targeting settings accordingly.
Channel Selection
Mobile and web push traffic behaves differently, so you'll have to determine which of these channels works best depending on your campaign goals. Moreover, some advertisers specify the type of traffic they want to attract in their offer, so it's always a good place to start.
Set Up Automated Location-Based Notifications
Location-based pushes are very effective, so find a way to implement these into your campaign. Even if you're not promoting a physical product or store, you can send alerts when users get home or when they are more likely to browse the web.
Don't Go Over the Word Count!
The hardest part about building a push campaign is the limited amount of space you have for your creative elements. Remember, when it comes to push ads, it's better to have a simple ad copy that fits in the box rather than writing too much and having an illegible message.
Time Your Pushes with the Buyer's Journey
Sending a notification at the right time in the buyer's journey can generate a sale. So, study your audience and breakdown their buyer's journey in order to identify the key moments that can trigger a purchase.
Determine the Maximum Number of Notifications You Can Send
The average US consumer gets 46 push notifications per day, which can quickly become overwhelming. For this reason, you need to determine the max number of notifications you can send out in a day before annoying your potential customers.
Create a Sense of Urgency with Your Messages
Your push notifications should always take advantage of consumers' fear of missing out. You can do so by making an offer sound exclusive or time-sensitive, which should encourage users to perform an action quickly.
Run A/B Tests Regularly
As with most other affiliate campaigns, remember to run A/B tests in the early stages of your campaign in order to find out what variants work and which elements need to be replaced.
Optimize, Optimize, Optimize!
As with every digital marketing campaign, you have to track the performance of your ads, optimize them based on the results you want to get, and repeat this process until you hit a winning combination.
Find Out More About the Best Ad Formats in 2020
Push notifications are still among the most effective formats, but you have to learn how to implement these in an organized and sustainable way.
To learn more about the best ad formats in the market, continue reading the lemonads blog or contact us today and we'll be glad to assist you.
Accelerate your Conversions, Increase your Revenue
with lemonads
---
You would like