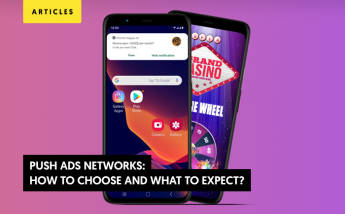 Push ads networks: How to choose and what to expect?
Unless you've been leaving under a rock you've heard about the latest trend in affiliate advertising: Push ads notification. Push ads networks are providing advertisers with qualitative traffic sources that are taking over affiliation marketing generating more conversions than any other ad format.tr
What are push ads you may ask? They are a form of native ads that are sent directly to the mobile or desktop of your potential and willful customer. In this article, we will briefly take a look at push advertising technology. Then we will explain where this traffic comes from and how push ads networks work.
Stick until the end of the article to find out our tips and tricks to figure out what push ad network is the best to help you manage both your campaigns and your budgets.
Push advertising technology
Push technology is not new to the market but push ads are. With push ads, you get short interactive messages popping up on your computer or mobile devices, they're made of just text and image. Unlike push notifications that come from apps you've downloaded and enabled, you receive push ads from websites you've subscribed to.
Push ads have a great number of benefits
They are:
voluntary ( to receive push ads, users need to opt-in)
engaging (since they asked to receive those ads, users interested in what you have to offer)
reach a wide audience ( it's possible to reach new users as well as current customers)
provide real traffic (push traffic comes from real people, no bots or fake traffic)
have a high click rate (notifications are sent even when the user is not browsing your website)
can be done on a budget ( depending on the GEO CPC is less expensive than sending an email or SMS)
re quick to set up (you only need one image, title, and text)
Push technology gives a new opportunity to deliver an ad even when the user is not browsing your website. Just pick your message, send it to a good traffic source with a link to your landing page and you will most likely get some traffic and conversions.
Subscription to push ad notification
You must be wondering what are mechanisms in place for users to receive your push ad notifications on their screen.
Any publisher who owns a website or plugin can offer its users to subscribe to push notifications. It's a way of monetizing their resources.
Whenever the user is browsing the website, he will get a pop-up (like illustrated below) at the top of his screen asking if they would like to allow push notifications. They can either ignore it or agree to receive push ad notifications. This subscription is free, quick, and looks like this  :
There's no private data required to subscribe. The subscription is encrypted and added to the ad network's base.
Ad networks work with several publishers depending on their preferred verticals. When you choose your push ads networks you get the audience that agreed to receive notifications from their publishers' websites.
Your user is now available and fresh for advertisers to target. Once created, the advertisement is automatically sent to the chosen devices of all the users targeted regardless of their activity at that moment. All they have to do is click on the ad to be redirected to the landing page and then it's only one step to conversion!
Choosing your Push ads networks
There are plenty of push ads networks for you to choose from. Pushground, Megapush, rtxplatform, dao.ad, adscompass, and airpush are examples that advertisers usually enjoyed using to run their campaigns. If you don't know how to choose one, here are a few things you should look for.
Pay attention to verticals
In push ad notification it's all about finding that perfect fit between an offer and a vertical. Push ads networks usually have their best working verticals, here are the ones that perform the best:
E-commerce (retail, discounts..)
Travel (hotels, activities, sightseeing);
Job search (job offers, interviews);
Mobile apps & games;
Money  (financial offers, gambling, sweepstakes, coupons );
Health and beauty (weight loss products, self-care, medicine)
Dating (advice, profiles..)
Entertainments (gaming, VR, video, streaming);
News  (weather, horoscopes, news)
Since every ad network has its audience coming from different publishers and websites, their top verticals may be different. They should be able to give you insights and statistics to help you figure out if it's a good fit.
However, all traffic sources don't necessarily support all verticals, angles, or niches. For example, some of them may enable specific types of campaigns like gambling. Every push traffic source has its terms and regulations to provide clean push advertising. If your traffic source doesn't have a set of compliance rules then they're probably not into high-quality service. As a matter of fact, most ad networks have a campaign verification process which should be quick if you want to perform in this highly competitive marketing format.
On your way to deciding what ad network might be the best option for you here are a few things you should check out:
The size of subscribers bases
A larger base means more options to find your target audience. It's important to know the available volumes ahead of signing any kind of contract with an ad network. As a matter of fact, some traffic sources even allow you to estimate the scale of your campaigns or possible optimization strategies through tools on their platforms. Thanks to those tools you can learn about the average bid prices and monthly traffic volumes available for push ad formats.
The traffic quality and freshness
If you want to earn money it's crucial to invest in a credible traffic source first. Your network should be able to provide you with several lists of customers including new ones that have just subscribed. Find out where the traffic comes from: ad networks can buy their traffic from other networks or collect it from different publishers.
If you have any doubt after talking to them directly then search the community forums. You should be able to find out valuable information about traffic sources and people's good or bad experiences to make up your mind.
Push ads networks' user interface
A good ad network should provide you with a user-friendly, easy-to-navigate user interface. Most of the time you will have access to a demo version of the platform on their website. There is also a great amount of video reviewing those tools for you online.
Campaign testing is a key feature to look for when choosing your ad network. The push ad technology itself requires technologically advanced support. A great ad network will not only give you a great intuitive tool but also one that keeps on improving existing options along with developing new ones.
You can't run a successful campaign without being able to track your results in both the testing phase and the final run of your push ad campaign. Indeed your traffic source and your tracker should be able to connect. Without this connection, you can't have a clear view of your data and therefore it's impossible to optimize your push ads campaign.
Compare targeting options
Targeting is key for push traffic campaigns. Even the best push ad campaign can be irrelevant if the people targeted are not interested.
Ever since it launched, push ad format has been a very highly competitive advertising method. Targeting is the way to go to fight ad fatigue caused by the density of advertisers on the push market. However, targeting is not enough without its best friends testing and optimizing. Being able to refine your targeting is what will guarantee you an engaged audience and keep you from being drowned in market saturation.
Even though push marketing doesn't offer as many targeting possibilities as classic ad formats, the more options you get the better. You should at least be able to select the audience by the time of subscription, device, and geo.
Manage your budget
When it comes to push traffic campaign costs it's hard to give an exact number. However, you should be able to estimate your spending budget by knowing what are the available volumes, average bid prices, testing phase budget, and duration.
You should also know that most ad networks demand an entry deposit.
A good ad network is not the only one that provides you with the best audience. It's also one that gives you the tools you need to manage your budget.
One very important feature is the budget capping option. Since push traffic can be read by the user at any time they want, clicks can be delayed long after the push ad was sent. This can cause you to overspend and could make your campaigns less profitable than you would want them to be.
Ad networks make it possible for you to set a daily budget, a number of clicks per day or per person, or even a number of targets to reach in a specific traffic source. By doing so you can test many traffic sources and get relevant data for your next campaigns.
Some ad networks go even further by adapting your bidding as you approach the budget you've set to maximize revenue.
Push ads networks examples :
Conclusion
When it comes to traffic sources there is a great number of networks to choose from. They all provide you with a platform, traffic sources, and some kind of personalized advisor. However, it's the traffic quality, the targeting options, and the tools that differ from one platform to another.
In a nutshell here are the questions you should ask yourself before choosing a traffic source:
How much is the entry deposit?
What volume of push traffic is available?
How qualitative is the traffic quality?
What is the estimated cost-per-bid?
Which are the targeting options?
What are the push traffic budget capping options?
Can I connect my tracking tool to my network?
Once you've got all this information all you have to do is compare and take the plunge!
Accelerate your Conversions, Increase your Revenue
with lemonads
---
You would like