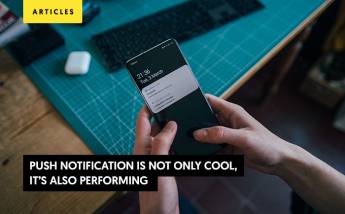 Push notification is not only cool, it's also performing
Back in 2003, BlackBerry users on the move received an email notification letting them know that a message had been delivered to their inbox. Clicking on it would bring them to the email. Previously, someone with an email account wouldn't know they had new mail unless they went and proactively checked for themselves. This real-time notification was a core product feature that proved especially popular amongst the businesspeople who championed the brand.
Fast forward 17 years, push messages have become increasingly common sights. They keep us updated with breaking news, about sports, health or politics, and alert us to flash sales from our favorite brands. Users opt-in to receive push notifications from websites they visit on their phone or computer. This is where affiliate marketers can send them notifications and promote an affiliate offer to them. There are hundreds of millions of phones and computers with these push notifications enabled from popular websites and traffic sources have figured out a way to give you access to all those eyeballs through their self-serve ad platform.
As such, Push Notifications have taken a dominant place in affiliate marketing not only because traffic is pretty cheap and easy to setup an affiliate campaign, but also because it performs. Let Us show you why Push Notifications is both cool and performing!
Disrupting in a slowly way
Push notifications have been recognized by many for their ability to not directly disrupt the user experience, whilst providing flexibility and urgency to show targeted content at the right time. This is why they've become so effective for advertisers. When executed correctly, these native notifications are delivered directly to a user's device. Thus, offering advertisers direct access to target audiences without any intermediaries.
The immediacy of notifications demand a yes or no response, which makes them an active complement to more passive marketing channels; they can even start the spread of a piece of content. For example, you can shoot a powerful video for YouTube, share it on social media, and push it out to interested customers as a notification urging them to share it on their timelines. Using a multi-channel approach gets that content in front of both passive and active consumers. And for affiliate marketing, push is a notably powerful tool.
What makes the difference ?
Web-based push notifications are unique among marketing channels. They're opt-in for your customers, and simple to install, with just five lines of code pasted into the source on your website. The code can be easily customized to the page, so you can add it across multiple pages on your site to assist with segmenting. When the customer arrives on a page, you can trigger an opt-in request and they can choose to allow or deny push notifications. If they opt-in, your marketing messages go directly to the customers who are most interested in your products.
What makes the difference between push notifications and other digital ads is that they not only look like normal alerts that users are used to seeing on their screens – calendar meetings, email alerts, or Whatsapp messages (or any other type of notification that prompts a user to take action). Yet, they're not placed in web pages, where users are expecting to see ads. As a result, people are more likely to click on push notifications rather than ads on websites or social media.
Don't hesitate to use A/B testing to optimize your push notifications' performance, and over time you'll discover the many different segments in your customer base, where they overlap, and their other relevant interests. Instantly grasping the concentration of users without being interfering, it allows advertisers a system of re-engaging audiences, producing higher engagement and improved click-through rates. Continuously improving the timing of notifications, click rates, opt-in and opt-out rates, platform response rates, and other points using user data will all help you craft better campaigns and tighter segments. Assisting your data gathering is that browser-based notifications also aren't tied to a specific platform. Instead, they're part of the preferences in your customer's browser. As long as your customers open their browser, the notifications will arrive where they are supposed to.
Also, push notifications play a notable role in improving user experiences with brands. How's that possible ? Simply because they are keeping users updated with time-sensitive, well-targeted data - as you've seen above - which can be of excellent advantage considering the non-intrusive nature of the tool. Those notifications don't feel like normal ads, rather they're providing clients with more data, or let them know about future promotions or suggestions. Amidst the ocean of marketing competition, a kind suggestion works in a great way.
Online ads, commonly, receive a large amount of bad comments in the modern world. Consumers share the same experience of the pair of jeans that accompanies them around the internet, which appear to be both interfering and inappropriate as they make an impression on almost every site they enter. This is where push notifications can sometimes be of great benefit to users. As long as advertisers are cautious with not bombarding consumers with notifications, last-minute offers and deals can make a user feel admired by a brand – and can even extend to another touchpoint in a company's marketing funnel as a result.
What are the advantages for affiliates ?
If you think of the end-user of push notifications as similar to an email subscriber, it's easy to see the value in the medium to deliver the type of offer you want to deliver for your campaigns. They have insane performance stats and work for just about any type of campaign. - you can target billions of users worldwide, giving you huge reach potential for your campaigns.
They also have the advantage that when you send push notifications, you'll only reach real users. As all users have personally opted-in to receive notifications from services they are genuinely interested in, and you can enjoy high quality traffic to your offers. They're also easy to see on the user's device, and they don't have to open an app to see the message which increases the view-ability of your ad.
Remember, push notifications are immediate and direct, so it's always worth testing new ideas. As you better understand customers, you'll be able to offer more creative and unique approaches.
Affiliate marketing and push notifications are an ideal mix for customer retention. This is true whether you offer an enormous range of products or a niche service, and whether you want to expand your customer base or remain in the minds of current customers.
Often consumers will opt-in on push notifications because the value proposition makes sense for them. Of course, that puts the burden on the company to maintain that campaign, which can be an ongoing challenge. There are only so many discounts you can offer on similar products, for example, before your segments begin to file your content under background noise.
As a conclusion...
Affiliate marketing is a crucial aspect of e-commerce, but like any marketing tool, it needs to be carefully fit into a detailed multi-channel marketing strategy. Push notifications are an essential tool for assisting with that lift. The data you collect from your push campaigns allows you to choose the best possible content to present while simultaneously letting you fulfill your value proposition. This is particularly powerful for smaller businesses or businesses with a specific niche, especially as this approach can scale up as the business expands.
Push notifications are not only cool: they are very performing. That is part of the reason why they have been acknowledged by numerous advertisers for their capacity to not directly interrupt the user experience, whilst presenting adaptability and necessity to display targeted content at the right time. This is the reason they've become so useful for advertisers. When performed perfectly, these native notifications are presented directly to a user's device. Thus, offering advertisers immediate access to target audiences without any mediators.
Push notifications offer a non-intrusive ad experience to website users. Because they can be used alongside other ad formats, Push notifications also produce easy monetization for publishers, enabling additional revenue without affecting any other active ads.
The push notification will be more and more prominent in the near future. It could make other ads format to be market out.

Accelerate your Conversions, Increase your Revenue
with lemonads
---
You would like