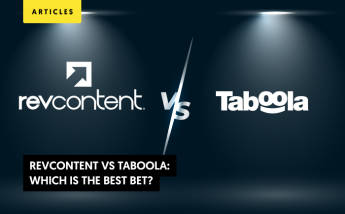 RevContent Vs Taboola: Which is the best bet?
RevContent Vs Taboola! That's right! Whether you're an advertiser or a publisher, if you landed here, you're probably trying to understand if Revcontent can be a better bet rather than Taboola or vice versa. It's RevContent free?
This is why we will fully guide you in reaching to understand your best pick: RevContent or Taboola?
Each one of us is always in search of those specific "needs" to improve strategies, earning awareness, traffic or in monetizing our own website, so let's get to it and don't search further!
In our full Revcontent Vs Taboola guide we'll uncover:
RevContent Vs Taboola;
RevContent Vs Taboola: Ad Quality
RevContent Vs Taboola: Revenue Share
RevContent Vs Taboola: Pricing
RevContent Vs Taboola: CPM/RPM rates
RevContent Vs Taboola: Pros & Cons
Overview
Taboola was founded by thinking about content consumption patterns and ways to predict the videos people may like before ever expressing an interest in watching them.
It took them about 3.5 years to innovate around what became today, "the foundation for Taboola's mathematical predictive engine" becoming part of publishers' workflows to allow them to exceed through various optimization capabilities.
Today, Taboola is the world-famous content discovery and native advertising platform that helps marketers reach highly relevant audiences and grow their traffic in a scalable way.
They recommend content across the world's most top websites, such as NBC News, Daily Mail, The Weather Channel, EuroSport, Yahoo!, Japan, and so many others!
Taboola's personalized content recommendations can be found within a customizable widget on the bottom, top, or side of blog posts or within the feed too!
Taboola's algorithmic innovation around video, helped Taboola broaden its solution to recommend articles and slideshows providing world-leading publishers with a single, ultimate discovery and monetization solution.
Meanwhile, RevContent was founded on the belief that the world's leading publishers needed to monetize their audience by providing users with a way to discover news, innovative thoughts, and useful products that are interesting and relevant to their everyday lives.
They believe "content recommendation is broken and ready to implode in a bad way".
Stating that the user drives everything online, and in these past few years of "content recommendation", it has been a race to the bottom, ditching the user in the process.
What is RevContent?
RevContent is often called the top growing native advertising platform since they are improving a lot!
Due to their high-quality standards, the vast majority of traffic generated from RevContent native ads comes from Tier 1 countries such as the USA and UK, providing strict requirements for both publishers and advertisers not allowing everyone to be part of their platform!
RevContent partners with websites that generate a minimum of 50,000 monthly visits and among their biggest publishers partnered with RevContent are Forbes, Nasdaq, Wayfair, NBC News, Forbes, CBS, and so on.
RevContent's content recommendation network is powering 200 billion content recommendations a month. Their partners consistently see 2X higher RPMs when compared to our competitors.
Their engagement team takes pride in creating fully customized, native widget solutions that enhance the user experience on your site with a dedicated account manager providing 24/7 expert support and native solutions to maximize revenue potential.
Their Algorithms and machine learning make intelligent recommendations that optimize revenue.
Taboola and RevContent Specialties are both in Advertising, Content Marketing, Consumer Engagement, and Targeting without leaving the user experience on the side!
Let's take a quick look at stats facts:
Despite RevContent's growth and improvement, Taboola is still leading all the market share segments!
Let's get a better view:
As we can notice from the stats above, Taboola has better usage coverage in more website categories, especially in Arts & Entertainment, Computers Electronics & Technology, News & Media, and Games.
But let's see more!
The type of ads shown by Taboola, for sure looks more prompt and genuine with a friendly user experience innovation over RevContent, which is only now achieving.
However, RevContent has upgraded the quality of their ads and, we can surely confirm the look and feel of the ads have improved and their ads don't look spammy as they used to.
Still, from an advertiser's point of view,  it's difficult to tell which network can get you more clicks and a better return on investment.
Let's check what both can offer!
RevContent offers some of the targeting options available:
Geo-targeting
Device & OS targeting
Retargeting
Brand targeting
Topic targeting
With Taboola, you can target your audience by:
Location
Device
Operating system
Connection type
The platform also lets you fully control your campaigns – from setting your own goals to editing your campaign's daily ad delivery when the campaign is live.
Check RevContent Ad examples:
Check Taboola Ad examples:
RevContent Vs Taboola: Revenue Share
Taboola is known to take a 50% revenue share of what the advertiser is bidding for the cost of a click meanwhile, RevContent only takes 20% of the revenue share, allowing publishers to get 80% of what the advertiser is willing to pay for a click.
RevContent Vs Taboola: Pricing
Let's state that Taboola prices start from $300 per month and on a scale between 1 to 10, Taboola is rated 6 which is similar to the average cost of Paid Search Marketing (PPC) software.
RevContent accurate pricing info is available only upon request since they don't share it publicly, however, it seems Taboola is more expensive than Revcontent.
Let's check the differences between RevContent Vs Taboola in prices for Publishers and Advertisers!
RevContent Pricing for Publishers:
Usually, RevContent earnings report an average RPM of $0.44 (RevContent CPM rate).
Now the RPM used to be almost 2-3 times more than it used to be in fact, some publishers have tested Taboola, Content.ads, and Revcontent, finding that Revcontent is competitive in terms of revenue generation.
RevContent pays its publishers on a net 30 basis, assuring returns ranging from $3 to $5 to its clients.
It is possible to withdraw earnings after every 30 days but It's important to have a minimum threshold of $50 before making the payment.
RevContent pay-out methods:
But, for sure, it's a fact that RevContent is a legit ad network working with thousands of premium publishers worldwide!
Taboola's Pricing for Publishers:
Because native content is all about engaging users, publishers can offer advertisers competitive pricing based on cost-per-click (CPC) or cost-per-view (CPV) models, monetizing the value of post-click engagement.
Using a platform like Taboola Native, publishers can feel confident in this model, because consumers can be targeted based on their locations, interests, behaviors, and platforms!
(especially important in the mobile age, as consumers engage with different kinds of content in different ways when they are on the go), driving high click-through-rates (CTRs) that will optimize publisher revenue
To start with Taboola it's requested to begin with a budget of $ 300 per month.
How much does it cost to advertise on RevContent?
RevContent Pricing for Advertisers offers the lowest bid and smallest deposit!
Let's say that the minimum bid you can make is $0.01 per click even if you would want to increase your bid if you're planning on promoting in Tier 1 and 2 countries.
The minimum funding amount is $50 but each campaign requires a $100 daily budget.
You should know how to leverage the campaign setup and optimization options to hit your target CPA for a profitable campaign to boost faster!
If you follow a good strategy, your CPA will for sure be competitive with all your other paid media sources!
Taboola's Pricing for Advertisers:
The cost of your campaign in Taboola depends on your entire setup including creatives, targeting, and budgeting.
An amazing thing is that you will only pay when people click on your ads and when people reach your advertiser's website.
For a self-service option, you can start a campaign at $10 per day.
Taboola's minimum budget for a campaign, with all the setups possible, would be around $100 and the minimum CPC is $0.01.
Most advertisers bid around $0.5 to $1.50 depending on the niche but interactive or video content usually needs a lower CPC compared to credit card offers.
To give Taboola a shot at success, expect to use a test budget of at least $500 even if you can start with $ 300 per month.
Revcontent Vs Taboola: CPM/RPM Rates
Taboola: CPM/RPM
Taboola is a good alternative for sites that don't have a high AdSense RPM but deliver good amounts of traffic.
Taboola is a pay-per-click network where you get paid only for clicks. The average cost per click may vary from 2 cents to 5 cents but is typically low for Asian traffic. Depending on the traffic quality and location, ad RPM can be $2+.
If you place one Taboola widget below the content area and one on the sidebar, you can expect a CTR of 3-4%.
RevContent: CPM/RPM
Revcontent minimum traffic target is just 50,000 visits per month, which makes Revcontent a good option if you don't have enough traffic for Taboola or Outbrain.
RevContent Average RPM is between $0.5 to $5.
Many have found RevContent to be better in terms of revenue generation. A lot of publishers stated that their RevContent earnings are higher than AdSense.
The real cost of Paid Search Marketing (PPC) software includes the software license, subscription fees, software training cost, customization cost, required hardware, and the cost of maintenance & support, and other related services.
Revenue Report of Taboola vs Revenue Report of RevContent
Here below we can check a Taboola revenue report:
Meanwhile, here below you can check a RevContent revenue report:
Four key strategies to grow ad revenue:
Prioritize the right metrics.
Optimize ad inventory per session.
Optimize ad sales.
Optimize repeat, referral, and inbound traffic.
And get started with your favorite revenue report!
Minimum Traffic Requirement: Taboola vs RevContent
For publishers, you need to have a minimum of 1 million page views per month to join the Taboola network. However, it seems that the guys at Taboola are a bit flexible on this, approving even pages with fewer views per month but still, the current traffic requirement to accept a site needs to be a bit high.
With RevContent you might be rejected. It is not an easy task to engage with Revcontent and the company rejects 98% of the applications on average.
They don't compromise on the quality of the websites and work only with publishers who have the potential to reach the premium level.
Revcontent Vs Taboola: Pros & Cons
What is it about RevContent?
RevContent
Pricing: Based on your CPC bid. The cost per click also varies depending on geographic location.
Traffic: 50% of visits come from the USA and UK.
What is it about Taboola?
Taboola
Reach: Taboola reaches over 1.4 billion unique users every month.
Traffic: 50% of their traffic is from Tier 1 countries such as the US, UK, Japan, and France.
Pricing: For a self-service option, users can start at $10 per day.
RevContent Pros for Advertisers
Provides decent traffic sources;
They make it easy for you to publish new campaigns;
They have a pretty relaxed approval process;
Revcontent ad network performance;
Easy to use and navigate through;
Target audiences by language, location, device;
More granular targeting;
Add content;
Scales faster;
Reaches 97% of united states households;
Real-time data!
RevContent Pros for Publishers
You would get completely responsive widgets that could adapt to any screen size without clutters
Brand protection and by checking the 'X' at the right corner of the ad, it is possible to remove any inappropriate content!
It offers high RPMs to its clients in the range of $3 to $40.
Highly customizable widgets
the high native feel of ads to users so that users don't feel it is an ad
RevContent Ads improve customer turnover ratio and native advertisements are offered in different formats such as XML, API, or JSON on par with the client's desire.
Real-time performance metrics based on device type, website section, and content performance.
50% return on Investments to its advertisers.
Improves the bounce rate and page view time of the website.
Social algorithms, proprietary to Revcontent would circulate the most engaging content of its clients based on key metrics, thus enhancing website page views.
Their performance is 150% more than its rivals in revenue generation, user engagement, and returns on investment.
Revcontent Cons for Advertisers
Could use more clever Ads
Limited with a minimum daily budget of $100 (It would be great if that was flexible)
You can't add more than one piece of content at a time.
Revcontent Cons for Publishers
Some restrictions to its publishers and advertisers
Rejects most of the applications for quality purposes.
Smaller websites and blogs are usually not approved by the network and to fit the site's needs you need to have high traffic.
Some users feel Revcontent ads are a little intrusive.
Taboola Pros For Advertisers
Large Reach and Volume
Cost-effective compared to Google and Facebook
Successful campaigns run for months or even years
Amazing Native Ads we've overviewed with their case studies in our section above!
Taboola Pros For Publishers
Actionable Editorial Insights: Taboola's Newsroom empowers editorial and audience teams to enhance content with actionable data insights, A/B testing, and alerts.
Optimized Paid Acquisition: Acquire audiences at positive ROI, keep them longer on your site, and track revenue per visit.
Audience Exchange: Drive quality traffic to your website by exchanging traffic with a partner and third-party sites;
Engage Users and keep them coming back to you by maximizing time on site, pages per session, and user satisfaction;
Recirculation: Optimize for your desired post-click behavior, from video views to sign-ups.
Organic Video Growth: Embed your video player, including ads and analytics.
Personalization: Personalize the user experience, optimizing for each visitor and situation.
Sponsored Content: Monetize with the largest sponsored content marketplace in the industry.
Sponsored Video: Achieve market-leading monetization with seamless, non-intrusive, in-feed video experiences.
Taboola Cons For Advertisers
Taboola's UI is not well organized
API limited compared to backstage UI
Data delays
Requires for a lot of testing
No free trial
Taboola Cons For Publishers
Taboola's UI is not well organized
API limited compared to backstage UI
No free trial
Taboola's advertising platform is for customers including small, medium businesses as well as large enterprises. Our full review of Taboola and What is Taboola?
RevContent's target customer size includes Medium business, Large business.
After analyzing all points, we would say that RevContent is more inclined to publishers since monetization is a big factor from a publisher's point of view and the former pays better rates than Taboola.
Advertisers could have more targeted options, score higher traffic, and brand awareness with Taboola since their ads look perfectly fitted within the publisher's websites having a non-interruptive user experience.
If you want to know more about RevContent or Taboola, read our full RevContent and Taboola Review or contact RevContent or Taboola directly!
Don't forget to leave your personal experience in our comments below!
We hope we fully satisfied all your doubts and get ready to start with the right network advertising platform that perfectly fits your needs!
Accelerate your Conversions, Increase your Revenue
with lemonads
---
You would like