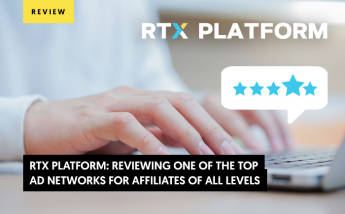 RTX Platform: Reviewing One of the Top Ad Networks for Affiliates of All Levels
The practice of marketing a product or company dates back thousands of years and many modern platforms still operate under the same principles. However, platform owners, media buyers, and affiliates are revolutionizing the way companies promote their products and networks deserve part of the praise.
There are hundreds of different ad networks to choose from and more platforms seem to emerge daily. With this in mind, the network you choose directly impacts the quality of the traffic you receive. This, in turn, will define whether you create a successful campaign or if your ads fail to generate an income.
At lemonads, we work with thousands of affiliates around the globe, so we have a good understanding of the features that quality ad networks have in common. With so many options, we know it's hard to choose the best platform, so we've put together a series of articles reviewing the best ad networks on the market.
In this review, we'll take a look at RTX Platform and tell you why it's one of the most exciting push ad networks available today.
RTX Platform: Innovative Technology at Its Finest
Although it may seem obscure to some affiliates, RTX Platform is actually a well-established network that's been around since 2008. The platform allows marketers to launch campaigns over two main ad formats, and it frequently ads and removes different options from this list. The platform has earned a reputation as a consistent source of traffic that provides good results at a very reasonable price, so it's a good choice for affiliates of all levels.
RTX focuses on mainstream traffic and the verticals that tend to produce the best results include app installs, gaming, entertainment, dating, fashion, automotive, Nutra, healthcare, sports, leisure, travel, and retail, just to name a few. And, even though it has a relatively high deposit requirement, there's a strong chance you'll be able to profit from your investment even if you don't have much experience.
Ad Formats Supported
In the recent past, the RTX Platform supported native advertising, but this ad format has been removed from their offers. With this in mind, the platform often ads new formats to give affiliates a chance to test it out and if it produces good results they keep it as long as it's profitable. This ensures that the ad formats the platform provides are actually producing results, rather than simply depleting your budget.
At the time of writing, the list of supported ad formats includes:
Push Notifications
Push notifications are a proven ad format that has been used to successfully launch campaigns in multiple verticals. This ad format is effective because it presents ads in the same format as other notifications, so you can deliver your marketing message without raising any alarms.
As with other ad networks, push notification campaigns on the RTX Platform are relatively easy to set up and manage. And, because the platform only partners with quality partners, the traffic you receive is top-notch and more likely to engage than with lower-quality networks.
Full-Page Ads
As the name suggests, full-page ads take up the entire screen, attracting all attention to your promotional materials. Full-page ads are RTX's take on pop-ups and this ad format can provide stellar results -- as long as you choose the right verticals.
As a general rule of thumb, the best industries to promote with full-page ads are verticals that benefit from high-quality graphics. This includes gaming, finance, dating, travel, and similar specialties, but remember that you have to craft unique creatives that truly grab consumer attention.
Pricing Models
Every affiliate is different, so there is no such thing as a pricing model that works in all instances. This is the reason why the RTX Platform supports a wide variety of pricing models so that affiliates can pick and choose what type of bidding is more suitable for their campaigns.
The three pricing models supported by RTX Platform are cost per click, cost per view, and cost per mille.
Cost-Per-Click (CPC)
Also known as CPC, cost per click is the most basic type of performance advertising bidding model. In this pricing model, charges are only generated when users click on the ads and get redirected to the landing page or pre-lander.
CPC campaigns tend to be more expensive than other bidding models on this list, but they also have a higher ceiling in terms of potential revenue. That said, new affiliates may want to stick with other bidding models on this list until they learn the ropes and can manage their budget more effectively.
Cost Per View (CPV)
Cost per view is a unique bidding model where affiliates pay for each time the ad is viewed. This provides a nice combination of performance and budget allocation because affiliates can generate a significant amount of traffic without paying top dollar for it. And, the capping features also allow you to place a limit on the number of times your ad is shown or on the amount of money you spend, depending on which works best for you.
Cost Per Mille (CPM)
CPM is another staple in the world of affiliate marketing. In this bidding model, affiliates are charged for every 1000 impressions each ad generates. It's similar to cost per view, but it bundles these interactions to keep costs low.
Keep in mind that CPM can still produce stellar results, but you may also see a lot of traffic without many interactions if your ads are not engaging enough.
Best Features Available in RTX Platform
The team at RTX Platform has spent years developing an innovative solution that keeps costs low while still delivering high-quality traffic. Moreover, affiliates get full control of their platform through a set of specialized features that help them develop, launch, and monitor engaging campaigns.
While there is an application process where affiliates have to wait for approval, this guarantees that only real marketers can join the platform. In addition to enhancing security, the application process is relatively fast and you can expect a reply from the review team during regular business hours.
Furthermore, some of the best features available at RTX Platform include:
Global Traffic
RTX provides traffic from all regions of the world, so it's a great alternative regardless of the language, country, or product you're promoting. The platform boasts of traffic from more than 240 countries and regions around the world, so you can choose to run your campaigns on GEOs from tier-1, tier2, and even tier-3 countries without changing platforms.
In other words, affiliates can hone their skills and shorten the learning curve by using the same ad network during the whole process. And, since the platform focuses on attracting engaged users, the traffic received will have a higher chance of converting.
Multi-Device Platform
It doesn't matter if you're interested in running mobile or desktop campaigns, RTX Platform supports campaigns for any device. There are some similarities, but desktop and mobile traffic have unique characteristics. Being able to separate your campaigns and target each device type individually will help ensure the best results. Plus, it'll also simplify the optimization process and allow you to tap into different segments at the same time.
Intricate Targeting Abilities
Blasting all users with an ad will reduce its efficiency, so affiliates need to find a platform that provides the ability to block out visitors based on certain characteristics.
RTX Platform allows extensive targeting abilities, so you can filter out traffic based on location, device type, connection type, browsing interests, and other variants. This will guarantee that only relevant users see your ads and give you more control over your budget, which will boost your ROI at the same time.
Full-Stack Reporting Features
Having comprehensive reports can help you visualize data more creatively and find ways to make the most out of your budget. Luckily, RTX Platform provides robust reporting features that allow you to condense data and present it in easy-to-digest chunks. This data allows you to identify different trends that guide your decisions during the campaign optimization process.
Flexible Payment System
For many affiliates, finding a quality network that allows payment flexibility can be challenging. The team behind RTX has put a lot of emphasis on customer experience, so they allow affiliates to issue payments through a variety of channels. At the time of writing, RTX Platform accepts payments via debit card, credit card, wire transfer, bitcoin, and ACH, but the platform has plans of expanding this in the future.
World-Class Support
The biggest benefit of working with RTX Platform is its world-class support. Each member is assigned an account manager that works as the first point of call whenever there's a challenge. Your account manager can help set up your account, provide feedback about the best strategies, and make sure that you're using all the features available through the platform.
Pros and Cons of RTX Platform for Advertisers and Publishers
RTX is a reliable alternative for both advertisers and publishers alike. To help you out, we'll go over the pros and cons of each stakeholder.
Publishers
Publishers want to monetize their traffic, but it's crucial to find a user-friendly approach that ensures sustained growth.
Pros
Suitable for website, app, and software monetization
Various ad formats available including push and native
Global demand
Seamless implementation
Full-stack reporting features
Cons
Limited payment withdrawal options
Advertisers
Advertisers looking to promote third-party offers as well as their own products will also be able to develop a successful plan to sell their products on RTX.
Pros
Higher ROI metrics
Multiple pricing models available
Cross-device compatibility
Superior targeting settings
Extensive reporting features
Cons
Relatively high deposit minimum
RTX Platform Competitors and Alternatives
Complete list of the best native advertising platforms.
Get Insights About the Best Ad Networks at lemonads
Affiliates have to overcome a huge number of challenges to build a successful campaign, especially if they are just learning the ropes. The good news is that the RTX Platform is a great alternative for affiliates of all expertise levels.
The team at RTX Platform has spent years developing a robust platform and building long-lasting relationships with some of the best traffic providers on the market. This, combined with its powerful set of features, has earned it our recommendation as one of the top ad networks available today.
To learn more about the best ad networks in the market, follow our blog or get in touch with us today and our team will be glad to help.
Accelerate your Conversions, Increase your Revenue
with lemonads
---
You would like