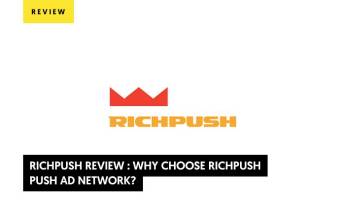 RichPush Review: Why choose RichPush push ad network?
Push notifications are one of the most popular ad formats in affiliate marketing with huge traffic volumes, worldwide GEOs, and high-performance.
In this review, we will speak about RichPush — a push notifications ad network which was among the first to enter the affiliate marketing industry with push ads format. Now RichPush team is constantly implementing new ad formats, working on UI and cool flagship features.
We've been working with RichPush for a long time and we have enough information to share with you our findings. RichAds platform allows running campaigns with different ad formats - push, pop and native but this review will be devoted to push notifications.
Let's check our RichPush review.
What is RichPush?
Before launching RichPush the team has been working on developing PlatformIO (White Label Advertising Platform) for a few years and then RichPush ad network was launched in 2018.
With 7 years of experience in ad tech solutions development, RichPush founders created an ad network with flagship features that help to drive performance. In addition to push ads experts that help with the campaign's setting and optimization, you also benefit from a unique optimization and automatisation technologies (Micro bidding, Automated rules,...).
You have to know that the minimum deposit in the network is $100, and the minimum CPC is $0,003.
Of course, there are certain niches in which each ad network has the most traffic. For RichPush, the top verticals are Gambling, Nutra, Sweepstakes, Betting, Dating, and Finance.
Targeting options available
An important RichPush advantages is a huge number of targeting options. Indeed, you have 16 target options: country, region and city, device, OS, browser, connection type, browser language, carrier, ISP, IP, time and schedule by week, new subscribers only, publishers, separate websites.
What is RichPush Insights?
Lots of affiliate marketers face the problem of finding statistics to analyze. RichPush develop RichPush Insights, a great way to know all the urgent and precise statistics — CTR, CPC, and Impressions for all the verticals and countries. All the data here is updated every week. RichPush Insights allows analyzing traffic even before you register on the platform.
In-page push format
Using standard push notifications, it's impossible to run ads on iOS devices. With RichPush in-page push format, you can avoid restrictions and cover all the devices.
RichPush in-page push is so called mixture of popup and usual push notification. Since push notifications were not used on iOS devices before, the CTR promises to be much higher. So, if you want to cover new audiences, RichPush in-page push is what you definitely need.
RichPush flagship features
There is a list of the instruments that make the work with push traffic much easier. RichPush team is constantly developing the platform implementing new features to drive users' performance.
This feature identifies sources that convert better and make them prior to the sources converting worse. This way the campaign can get more conversions for the targeted price.
This feature allows saving your money. If it is possible to buy conversions for a cheaper price, Smart CPC will do it.
The feature helps to create black and white lists automatically. You just need to make the rules for them (it will take just 5 minutes) and they will continue working automatically. You need not spend hours on the optimization process.
Now in one campaign, you can create different bids for different parameters like OS, location, hour, site, etc.
Launching RichPush campaign step-by-step
Support and personal account manager
If you deposit at least $500, you will automatically get a personal account manager who help you to choose profitable vertical and lander-offer combination and help you to optimize your campaign.
If your deposit is less than $500, you will have the quality support of our specialists.
Choose campaign type

There are different types of ads you can launch in RichAds - push, pop, native. We will look into how to launch push campaigns.
Upload creatives
RichPush allows uploading 10 and even more creatives. When you upload icon and the main image the system automatically crops your pictures according to the standard format. In the upper right, you can see how your creative will look like.
Choose the way of conversion tracking
Conversion tracking allows getting the most precise information about your conversions. Moreover, access to the top RichPush features like Target CPA, Automated rules, Micro Bidding is open only after configuring tracking of conversions.
There are 3 different ways of conversion tracking in RichPush - postback, pixel, and image.
Targeting
Then goes targeting section. Choose your GEO here as well as certain regions and cities.
Also, in this section, you can choose between mobile, desktop, and iOS.
In the upper right, you can see the minimum and recommended CPC as well as the link to RichPush Insights.
Also, you can set up impressions cap and click cap.

Impressions cap helps to limit the number of times push notification will be shown to the user. RichPush team recommends setting up 1 impression per user daily.  
Choose budget
The budget section helps to choose you cost per click and set the budget limit as well as CPA goal.
Advanced targeting options
Previously we've focused on the basic targeting. But this section allows setting up advanced options if you want to narrow your audience significantly. Browser, browser language, connection type, carrier, IP, and more.
Advanced targeting options

Then comes sources section where you can include either all available sources or choose some that have performed better before. If it is your first campaign in RichPush, choose all sources and then optimize your campaign.
Choose schedule
This function will be especially useful for affiliates working with time-limited offers. Here you can choose the time of the day your push notification will be shown to users.
RichPush review has shown that the network is interesting not only for professionals but also for newbies. Nice support and a great variety of functions make the work with the network simple and easy.



Accelerate your Conversions, Increase your Revenue
with lemonads
---
You would like