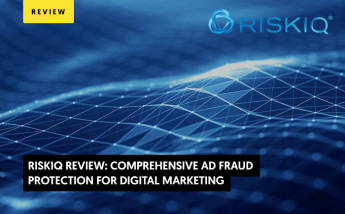 RiskIQ Review: Comprehensive Ad Fraud Protection for Digital Marketing
The digital marketing industry is projected to generate more than 980 billion US dollars by 2025. Affiliate marketing plays an important role in the continuous growth of the digital advertising vertical, but there are many challenges that advertisers, publishers, and other stakeholders need to address before these hurdles cause irreversible damage.
Digital ad fraud affects businesses in all regions and verticals, creating an imbalance that produces a ripple of negative effects. For this reason, all players in the online advertising industry need to come together and find the best ways to combat ad fraud as well as any other type of cybercrime.
Our technical team at lemonads has spent years developing custom fraud detection solutions that create a safe environment for all of our members. With this in mind, we also understand that the industry is only as strong as its weakest link. So, we've taken the time to craft a set of fraud prevention and protection resources that will help you create a safe business environment.
In this week's review of the top ad fraud protection platforms for digital marketing, we'll go over RiskIQ and discuss the different features found in this cyber protection platform.
Ad Fraud in the Digital Marketing Industry
The first digital ad was developed back in the mid-1990s. Since then, digital marketing has evolved into one of the most popular forms of advertising. However, digital ad fraud is almost as old as online advertising itself and it has been depleting marketing budgets without delivering results for more than two decades.
According to some projections, fraudulent activities may result in a loss of up to $100 billion per year if left unchecked, which would represent more than 10% of the industry's total revenue.
Like the online advertising vertical, the techniques fraudsters use have also gotten better, so it's almost impossible to differentiate between real and deceitful traffic unless you have the right tools. Therefore, the best alternative to safeguard your assets is to find a reliable fraud protection platform that allows you to monitor the entire marketing ecosystem.
RiskIQ Comprehensive Fraud Protection: Illuminate, Digital Footprint, and PassiveTotal
RiskIQ is one of the leading companies in the world of attack surface management and cybercrime protection. In simple terms, the platform allows you to identify, examine, and evaluate all potential areas that can be targeted by fraudsters. With this information, you can protect these potential risk areas, which are also called your attack surfaces, and minimize the effects of fraud on your network, campaign, or monetization process.
Most, if not all digital businesses have a firewall in place, but 3 out of every 4 attacks come from external sources. RiskIQ has developed an intricate mechanism that allows networks, publishers, and advertisers to protect their assets and ensure that the results obtained are real.
It's important to understand that RiskIQ offers different cybersecurity solutions that work extremely well together, which are Illuminate, Digital Footprint and Passive Total. When analyzed individually, each one of these has distinct capacities, but together they provide comprehensive support for ad fraud and other types of cybercrime.
For this review, we will discuss the benefits of employing all three in unison because they can create an ultra-safe platform that protects against all types of cybercrime, including ad fraud.
Let's take a look at some of the best features available at RiskIQ.
Interface and Usability
One of the best things about RiskIQ is that its entire toolkit was built from scratch and the end-user was kept in mind during the entire process. The cybercrime protection platform has an elegant dashboard that's simple, but still manages to condense large volumes of data into valuable statistics, which can significantly shorten the learning curve.
In addition to being easy-to-understand, the interface is also fast and intuitive, so you'll easily be able to access the different features you have available. You can customize your settings, create tailored reports, and view potential sources of malicious traffic.
Reduce Costs Related to Ad Fraud
Ad fraud can result in increased expenses for advertisers, publishers, and networks alike. The good news is that RiskIQ can help minimize the impact of ad fraud on your budget, allowing you to allocate those resources into revenue-generating activities.
RiskIQ was established more than a decade ago and has been scanning the internet ever since. In that timespan, the cybersecurity giant has scanned more than 75% of the internet using both IP-based and non-IP-based mechanisms, footprinting all of its contents and identifying potential sources of bad traffic at the same time.
In other words, RiskIQ can help predict cybercrime with extreme accuracy, so you can take the necessary steps to protect your assets.
Allows Real-Time, Automated Fraud Discovery and Response
RiskIQ's robust infrastructure was designed to deliver results in real-time, so you can automate different fraud detection and response mechanisms to keep deceitful interactions at bay.
In addition to allowing real-time response, RiskIQ also provides context every time you get a security alert. You can gain insights if you analyze context patterns and create an automated process that reacts to certain IPs, domains, hashes, components, code elements, and other variables.
Global Activity Sensors that Don't Rely on Agents
Through Illuminate, RiskIQ introduced a unique approach to help combat digital ads fraud. Its entire security infrastructure relies on a network of global sensors that don't rely on agents to map and document changes across the web. This means that you get a complete outlook of the digital landscape that allows you to see how deceitful parties are interconnected to your own platform.
In addition to the above, RiskIQ also helps you identify your true attack surface. As we mentioned earlier, the attack surface refers to every possible vulnerability that can be exploited by fraudsters. Some types of ad fraud are only possible under certain circumstances, so RiskIQ can help you see where your weaknesses lie and ensure these are protected against potential attacks.
Custom Watchlists and Adaptive Presentation Formats
Having a comprehensive watchlist is a key component of any robust fraud prevention machine. RiskIQ users can generate intricate watchlists that identify the source signal and filter our unwanted traffic.
After mapping the web for more than a decade, the company has analyzed information such as SSL certificates, hosts, cookies, ports, DNS, WHOIS data, and details available through databases like OSINT. For users, this translates to the ability to see the entire digital ecosystem, including platforms associated with deceitful traffic.
Effective Algorithms Powered by Machine Learning
Machine learning has many applications, but the nature of this type of technology makes it ideal for cybersecurity applications. The team at RiskIQ identified this potential and implemented machine learning as part of their basic infrastructure, so the platform can parse large volumes of data, learn from the different patterns, and uncover new types of fraud.
Seamless Integrations Thanks to a Dedicated API
Whether you're running an ads campaign or managing an entire network, you'll have to use a variety of different tools to achieve success.
Accessing each platform individually can take a lot of time, so having the ability to integrate different tools can save you a significant amount of effort. Fortunately, all the RiskIQ tools mentioned in this review can be integrated into a variety of different platforms thanks to a dedicated API.
Next-Generation Architecture
Although it has a range of powerful features, the reason why RiskIQ is among the leading cybersecurity providers is its unique infrastructure.
Unlike other ad fraud prevention software providers, RiskIQ has collected enough information to have an accurate visualization of the entire digital ecosystem. Instead of working on a reactive basis, the platform gives you a more holistic view, so you can take actions against an attack before it's being carried out.
The next-generation architecture features in RiskIQ can be broken down into four distinct parts.
Observations
The only way to prevent ad fraud is to understand what issues can potentially affect your efforts. RiskIQ uses a variety of tactics to uncover the different threats that can affect your campaign. This includes internet asset analyses and the implementation of tools powered by machine learning, which can be trained to behave like fraudulent parties in order to reveal valuable insights.
Context
The context in which a fraudulent interaction occurs can also help you understand how these deceitful techniques work. RiskIQ features code-level discovery, so it analyzes every bit of information during an interaction, including any pages, all content, and even the code behind the visible elements.
Insights
Presentation is everything in the world of big data and cybersecurity. Luckily, RiskIQ delivers information in formats that are easy to understand but still deliver actionable data that adds helps you further prevent ad fraud.
Automation
Automating different processes can be a huge time-saver. In addition to collecting data, RiskIQ can also be used to automate various steps that help bolster security in your campaign, publishing platform, or network. Users can choose to automate a variety of actions based on insecure third-party platforms, malicious Javascript codes, and many more.

RiskIQ alternatives and competitors
Start Protecting Your Revenue and Address Ad Fraud Once and for All with RiskIQ
In the next few years, ad fraud will become the biggest challenge for the digital advertising industry, unless all stakeholders take the necessary actions to eradicate deceitful interactions.
Even though most ad fraud protection platforms follow a similar structure, RiskIQ has broken the mold and focused on creating a technical solution that has many applications. After years of work, RiskIQ has created a comprehensive database that gives them a unique and accurate view of the global digital landscape, so you will always know where to focus on before an attack even happens.
This powerful tool is ideal for advertisers, publishers, and networks that want to protect against ad fraud as well as other types of cybercrime, making it one of the best options available today.
Want to find out more about the best ad fraud protection tools in the affiliate industry? Stay tuned to our blog or contact our team today and we'll be glad to help
Accelerate your Conversions, Increase your Revenue
with lemonads
---
You would like