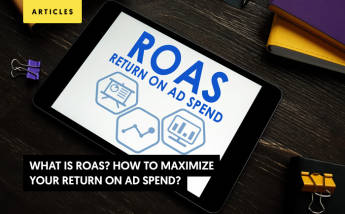 What is ROAS - How to Maximize your Return On Ad Spend?
If you are new to marketing and you are just getting used to all the acronyms of the industry, we've got your back! In this article, we will talk exclusively about ROAS and how to maximize them. So let's start by the base of it all.
What is ROAS?
ROAS stands for Return On Ad Spend. This is a marketing metric, quantifies how much your business earns in revenue for every dollar spent on advertising. ROAS is indeed one of the most important metrics to understand the performance of your campaign.
While ROAS is similar to ROI (Return on Investment), ROAS specifically looks at the cost of an advertising campaign, compared to the overall investment that could be counted in ROI. In other words, tells you how effectively you are spending your marketing budget.
Digital marketing effectiveness is determined by data and numbers.
How to calculate your Return on Ad Spend (ROAS)
To calculate your return on ad spend is very easy, don't let the numbers intimidate you. You need to know the revenue your ads generated and the total amount you spent in that campaign. Then you divide the obtained revenue by the cost of your ads and the result is your ROAS. This ratio lets you determine whether or not your marketing campaign is working.
Example
if you spend $1000 on an ad and the revenue generated by this ad is $5000 you have a ratio of 5 to 1. Meaning you made 5 times your investment in that ad.
The equation is familiar to ROI but ROAS and ROI are not exactly the same, so how are they different?
ROI gives you a general idea of how successful a project was. ROAS on the other hand looks at specific ads, campaigns, or initiatives and only considers advertising costs, giving you in-depth metrics that allow you to decide where to invest your budget successfully.
What Numbers should you take into account when calculating a ROAS?
It's a rookie mistake to think that the "cost of Ads" of the ROAS equation, makes reference to the media spent. To get an accurate estimate of the effectiveness of your campaigns, be sure to calculate the total cost of the ads.
Fees and commissions from partners and vendors who helped with the campaign.
Salary costs: How many hours of your graphic designer, your digital specialist, or any other staff member who helped with the campaign.
Affiliate commissions: this should include both commissions and network transaction fees.
If you don't calculator these costs correctly, your ROAS will be inaccurate. By not having this kpi sorted correctly, you could be wasting money on campaigns that are not effective or even stopping a campaign that was working well.
On which Networks can I calculate my ROAS
When you advertise using Google Ads, Facebook ads, Linkedin Ads, Instagram ads, Bing, Taboola and all the major ad networks, you have access to a very complete console to monitor your KPIs live. This allows you to know your conversion rate, the revenue as a consequence of those conversions, the amount of money you have spent on each ad (and every metric that is relevant to the goal of your campaign). With this information, you can very easily calculate your ROAS using the formula we gave you above.
What is a good average ROAS?
A good ROAS can vary depending on the campaign, the business, or even the marketing objectives. Having said that, lower ROAS can be bad indicators, but generally, a ROAS of 4:1 or higher can be an indicator of a good campaign. That means 4 dollars of revenue on every dollar spent.
Why does Return on Advertising Spend Matters?
With so many metrics doing well, you may be asking yourself why does ROAS matter? Maybe you're trying to convince yourself that it's too complicated to calculate and in this you are wrong.
You can stay on the safe side just by monitoring your click-through rate or the conversion rate, but these calculations will not give you very relevant information about your paid campaigns. Advertising is about making sales, not only gaining traffic. Of course, awareness is the first mission especially for a new brand, but all brands need sales, and you as a marketer are being paid to explode those sales rates through digital campaigns. Converting that traffic into revenue is the ultimate goal. ROAS can help you to make informed decisions about which strategy works best and which ones you should stop using immediately.
Is ROAS a better KPI than Click-Through Rate?
ROAS gives you a more detailed view of your advertising efforts than click-through rate (CTR). Why? Because CTR only tells you how many people clicked on an ad, it doesn't tell you if that click leads to a sale. But together CTR and ROAS can give you a deeper understanding of your campaign.
Example: If you have 1500 clicks on your ad, but your ROAS is 2:1, then your ad is generating clicks but customers are not converting.
How to Maximize your Return On Ad Spend?
Use Target ROAS Bidding

Target ROAS bidding lets you bid based on a target return on ad spend (ROAS). This Google Ads Smart Bidding strategy helps you get more conversion value or revenue at the target return on ad spend (ROAS) you set. Your bids are automatically optimized at auction time, allowing you to tailor bids for each auction.
Target ROAS is available as either a standard strategy for a single campaign or a portfolio strategy across multiple campaigns. This article explains how Target ROAS bidding works and what its settings are.
Include a branded PPC

If you are not currently implementing PPC campaigns, this strategy can be a game-changer to improve the ROAS. Typically branded search and campaigns will earn 2-4 times the average of non-branded campaigns. Since the buyer knows what they want, it is clear why conversion rates increase (and therefore ROAS get better) for branded campaigns. Some marketers might argue that bidding on your own brand is a waste of money and time. If the consumer already knows what they want, wouldn't they search for your shop and click on an organic result without it costing them money? Well, the problem with this line of thinking is that it doesn't take into account competitors who might be bidding on your brand's keyword.
While it's a fierce strategy to bid on another company's branded keywords, it happens. You can assume that your competitor won't jump in and grab the consumer's attention and convert them into new leads with their own PPC and when the consumer searches for your brand.
You never know when a competitor will bid on your branded keywords. In addition, using your branded keywords will increase your quality score, as the keywords will be highly relevant to your ads and landing pages. This will automatically translate into a lower cost per click (CPC).
If users ever click on your ads, that's fine as it's cheap traffic. If they choose to click on your organic listings, it's even better. Either way, they will land on your website.
Also, bidding on your own branded keywords allows you to control the conversation about your brand. Instead of leaving it to luck, you are strategically getting the right links in front of the right customers at the top of the search engine results page. This helps prevent the possibility of someone in your audience clicking on an organic search result that takes them to your competitor's website.
Add Negative Keywords

Another way to reduce unnecessary ad spend and improve ROAS is to add negative keywords. Negative keywords are keywords or phrases for which you do not want your ad to be displayed.
Example: If you are advertising a marketing tool with a basic subscription fee, and you add "free" as a negative keyword to your campaign or ad group, you tell Google Ads not to show your ad for any search containing the term "free."
The use of negative keywords helps improve the relevance of the traffic your ads generate, thus improving your return in online advertising spend.
Optimize your landing pages

Getting search engine users to click on your ads is half of the work. If you want them to convert, you need to make sure that your landing pages are optimized for conversion.
If you currently send all your traffic to the same landing page, it's time to stop and re-evaluate your conversion strategy.
The landing page your ad leads to should be in line with the audience you are trying to attract and the message you have used in your ad. For example, if your ad is a promotion buy one get one free, once your customers click, they should be taken to a landing page that promotes the same offer.
Part of optimizing your landing pages for higher conversion value is to A/B test them to see what resonates best with your audience. This involves having 2 slightly different versions of the same landing page to see which one converts best.
When A/B testing different landing pages, make sure to change only one or 2 elements such as the title or the call to action (CTA). This way you will know clearly what element is responsible for generating more conversions.
Adjust bids by device

Another strategy to increase your ROAS is to adjust your bids by the device type. With Google Ads, you can set different bids for mobile devices, tablets, and desktops. Normally you would start with desktop bids and then adjust your other bids accordingly. You will adjust the bidding based on a percentage that can be reduced by up to 90% or increased by up to 900%.
For starters, you'll want to narrow your offer to mobile devices. That's because most mobile device users are at the beginning of the buyer's journey or like we like to say in marketing in the Top Of Funnel of conversion (TOFU).
While this is not the case with all mobile users, it's worth adjusting your mobile offer since these clicks are not as valuable as desktop clicks.
We suggest that you start by reducing your mobile bid by 20% - 50%. If you find that your ROAS has improved, it is because your mobile audiences not as far along in your conversion funnel.
Adjust bids based on time.

Another bid adjustment you can make to improve your ROAS is to adjust bids based on the time of the query.
Example: X company recognizes that their ads don't convert as well on weekends because they are closed and there is no one to answer the phone. This means that the clicks resulting from ads displayed during the weekend are not as valuable as other clicks.
This is one time you can reduce your ads during weekend hours. Reducing bids during times when consumers are less likely to convert, helps you reduce unnecessary ad spend and improve your ROAS by increasing them when clients are more likely to convert.
Adjust bids based on geolocation.

Similarly to time, you should take a look at the location data from your current paid search ad campaigns. Are some areas converting more than others? Maybe customers in larger cities tend to convert at higher rates than in rural areas. If that's the case, you'll want to increase your bids for the areas where clicks are more valuable and decrease them in areas that are not generating any conversion.
If you have a physical location that relies on face-to-face traffic for sales, then it is especially important that you use geo-targeting for your PPC ads. Why wasting advertising spend on consumers that will never get to your shop? Narrow your audience by geotargeting your physical shop locations and surrounding areas.
Don't rely on broad match alone

Using broad match in your google ads campaign is a great tactic to see which keywords perform best for you. However, it can also cost you a lot of money without providing the return you need.
We suggest that you start by using broad match to find out which keywords convert best. Then, reduce your reliance on this tactic to spend more time and budget on developing an exact keyword matching strategy. Specific terms are more likely to generate conversions.
Once you know what keywords generate more conversions, stop relying on broad match for your campaigns and readjust your strategy once you have found more specific terms.
Constantly improve the quality score of your ads.

The higher your Google Quality Score, the lower your cost per click and the higher your ad will rank. These factors play an important role in the likelihood that search engine users will see and click on your ads, all adding up to improve your ROAS.
If you want to improve your ad relevance, you can start by structuring your campaigns into smaller, targeted ad groups. Instead of having just one or two ad groups with all your keywords, develop ad groups that are specific and directly related to the keywords they contain.
The ad's quality score plays a crucial role in your cost per click, ad rankings and, campaign success.
Once you have restructured your ad groups, focus on optimizing your ad text for the keyword.
If you want to increase relevance and boost click-through rates, you need to ensure that your ad copy is closely matched to the main keyword. Copyright has to be relevant but also attractive for users to click on it.
Conclusion
ROAS Return on Ad spend is one of the most important metrics in digital marketing. By calculating it correctly you will be able to know if your campaigns are performing correctly, what changes can be made, and in general, make some informed decisions for the benefit of the performance. By applying our 9 tips, you will ensure that you are doing everything in your capacities to improve your ROAS to the max.
Accelerate your Conversions, Increase your Revenue
with lemonads
---
You would like