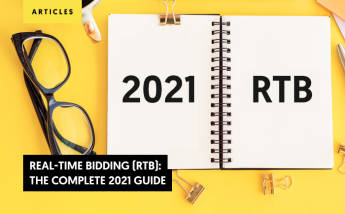 Real-Time Bidding (RTB): The Complete Guide 2021
The concept of modern affiliate marketing is only possible thanks to the technologies that power this marketing ecosystem. For this reason, when advertisers, publishers, networks, and other stakeholders are building their affiliate machine they need to pay close attention to the platforms that power their entire approach. Real-time bidding (RTB) technology is becoming the golden standard in the affiliate industry because it allows maximum flexibility while improving the way ads get delivered to the target audiences.
With the above in mind, RTB technology is relatively new, so not all stakeholders are familiar with this resource or how it can improve their operations. At lemonads, we stay updated with the latest developments in the affiliate world to deliver the best results for our publishers and advertisers, so we are familiar with RTB and what this type of tech can do for the different players in the industry.
While it's true that publishers and other stakeholders can use a variety of approaches to buy and sell traffic, but many of these leave a lot to be desired. Below, we've put together a guide explaining RTB technology, how it works, and why this solution can have a great impact on your affiliate efforts.
What is Real-Time Bidding?
There are many different ways advertisers can promote their services online, but most techniques rely on purchasing traffic from publishers and other traffic sources. Instead of negotiating each individual interaction, RTB facilitates the sales process, resulting in a smoother experience for all stakeholders.
In simple terms, openRTB technology allows you to organize an auction in real-time every time there is an opportunity to serve an ad. When real-time bidding takes place, publishers send out requests when an ad placement becomes available, and they receive bids from buyers in return. Thanks to the RTB platform, this process is performed in a fraction of a second.
Keep in mind that the cost of each ad placement is affected by the platform it's being displayed on, the time of day, users' location, and other variables. RTB platforms take all of these variables into consideration while calculating the ideal bid range, so both publishers and advertisers get the most bang for their buck. And, the best part is that real-time bidding also improves the user experience by delivering more relevant ads to every visitor on a publishing platform.
Stakeholders Involved in the RTB Process
Like the affiliate world, the RTB ecosystem is made up of a variety of stakeholders that benefit from the process in one way or another. That said, it's also important to know the purpose of RTB and why it's beneficial for all parties involved.
The internet became popular in the mid-1990s and affiliate marketing has been around since. However, publishers and advertisers faced a huge problem in the first decade of modern affiliate marketing. Publishers found it hard to find companies that wanted to purchase all of their traffic and placements. At the same time, advertisers couldn't always connect with their audiences the way they wanted, partially because it was hard to find the right type of traffic when buying bulk.
The solution was the development of RTB technology, which solves both of these issues while providing a secure environment for all interactions to take place.
As for the stakeholders that are involved in the RTB process, these are the supply side, demand side, and the ad exchange. In some cases, there may also be a trading desk involved, but this isn't always a part of the ecosystem.
Supply Side
In the RTB exchange, the supply side refers to the publishers that generate traffic and sell ad spots to the demand side. Publishers decide what ad formats, placements, and sizes are available. These are then made available to bidders that can build campaigns and claim ad spots according to the bids they win.
Remember, RTB technology can be leveraged by any stakeholder in the affiliate industry. Publishers that have the resources can build customized supply-side RTB solutions that are compatible with third-party interfaces. Additionally, website owners can also use out-of-the-package platforms or partner with RTB supply-side platforms that connect advertisers with publishers.
The type of RTB implementation will directly affect your monetization process, so consider all of your options and choose the best long-term fit before making a decision.
Demand Side
The demand side is much broader than the supply side because it includes advertisers, demand-side platforms, media buyers, networks, and anyone who wants to purchase traffic from publishers. These stakeholders are all looking for the same thing: to connect with all relevant audiences and get their marketing message across in the most effective way.
Demand-side stakeholders are usually looking for niche audiences, which may become a nuance when purchasing traffic without RTB. With real-time bidding, demand-side players can establish which are the most valuable users and adjust their bids accordingly. In other words, RTB ensures that advertisers, media buyers, and
Ad Exchange
Simply put, the ad exchange is the technology solution that allows the selling and buying of digital traffic between multiple stakeholders. The ad exchange employs RTB technology to determine prices, but the programmatic process also allows buyers to filter the type of traffic they acquire based on location, language, and other variables.
Ad exchanges fill a similar role to ad networks, but these reduce the frills and simply the entire process. As a matter of fact, some ad networks actually employ independent ad exchanges as part of their services, which amplifies the reach of advertisers and publishers that work with these traffic providers.
There are dozens of ad high-quality exchanges you can partner with, but their inventories can be extremely different. Always remember to do your research and select a provider that aligns with the type of traffic you want to buy or sell.
Trading Desk (Optional)
Trading desks are optional parts of the RTB ecosystem, so they are not present every single time a real-time bidding solution is used. That said, whenever a trading desk is in place, it plays an essential role because it acts As an intermediary between the supply side and the ad exchange.
What makes trading desks so special is that they give supply-side partners the ability to sell their traffic through a user-friendly interface.
Keep in mind that trading desks can also be used on the demand side, but this is less common. Moreover, trading desks can draw traffic from multiple sources including ad networks and independent publishers, so they can actually have a bigger inventory for advertisers and media buyers to choose from.
How Does Real-Time Bidding Work?
Understanding the RTB process is crucial for stakeholders that want to make the most of this technology. Real-time bidding works like an auction, but this process occurs in a split second thanks to the tech that powers it.
When a user accesses a website that employs RTB technology, the request for bids is sent out to the ad exchange as soon as the page starts loading. In addition to the signal for bids, the request also includes the location, page URL, and user demographic information so that potential buyers can determine whether they want to place a bid.
When creating their campaigns, demand-side stakeholders establish the type of visitor they are interested in. Additionally, they also determine how much they want to bid every time there is a request. So, by the time the demand side receives a request, the bids have all been established, so it takes a split second to figure out which buyer won.
Programmatic Advertising vs. Real-Time Bidding
Before going any further, it's important to understand the difference between real-time bidding and programmatic advertising. Although they are usually used as synonyms, these two terms don't mean the same thing, so they should not be used interchangeably.
Programmatic advertising refers to any automated mechanism of purchasing or selling ad spots. Yes, this includes RTB, but it also includes a collection of different systems that help advertisers and publishers interact more transparently. For instance, Google Ads uses an in-house algorithm to figure out which companies get the top positions and their formula includes several variables outside of price, like content quality. This system is also a form of programmatic advertising.
RTB technology, on the other hand, refers specifically to real-time bidding technology, which compares the bids placed by different buyers across multiple sources and chooses the highest option. This ecosystem creates an openRTB auction where hundreds or thousands of buyers compete. That said, remember that it can also be used by private providers, which reduces the amount of competition on both ends.

Read More: What's the Difference Between RTB and Programmatic Advertising?
Advantages of RTB Technology for Publishers
Publishers invest a huge amount of resources into attracting a specific type of traffic. But, these efforts fail to produce any results if there isn't a mechanism that allows these publishers to find advertisers and media buyers interested in buying their ads.
A few years ago there was no such mechanism, so publishers were forced to sell their traffic in bulk and average out the price, rather than charging what each visitor was actually worth.
Today, RTB technology allows publishers to sell each interaction individually, which improves their entire monetization process. Rather than packaging their traffic, publishers can rely on RTB technology to conduct a fair auction and interact only with buyers who are interested in the spots being sold.
The benefits of real-time bidding for publishers include, but are not limited to:
A More Streamlined Process
Although we've discussed how RTB has affected the actual selling process, this technology has actually changed the entire monetization scheme that publishers use. The impact has been so profound that publishers had to change the way their inventory was saved and categorized. This is because RTB technology automated the entire process for the first time.
The changes described above have resulted in a smoother, more streamlined process for publishers. RTB solutions evaluate every interaction, find interested buyers, and identify the highest bidder in a split second, all while handling the actual financial interaction. Thus, it makes the process much faster and results in a better experience for publishers.
But, remember that not all RTB providers are the same. To find the best alternative, you need to conduct extensive research and compare your options until you find the provider with the right set of features.
Better Revenue Per Ad and Monetization Schemes
If you've bought digital inventory or any other type of product in bulk before, then you're aware that the price of the goods usually goes down. And, as a general rule of thumb, the highest the number of products, the more the price drops. Which doesn't always work in favor of publishers, especially for platform owners that generate premium traffic.
As we mentioned before, publishers were forced to package their traffic, negotiate with buyers, and sell ad placements in bulk before RTB technology. Today, publishers can rely on real-time bidding to charge a fair amount for each and every single visitor they generate. Rather than having to sell bulk, RTB evaluates how much each interaction is worth in the blink of an eye, which means that it also eliminates any negotiations and accompanying concessions.
Allows for Optimization
There are some scenarios where publishers don't collect enough information to optimize their platforms. However, RTB technology is compatible with trackers, so you can actually analyze campaign statistics and make adjustments that improve your profitability. If you leverage an RTB solution, you will be able to increase your earnings without giving up control.
It's important to note that optimizing an RTB campaign is a relatively labor-heavy process. You'll also need to familiarize yourself with technical terms, so new publishers will need to invest resources into learning about the metrics that need to be tracked. To get the best results, you need to wait until you collect enough information, set time aside for optimization, and periodically review the performance of your ads.
Accurate Pricing
Determining the price of each ad placement is tough because user behavior changes constantly. Publishers that negotiate pre-set prices usually miss out because they are talking about interactions that will occur in the future. In most cases, this means that publishers lose negotiating power, so advertisers usually try to run down the price as much as possible.
With RTB, the price for each interaction is defined by a complex algorithm that takes into account every single bid from each potential buyer. The result is more accurate pricing for every interaction, which creates a fair environment for all parties involved. And, if you're a network that doesn't want to base the decision solely on pricing, you can combine RTB with quality variables to create a more holistic ranking system.
Remnant Inventory Increases in Value
Figuring out what to do with remnant traffic can be challenging, let alone finding parties that want to pay top dollar for these visitors. However, RTB lets publishers set up several monetization streams to make sure that fill rates are as high as possible. And, the best part is that everything runs through the real,-time bidding process, which means that you won't have to offer discounts to sweeten the deal.
In addition to generating revenue from otherwise non-monetized traffic, you can expand the list of advertisers you work with and discover new industries that are interested in your platform. Some remnant mainstream traffic overlaps with adult traffic and other alternative industries, so you can experiment with all combinations until you find the best setup.
Gives Publishers More Control
Whether it's through an in-house solution, out-of-the-box product, or a third-party, all publishers need a supply-side platform to partake in RTB auctions. But, besides working as an interface, the supply-side platform or SSP actually gives publishers limited control over the ads that appear on their platforms.
When using an RTB solution, publishers may be able to decide which buyers get to purchase the inventory, the available time slots, and how much the minimum bid requirement is. Moreover, publishers may also be able to set other parameters and have even more control, but this varies depending on the platform being used. With that in mind, it's important not to limit the opportunities you have, so always try to find a balance between making the most from your traffic while still delivering a good user experience.
Improves Audience Understanding
One of the biggest challenges that publishers have faced since the early days of affiliate marketing is identifying the traffic segments that they should pay the most attention to. This is often defined by comparing revenues from each audience, but not all platforms allow for the collection or analysis of this data.
Remember, RTB allows optimization, which means that you can connect trackers and measure how well your site or app performs. This also means that you have access to a significant amount of consumer data, so implementing this technology can actually reveal a huge amount of information about your target audiences.
Before analyzing the data, publishers need to collect enough data to be statistically significant, but this varies depending on the industry. So, always remember to establish the minimum number of conversions you need to have before you can start assessing the data you collected.
Compatible with Private Marketplaces
Publishers that partner with private high-end marketplaces tends to have revenue that's much higher than the industry average. That said, also keep in mind that many of these marketplaces expect publishers to have the right technology stack to simplify the interaction. And, needless to say, this usually includes an RTB supply-side platform that allows for a seamless partnership.
Traffic providers that implement RTB can then access a large collection of superb marketplaces, which usually feature top-notch advertisers as well as global networks. In addition to higher revenue, publishers can end up promoting exclusive goods on their platforms, which can boost user engagement and have a positive effect on key metrics. Plus, you always maintain the same level of control and transparency thanks to real-time bidding technology.
Boost in Direct Sales Performance
If you're a publisher that wants to sell all of his or her traffic, RTB can reveal which segments are the most profitable. In addition to simply selling the best interactions at a higher price, you can work on attracting more visitors from this audience. This means that your high-value inventory will be much bigger, so you'll have an easier time finding buyers that want to pay top dollar for your traffic.
Even though RTB can reveal your most profitable type of traffic, you should also consider scalability and your own set of skills.
For instance, if the most profitable segment of your publishing platform is already saturated, you may not be able to get more visitors easily. Likewise, you may not be able to generate engaging content for this audience, and outsourcing this process will always cost more than keeping it in-house. In these cases, you're better off focusing on the second or third most profitable segment, depending on which one has the highest chances of success.
Benefits of RTB for Advertisers
One of the best parts about RTB technology is that it creates a better ecosystem for all stakeholders, not only publishers. Advertisers can implement RTB technology on their side to make sure that they are getting the most bang for their buck. Keep in mind that in this sense, "advertisers" is an umbrella term that includes media buyers and any other party that wants to purchase publishers' traffic.
For advertisers, RTB can be seen as the technology that enables this specific type of pay-per-click advertising. Like publishers, advertisers actually enjoy a collection of different benefits when implementing an RTB solution. These stakeholders can also choose to develop a custom solution in-house, use a product from a third-party, or purchase traffic through a source that uses RTB.
Some of the benefits of RTB for advertisers include:
Higher Revenue Thanks to Targeting Features
Affiliate marketing is one of the few industries where buying bulk isn't necessarily the best thing. Before RTB technology, advertisers were forced to set a price for bulk traffic before actually receiving it, so they were not sure what percentage of the traffic would actually be relevant. While this may have worked out in some cases, most advertisers found little success.
Fortunately, RTB technology now allows advertisers to target users depending on their demographic information, like age, location, interests, and other variables. This allows brands to build solid connections with the right audience and reach potential customers every single time.
Better Analysis of Performance Metrics
It's normal for advertisers to test out different types of marketing tactics, but these brands need to work with approaches that can be tracked and measured to determine which one delivers the best results. Real-time bidding allows these companies to evaluate how their ads are performing using information that's updated instantly.
Advertisers can use the analytics data to find the best traffic sources and figure out how to tweak their targeting settings. Not only can you analyze campaign data while your ads are live, but you can also review this data when building a new campaign and hit the ground running with your new ads.
Ability to Adjust Marketing Plan
Digital ads can be adjusted after being launched, so all modern marketing plans need to be flexible. RTB technology takes this to another level because it empowers advertisers to take full control of their budget and content. Brands and media buyers can adjust their marketing strategies mid-campaign and change their bids, creatives, or any other variables to suit their particular requirements.
For instance, if you notice your campaign is burning through your budget at a faster rate than you were expecting, you can either try reducing your bids or changing your ads' delivery frequency. Just remember to analyze key metrics before and after you make changes to ensure that your adjustments had the right results.
Brand and Reputation Protection
Although it's employed by a huge number of brands, many companies avoid affiliate marketing because they feel like they lose control of their brand image and reputation. Needless to say, brand image can make or break a company, so most businesses are not willing to sacrifice control over this area.
When implementing RTB, advertisers gain back control over where their ads are displayed, which directly affects the way consumers perceive their brands. Real-time bidding is also compatible with verification services, so you can use a variety of checks to make sure that your ads are displayed on the right website and not on illegal or irrelevant platforms.
How to Implement RTB Into Your Operation
There is no doubt that RTB can improve the way publishers and advertisers conduct business. But, not all RTB solutions are the same, so you need to carefully evaluate the different options you have available and select the best provider.
Both publishers and advertisers can opt for custom RTB solutions and ready-made platforms that can be easily installed. Additionally, publishers can also partner with third-party supply-side platforms that help them sell the traffic they generate. Moreover, media buyers and other advertisers can opt for demand-side platforms that compile inventory from countless sources.
If you're looking for the best RTB solution, remember to evaluate your:
Traffic Volume
For advertisers, the traffic volume of a demand-side platform dictates how scalable their campaigns can potentially become. In these cases, media buyers and other advertisers have to find a provider that provides enough traffic to generate a large enough revenue from each offer. That said, there are other elements you need to evaluate, so don't make a decision based on traffic volume alone.
Publishers, on the other hand, should pay attention to the amount of traffic that's generated on their platforms. The more visitors they receive, the more chances publishers have of being accepted into any supply-side platform out there. Furthermore, the best RTB technology providers usually have a minimum traffic requirement, so monitoring this metric will help publishers find the best solution regardless of their preference.
Target Audience
Albeit for different reasons, the target audience is important for both publishers and advertisers that are trying to find the best RTB solution.
Advertisers need to keep an eye on the target audience for obvious reasons. The location, age, gender, preferences, and other demographic information about the target audience will affect the ads they create as well as the demand-side platforms they work with.
Many publishers develop content for a specific audience. This means that these platform owners need to find supply-side platforms that are interested in these users. Not only do these platforms offer more competitive rates, but they have a higher chance of attracting leading advertisers in certain niches.
Content Quality (For Publishers)
Partnering with a supply-side platform or similar RTB provider is a great option, but you need to consistently produce quality traffic to maintain your traffic volumes. If you don't already have a system in place, you should develop a quality control process and make sure that all of the images, text and other content on your site meets your RTB platform's requirements.
Traffic Quality (For Advertisers)
Advertisers, on the other hand, should pay close attention to the quality of the traffic received. It's impossible to gauge the quality of the traffic before partnering with an RTB platform or tech provider, but you should research the traffic source in question to make sure it has a good reputation. Then, keep a close eye on the performance of your ads during the first few days until you're sure it's a reliable source.
What's in the Horizon of RTB Technology?
The Interactive Advertising Bureau, which is the entity responsible for developing the original RTB back in 2010, periodically releases an updated version of the API framework that powers this technology.
This ensures that RTB technology is constantly being improved and adjusted to meet the requirements of the modern marketing ecosystem.
Find Out More About the Best Solutions for Publishers and Advertisers
Real-time bidding solutions empower advertisers as well as publishers, creating a safer and more balanced advertising landscape. This technology has revolutionized the way both of these stakeholders interact while refining user experience at the same time.
To find out more about RTB and other crucial concepts in the affiliate marketing industry, stay tuned to our blog. Ready to find a great offer or track down the best publishers? Contact lemonads and our team will be glad to help.
Accelerate your Conversions, Increase your Revenue
with lemonads
---
You would like