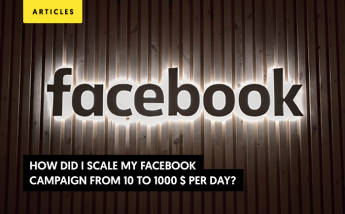 How Did I Scale My Facebook Ads Campaign From 10 to 1000 $ Per Day?
Wondering how I scale my Facebook campaign from 10 to 1000$ per day? In this article, I'll show you how it can be done and … yes! It's possible! You only need to know where to start to take your Facebook advertising campaigns to the next level!
Let's start to improve your Facebook Ad conversions!

If you don't know what Facebook Ads Campaign is, we invite you to start by reading our article: Tips for Building a Successful Facebook Ads
First, do you know about the Facebook Ad campaigns world and how to scale it?
What do we mean by "scaling" Facebook campaigns? Easy!
Two examples of scaling: find a profitable niche to invest more money on in Facebook ads to expand your target audience or reuse a successful Campaign to target a similar audience!
Scaling a business simply means setting the stage to enable and support growth in your company. It's about having the ability to grow without being hampered.
Did you know that Facebook increases ad set budgets by 20% every two to three days? This is a pretty common technique to scale budget and conversions on ad sets, to begin with, but let's dive into it a deep further!
Increasing your audience range is the first step into scaling your advertising budget beyond $50 per day.
By reconsidering the range of the audience you're targeting, you will go from small, tightly defined audiences, to larger ones, and this will provide your Facebook Pixel with more opportunities to attain more new customers!
Here below find 4 simple, but powerful ways to know how you can scale an Ad set:
Increase the budget of your winning Ads.
Take a deep dive into Facebook Audience Insights.
Create a Look-a-like audience.
Expand to different locations.
And scale your path to greatness!
A very common question is also how much you should invest or how much it will cost you, but, no worries, many businesses can afford Facebook's inexpensive Ads.
Certainly, how much you spend is important. But, for as little as $1 a day, you can make a real impact. According to Moz, by spending $1 per day on Facebook ads, you have the chance to go in front of about 4,000 people that wouldn't have seen your ad otherwise.
Your baseline for Facebook budgeting should be how big your remarketing audiences are.
Facebook ads have an average cost-per-click (CPC) of $1.86 and cost-per-thousand-views (CPM) of $11.20, which varies based on factors from ad quality to competition.
So, you're ready to begin?
In this article we will cover all there is to know on how I scaled my Facebook campaign from 10$ to 1000$ per day:
Requirements for scaling;
"Know-how" to do creative scaling;
How to do horizontal scaling;
How to do vertical scaling;
When to scale.
1. Requirements for scaling
Before scaling, you want to be very profitable by starting with 3 ROAS (Return on Ad spend) ads because the higher you start scaling and the higher your budgets, the higher your cost per purchase is going to be. If you don't have a good return on Ads, and you are not being profitable when you try to scale and increase budgets, you are never going to be profitable either.
Starting by making sure that the Facebook campaign is profitable: like the example below, the ad set has run for 3 consecutive days and generated 7 conversions at $10.68 each.
So, if you set this as your priority, that's already a good start. You will also need good customer service and a fulfillment system in place!
In the beginning, it's important to take a step at a time and scale very slowly, just like when you are starting something new and setting good skills, just like fulfillment before taking too many steps further by scaling hard. If you don't set this first point, you won't be able to scale for longer than a couple of weeks, making you go out of business ahead of time because of too many chargebacks or refunds!
Another important requirement, which could sound dumb but it's not, is to have enough money or credit, to begin with, to fulfill orders while scaling. If all you are doing is putting your budget towards scaling your Facebook ads, but you don't have good systems to fulfill orders or send people their product, then, you are going to end up with lots of chargebacks and be out of business overnight!
So, be profitable, set in mind you must have good systems in place not to run out of business, and be sure you have enough money to start scaling!
2. Know how to do creative scaling
Creative scaling is a method that comes down to finding more winning Ads and videos that make you earn money. Creative scaling is how you can get at least six months or more of consistent income from only one product!
Products don't die, but, if that happens, it's because if you run one Ad on Facebook for a couple of months, Facebook starts to throttle its performance thinking it's an old ad and, when that happens, you can say goodbye!
All your products need value so, make sure you give them the right consistency to increase your average order value, your lifetime value, your overall branding. Make your product more creative to make more money on that one single product for over a year!
So, how do we do this? We simply duplicate your 10 to 20 best ad sets to a new campaign (one new campaign equals one new Ad) each of them 5$ a day and change one thing about the Ad to find more winning creatives.
What you don't want to change is the Ad copy nor the video all-in-one. Just duplicate your best ad sets to one campaign and change just one thing, which could be the thumbnail or the first seconds of the video, or the first line in your Ad copy.
Test one metric and, if it works, scale it, but if it doesn't, kill it.
When you find a new creative that is profitable, begin with the horizontal and vertical scaling!
So, let's get to know more about these two methods!
3. How to do horizontal scaling
Horizontal scaling is for sure what you want to do before increasing your budgets, which means before vertical scaling!
Horizontal scaling is doing micro testing!
You can learn how to do horizontal scaling by choosing from one of these three different methods:
Duplicate Add sets with a scale by leaving the same budget and target a specific age, gender, or platform that got the sale. It's important you only change one metric at a time.
Duplicate Ad sets and change interest to something that Facebook suggests finding new audiences, new interests to target! (targeting click suggestions below).
Duplicate a profitable ad set multiple times to reach a different segment of the audience
Every time you duplicate an Ad set, Facebook is going to show it to a different pocket of people within the audience, so, if the total audience is about 1 million people, then each ad set is going to show it to a different segment from 1.000 to 5.000 people!!!
It's important to do this before vertical scaling, because it's testing and giving consistency with Facebook ads and, during the weekend, you can scale the best ones that are performing well vertically.
Keep in mind that you will be having 100 ads for 5$ to 10$ a day so, before scaling vertically, you must see which ones are performing better to invest on.
4. How to do vertical scaling
As we said before, vertical scaling can be done after we concentrate on our horizontal scaling. You can handle things out by concentrating on your horizontal scaling during the week and boosting your vertical scaling during the weekend, but this is up to you!
Vertical scaling is way easier!
It's all about duplicating ad sets that have more than two sales and more than two to three ROAS and double the budget!
And, if your ad sets have more than two sales and more than 4 ROAS, triple that to a 5-10x budget!

If your ad set has more than 4 ROAS, that means it's performing well!
5. When to scale
Let's get down on when to scale. Start horizontally scaling after a few days of being profitable on a new product.
Let's take an example of 10 ads for 5$ a day and running that for 48 hours, that is a solid 2 days so, if you have multiple Ad sets profitable purchases, start scaling those horizontally by duplicating them multiple times into a specific platform.
Only then, once you have more than 2 sales with 3 ROAS (it could probably take 5 to 7 days to become profitable), then you can start your vertical scaling!
After 1 to 2 weeks of being profitable on a product, start your creative scaling.
Test to find 1 new creative (video, thumbnail, or an ad copy) every single week.
Now that we've covered all about how I scaled my Facebook campaign from 10$ to 1000$ per day, start testing for yourself all the methods I've covered that you liked most applying them to any product and, only then…. you will start scaling your Facebook campaign from 10$ to 1000$!
Accelerate your Conversions, Increase your Revenue
with lemonads
---
You would like