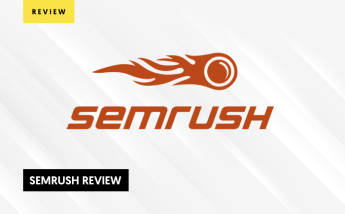 SEMrush Review 2021: Keyword Research, Competitor Analysis, and Affiliate Marketing Intelligence Tool
Known as one of the most complete marketing intelligence tools out there, SEMrush has become a household name in the world of digital advertising. This platform is used by many affiliates and agencies around the world because it provides extensive insights as well as competitor intelligence that allow for the creation of better campaigns.
At lemonads, we work with some of the top advertisers and affiliates around the world, so we're familiar with the tools that help these stakeholders get the best results. Although it does carry a slightly higher price tag than the average marketing analysis tool, SEMrush can be a game-changer that helps you take your ads and overall content to the next level.
Let's go over our SEMrush review and explore the best features that this tool has to offer.
Introducing SEMrush
Simply put, SEMrush has earned a reputation for being a superb marketing tool suitable for both SEO and paid advertising specialists. This analysis tool was designed to simplify online marketing, which is not a simple topic in itself. The result is a powerful tool with a comprehensive feature list and an intuitive interface that provides an excellent experience for users, regardless of knowledge level.
One of the most striking characteristics of SEMrush is that it's highly visual. It automatically generates easy-to-understand graphs and other visual assets that help you digest the data it displays. Plus, it's an all-in-one tool, so it can help you find the right keyword, write better content, and see what competitors are doing through one single platform.
Benefits of Using SEMrush
The team behind SEMrush has spent years developing a superb tool that provides valuable insights into your competitors' paid and unpaid marketing campaigns. You can evaluate the performance of the industry leader's content and figure out what steps they are taking. This information will help you make better decisions and inspire you to develop more engaging content.
Additionally, SEMrush is a great resource that helps you evaluate the performance of the rest of your assets! Whether you're running a publishing platform or a paid traffic campaign, you can set a benchmark for the performance of your materials. After optimizing and collecting enough information, you can compare the results and track how the performance of your content evolves over time.
Using SEMrush brings a collection of additional advantages, including:
More engaging ads and superior quality content
Improved social media presence
Streamlined PPC campaign management
Superior reporting features
Gigantic keyword database that's constantly being updated
A wide collection of features designed for better organic and paid campaigns
The Most Common Challenges You Can Address with SEMrush
Keep in mind that this platform can be used by affiliates that run their own publishing platform as well as media buyers. Successful affiliates usually develop multiple organic and paid campaigns simultaneously, which makes SEMrush a great alternative regardless of the setup in place.
There are dozens of variables that affect how well affiliate content performs and countless challenges that can result in low traffic. While it was initially developed for SEO, SEMrush has introduced a variety of powerful features that allow it to solve some of the most common challenges affiliates face today. Some of these include:
Poor SEO Performance
Search engines produce the vast majority of web traffic, so ensuring that your publishing content has good SEO is the best way to increase the number of visitors to your platform. That said, getting high SEO rankings for your pages can be challenging, especially if you don't have a reliable marketing analysis tool.
The good news is that SEMrush is actually one of the best platforms to improve your website's SEO. From backlinks to content optimization, this tool provides all of the resources you need to evaluate the performance of your current content and what you need to do to get better organic results.
Outdated Organic, Paid, and Social Marketing Strategies
Whether you're running a marketing strategy that consists of organic, paid, social, or a combination of the three, ensuring that your approach is effective should be atop your priority list. Rather than fitting with traditional structures, SEMrush actively encourages companies to abandon outdated silos and promotes the analysis of content from different angles.
Thanks to its powerful feature list, this platform allows you to see how your content performs on social media, video platforms, your website, and almost any other virtual publishing channel. This means that SEMrush is the perfect tool to analyze outdated marketing plans and create a custom approach that allows affiliates to engage and build a connection with their audiences.
Lack of High-Impact Keywords
If your campaign is not converting, but you have an attractive product, engaging materials, and a set of robust landing pages, you may not have the right keywords in place. SEMrush has amassed one of the biggest keyword databases in the world and the platform is always adding new terms as well as updating its current readings.
Besides the actual volume of each keyword, affiliates can see a huge collection of details, including how many ads are in place, the number of results available, difficulty by country, and other details.
10 Most Notable SEMrush Features
SEMrush is packed with a huge collection of superb capacities that range from simple, one-click features to complex solutions that can only be used by advanced marketers. The platform developers have slowly added new features and refined existing capacities to deliver more accurate results.
Although it has dozens of awesome abilities, we selected the top 10 SEMrush features you can use to develop a better affiliate campaign. These are:
1. Organic Keyword Research
The keywords you use directly affect the amount and quality of the traffic you generate. SEMrush has a powerful keyword research tool that lets you see the monthly search volume, ranking difficulty, and available variations for every term you want to implement. You can view results from different countries, including the US, UK, Canada, India, Denmark, Spain, France, and more than 180 other regions.
2. Paid Display Advertising Spy Tool
Instead of starting from scratch, SEMrush allows you to see what the leading competitors are doing before you develop your campaign. Through this marketing analysis tool, you can view the leading ads in your industry, the keywords these advertisers bidding on, and examples of the creatives they're currently using, among other valuable details.
3. Backlinks Viewer
Most marketers agree that backlinks make up the majority of a website's SEO score. Fortunately, SEMrush can help you see which backlinks the leading competitors are getting their SEO juice from, which allows you to develop your own strategy based on platforms that have proven results.
4. Product Listing Ads Explorer
Product Listing Ads (PLAs) are a type of format that allows advertisers to place creatives close to the top of Google search results pages and other properties. Sometimes referred to as Google shopping ads, these adverts show more information about a product than regular text ads, including the price of the goods being promoted. SEMrush has a dedicated feature that allows you to see what PLAs competitors are using, their contents, and other details about these Google-ran ads.
5. Extensive Reporting
Although it's not a tracker, SEMrush collects a huge amount of information in real-time. The only way to properly analyze and digest this information is by breaking it down into easy to understand pieces. Luckily, this marketing intelligence platform brings powerful reporting features that allow you to develop visual assets, which transform the raw data into actionable information you can use right away.
6. Brand Monitoring
Gauging how your audience perceives your brand can help you make better marketing decisions during your campaign creation as well as optimization stages. In addition to letting you see just how visible your content and overall brand actually are, SEMrush also ensures that you maintain the same tone across all channels. Plus, you'll always develop content based on research, so your audience will be eager to consume your content whenever you publish it.
7. Social Media Posting and Tracking
You should have a separate social media strategy that works with your other campaigns, but that's also been personalized for the goals you want to achieve. SEMrush includes a social media automated posting feature that helps you schedule your content in bulk. And, you can also track the performance of your marketing campaign, including paid ads as well as social mentions.
8. Content Analyzer and Optimizer
The content on your site doesn't only drive traffic, but it helps you convert users and monetize the visitors that enter your site. SEMrush can help you assess the quality of your content, compare it to the leading brands, and give you a clear idea of the steps you need to improve your materials.
9. World-Class Support
Not only does it provide a powerful technical platform, but SEMrush has also earned a reputation for delivering world-class customer support. If you need assistance, you can reach the support team via email, phone, or live chat. Plus, you can submit tickets on your own and take advantage of the free training courses that teach you how to use the platform properly. Just keep in mind that at the time of writing these resources were only available in English.
10. Suitable for Multiple Devices
SEMrush is a cloud-based solution, so you don't need to install it on any of your devices. As a matter of fact, you can access the platform through a variety of internet-capable gadgets, including computers, tablets, and smartphones, making it a great fit for marketers that want to work on to go.
Ready to Use SEMrush? Find the Best Affiliate Offers Today
SEMrush may very well be the top marketing intelligence and competitor analysis tool that affiliates can opt for. Using this platform will undoubtedly increase your chances of success and allow you to develop better content for your organic, social, and paid affiliate campaigns. We hope that our SEMrush review above helps you decide whether this platform is the best option to help you build better campaigns.
If you're ready to test out SEMrush and develop better ads, lemonads is here to help. If you need any assistance finding the best affiliate offers get in touch with our team today and we'll be glad to help.
Accelerate your Conversions, Increase your Revenue
with lemonads
---
You would like