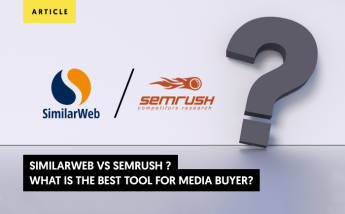 SEMrush vs SimilarWeb: What is the Best Tool for Media Buyers?
The road to becoming a successful media buyer is paved with regular practice and continuous learning. Despite the fact that media buying is an old marketing activity, the surge of digital advertising has forever changed the way marketers purchase ad spots. Today, media buyers can choose from a seemingly infinite set of options, but this doesn't mean that every one of them will deliver the right results or that all campaigns will be successful.
Media buyers have to take many different elements into consideration when determining what ad spots they want to acquire and how they're going to build their campaigns. Fortunately, you also have a wide variety of tools for media buyers that help you analyze the different platforms you can buy from and figure out which one offers the best chance of success.
That said, you need to find a tool that provides valuable insights in terms of traffic volume, keyword rankings, and other website performance indicators.
SimilarWeb and SEMrush (SEMrush review) are two of the most popular marketing analysis and business intelligence tools available for media buyers. Both of these offer similar basic features, but they also have unique capacities that set them apart from each other. And, even though some media buyers may be able to cover both tools on a monthly basis, many others will have to make a choice between the two -- and it's not an easy one to make.
At lemonads, we understand how it feels to have to choose between two great options. To help you make the right choice, we've put together a head-to-head comparison between SimilarWeb and SEMrush that includes their best features as well as the elements that differentiate them from one another.
Let's jump right in!
SEMrush vs SimilarWeb: Which One Should Media Buyers Choose?
SEMrush and SimilarWeb are different platforms, but they share a lot of similarities. For instance, both can help media buyers learn about their audience, find the best traffic sources, and evaluate each platform before deciding to make a purchase.
Despite the fact that their basic capabilities are similar, it's worth noting that SimilarWeb vs SEMrush both have unique features that have transformed them into two of the leading tools available to media buyers and all digital marketers.
We've kept in mind that every media buyer is different, so instead of proposing a "silver-bullet" solution, we'll objectively analyze both platforms to help you make the best choice.
SEMrush
The best way to describe SEMrush is as a one-in-all toolkit built for the digital marketer. Media buyers can choose from 20+ features that help them find the best traffic sources and consistently build successful campaigns. Founded in 2008 by a team of elite marketers, SEMrush features a complex interface that requires some getting used to, but its features are definitely worth the effort.
Full-Stack Keyword Research and Domain Analysis Tool
Solid keyword research is the foundation of almost all successful digital marketing campaigns. SEMrush features a powerful keyword research engine that can help you determine search volume, ranking difficulty, and how much competition publishers are facing. Plus, you'll also get keyword suggestions you may want to use in your campaign, but remember that this feature is labeled as 'keyword magic' in the platform.
As a matter of fact, the platform's keyword research feature is partially what garnered a lot of good attention when it first rolled out because it provided more accurate statistics than other leading tools.
SEMrush allows you to see information about keywords in almost 120 countries, so it's also one of the most comprehensive business intelligence tools for media buyers in terms of reach.
Market Explorer
The market explorer tool is one of the most interesting features on the platform and it was designed for companies that wanted to directly analyze their competitors. Media buyers can use this feature in a variety of ways because it can reveal the biggest players in the market and how the shares are divided amongst them, as well as demographic information about the audience, seasonal patterns, and other valuable insights.
Tracks a Wide Variety of Metrics
In addition to providing information about the market and keywords, SEMrush tracks a huge number of metrics. These include, but are not limited to:
Pages where users enter or exit the website
Session information
Social management statistics, like sentiment scoring and social sharing
The page's rank on SERPs
Number of return users and session information for each
Engagement and conversion
Dedicated Backlink Tracking Feature
Backlinks can be a valuable source of traffic for media buyers, especially for those in the  health and e-Commerce verticals. SEMrush allows you to granularly assess the backlink profile of the sites you want to purchase from, so you'll know when there's a higher chance of landing more conversions. You'll also be able to see the trend, so you will know if the page is getting more backlinks over time or if the referring sites have stopped sending traffic back.
Top-Notch Support
It's safe to say that SEMrush is on the more complex side when it comes to usability. The platform is packed with great features, but you may need to speak with their support team a few times before you feel fully confident.
The goods news is that the company has a world-class support team that is available via phone, email, or live chat. The support team replies quickly and can help solve all the technical issues you may face, so you'll have plenty of help when learning the ropes.
SimilarWeb
SimilarWeb is the flagship product of SimilarGroup, an Israel-based startup that has been around for a while now. Launched in 2007, SimilarWeb was designed to work as a competitive analysis tool and it has remained as one of the leading tools for media buyers as well as other types of digital marketers since.

In simple terms, SimilarWeb takes large volumes of data and transforms them into insightful metrics that give you a holistic view of the competitive landscape. While staying up-to-date with the competition is also crucial for media buyers, SimilarWeb's features allow them to assess multiple traffic channels in order to find the ideal fit.
Some of the best features for media buyers available in SimilarWeb include:
Intuitive Dashboard and Easy-to-Navigate Interface
Most users will spend a huge chunk of time on the dashboard, and the team behind SimilarWeb made sure this area is as functional as possible. When you log in, the first thing you notice about the platform is that it's elegant and frill-free. SimilarWeb is intuitive, light, and feels modern, so this business intelligence tool doesn't have a very long learning curve.
Once you run a search for a competitor's site, you can see metrics displayed by geographic location, referring websites, traffic volume, social media, paid advertising, and audience. You'll also see sites that have similar content as well as any related mobile apps, giving you a more holistic view of the platform's reach.
Comprehensive Metrics List
As you can imagine, SimilarWeb can track a huge list of metrics and presents them in a rather elegant format. Some of the most notable metrics you can track include:
Sessions: This is where you'll find all the web traffic information
Engagement: Tracks statistics like session length and average page views per session
Entry and Exit Pages: An interesting metric that tells you how users enter and exit the site you're analyzing
Standard and Custom Event Tracking: You can see events that the platform tracks automatically and set up your own custom events monitoring
Retention: In other words, metrics like the bounce rate
Conversions: SimilarWeb uses a variety of methods to track conversions
Funnels: Allows you to see how many users follow the buyer's journey
Return: Can help you measure users' return rate for remarketing campaigns
Keyword Generator
The keyword generator tools provide intricate information about specific terms, including search volume, SERP rankings, and related suggestions. You can also find suggestions for long-tailed keywords and similar suggestions you may want to implement in your campaign.
Mobile App Analysis
Savvy media buyers are always looking for the best spots, regardless of the channel. SimilarWeb has made major progress in the field of mobile analytics, so media buyers can now perform in-depth analyses of competitor apps and view metrics like:
Ranking and rating in app stores
Number of installs
Audience interests
Retention
Usage patterns
Traffic sources
Keywords used
Custom Reports
SimilarWeb offers powerful reporting features that you can create based on the data you need. You can choose to view the information in the form of line graphs and other visual representations, plus the platform also allows you to download reports as PDF, Excel, or PNG files. Additionally, users can view reports in real-time and order custom reports from the support team, but these may have an additional cost.
So, Which One is Best for Media Buyers?
Media buyers that specialize in different niches have very distinct requirements, so you need to evaluate your circumstances to find the best business intelligence tool. Comparing SEMrush vs SimilarWeb is challenging because they are both among the leading platforms and have similar basic features, with slight differences.
In a nutshell, the most powerful features in SEMrush are its domain analysis, market explorer, and backlink tracking, plus you'll have the support from a superb customer service team. Many media buyers that choose this tool use it more for market analysis, to find great ad spots, and to create their campaigns from scratch.
SimilarWeb is much easier to use than SEMrush and it can give you valuable insights about a page's engagement metrics as well as comprehensive reporting. It's a great choice if you want to focus more on mobile ads and optimize your ads campaigns that are already live.
Learn More About the Best Tools for Media Buyers and Other Affiliate Stakeholders
Each media buyer is unique, so you have to invest time in learning about the different tools you have available in order to make the best choice. We hope the tips above can help guide you on your mission to compare SEMrush vs SimilarWeb and find a media buyer business intelligence platform that drives you to success.
If you want to find out more about the best tools for media buyers, follow our blog or contact our team today and we'll be glad to help out.
Accelerate your Conversions, Increase your Revenue
with lemonads
---
You would like