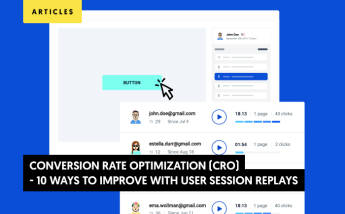 10 Ways to Improve Conversion Rate Optimization (CRO) With User Session Replays
User Session Replays is one of the things affiliates have to pay close attention to ensure optimal campaign performance. The optimization process is actually one of the most important stages as it allows you to identify areas of improvement and make adjustments that result in better performance. Furthermore, focusing specifically on conversion rate optimization through session replays can unveil a huge amount of valuable data that yields much better results.
At lemonads, we've helped marketers across many industries find and take advantage of the best affiliate programs, so we're very familiar with conversion rate optimization (CRO) through user replays. In this article, we'll go over the definition of CRO and session replays. We'll also go over 10 different ways you can use session replays to improve conversion rate optimization.
Defining Conversion Rate Optimization
Before going any further, let's take a moment to go over the definition of conversion rate optimization. The optimization process consists of data-driven adjustments that are made to a digital marketing campaign in order to improve its performance. With that definition in mind, conversion rate optimization can be defined as a set of improvements designed specifically to boost the conversion rate of your ads or website.
As we mentioned earlier, focusing on CRO is not strictly an affiliate marketing technique, but it can be applied to virtually any form of online promotion. That said, focusing on conversion and developing a plan to boost these interactions usually brings a collection of great advantages, including:
More Leads
When an affiliate wants to generate more traffic or leads, the first thing that comes to mind is increasing the initial investment. Conversion rate optimization allows you to boost the number of relevant users that see your content, resulting in a higher number of leads. The reason for this is that pages that are designed with conversions in mind tend to have a much lower bounce rate, increasing the amount of time spent on the page and the number of interactions generated.
The best part is that you don't have to increase your budget or invest more money into your campaign in order to enjoy this benefit. You simply have to leverage your tracking system's session replay features as well as any other tool that can help you understand your audience and make changes based on the data you collect.
Lower Costs
Rather than costing more money, focusing on optimizing conversion rates can actually help you reduce costs across the board. Content and landing pages that are not optimized for conversions are more likely to generate false or unwanted clicks, which can increase your expenses without yielding results. If you optimize your content for CRO, each click and subsequent interaction gains more value while also having a higher chance of becoming a conversion.
Fortunately, there are now many free tools that publishers and other affiliates can leverage to make the most of the data they have available.
Better User Experience
Finally, the most obvious benefit of conversion rate optimization is that it improves the user experience for the people that interact with your content. To be effective, your content should be readable, contain a clear message, and produce an overall positive user experience.
Remember, the user experience of your site is affected by a huge number of different variables. These include your site speed, the performance of your website buttons, and any other variable that affects how users interact with your site. If you focus on CRO, you'll review all these variables and make sure that all of them are working exactly as they should in order to create a seamless transition between your content and the affiliate program landing page.
What Are Session Replays?
Now that we have a better understanding of conversion rate optimization and how it works, let's take a look at the definition of session replays. In the digital marketing world, session replays are individual recordings of the mouse movement that each user makes on your website. Also known as session recordings or session playbacks, replays can help you visualize how people interact with the elements on your site, providing unprecedented volumes of detailed information.
It's important to understand that session replays are not actual video recordings. Instead, the software uses the data collected from individual events to generate the footage. Nevertheless, session replays were developed specifically with CRO in mind because they help provide a holistic picture, along with the metrics collected by tracking platforms.
10 Ways to Improve CRO Through User Session Replays
While they are simple to understand, session replays are a great resource for affiliates as well as any other marketer that wants to focus on optimizing conversion rates. Instead of having to analyze numbers and translate them into trends, session replays tell you exactly how users behave once they are able to see the content on your pages.
In order to be successful, you need to learn how to combine the metrics you collect with the information you get from session replays. Remember, not all tools have this feature, so make sure that you've partnered with a provider that has this option available. Below, we'll explore 10 creative ways to improve your conversion rate optimization process using the session replay feature in your tracker.
Solve Critical Bugs and Errors
Even the most expensive websites in the world experience glitches and bugging, so it's pretty normal to experience some sort of issue with your site. That said, you need to take care of all bugs on your site as quickly as they appear. The reason for this is that bugs affect functionality and appearance, which can discourage users from interacting with your pages at all.
Fortunately, session recordings can help you discover bugs quickly because many of these tools offer the ability to filter interacting by error clicks. The error clicks feature shows session replays where there was a bug detected, highlighting the page while letting you see how the error affected user experience at the same time.
Determine How Customers Adopt New Features
If you invest time and effort into developing new features, you want to keep an eye on how customers are adopting the elements you just added. By analyzing the session replays, you can figure out if your customers are adopting the new features at all and whether you should either adjust the materials you have or test out a whole new different approach.
There are many elements that you can test out, including contact forms, new content layouts, and certain buttons. And, remember that you'll get more accurate results if you combine the session replay analysis with A/B testing because you'll get a wholesome image of how your audience is behaving.
Solve and Help Prevent Customer Support Questions
It's normal for customers to complain about features on your website that aren't working, but it's not always easy to understand exactly what they are referring to specifically. With session recordings, you can simply watch sessions whenever you have specific complaints come in and solve these issues quickly.
Because the recordings are generated as the interactions occur, you can even ask users to show you what part of your site is not working properly and provide solutions to them in real-time. Plus, you can use the data collected to make sure that the same scenario doesn't repeat itself over and over again.
Improve the Onboarding Process
SaaS companies and other subscription providers have traditionally focused on having a good onboarding process. Today, even apparel and retail apps need to have a solid onboarding strategy that gives users everything they need to succeed from the get-go. Session replays can help you examine these first interactions and determine what part of the onboarding process needs work.
Identify and Fix Leaks in Your Sales Funnel
The sales funnel represents the journey that prospects follow on the way to becoming customers. Session replays allow you to analyze the sales funnel granularly and figure out at what stage your potential clients are falling out. You can then try out a few different methods to help reduce or eliminate the leak altogether, like sending specific content at crucial times during the decision-making process.
Measure Engagement with Your Marketing Materials
The success of your marketing materials depends heavily on how engaging they are. However, measuring engagement is as easy as determining click-through rates and similar metrics. By collecting conventional metrics and combining them with session replay analysis, you'll get a much better idea of how engaging your marketing materials are and what you can do to spruce up your content.
Enhance User Experience
The user experience of your website can make or break your content, so you need to make sure that all parts of your site function as advertised. Not only this, but you should also ensure that the interface is user-friendly and that your content is loading as fast as possible. The average consumer won't wait more than five seconds for content to load, so the clock starts ticking as soon as your content is clicked on.
Test Multiple Variables
One of the major setbacks of split and A/B tests is the inability to try out multiple variables at the same time. The problem is that it'd be almost impossible to determine which variable caused what effect -- unless you also perform session replay analysis at the same time. Just remember to test out multiple distinct variables, for example, the shape of the CTA button and the font of the page title.
Make Better Business Decisions
The target audience will help you decide the type of content, design elements, and all other variables you need to include in your website. Through session recordings, you can gain an in-depth understanding of your audience, which will allow you to make better business decisions from a financial as well as operational point of view.
Eliminate Customer Blockers
Lastly, any seasoned affiliate or large advertiser understands that customers sometimes experience blockers that prevent them from making a purchase or submitting a request. Session replays can give you a good idea of what barriers your customers have to overcome in order to make a purchase decision.
Ready to Find the Best Affiliate Programs? Contact Our Team Today
Focusing on improving conversions is a great way to increase the profitability of your campaigns without having to invest more funds. If you want to find the best affiliate programs and launch campaigns that are focused on conversion rates, contact lemonads today, and our team will be glad to help.
Accelerate your Conversions, Increase your Revenue
with lemonads
---
You would like