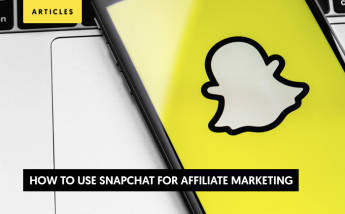 How to Use Snapchat for Affiliate Marketing - Complete guide for 2021
Every marketer worth his or her salt can recognize the power of social media platforms and the connections these networks allow you to build with your audience. A decade ago, Facebook was one of the only globally-recognized networks, but a lot has changed since. Today, consumers can choose from a huge collection of specialized networks that focus on one major feature, like Snapchat.
Founded bacon 2001, Snapchat entered the scene gradually, but it's now one of the most popular social platforms in the world. This, combined with a variety of other advantages, has made it a popular option for affiliates to promote their offers to consumers in every corner of the globe.
At lemonads, we've seen countless professionals build superb campaigns using Snapchat, so we're pretty aware of the nuances that need to be addressed to succeed with this network. In this article, we'll take a look at the basics of affiliate marketing and go over some of the most meaningful Snapchat statistics. We'll discuss the steps you need to succeed at Snapchat affiliate marketing and use it as a superb publishing platform for your offers.
The Basics of Affiliate Marketing
Before going any further, let's take a look at the basics of affiliate marketing.
In simple terms, affiliate marketing is a promotion strategy where companies (advertisers) allow individuals (publishers or affiliates) to promote and sell products in exchange for a commission. In the vast majority of cases, affiliates get paid for generating sales, leads, and other types of conversions.
Advertisers develop programs or offers that include all of the details that affiliates need to follow to generate conversions and receive payouts. Affiliate marketers can choose to promote the offers in a variety of ways (as long as these are not explicitly prohibited in the program), including social networks like Snapchat.
As a matter of fact, some advertisers have started developing Snapchat affiliate offers that are designed to monetize traffic specifically coming from this social network.
Snapchat By the Numbers
While it may not be as popular as Facebook or Instagram, Snapchat is commonly listed as one of the top 10 social networks in the world. With almost 250 million daily active users as of 2020, the US-based network generated almost 2 billion US dollars in 2019 and that number shows no signs of slowing down.
Approximately 1 in every 10 US consumers have Snapchat installed on their phones, but it's safe to assume that this network is more popular with the younger demographics. The average Snapchat user invests almost 200 minutes per month to the platform, which gives affiliates a great opportunity to develop engaging campaigns and get significant exposure for these offers.
Why is Snapchat a Great Place to Promote Affiliate Offers?
According to Oberlo, 49% of Snapchat members use the application several times per day, which is usually a sign of an engaged audience. Engaged users are not only more likely to absorb the marketing message without feeling like they're being sold something, but they usually have higher satisfaction ratings.
In other words, promoting your products through Snapchat is a great way to connect with your audience and increase the chances of getting positive feedback once customers get the product or service being promoted. Plus, you'll also have higher success rates when launching the first ads campaign as well as developing a retargeting strategy.
Determining If Your Snapchat Vertical is Profitable
The reason why many affiliates avoid working with Snapchat is that the network mostly attracts consumers below the age of 35. This completely changes the approach marketers need to take and it has led many to believe that Snapchat affiliate marketing traffic is too difficult or straight-up impossible to monetize.
We're not saying that every single product out there is a great fit for Snapchat. Many verticals have inherent limitations that don't make them compatible with certain social networks.
As a general rule of thumb, low-cost everyday products are ideal for promoting on Snapchat. High-ticket items may also be a good option, but these campaigns usually perform worse than conventional items with a lower price tag.
All in all, Snapchat is probably a great choice for the products you want to promote, just remember to make the right adjustments and craft your creatives with your audience in mind.
How to Develop a Successful Snapchat Affiliate Marketing Campaign
Many of the leading social networks have limitations in place that make it more difficult to promote affiliate products, but Snapchat is actually one of the few that doesn't provide any restrictions in terms of the offer link you can promote.
On platforms like Facebook and Instagram, affiliates need to adhere to a strict set of rules in terms of the product that can be promoted as well as the number of followers they need to have to include a link on the post.
However, Snapchat provides a refreshing platform that allows you to place direct affiliate links on every single post regardless of how many followers you have.
To successfully develop content for affiliate marketing on Snapchat, you have to:
Build a Loyal Following
The first and most important thing you have to do before launching your Snapchat campaign is to build a loyal following. Even if you produce amazing affiliate content, it will not produce the results you want unless it gets the right exposure.
For this reason, you should first work on attracting as many users as possible by posting interesting and original content. Remember, showing behind the scenes shots, regular life activities, and other "imperfect" moments tends to humanize posts and get the best results on this platform, so don't be afraid to get creative in that sense.
Provide Previews for New Products
Short videos sent through Snapchat, which are known as snaps, last around 10 seconds. This is the perfect amount of time to tease a new product before it's even launched.
One thing that Snapchat users and conventional consumers have in common is that they love exclusive deals. If you work with advertisers to promote upcoming goods in a Snapchat post, you'll likely see increased engagement and create a major buzz around the new products.
Keep Offers Exclusive
Snapchat made a name for itself by implementing innovative features, like video content that disappears forever after 24 hours. You can use these to your advantage and instill a sense of urgency when promoting products on your posts. Keep in mind that telling your audience when the exclusive promotions will take place may reduce engagement, so keep your followers on the edge of their seats.
Develop Premium Content
You've probably years the expression "content is king" before and this statement couldn't be truer with Snapchat. One of the reasons that Snapchat is popular with younger demographics is because the platform is a source of premium, original content. You creatives need to be up to scratch to have the right effect, so invest time and resources into producing superb content that keeps users coming back for more.
Organize Live Events
While the streaming feature in Snapchat may not be as advanced or easy to use as in other social networks, you can still organize live events and run contests by broadcasting content live.
Design Branded Snaps
Snaps are already super-engaging, but affiliates need to find ways to create more impactful content. An easy solution is to always develop branded Snaps that highlight a product or company's branding. Depending on your specific case, you may even develop your own logo and branding materials to make sure that all of your content promotes your identity.
Launch Contests and Offer Valuable Prizes
Advertisers that want to promote on Snapchat usually focus on selling innovative products and services. Depending on the offer you're working with, you may be able to launch content and offer valuable prizes for the winners. This will help boost engagement, but it also shows consumers that brands also want to help them by making their goods accessible to everyone.
Keep Your Videos Short and Sweet
As we mentioned before, snaps last 10 seconds at the most, so it's in your best interest to keep your videos short and sweet. You may also create a series of snaps that should be viewed in order, but keep in mind that not all users will actually take the time to watch all of them. So, make sure to include a call-to-action (CTA) in every snap.
Study Your Audience
This may seem obvious, especially for experienced affiliates that have a lot of experience working with multiple traffic sources. That said, your audience holds the key to developing great content, so study Snapchat users and make sure that you keep your findings in mind when developing content for your campaign.
Invest in Paid Ads
Social media platforms are a popular option for promoting affiliate offers because affiliates don't have to pay to publish posts. But, this doesn't mean that you shouldn't invest in paid ads. As a matter of fact, all Snapchat affiliates that have the budget should invest in paid ads to help drive more conversions through their content.
Take Advantage of Direct Links
Despite the fact that Instagram and other networks require affiliate link cloaking, Snapchat allows for the placement of direct links. This is a great feature as Snapchat users are impulsive, so they tend to interact with posts and complete conversions without thinking too much about it. Always assess your situation and take advantage of direct links that shorten the conversion process as much as possible.
Get Your Point Across Right Away
Yes, you can say a lot in 10 seconds, but this doesn't mean that your audience listens attentively throughout the duration of your video. You should actually assume the opposite and attempt to get your point across as early as possible.
Where to Find the Best Offers for Snapchat
While some advertisers prefer to steer clear from Snapchat and other social networks, many companies are starting to develop offers specifically for these platforms. However, tracking down the best offers isn't always easy, especially if you're trying to transition from conventional content to social media campaigns.
At lemonads, we aim to connect world-class advertisers with the leading affiliate publishers out there through our comprehensive affiliate network. If you are looking for the best places to find Snapchat affiliate marketing offers, contact us today and our team will be glad to help.
Learn More About Monetizing Social Media Traffic
Interested in learning more about Snapchat and the best social networks for your affiliate offers? Our team of affiliate marketing experts can help you track down the right program for your next campaign.
To learn more about the best Snapchat affiliate marketing offers, contact us today and we'll be happy to start discussing your project.
Accelerate your Conversions, Increase your Revenue
with lemonads
---
You would like