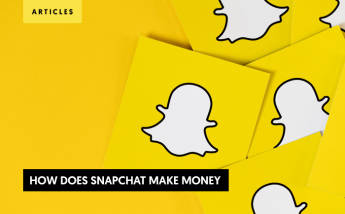 How Snapchat Makes Money and What This Means for Affiliates
As you probably know already, there are now dozens of different social media networks that allow us to post, share, tweet, filter, connect, unfriend, and snap to our heart's content. As a professional affiliate, your job is to help brands form meaningful connections with their audiences. And, social networks are invaluable tools that you create stronger relationships with users, thus resulting in better conversion metrics.
With the above in mind, knowing information about the social network you're using will help you develop better content and find new ways to monetize your traffic. For example, if you have a large number of followers on Snapchat, you can partner with a reliable network that helps you monetize this type of traffic and generate more revenue from your published content.
Although the social network landscape is extremely competitive, Snapchat has remained competitive since it was launched back in 2011. Learning how Snapchat makes money will allow you to identify the best monetization strategies and start generating a profit from this type of traffic right away.
In this article, we'll go over the ways Snapchat makes money and explain what this means for affiliates that want to generate revenues from this type of traffic.
Snapchat Overview
How does Snapchat make money? How many users does Snapchat have? And is it possible to learn how to make money on Snapchat easily? Before answering these questions, let's go over the basic information you need to know about this platform.
As we mentioned previously, Snapchat was first launched back in 2011 and the company is currently based in Santa Monica, USA. The social media giant produces billions of dollars of revenue every year and it's credited for being among the first apps to focus on sharing videos, images, as well as other types of content that are only temporarily visible.
With more than 360 million monthly active users, the main goal of Snapchat is to help people share images or short videos with other members using a free service. In most cases, these features attract a younger demographic, but Snapchat has embraced this and developed a set of additional capacities to keep their audiences engaged.
Snapchat's feature list includes lenses, geofilters, and live streaming capacities, which brands and affiliate marketers are now using to craft and push engaging content that keeps users coming back for more.
How Does Snapchat Make Money?
Now that we understand a bit more about how Snapchat works. It's time to analyze the ways that this social network makes money.
It's important to note that Snapchat is available for free to all users. This means that you can download the app, create an account, log in, and share snaps with friends without any additional cost. However, there are certain features that are only available to people at an additional cost, so it's up to each user to decide whether they want to access these paid capabilities or not.
Below, we'll go over the different ways that Snapchat makes money from its users.
Merchandising, Lenses, and Filters
One of the main ways that Snapchat generates a profit is by selling filters, lenses, and merchandise. There are no exact statistics available breaking down the company's earnings over the last few years, but most experts believe that their merchandising revenue is relatively small.
Lenses and filters, on the other hand, are known for improving customer experience and enhancing some of the app's pre-existing features. This means that consumers are more likely to be interested and test out the different options, especially due to the fact that both lenses and filters are low-price products.
Snap Ads
Also known as single image or video ads, snap ads allow you to display a full-screen advert while users are in between stories. These ads can last as long as 10 seconds, feature complex graphics, and boast of cool animations that increase the chances of engaging your audience.
Sponsored Stories
As the name suggests, sponsored stories consist of a series of up to 20 snaps that are displayed to certain users, as long as their behavior deems them as relevant. This type of ad is displayed in the Stories section, where users tend to look for new, interesting content first. Remember, these ads tend to produce much better results when they're shot in a friendly and informative way!
Collection Ads
In recent years, Snapchat has focused on developing features that help businesses reach users who may be interested in their products or solutions. Take collection ads, which are designed to showcase a line of products in an interesting and attractive way. If they like the content, users can even interact with these ads and learn more without disrupting their experience.
Sponsored Filters and Geofilters
Advertisers can also develop filters that work as a themed overlay, allowing them to connect with users in a friendly way. Snapchatters can use filters to create and share more attractive content at no cost, so it's a win-win scenario for both users and the businesses that want to reach them.
Geofilters are simply filters that are made available to users in a certain location. Because they target users in a specific area, sponsored geofilters are usually employed to boost foot traffic or let consumers know about a promotion that's only available at a certain location.
Sponsored Lenses
Snapchat members can purchase temporary lenses if they want to get creative with their snaps and use outlandish or fun special effects. Or, they can download sponsored lenses, which usually have a company's branding and are available for free.
Companies that want to create sponsored lenses pay Snapchat to make these available to its users. The social network is in charge of identifying the most relevant users and ensuring that the sponsored lenses are seen by as many people as possible.
What Does this Mean for Affiliates that Want to Monetize Snapchat Traffic?
As with other social networks, users share a huge amount of information with Snapchat, which is the reason many companies develop affiliate programs that target this specific type of traffic. This includes location, age, interests, gender, and other demographic information, which allow for a high degree of personalization. This makes Snapchat a great option for both advertisers and affiliates that want to make money from this type of traffic.
Additionally, it's clear that Snapchat has maintained user experience in mind while developing new ways to help publishers make more money. This means that all the elements that made Snapchat attractive have remained the same. This is one of the reasons why the platform has remained competitive even after Instagram and other platforms started offering similar features a few years ago.
Snapchat's approach actually produces many benefits for affiliates and advertisers alike.

These include:
Engaged Audiences
Rather than disrupting users with its ads, Snapchat has done a great job implementing these in a way that enhances the user experience. If analyzed objectively, many of the ad formats feature a unique element or bring a benefit, which keeps audiences constantly engaged. For instance, offering a lens or filter for free while also displaying a brand's logo, colors, and products.
It's important to note that users on social media don't behave like people on desktops. People on social media are much more receptive, but they are also quicker at judging whether they like the content of an ad. For this reason, you should always go for something whimsical or entertaining first and deliver your marketing message second. If you do it right, your audience will show appreciation in the form of higher engagement and satisfaction levels.
Popular Verticals
The average Snapchat user is much younger than other social networks, but this means that it's ideal for a variety of verticals. According to Snapchat, millennials and generation Z consumers boast of more than 1 trillion US dollars in spending power. It's no surprise that this network is so popular with companies and publishers that specialize in products for younger people.
Dating
Dating is one of the two verticals that produces spectacular results on Snapchat almost every single time. Millennials and younger consumers are always looking to meet interesting people and find people that they have things in common with. Affiliates that have a surplus of Snapchat traffic and want a sure-fire want to monetize it can opt for dating offers to produce stellar results.
Sweepstakes
Sweepstakes offers are the second type of program that has an incredibly high ROI whenever combined with Snapchat traffic. In simple terms, sweepstakes give users the chance to win smartphones, cash, and other prizes, which make them a great alternative for Snapchat's visual medium.
Relatively Low Competition
Facebook, Instagram, and other networks boast of billions of monthly active users, which draws attention away from smaller platforms like Snapchat. This results in lower competition, which translates to a happier audience, competitive prices, and better overall metrics.
Reputable Brands and Attractive Products
All companies want to promote their services on Facebook and other leading platforms, so these networks have become saturated with promotional content. Snapchat is still user-centric, so it has attracted reputable brands that manufacture quality products. Affiliates that partner with these companies to promote their goods will have a much easier time getting conversions than marketers working on saturated platforms.
Profitable Programs
Thousands of businesses around the world have already identified Snapchat's marketing potential and these brands have developed great offers that affiliates can take advantage of.
That said, affiliates need to partner with reliable networks that help connect them with the best Snapchat offers available. At lemonads, we've spent years tracking down the best Snapchat programs and setting up deals that give us exclusive access to these offers.
If you're looking for superb offers that help you monetize your Snapchat traffic, contact your lemonads relationship manager today and we'll start discussing your project right away.
Learn More About the Best Ways to Monetize Social Traffic
While it may not be in the same league as Facebook and Instagram, Snapchat provides an awesome opportunity for affiliates to craft creative content and monetize its traffic using a fun platform.
We hope that the article above helps you answer the question "how does Snapchat make money?" and allows you to figure out the best approach for your specific case.
If you already have a solid base of followers and you want to learn how to make money on Snapchat, contact our team and we'll be glad to help.
Accelerate your Conversions, Increase your Revenue
with lemonads
---
You would like