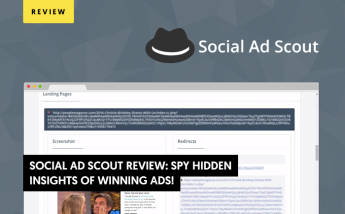 Social Ad Scout Review 2022: Spy Hidden Insights Of Winning Ads!
Our Social Ad Scout Review will help you uncover all their features and insights you've been looking for in a spying tool and by the end of this article, you'll fully understand if Social Ad Scout will be the right spying tool for you to use!
If you're having trouble trying to figure out why your competitors' strategies are working and what their secret sauce is, you can do so by using a spy tool!
It's no longer enough to just create amazing ads and funnel your traffic in 2022! And spying on your competition's ads has become the new and exciting trend among affiliate marketers to help them discover competitors' successful ad strategies and copy to apply them to their own advantage.
With all this competition on the market, It's harder more than ever to stand out to your target audience and, what's even more stressful, is having to design good social media ads that engage and drive the traffic we expect to get.
Thankfully, these spying tools are here to help us break the struggles by achieving those goals you set faster and without wasting money on testing ads to see if they work!
Now, we can check our competitors' strategies and spy their social media ads with an amazing spy tool that reveals insights, analytics, metrics and so much more for us to save and apply on our next ad campaign!
By spying, we are not talking about stealing or copying, but it's only natural to learn from the achievements and mistakes of others while we are drawn by inspiration to use their tactics for our own ad campaigns.
And here is where Social Ad Scout comes in: their ad spying tool is one of the best leading social ad spy tools that will give you full access to millions of ads of 21 different countries!
So, let's delve deeper and get a preview of what our Social Ad Scout Review will uncover by overviewing:
Social Ad Scout Review Company;
Social Ad Scout Review Features;
Social Ad Scout Review Outstanding Unparalleled Features;
Social Ad Scout Review Pros & Cons;
Social Ad Scout Review Pricing Plans;
Social Ad Scout Review Conclusions.
Social Ad Scout Review Company
Social Ad Scout lets you master competitors' advertising strategies while "scouting" to discover and access thousands of social ad examples globally, by scouring all social media channels to serve you the best trending ads and, at the same time, by increasing your brand's image and value on Facebook and other social media.
Social Ad Scout pulls in as many ads types as it can from campaigns including images, videos and even sliding ads to uncover the ad strategies of online marketers in your niche, giving you information on the kind of adjustments made from desktop and mobile ads altogether.
With Social Ad Scout you also get to view your competitors' landing pages and download them with detailed insights into ad analytics such as time seen/posted, ranking, impressions, devices used, live ads analytics with screenshots or interactions, and the target audience with exact demographics who saw it!
To not mention that you have full access to thousands of social ads from 21 different countries including:
U.S., UK, Canada, Norway, Australia, Italy, Sweden, Brazil, New Zealand, Russia, Austria, and many more. Take a look!
Social Ad Scout, like any other spying tool, works silently while reporting on the activities of your competitors, regardless of the kind of business or niche you're in or the size of your business, and, by using their powerful tool, you can instantly know which target audience with their demographics your competitors are reaching out to.
Social Ad Scout, also analyzes the activities and behaviors of your competitors based on the target audience, and generates real-time reports for you to use and make your next step decisions successful.
So, let's get a closer view and see which features Social Ad Scout can give us!
Social Ad Scout Review Features
Desktop & Mobile Ads
Social Ad Scout's coverage spans desktop and mobile devices to show you the variations across devices and even where the same ad is being run across them!
Real-time, Instant Updates
Social Ad Scout's interface instantly updates with new ads so you can even see ads posted "seconds ago".
Targeting Overviews
Social Ad Scout offers an overview of the age, country, gender, device, and type of ad based on your search results.
Comprehensive Ad Formats
Social Ad Scout covers every ad format; including videos with an extremely versatile interface by designing to accommodate any new ad format immediately.
Links To Actual Ads
Social Ad Scout offers the actual ad's link on the traffic source so you can get real-time interactions like comments and more.
Favorites and Notifications
A cool feature about Social Ad Scout is that you can receive alerts based on ads viewed with certain keywords and, once you liked a particular ad, just save it to your list of "Favorites" for future reference!
Permanent Ads Archive
Even if the original ad was deleted by your competitor, Social Ad Scouts saves a permanent copy of every ad that runs and serves them via their servers so you can still view it, pretty cool isn't it?
Residential IP Addresses
Social Ad Scout goes into the destination link via carrier or residential IP address to beat cloakers and serve up the actual and currently running landing pages from competitors.
Extremely Fast Interface
As Social Ad Scout states, their interface was built from scratch for maximum speed. All of your search requests will be processed within just a few milliseconds to find the exact strategies you were hoping to find!
Ready to check more features? Let's go!
Social Ad Scout Review Outstanding Unparalleled Features
Social Ad Scout Detailed Search Filters
SocialAdScout will let you perform faster by searching URLs, text, redirects, geographic location, demographic information, performance indicators, types of ads, device types, and when the ad was seen with other variables.
Learn how Snapchat makes money in this article.
Social Ad Scout Exact Targeting
Social Ad Scout will take away the struggle by their targeting feature so that you can exactly discover those audiences to reach within your ads, especially discovering audiences that don't fit your target audience, but might be engaged with your ad!
Social Ad Scout Detailed Observations
With Social Ad Scout detailed observations you can use extensive breakdowns of the ads, including when and how often an ad is seen or also see how the ad ranked, who saw it, and on which device!
By seeing how many times an ad was seen among other details, will help understand the engagement of which ads are working better than others and helping you plan the next winning ads that will make you succeed!
Social Ad Scout Live Ads
Social Ad Scout lets you interact with live ads by playing any video within the ad.
From its search results, you can see the actual screenshots of the ads by clicking through and viewing the local copy of the ad!
Social AdScout Download Landing Pages
No more dead or cloaked pages! Social Ad Scout stores all the landing pages, including their dependencies like images, videos, scripts, and style sheets in a compressed file for you to download!
Social Ad Scout Landing Pages Details
Social Ad Scout lets you visit each ad's destination link using methods to defeat cloakers, log all the redirects, take a screenshot of the final page, permanently save it to download and provide significant stats you just can't ignore!
How can you successfully analyze the competition on social media with Social Ad Scout features?
Let's uncover the hidden secrets on how you can succeed by using:
Keywords: Use keywords your competitors are using and create your own leaderboard and target your audience successfully!
Target Groups: What groups are your competitors targeting on social media? Generally, you may have similar or even the same target audience group. Analyzing the ads your competitor is using will help you define and refine your variables clearly and even discover new target groups you can target!
Ads Being Used: Social media ads range from videos, images, or even carousel ads, but you need to know the actual kind your competitors' are using and their success rates.
Engagement or Interaction Rates: Check the likes, comments, and shares that the audiences leave on each ad or post. The engagement rates are available within Social Ad Scout's tools and they also go further by showing you "why" this happens as it does.
Competitors' Objectives for ad campaigns: Each business or brand has objectives and goals, for example lead generation. Knowing this will help you refine your campaign decisions better.
Competitor Strengths and Weaknesses: Social Ad Scout will also focus on both the successful and unsuccessful ads to check which strategies worked or failed and earn from learning the accomplishments or mistakes of your competitors.
Get Creative: Don't copy other people's ads, but try to get the same engagement. The idea is to find inspiration that can help you create better and more engaging ads, not just replicate others' work.
Know Your Company and Brand: There are many similarities and differences between your company and the competition. Each brand is unique, so what works for you may not work for others, and vice versa, but some point could. Make sure you check what could be successful for your marketing strategy and apply it!
Ready to check some pros & cons? Let's get a better view!
Social Ad Scout Review Pros & Cons
Social Ad Scout's interface is built from the ground up to process and deliver your search requests with maximum speeds of just a few milliseconds and it is very effective in serving insights and analytics of ads worldwide, but let's get a deeper look in their pros and cons.
Social Ad Scout Review Pros
Covers desktop and mobile ads with cross-device ad variations
Covers all ad formats: video, text, images, carousel, and more
Shows ads from major markets and other countries
Uses residential IP addresses to beat cloakers and get to the destination link
Shows actual landing pages that you can download
Exact targeting directly from ads
Search result is fast and shows live ads and actual ad screenshots
Great user interface
Simple and easy to access tools
Detailed search filter
Social Ad Scout Review Cons
More expensive, but worth it!
Limited to track ads if we compare other ad spying tools. Social Ad Scout can track ads from only 21 countries compared to others that can track ads from 30+ countries.
Remember to continuously assess and optimize your social media ad campaigns, while leveraging social media tools like Facebook Pixel to get critical data for effective campaigns!
Are you asking what their pricing plans are to access all their features? Let's see!
Social Ad Scout Review Pricing Plans
Social Ad Scout is a new tool, but its powerful features are a big value for you into achieving the goals you've set.
It offers two main memberships:
Social Ad Scout Premium Plan
Social Ad Scout Premium Plan costs $147 per month and is valid for only one user. It packs powerful features as those we've listed above, so you can discover profitable ads fast.
Social Ad Scout Agency Plan
Social Ad Scout Agency Plan is ideal for small groups, teams, or companies. The plan costs $127 per month, per user, up to two users per subscription.
If you'd like a customized package for more than two users, it'll cost $97 per month, per user, saving you $50 off the main price.
Continue reading : Best Affiliate offers for facebook ads and Scale Facebook Ads campaign
Social Ad Scout Review Conclusions
If you're trying to have a successful social media competitor analysis, Social Ad Scout is an excellent tool that'll help you gather data on your competitors' advertising efforts on social media.
However, if you don't know how to fully utilize the tool, you won't get effective results for your own campaigns, so make sure you ask the right questions on what you need right from the start and then, use the tool once you know exactly what you're looking for and how to take advantage from the information it will provide you.
We hope our Social Ad Scout Review fully cleared all your doubts and if Social Ad Scout fits your needs, why not register right away to give it a shot!
Accelerate your Conversions, Increase your Revenue
with lemonads
---
You would like