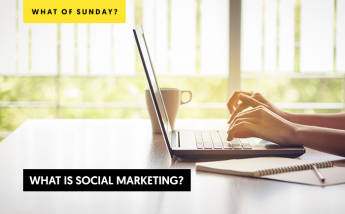 What Is Social Marketing?
Social Marketing approaches, through marketing, to influence behaviors that could benefit individuals and communities for the greater social good.
Take a look at WWF's social marketing campaign and see how smartly they've done it!
Save paper - Save the planet!
This is one of many we'll check later on in our article!
Although, sometimes, social marketing is seen only as using standard commercial marketing practices to meet non-commercial goals, it's way more than that.
Meanwhile, Commercial marketing aims financial benefits, Social Marketing aims in being a Social Good, but this doesn't mean that commercial marketers can't contribute to achieve social goods!
Let's dive deeper and discover all about Social Marketing and get a full concept of its meaning and its purpose:
Social Marketing Vs Commercial Marketing
Social Marketing Impact
Top Social Marketing Campaign Examples
Social Marketing Vs Commercial Marketing
Social Marketing seeks to develop and integrate those marketing concepts to influence behaviors that people and communities could benefit thanks to awareness, all through an impacting Social marketing campaign.
For creating a social marketing campaign there is so much work behind!
It's applied research, best practices, theories, audience and partnership insights to inform the delivery of competition sensitive and segmented social change programs that are effective, efficient, equitable and sustainable!
Social marketing is commonly used for causes like:
Health and safety:
Anti-smoking
Anti-drug
Promoting exercise
Healthy eating and drinking
Safe driving
Railroad station safety
Child safety
Environmental causes:
Anti-deforestation
Anti-littering
Smog
The harm of plastic in our oceans
Endangered species awareness
Social activism, including:
Illuminating struggles that many people are facing and inspiring others to fight against all those mechanisms that create inequality (people of color, people with disabilities, women in the working environment, LGBT community and many others)
Anti-bullying
Against dolphins and whales hunting
Animal rights
Fighting gender stereotypes
Non-profit organizations and charities are those who run and initiate the majority of social marketing campaigns, but social marketing can also be run by commercial businesses.
In fact, commercial brands run social marketing campaigns as well, for causes they are strongly passionate about and believe in spreading more awareness by reaching to those who love and follow their brand.
Even Government organizations, highway safety coalitions and emergency services, run social marketing as well to reach their community.
Social Marketing is divided into two parts: "a social part", including social science and social policy approaches, and a marketing part, including commercial and public sector marketing approaches.
During the years, Social Marketing has been focusing beyond the influences of changing an individual's behavior by starting to focus on changing those individual behaviors to sociocultural and structural influences on social issues concerning the efficiency and effectiveness, and with equity fairness and sustainability of social marketing programs.
But we have to be careful and know that not all public sectors and non-profit marketing is social marketing.
In fact, public sectors can use standard marketing approaches to improve a promotion of a relevant service and organizational aim.
For example, a marketing campaign to encourage people to get a certain type of vaccine is more tactical, and this should not be considered Social Marketing.
A campaign that promotes and reminds people to get regular check-ups of all of their vaccinations is a commercial marketer campaign meanwhile, a social marketing is supposed to encourage a long-time behavior change that benefits society wherever they do it.
Social marketing is where the focus concentrates on achieving specific behavioral goals with specific audiences in relation to topics relevant to social good like health, sustainability, recycling, etc.
When commercial marketers sell a product, they may only seek to influence a buyer's decision into making a product purchase meanwhile, Social Marketers have more specific difficult goals having to achieve long-term behavioral changes in a target population.
Social marketing mainly uses commercial marketing theories, tools and techniques to social issues applying a "customer-oriented" approach and uses its concepts, and tools used by commercial marketers to pursue social goals like anti-smoking campaigns or fundraising.
Social marketers must create competitive advantages by constantly adapting and instigating behavioral changes by guiding people in "knowing why" they would need to make their behavioral changes with accurate knowledge and insights.
This is shaping and enabling the development of sustainable competitive advantages into market adaptations.
Social Marketing Impact
With the years going by, the way of doing social marketing has literally changed by realizing the perception of what was dangerous through facts, science, studies and development, having the need to spread out that knowledge and insights to people worldwide since bad marketing commercials and advertisements have brain-washed the population with fake facts.
If we think back in the 50' and 60', frosted cereal, big hot chocolate mugs with whipped cream, and waffles with maple syrup were considered healthy enough to be eaten each day, showing that perfect family morning routine commercials on tv giving a totally different perception of healthy food today.
Marketing Commercials were hiring perfect actors with perfectly shaped bodies tricking people into buying their products.
Or even smoke wasn't considered that bad at all, as it's shown by many studies today.
Children were also often shown regularly in cigarette advertising!
Stanford researchers think that this was an effective way of reinforcing the idea that smoking was okay and was part of a regular family life.
Since then, with knowledge and intelligence, Social Marketing was a need in making people aware of what was real and was not, what was happening in the world, and how some behaviors were affecting our lifestyle or how our future would have been if we wouldn't start realizing what was important.
Social Marketing is a marketing, designed to create a social change, not to directly benefit a brand.
Using traditional marketing techniques, it raises awareness of a given problem or cause, and aims to convince an audience to change their behaviors.
Drinking and driving, smoking, drugs, unhealthy eating and drinking, littering, plastic in our oceans, deforestation, bullying, racism and so much more.
Awareness of knowledge can change behavior and make an impact in our lives.
So, instead of selling a product, social marketing "sells" a behavior or lifestyle that benefits society, in order to create the desired change.
This benefit to the public good is always the primary focus.
Instead of showing how a product is better than competing products, social marketing "competes" against undesirable thoughts, behaviors or actions.
But, how does a well-designed social marketing Ad capture your attention?
Not every Ad convinces you to check out the information you want to deliver to people's attention they should be aware of.
In fact, people don't like being told what to do. They might not be convinced by your news, about a certain social issue or, they might not even be aware of the problem or its scope skipping your advertisement warning.
The best Social Marketing Ad that reaches people's attention are those Ads that either take a super creative angle you didn't expect, or makes you laugh, cry, or strongly think about that social issue with an appealing creativity or that will evoke an emotion in order to motivate them and make them stop and reflect.
Let's see some of the best social marketing campaign examples, which really struck the goal they wanted to achieve, making people truly stop to observe the importance of the awareness they were delivering!
Top Social Marketing Campaign Examples
Tailgating isn't worth it:
See how easy feeding the hungry can be?
It's not happening here, but it's happening now.
Plastic bags kill: keep our oceans clean!
Obesity is a cause of cancer too, just like smoking!
Like this other one...
The back seat is no safer. Belt Up!
As we said, social marketing can also be run by commercial businesses for causes they are strongly passionate about, just like Ben & Jerry's is doing right here below with their Ad by spreading love and supporting LGBT rights and equality during pride month!
Are you pouring on the POUNDS? Don't drink yourself fat!
This really makes a disgusting reaction, doesn't it?
Well, what do you think of this other one...?
That's right!
Check out Dumb Ways to Die's website!
This is a creative social marketing site for starting to open our eyes by understanding the importance of how many easy and stupid ways there are to die from.
It's making people truly be aware of what we think could never happen to our beloved ones or us by totally ignoring them.
CoorDown website and social marketing campaign, through social media, is showing that the "special needs" label that is often applied to people with Down Syndrome, doesn't make sense.
People with Down syndrome have the same needs as everyone else does by being accepted and included in society with job opportunities, consideration, love, friends … just like we all do.
Reserved for Drunk Drivers
You see her, you don't see her anymore!
Avoid accidents. Don't drive after drinking.
Persuasion and influence: the earth's lungs
Twitter is not the place to be while on the road!
Driving and using cell phones can cause many deadly car accidents.
Even Netflix with "Orange is part of the rainbow"!
Netflix is supporting equality rights, especially including many LGBT stories in their series or movies, showing the world that LGBT community isn't alone without tolerating bigoted comments of homophobic haters.
Speaking up doesn't make life easier, but easy never changed anything.
Nike has put his brand by the side and spoke up to what they strongly believe in.
Speak up, go against everyone and believe in your rights or thoughts, and just do it.
That said, which social marketing Ad strongly impacted your thoughts?
Accelerate your Conversions, Increase your Revenue
with lemonads
---
You would like