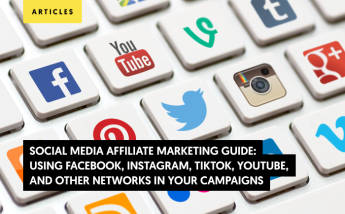 Social Media Affiliate Marketing Guide 2021
How to make money with social media with affiliate marketing? Using Facebook, Instagram, TikTok, YouTube, and Other Networks in Your Campaigns

Affiliates play a crucial role in the marketing industry because they relieve pressure from advertisers while allowing these companies to find new clients. As a matter of fact, affiliate marketing generates around 15% of the advertising industry's total revenue, which shows how many businesses rely on this form of promotion. That said, marketers have to monitor their audiences and find the best channels to promote their offers. Fortunately, we've put together a comprehensive social media affiliate marketing guide to help you leverage Facebook and similar platforms for success.
Remember, all affiliates are different, so there is no exact equation to achieve success. You simply have to evaluate your own circumstances, learn as much as you can about the different social networks available, and design a plan tailored to your specific needs. Below, we'll go over the benefits of launching affiliate marketing social media campaigns, discuss the different networks marketers can work with, and explore a few tips to improve the performance of social ads.
What do Do Affiliates need to Know Before Getting Started?
Affiliate marketing is a popular advertising technique because it creates a win-win situation for both advertisers and consumers. Consumers receive help in finding the best products while also enjoying the occasional discount. Advertisers have an easier time attracting new customers using cost-effective methods that don't break the bank.
The concept described above is also the reason why social media and affiliate marketing are such a great match. Social media platforms may be different, but they were all designed to bring users closer together in one way or another. Likewise, anyone can join social networks and start discovering engaging content as well as awesome new products. But, the key is to find the industry, offer, and social network that yield the best results.
Furthermore, also keep in mind that most social platforms don't allow you to directly market affiliate links. While there are exceptions, such as Snapchat, you should assume that you won't be able to simply promote an affiliate link in your social media content. Therefore, you need to play the long game and learn how to use website landing pages and place affiliate links in these specially designed spaces.
Before you start building your campaign, remember to:
Analyze the Offer Product
It doesn't matter the industry, your ads will only be as popular as the product they're promoting. Instead of trying to promote items that will be impossible to sell, you should analyze the product of every offer before you start building your campaign.
The main goal here is to evaluate how popular the type of product is. For example, if the advertiser you're considering sells sustainable designer clothing, you should research that topic to see if consumers are interested in this type of product.
There are different ways to conduct this research, but one of the most popular ways is to use Google Trends and see the change in search history over the last 12+ months.
Evaluate Your Target Audience
Besides the product itself, the audience that you're targeting will help determine what types of ads will have the best effect. As always, you should evaluate the product and figure out which consumer segments will be interested in this good.
The most basic way to assess your audience is by dividing it into different categories. Depending on the product, you can either target consumers (B2C) or other companies (B2B). Once you're made this distinction, you can start narrowing down your audience more and more.
For instance, if you're promoting a specific type of filing cabinet, you may find that promoting to B2B customers from a certain country may produce the best results. However, you always need to run tests to verify that the audience you're targeting has the most potential.
Keep in Mind the Ad Formats You Have Experience With
If you are considering a social media affiliate marketing campaign, there's a strong chance you have at least some experience working with CPA offers. If this is the case, pay close attention to the ad formats that you've already worked with as this experience can be evaluated later on when crafting creative for your social media campaigns.
Besides understanding the creating process of reach ad format, also analyze how the target audience reacts to these creatives. There's a strong chance you'll still work with the same audience even when developing social campaigns, so knowing how these users think will help you create ads that resonate with them in the future.
Why Are Social Networks Awesome for Affiliate Marketing?
When the average person accesses a social media platform this user isn't necessarily looking for a product or service, but this is actually what makes these networks a great alternative for affiliates.
Consumers are so used to seeing ads, they learn to ignore promotional content, especially when they are looking to make a purchase. Social media gives affiliates the ability to connect with people who are interested in the goods or services being promoted in the offer without creating any negative emotions. Not only does this make users more susceptible to your marketing message, but it can also help these people find the best solutions to their challenges.
In addition to this, social media affiliate marketing campaigns are awesome because they result in:
Higher Product and Brand Visibility
While affiliates specialize in promoting other companies, these marketers also benefit from techniques that boost brand and product visibility. By promoting your offer on social media, you can boost the product as well as the advertiser's brand visibility. In other words, consumers will get used to seeing the advertiser's branding and will learn to associate it with a positive reaction.
Rather than creating a social media profile for the product or company itself, affiliates can develop their own brand and leverage its pull to influence advertisers' content. Just make sure to verify with advertisers that you can use their branding in your campaigns before you start developing these creatives.
Increased Traffic
The most obvious benefit of affiliate marketing social media campaigns is a huge boost in traffic. Social media campaigns can help you amplify your content and exponentially boost the number of people that visit your site or app. Even media buyers that don't publish their own content can run social campaigns and increase the number of users who see the offer landing page.
Like search engines, social media allows you to acquire both paid and organic traffic. While both of these are very different, users obtained through social media are often more receptive and engaged. This means that regardless of the type, social media usually has a higher chance of generating a successful outcome than other sources.
Better Search Engine Rankings
Search engines generate a huge percentage of all internet traffic, so getting on the first page of Google or another similar platform can exponentially increase the number of conversions you generate without increasing operating costs.
With that in mind, Google and other search engines haven't published their exact algorithms because they want to prevent position manipulation. However, we do know that search engines evaluate social media presence to calculate organic rankings. So, having a solid social media presence for your affiliate platform can improve its search engine ranking and overall profitability.
Superior Conversion Rates
Out of all the statistics you should monitor, the conversion rate may be the single most important metric of your campaign. In simple terms, your campaign conversion rate allows you to assess how effective your ads are.
Because social media users are more receptive to your ads, they are more likely to interact with your creatives and complete the actions you want them to complete. For example, filling out a contact form, requesting a quote, or making a purchase. This can give your conversion rate a significant boost without increasing your expenses.
Satisfied Users
It's one thing to attract a large number of people to your platform, but this doesn't automatically guarantee they will be satisfied with your content. Modern consumers prefer to do business with companies that have demonstrated personality. And, most people also prefer working with businesses that have clear branding.
Facebook, Instagram, and other leading platforms are the perfect tools to boost a company's reputation and focus on its branding. This usually results in more satisfied users that want to learn more about the goods being promoted.
A Strong Bond with the Audience
Social media networks have become a part of our identity as humans because they help us stay in touch with friends and family even if we don't see our loved ones very often. It's normal for users to use social platforms to create strong emotional bonds. So, affiliates can play on this phenomenon and tap into their audience's emotional side to create a stronger bond.
Just remember, consumers can easily tell when you're trying to promote your products. So, instead of focusing on simply promoting your offer, also invest resources into earning your audience's trust.
Improved Brand Authority
Besides having a more prominent reputation, being present and active on social media can actually improve the authority of your brand as a whole. If your publishing platform's profile appears active and is currently involved in relevant discussions, it will become a thought leader and have even more influence on your audience.
Access to Intricate Information at a Low-Costs
One of the most surprising things about social networks is that running campaigns on these platforms is still relatively affordable. After all, when consumers sign up for a social network, these users are willingly sharing huge amounts of information about themselves such as interests, marital status, jobs, family members, and other details.
Affiliates can then use this information to develop intricate campaigns that carry a relatively low price tag. The best part is that this can improve user experience as people are more likely to only see relevant ads and other forms of tailored promotional content in their feeds.
Paid vs. Organic Social Media Marketing
Social media campaigns can be designed for specific platforms, user groups, and regions. However, every single campaign you develop can either be categorized as paid or organic.
Paid campaigns include pay-per-click (PPC) and any other form of a social media campaign that you have to pay for. In most cases, these campaigns operate on a cost-per-click (CPC) basis, but you may also find platforms that allow cost-per-mille (CPM) and cost-per-acquisition (CPA) campaigns as well. Needless to say, any form of the paid social campaign involves a direct investment, but affiliates also get immediate results from these ads.
Organic social media affiliate marketing takes more time to produce results. But, this approach doesn't rely on paid ads and it's extremely scalable, making it a great long-term alternative for affiliates that have their own publishing platform.
It's impossible to determine which one of these produces the best results without testing them out first. To find the best alternative, make sure to create a tailored strategy that includes extensive testing as well as a detailed optimization schedule.
How to Use Social Networks in Your Affiliate Campaign
Many affiliates erroneously believe that all you need to do to achieve social media success is to post something funny every few days. Long gone are the days when social media networks were just glorified publishing platforms. Today, millions of businesses across hundreds of countries rely on social networks to help them find new customers regularly.
For starters, affiliate marketers need to come up with a strategy to help them achieve their goals. Having an organized approach will keep you on the right track, but it can also improve the efficiency of your ads because it ensures that all creative elements work in unison to achieve the same goal.
All social platforms and affiliates are unique, so you need to create a customized plan for each network. That said, some general steps you need to take to successfully launch a social media affiliate marketing campaign include:
Find the Best Affiliate Program
Affiliate offers are programs that advertisers develop to work with affiliate marketers. These usually include all details about the offer, including the definition of a conversion, the platforms that affiliates can use, and every other piece of information relevant to the program.
The affiliate offer you choose directly influences the success of your campaign, but not all programs are the same. Therefore, you need to take the time and evaluate different offers until you find the perfect fit. The best choice will depend on your expertise level, so keep in mind that offers with the highest payouts tend to be the hardest to convert.
Determine Which Social Media Platform You Can Use
Different social networks attract different types of users. Instead of launching a campaign on every platform for every offer, you should choose two to three social networks for each program.
Remember to always review the affiliate offer to determine if social networks are allowed. The offer will also tell you if any networks aren't allowed or if you can't have incentivized traffic. Plus, also keep in mind that some networks won't let you promote the affiliate link in your posts, so if you don't have a landing page to display you may be better off working only with providers that allow direct promotion.
Decide If You'll Run an Organic, Paid, or Hybrid Campaign
The affiliate offer contains any and all limitations. As long as the program allows it, you can either choose to run an organic, paid, or hybrid campaign. In most cases, hybrid campaigns tend to produce the best results, but keep in mind that these are also the most time-consuming because they require both ad optimization as well as organic content creation.
Organic social campaigns are a great option for offers that have a simple conversion flow, like single opt-in programs. That said, you can also run paid and hybrid campaigns for programs that have more complex conversion flows, but this requires a deep understanding of the audience.
Produce Engaging Content
It doesn't matter if you're running paid ads, an organic campaign, or both, you always need to produce engaging content. Social media users are constantly being bombarded by images, videos, posts, and other types of content. To stand out, you need to develop attractive creatives that feature high-resolution images and instill emotions into your audience.
Affiliates that launch paid campaigns should pay close attention to the different ad formats available on these platforms. From in-video live stream ads to private notifications, social networks are constantly developing new formats that allow you to connect with the users you want to attract.
Optimize, Optimize, Optimize
As with other forms of digital advertising, finding the recipe for success with affiliate marketing requires periodic campaign optimization. The first step is to install a reliable tracker and test it to make sure its readings are accurate.
After launching your campaign, you should allow your ads to run until you've collected enough data to perform the optimization. Once you have enough information, which is usually after around 100 conversions, you can optimize your ads. But, remember that this value may vary, so examine your case to determine when you should optimize your campaigns.
Choosing the Best Social Media Platform for Your Affiliate Campaign
If you take into consideration small-scale platforms, there are hundreds of social networks to choose from, all of which have a unique interface and general gist. However, six social networks are used by hundreds of millions of users across the world. In most cases, working with one or more of these will allow you to connect with your audience and build a profitable campaign.
According to our observations, the best social media affiliate marketing platforms are Facebook, Instagram, YouTube, Twitter, TikTok, and Snapchat.
Affiliate Marketing Witch Facebook
Facebook has close to 2.75 billion active monthly users, making it by far the most popular social media platform in the world. The most impressive thing is that the platform hasn't plateaued since it was first launched, so it's still adding more and more users every month.
In simple terms, Facebook may have the most comprehensive advertising suite in terms of social media affiliate marketing. That said, it's also the platform with the most competition, so you need to focus on developing ultra-high-quality to make an impact.
Platform Overview
Although Facebook's higher executives have been involved in legal battles recently, this hasn't affected the popularity of the social network. Furthermore, the team behind Facebook's advertising features has worked restlessly to develop unique ad formats that help affiliates build a solid connection with consumers without affecting user experience.
Limitations
It's important to note that at the time of writing Facebook was one of the platforms that didn't allow direct affiliate link promotion. This means that affiliates need to promote pages or apps and place affiliate links within these platforms. Additionally, Facebook doesn't allow the promotion of certain products, so check out the platform's terms of use before developing your campaign.
Best Strategies
Facebook users are the most demanding in terms of quality, so you need to ensure that your content and the product being promoted are up to scratch. Using humor is always a great option, but remember that your memes and other content should tie back to your product or industry in one way or another. If you want to know how to use your Facebook page for affiliate marketing.
Affiliate Marketing Witch Instagram
Instagram surpassed the 1 billion monthly active users mark in 2018 and the platform hasn't looked back since. The platform actually boasts of 500 million daily active users, so half of the people that have the Instagram app check it every day.
One of the biggest differences between Instagram and other networks is that it's the most popular image-based platform out there. And, the best part is that this platform has also implemented features found in other leading networks, which has kept users from migrating to newer alternatives.
Platform Overview
Instagram is a specialized platform in the sense that every single post is centered around images and/or videos. Therefore, consumers using this app pay a lot of attention to the colors, filters, angles, effect, and resolution of the creatives you upload. In essence, Instagram users are just as picky as Facebook users, but the former tend to focus more on visuals rather than overall value.
Limitations
The biggest limitation to Instagram is that, at present, the platform doesn't allow you to place outgoing links until you have a specific number of followers. In other words, you need to rack up a certain number of users before you can include an outbound link in your organic posts. The silver lining is that paid ads allow you to send users outside of the app.
Best Strategies
In addition to developing colorful and interesting creatives, you also need to leverage the outbound link you're allowed to place in your profile biography. This is the only link that all accounts are allowed to have, so don't be afraid to tell your audience where to go once you catch their attention.
Affiliate Marketing Witch YouTube
While it's not a conventional social media channel, YouTube is only one of three platforms that have 2 billion monthly active users. Known for being the premier platform for influencers, YouTube lets you publish videos that demonstrate your knowledge, entertain your audience, or deliver another type of value to your prospects.
Platform Overview
YouTube needs no introduction because the platform has been around since 2005, but this doesn't mean that it's easy to launch a successful campaign. Just like Facebook, YouTube is saturated with wonderful, wacky, and sometimes outright weird content. This means that the affiliate content you produce should deliver value, so creating educational how-tos and similar materials can actually produce stellar results.
Limitation
There's no doubt that YouTube is a great platform to reach your audience, but the platform requires intricate creatives to produce large volumes of conversions. And, tracking campaign metrics through Google Search Console is a nifty feature, but the complex interface means that it's best suited for advanced marketers.
Best Strategies
If you have the resources, the best strategy with a YouTube campaign is to go all out and develop how-to videos that feature the products you are promoting. This reassures users while showcasing your expertise, meaning that you can get conversions while cementing your place as a thought leader in the industry.
Affiliate Marketing Witch Twitter
Twitter's user base has been dwindling over the last few years, but it remains an iconic platform that's used by a loyal group of followers. Twitter has more than 350 million active users and most of them are in the US, so it's a great alternative for advertisers that only want to target this market.
Platform Overview
Twitter revolutionized social media networks by introducing tweets, which are best described as short posts that can be shared with all other members of the platform. This social channel relies heavily on complex algorithms to help match people's news feed with a combination of content they want to see and breaking news.
Limitations
The biggest limitations for Twitter are its relatively small number of users and its reach. That said, a platform is still a premier option for branding and awareness campaigns, especially if you run ultra-targeted paid campaigns.
Best Strategies
The attention span of the average Twitter user is extremely short, so having concise wording to go along with a relevant image is a time-proven approach to get the best results with this platform.
Affiliate Marketing Witch TikTok
The rumors surrounding TikTok and a potential ban in the US have not hampered the popularity of the video-sharing platform. With almost 800 million active users, TikTok has become a social media sensation that uniquely delivers content. The platform offers a variety of ad formats and still has relatively low paid advertising prices, making it a favorite for experienced and newbie affiliates alike.

Platform Overview
TikTok was developed to cater to the average user's short attention span. The app allows members to share short videos of up to 60 seconds. The video content can vary from the sender doing everyday activities to elaborated funny clips that feature dozens of participants.
Limitations
The main challenge of TikTok is that most of its users are under 24 years old, which means that there is a limited number of offers you can work with. Plus, the majority of TikTok users are located in tier-3 regions, like South America and some parts of Asia. That said, it's also growing in popularity in Europe and North America.
Best Strategies
TikTok doesn't let you place your affiliate links on your posts, so you should work on capturing contact information and building a lead list. Use lead magnets like downloadable materials to make the most of your paid ads and follow these up to a solid email sequence. To know how to use TikTok for affiliate marketing.
Affiliate Marketing Witch Snapchat
Snapchat is regarded by some as the best affiliate marketing social network because it allows marketers to place direct links on their posts at any given time. That said, it's still challenging to get users to look at the offer, let alone turn them into conversions.
Learn how Snapchat makes money and what this means for affiliates.
Platform Overview
Snapchat has a modest 433 million monthly active users, but it's worth noting that these are usually more engaged than people on other networks. Similar to TikTok, Snapchat allows users to share short videos, but these are automatically deleted after they've been watched. This means that all content on Snapchat is time-sensitive, a characteristic that savvy affiliates have learned to use to their advantage.
Limitations
Snapchat attracts mostly younger demographics, which means that monetizing these users can be challenging by definition. Additionally, Snapchat campaigns also require the creation of a lot of content, so you need to set time aside to shoot short flicks and edit them regularly.
Best Strategies
Consumers that use Snapchat love instant gratification and exclusivity. A sure-fire way to capture attention is to showcase the good you're promoting, make it feel like an exclusive deal, and highlight the fact that the offer is only available for a limited time. If you want to know how to use your Snapchat for affiliate marketing.
Ready to Get Started? Find the Best Affiliate Programs at lemonads
Choosing the best social media affiliate marketing platforms is a unique journey for every marketer. But, as long as you put in the work, you should be able to find the combination of networks that allow you to make the most out of your affiliate offers.
To learn more about finding the best affiliate program, contact lemonads and our team of experts will be glad to help.
Accelerate your Conversions, Increase your Revenue
with lemonads
---
You would like