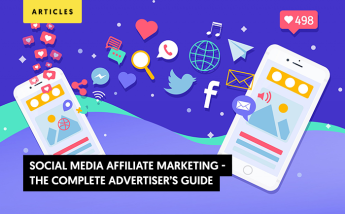 Social Media Affiliate Marketing - The Complete Advertiser's Guide
In this Social Media Affiliate Marketing Guide, you will also learn How to Create a Successful Affiliate Program.
It's no secret that social media networks are helping businesses of all sizes connect with their target audience and transform these individuals into valuable leads. The reason for this is that social networks have evolved from a simple tool to a part of our identity as human beings. Facebook, Instagram, Linked In, Twitter, TikTok, and other platforms have successfully penetrated almost every market on the planet -- not to mention new alternatives designed to target untapped segments.
All in all, social media is an outstanding advertising and marketing option. That said, developing your own social media campaign and actually transforming users into paying customers can be challenging. The good news is that you can leverage the power of social media marketing without having to do all the heavy lifting yourself. Affiliate marketers can help you take advantage of the fact that these users are ultra-engaged and drive leads from the most relevant networks.
With the above in mind, businesses need to develop affiliate programs specifically designed to attract the top social media affiliates in their respective industries. Fortunately, lemonads has partnered with some of the top social affiliate marketers, so our team is extremely familiar with the steps that advertisers have to take.
Below, we've put together a guide explaining the basics of social media affiliate marketing as well as the steps you need to take to build a successful program to attract this type of marketer.
A Brief Introduction to Affiliate Marketing
Before going any further, let's go over the definition of affiliate marketing. In simple terms, this form of advertising allows you to run low-risk campaigns by partnering with independent marketers. These marketers, known as affiliates, promote your deals through a variety of means, including social media.
Furthermore, you can choose to work specifically with an affiliate that specializes in social media campaigns to only get this type of lead.
One important caveat about affiliate marketing is that it's usually performance-based. Rather than paying for impressions, advertisers can choose to pay for each click, lead, or even sale generated. In other words, you can decide what type of program you want to create, how much you want to pay affiliates, and for what type of interaction. That said, you'll have to ensure that your program is competitive to attract the top affiliates that bring the best traffic.
Affiliate Marketing and Social Media: What You Need to Know
Research suggests that more than 48% of people in the world have used social media at one point or the other. That number is expected to rise to a whopping 56.7% by the year 2025, so it's safe to assume that social media is here to stay. For business owners, this means that social media platforms present safe, effective, and sure-fire alternatives to connect with their audiences.
Remember that social media platforms were initially used as publishing channels. But, the development of paid advertising programs, the integration of additional platforms, and the creation of engaging features now allow businesses to get valuable leads from these same channels. After all, more than 74% of all consumers are moderate to heavily influenced by social media when making a purchase -- and your company can take advantage of this by working with a reliable group of affiliates!
How to Develop a Social Media Affiliate Program
Besides having close to 3 billion monthly active users, Facebook is a great tool to reach potential customers because 98.3% of its users access it regularly. And, even though Facebook is the leading platform, the same concept can be applied to all major platforms, albeit at a smaller scale.
Moreover, there are dozens of different major platforms and even hundreds of alternatives if you consider smaller social networks. This gives business owners the ability to choose platforms that are the most relevant to their companies.
For example, if you own a B2B software company then LinkedIn may be the best choice, whereas entrepreneurs promoting health products may be better off using Instagram as their main source of traffic.
With the above in mind, you'll need to put together a solid affiliate program to attract the right marketers and, therefore, engaged audience members.
Here are some steps you need to take to develop a social media affiliate program for your business.
1. Define the Specifics of Your Affiliate Program
Today, it's common to find affiliate programs for all types of products and services. This means that there's a lot of competition for not only consumers' attention, but the best affiliates.
Before you create your program, you need to define specifics that all affiliate programs must-have. In simple terms, you should define the product or deal you want to promote, what makes up a conversion, how much you're paying for each conversion generated, attribution windows, payout periods, and any other relevant detail.
All businesses are different, so you need to analyze your unique circumstances and figure out what other elements you need to include in your specific case.
2. Identify the Social Media Networks You Want Traffic From
We mentioned briefly the importance of choosing the best social media traffic for your program, but it's important to understand that this process can occur in stages.
If you have never used social media to market your business before you may not be aware of what the best channel is. In these cases, you can create a test program that allows traffic from all major platforms and evaluates the results after you have collected enough leads/conversions to break down the numbers.
3. Figure Out How to Track Down Top Affiliates to Partner With
One of the biggest obstacles that advertisers face is finding reliable affiliates to partner with. There are countless affiliates, but not all of these have the sway to influence consumer purchase decisions.
The best way to attract top affiliates is to have an awesome affiliate program that offers great payouts and other superb conditions. But, getting your program in front of these affiliates is already challenging, especially if you're not sure where to look.
Fortunately, affiliate networks like lemonads specialize in connecting reliable affiliates with leading advertisers in a wide range of industries. We take the time to vet and evaluate each one of the marketers that partners with our platforms to ensure the best experience and results for our advertisers. To learn more, contact us today and we'll be glad to help.
Finally, keep in mind that you can choose to work with different types of affiliates, like:
Influencers and Micro-Influencers
Social media influencers is an umbrella term used to describe content creators that specialize in publishing materials on social media. Influencers can focus on one or multiple industries, but they usually make a name for themselves because of their large followings and ability to influence the way their followers behave.
Industry Groups
Although not usually recognized as an official channel, industry groups are like influencers but for B2B industries. Often organized and composed of industry leaders, deals and promotions distributed through these channels have a much higher chance of engaging B2B leads than other platforms.
Mentions and Other Content from Clients
As a business owner, you need to leverage all promotional materials, including ones that aren't directly under your control. Client mentions and other types of content that come from your customers have the ability to change the perception that potential clients have of your company. You can recruit affiliates that specialize in getting this type of content for your business, while still ensuring that it's coming from real users. Just make sure to maintain a good reputation, if not, this technique won't be as effective!
4. Invest Into Developing Valuable Resources for Affiliates
Indeed, you don't have to provide materials to your affiliates in your program. However, many businesses choose to create basic marketing materials for their affiliates, like banners, logos, and other elements. The idea is to help affiliates by allowing them to focus on campaign creation and management, rather than getting bogged down in content creation. The best part is that once you have created these resources, your affiliate program will be ready for launch!
You can create as many resources as you like. In most cases, companies provide basic text copy for affiliates to maintain the same tone as well as rich media content like images or videos.
Copy
Keeping a consistent tone across all channels has been proven to improve conversion rates. When creating copy text resources for your affiliates, make sure that the content aligns with your current marketing strategy and company identity. If not, you run the risk of attracting the wrong audience, so your leads will be much harder to convert.
Image or Video Content
Image and video content can help you transmit a clear and concise message within seconds. But, consumers are now more demanding than ever before, so simply following traditional advertising best practices may not be enough to succeed. Instead, your video and image content should deliver value, so don't be afraid to create resources that are punchy, informative, and/or personable.
5. Work on Improving Your Program Constantly
Just like affiliates and their campaigns, advertisers need to pay close attention to the key performance metrics of their programs to make adjustments that help improve the results generated.
The social media affiliate marketing program optimization process should only be performed once you have collected a statistically significant amount of information. Once you have ensured that this is the case, avoid observing vanity metrics and focus on identifying the areas that have performed best.
Looking to Build a Social Media Affiliate Program? Our Team Will Be Glad to Help
Having a social media affiliate marketing program can help you take advantage of the profound connections forged through social media without putting a huge amount of pressure on your team.
With the above in mind, you need to create a superb program and work restlessly to attract the best affiliates. At lemonads, we've spent years forging bonds with some of the top affiliates across a huge collection of industries and our internal team is eager to help you find the best marketers. To learn more, get in touch with our affiliate network today and we'll be glad to help.
Accelerate your Conversions, Increase your Revenue
with lemonads
---
You would like