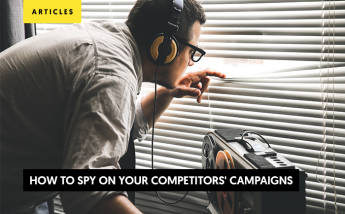 Spy yours competitors and win the race
It's time to embrace your competition. You shouldn't fear your competitors, the sole fact that they exist means there's a market for what you offer. You can get inspiration from them and observe their strategy to elevate your activity. To spy on your competitors' push ads is essentially the most effective way of learning from their successes and failures. All there's left to do is apply their best practice to your own business.
There is a lot to gain by learning how your competition does things if it's done the right way.
In this article, we'll begin by discussing what to look for when you're spying. Then we will address spying tools and how they work. Going further into details about 3 of them (Anstrex, Spypush, Adplexity) will help you figure out what kind of data you can collect and how to put it to use.
Spy on competitors mindfully
Push ads are sent directly to the mobile or desktop of your potential customers. They look like usual push notifications and engage your target customers to visit your website or a landing page with a simple click. Push ads are hard to master because they require a lot of testing and optimizing but they can generate a lot of money once you've got the hang of it.
Find out all you need to know about push ads in our detailed article.
Before diving into a push traffic campaign try and get familiar with what your competition is doing in this area. It could give you an idea of what has already been done and what's working for their customers (and save you a lot of tests and money).
To avoid getting sucked in the excitement of finding out everything and anything about your competitors, try figuring out a plan first.
What exactly is the information you're looking for?
How will these insights help you make better push ads?
What are the best tools to get this information accurately?
Searching for push ads that have performed well in the past can help you imagine your next campaign.
Maybe it's the traffic source that's a winner, maybe it's the creative or the targeting, or maybe it's a mix of all three.
GET INSPIRED BY EXISTING PUSH ADS
We advise you to get off the beaten track and not look only at your competitors but also take a look at what's been done in other industries. It could help you come up with new ideas to build efficient ads and maximize conversion.
Have a look at the top media buyers who are making a lot of money with push ads, there are most certainly a thing or two that you can apply to your own activity.
LOOK FOR PUSH ADS BEST PRACTICES
Find out what performs the most. Should your push ads redirect to your website or a landing page? Is a microsite the way to go for your campaign? Chances are your competitors have experienced these criteria to optimize their push traffic.
By observing your competitors' marketing funnels, you'll be able to list every successful operation they've run. You will have access to the creatives and landing pages they use to make users click and convert. Spy tools allow you to skip a lot of testing (which costs a lot of money) and simply take the knowledge that's available to you before building your own. It's a great place to get started and grow your push traffic.
REFINE YOUR PUSH ADS TARGETING
To stay on top of your market and to ensure maximum rentability, it's essential to have a look at your competitors' targeting for their push advertising campaigns. Top media buyers know which geos, devices, and traffic sources to use to run effective campaigns and make a lot of money.
Find your push ad spying tool
Spying on your competitors' push ads gives you a pattern to follow. It's not about duplicating exactly what they've been doing but it means not having to do the process of testing and failing yourself.
Chances are what's already working for your competitors will also work for you. All you have to do is take what's been done before and adapt it to your activity. Try and achieve better results than them by switching things up thanks to the data you will have.
You can't rely on guessing what's working when running online advertising campaigns. If you don't have data to support your plans you will lose money and time. Even if you have the best most creative idea for your campaign, if you don't have evidence to prove that it's going to generate profit you'll end up with a bigger expense.
With a Push Ad Spy Tool, you will get access to a lot of data to get an idea of what's working in your competitive landscape
With quick and simple research, you will uncover successful campaigns around the world. Most tools allow you to research with different filters. You can either search existing ads by country, by ad or affiliate network, by vertical, or by language.
To find successful ads you might want to take a look at those which have been running for a long time (more than 2 weeks). Chances are if they're still running they've been bringing in results and money.
There are many spying tools available on the market to watch your competitors and leverage what you've uncovered. Most affiliation networks are releasing such tools to give you the best all-in-one service possible. However, it could be interesting to have a separate tool like Spypush, AdPlex, or Anstrex. Here's a quick overview of each tool and what they have to offer:
Spy on competitors with SPYPUSH
Spypush is a service that allows you to monitor your competitors' push ads. It was created by a group of advertising networks, especially for media buyers.
Thanks to their knowledge of the market needs they've created this product to save advertisers time and money.
Provided functionalities:
Access to existing profitable cases to facilitate the creation of new marketing funnels.
Wide range of filters: you can research your competitors' push ads sorting by:
country
devices
languages and other parameters.
Detailed information on creatives, creative jump, and landing are available.
Download any campaign you want to copy with just one click!
Network:
Spypush's supports 10 of the largest networks giving you enough information to find out what your competition is doing in several countries.
Price:
Spypush costs $49 a month giving you access to more than 2 000 000 push ads in 95 countries.
Spy on competitors with ADPLEXITY
Functionalities:
Find profitable campaigns running on 10+ push traffic sources in over 80 countries.
Download every landing page with page dependencies
Get access to hidden campaigns that are running exclusively on mobile carrier traffic
Search by keyword, advertiser, publisher, affiliate network…
Gives you the largest amount of in-depth data
Network:
AdPlexity gets its top-notch data from 10+ Networks covering every major country
Price:
AdPlexity costs $149 a month and gives you access to 700 000 push ads in 80 countries.
Spy on competitors with ANSTREX
Functionalities:
Includes all the major global players as well as region-specific niche networks.
Uses high-quality residential proxies to obtain the most accurate data.
Millions of ads from tens of thousands of advertisers and publishers available
A multitude of Filters & Sorting Options
Keywords
Ad-network
Category
Country
Device
Affiliate Network
popularity
duration
dates
Scrape and edit any landing page thanks to their built-in downloader and HTML editor.
Get a complete picture of which targets are working for advertisers
Find real CPC bids for many campaigns along with their history.
Network:
Anstrex has the largest coverage with 39 Networks.
Price:
Anstrex costs $79.99 giving you access to more than 3 000 000 push ads in 92 countries
Here is a summary table that will help you decide what tools you need to spy on your competitors:
Now that you have some intel on what's possible in terms of functionalities, networks, and price you can take your pick. There are plenty of tools out there to match your needs.
A good tool for spying on your competitors' push ads has great network coverage in various countries to collect enough in-depth data.
For a good read on how push networks actually work we've got you covered.
How to collect data and make it into a successful push ads campaign
Limit your competitors
Chances are you know who your competitors are and you'll go straight into researching all of their campaigns. Try and narrow down the number of competitors first, it's better to focus on a few of them, to begin with. Direct competitors who are offering the same service as you with the same target market will be the ones you want to watch.
Some tools allow you to research by network and by vertical. It's quite easy to navigate and choose which criteria you're interested in. Actually, you may even discover new competition that you didn't know about.
How to spot a successful campaign
To begin with, let's have a look at what is a successful push ads campaign.
A great push ad campaign is using at least 3 to 5 creatives to test which one works better. Using different creatives will also prevent users from ad fatigue. It makes your campaign more attractive to users. Great creativity is essential to ensure clicks and therefore conversion. The title and body of the ad are also crucial elements. They should be fun, simple, and attractive, add an element of surprise to make sure they will appeal to your target.
If your campaign is going to generate money then it should be well-targeted. Most networks let you select your target country and device. To get a more granular targeting you may also be able to select browsers, browser language, connection type, carrier targeting, and IP targeting. You should also have to choose among lists of subscribers (the fresher the subscription, the better).
After setting up the destination country it's time to place your bid. You'll have access to the average bid for the target country helping you to set your own bid higher or lower (or equal). Certainly, your account manager can give you advice during this process as it's quite tricky to get right at first.
With ad traffic spying tools the easiest way to know if a campaign is working well is to filter by date. Obviously, if a campaign has been running for a few weeks it must be performing well.
Make your own
Now it's time to create your own set of push ads. Spy traffic tools let you copy and edit your competitors' campaigns thanks to integrated HTML builders. Keep in mind that the best way to maximize your performance is by bringing new things to the table. Don't just duplicate others' campaigns, make it your own by adding your touch to it.
Since competition is such an active part of every activity it's better to grab the opportunity to learn from it. It's necessary to analyze your competitors' strengths and weaknesses to work on your growth strategy.
Ad Spy tools conclusion:
Push ads spying tools can give you a real competitive edge in a short amount of time. They save you both time and money if you know how to use them. Not only do they help you skip a lot of testing and optimizing but they also allow you to see millions of successful campaigns that have been launched around the world. They let you filter by creatives, landing pages, targets, networks, and much more to help you access all the data you need to run a successful push ad campaign yourself.
However, if you really want to be efficient there's no need to copy and paste a previously used campaign, be creative, and thinks out of the box!
Accelerate your Conversions, Increase your Revenue
with lemonads
---
You would like