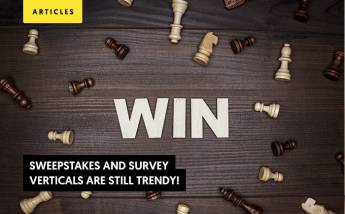 Sweepstakes And Survey Verticals Are Still Trendy!
You've probably seen sweepstakes countless times. But did you know that sweepstakes offers are one of the most interesting offers in affiliate marketing? Everyone, whether they're rich or poor, wants to get things for free, that is why sweepstakes are so popular today.  All you need to do is give over some basic details such as your name and email address and you are entered into a draw to win a great prize. Some of the most popular prizes to win from sweepstakes are mobile phones, shopping gift cards, or travel Affiliate Program.
So, affiliate marketers can take advantage of this to earn a profit or commission from companies who need data from customers. Let us be clear on what sweepstakes campaigns are and about how you can make your cash flow grow.
Simply put, a sweepstake is a promotion where one or more participants have the possibility to win a prize by chance. There is no skill involved and participants simply have to sign up in order to enter the competition. Unlike other promotions, entering a sweepstake is free, but users have to provide at least their email address in order to complete a conversion. A sweepstake is easy and affordable to run, and when done correctly, their benefits are far greater than many other marketing methods. From a single promotion you can get more email subscribers, new customers, a boost in sales, an increase in followers on platforms like Facebook, Twitter, YouTube and Pinterest, and greater brand exposure and awareness.
The main difference between sweepstakes and other niches is that these types of creatives never get old. They work with the same efficiency all the time. Sweepstakes proved to be one of the most profitable verticals and the trend is still on for 2020. Sweepstakes is a top vertical that will make affiliate marketing works in 2020. They have fairly low rates, especially on the classic type. The rising popularity of sweepstakes means that they are not just buzzwords, people have actually benefited from them that is why the competition keeps getting stronger. There are different ad formats you can use in a sweepstakes campaign, but the three most effective are pop-unders, push notifications and native ads.
How to promote your sweepstakes?
Planning and setting up your sweepstakes is a good start, but you'll also need a solid marketing plan if you really want to accelerate your sweepstakes and hit your goals. There are many effective strategies you can use that will help you promote your sweepstake offers and get you clicks and sign-ups.
Sweepstake Directories : submitting to specific sweepstake and context directories is a must-do. It's a very efficient way of getting quality traffic. One thing to be very aware of is that many of these directories a directed at a general audience. So if you want a more targeted campaign, it may not get you the results you want.
Social Media : another strategy is to use social media - and the most used one, Facebook in particular. Everybody came across sweepstake offers on Facebook – you must have seen them many times before even founding out what they were – and it remains a very impactful method of generating interest. Instagram is another powerful social network that can be used to promote these offers, especially now that Instagram has become so popular for young people. You can also pay to promote your posts as a sweepstakes ad to reach a wider audience while linking directly to the sweepstakes landing page.
Update your blog : If you have a blog, this is where you must push your sweepstake offers out thanks to this digital space. This is very important if you want to use your sweepstake for a targeted audience. The beauty of your blog is that you can keep it as long or as short as you want.
Promote your sweepstake at the checkout : When someone buys something from your website or through you as an affiliate – why not give them a chance to win your sweepstake prize? They've already bought something from you and they will be very likely to enter your sweepstake if it means they could potentially get something for free.
Use a promotional video. Finally, you can use a promotional video to great effect as well on all platforms possible. While putting your sweepstake offers across all your social media channels is recommended, you can also use your little clip video in many other ways to get the information about your great prizes across.
You need to be very strategic about the type of sweep you want to run. This is because the geo and the audience will also vary and be affected. For your sweepstakes campaign to be successful, you need to offer something that your target audience wants. For example, targeting a younger audience with the newly released iPhone X or Samsung. Keep in mind also that, just by nature, sweepstakes offers don't work with direct-linking. They, instead, often require pre-landers, which, in turn, are used in order to make the user more engaged with the possibility of winning a prize. Therefore, the visual appeal of your pre-lander stands by 70% of how successful your sweepstakes campaign is and your call-to-action should be clear and explicit. Create several pre-landers, try different Geos, experiment with traffic sources, then collect the data on the performance of these variables, and finally stop on the best-performing one(s).
You also need to think about believable angles. Come up with a good reason why a company would give away a prize, and have your questions support it. Why would a company give away a free iPhone or prize because they got that information from someone?
The two different Sweepstakes categories
All offers in the sweepstake vertical fall into two categories: CC Submit and SOI/DOI. Sometimes Pin Submit is identified as the third group. However, despite funnels involving prize giveaways, it is more accurate to attribute pin submits to the mobile subscriptions niche. So, we won't focus on these offers within the framework of this article.
CC Submit Credit Card Submit sweepstakes represent one of the most profitable niches in today's affiliate marketing industry. The user needs to enter bank card data and subscribe through it. This is the most difficult and not entirely legal option but it is also the most profitable option and not all affiliate programs work with it. Many believe that this vertical can be viewed as the next generation of the carrier billing industry. Moreover, in chronological terms, the sweepstake boom happened against the backdrop of stagnation in the niche of mobile content offers.
SOI/DOI sweepstakes Two different things here. SOI (Single Opt-In) are sweepstakes with simple registration (you only need to specify your data). This is the easiest type of offer and has the lowest payout among sweepstakes. Whereas, DOI (Double Opt-In) are sweepstakes with the need to confirm through your mail (follow the link from the letter that arrives after registration). This is a more difficult option to work with but the payouts are higher than in SOI.
Those types of sweepstakes are a relatively mature niche in affiliate marketing. Nevertheless, it still remains popular in 2020. A simple funnel, a huge variety of offers and a wide range of traffic sources — what else does an affiliate need for a smooth work process?
First of all, most advertisers impose a number of limitations on promo materials and the most effective approaches to running traffic (that, by the way, work perfectly for CC Submit) are often prohibited. These include using brand names, aggressive and misleading advertising practices and many more. Second of all, payouts for an SOI/DOI conversion are relatively low, which seriously limits room for maneuver against the backdrop of competition in traffic sources. Thirdly, although the funnel may seem very simple at first glance, it's actually not true, as a user often has to fill 10-15 form fields (1-2 forms) before it can be qualified as a conversion. Moreover, advertisers strictly validate the incoming data and do not allow you to send incorrect information, they can also refuse to qualify a conversion if some of the main form fields are filled erroneously.
What is the most effective one? Well, experienced affiliates generate a higher ROI and EPC on CC Submit offers. High payouts and the ability to use aggressive approaches to warming up traffic provide a major advantage over leadgen offers, although in some cases SOI can be more effective.
And Survey vertical?
At this stage, you must be thinking : weren't we supposed to learn also about surveys? You are absolutely right. Paid surveys are an interesting beast. If you want to promote paid surveys, what you need to do is set up some channel where you have people who would be interested in those surveys. You'll find networks that provide those surveys and locate their affiliate programs. Then you get to promoting.
Whilst other offers may only convert when a customer completes a required purchase on the vendor site, affiliate survey programs work in an entirely different way. Rather than the customer paying to buy a product or pay for a service, it is the vendor who is rewarding them with cash or points for signing up for their programs.
Users are drawn to the opportunity to earn money by taking surveys online. You can tell your readers, followers and mailing list subscribers about the convenience and ease of completing these online surveys from the comfort of their homes on their schedules and completely at their leisure. Some of these surveys can even be completed from compatible mobile devices like smartphones and tablets, so they can be making money even while riding the subway or bus during their daily commute to the office. The possibilities for how to advertise surveys online to interested users are endless. You can approach specific niches and demographics, catering to single parents, students or retirees who want to earn extra cash, gain access to free offers or enter some terrific contests for tremendous prizes.
lemonads, a strong provider of high-standard Sweepstakes and Survey offers
Sweepstakes and surveys are one of the best verticals to start your affiliate marketing journey and gain experience. All you need to do is get information on the best converting sweepstakes, create different pre-landers, then launch your campaign. A great way to drive a ton of traffic to your sweepstakes is by submitting to these websites that will link directly to your promotion. These contests can be a great way to get traffic.
Nowadays, lemonads is one of the biggest providers of sweepstakes on the net and you will find a wide range of great offers. With several payment methods and several niches you can find a sweepstake offer to suit your needs. Do not forget to use a tracker that will give you relevant information about the campaign, otherwise, you won't have necessary data to optimize your pre-landers and the whole campaign.
Accelerate your Conversions, Increase your Revenue
with lemonads
---
You would like