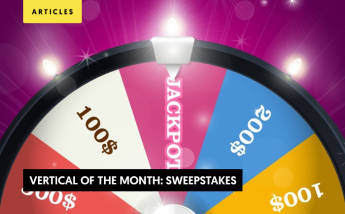 Affiliate Vertical of the Month: The Sweepstakes Offers
Even before the creation of the internet, companies had to develop creative ways to promote their goods and services. Some of these promotion schemes were quickly dropped by modern marketers, but a few of them have survived the test of time. Sweepstakes are a great example of a type of promotion that's been around for decades and can be marketed through physical and digital channels alike.
Today, sweepstakes offer to allow affiliates to monetize their traffic using one of the oldest, most effective techniques in the marketing book. However, some marketers are shying away from this vertical due to increased competition and fears that the vertical is not popular enough to remain profitable for much longer.
At lemonads, we partner with the top advertisers and affiliates around the world. We're aware of the industries that are thriving as well as the verticals that are starting to wither away. In this edition of vertical of the month, we'll explore the sweepstakes industry, the types of offers available, and everything else you need to know to succeed in this space.
Defining the Sweepstakes Vertical
Sweepstake promotions come in a huge variety of shapes and sizes, but these revolve around the same concept. In sweepstake giveaways, participants are asked to select their contact information, and winners are selected by chance, rather than through a skill or competition.
With the above in mind, there are hundreds if not thousands of variations. The best way to entice users to enter the sweepstake is by reminding them that the prize, which usually consists of a high-ticket item like a laptop or smartphone, can be theirs with almost no effort.
The sweepstakes vertical doesn't usually aim to generate sales or monetary transactions right away. Launching a sweepstake promotion is a marketing technique, so advertisers usually want to capture user information and build their leads funnel to promote their services to these users later on. That said, you'll also find some offers that require credit card (CC) submittals from users where advertisers want to generate subscriptions rather than sales.
Types of Sweepstake Offers
Indeed, there are seemingly countless types of sweepstakes that companies can opt for, and new technology allows for the development of new, innovative models. That said, the three most common sweepstakes offer found in affiliate marketing are CC submits, lead generation, and mobile subscription programs.
CC Submit Sweepstake Offers
CC submittal sweepstake offers are among the most profitable programs for affiliates. These offer extremely high payouts, but it's worth noting that they have a particularly tough conversion flow. To get access to the freebie or participate in the giveaway, users have to submit CC details and potentially agree to a subscription.
CC submits, which are a type of cost-per-sale (CPS) offer, are better suited for seasoned, well-established affiliates that have experience working in demanding verticals. These often require a significant investment every month, so it's definitely a better alternative for affiliates with a larger budget. That said, the competition is relatively thinner at the top, so these marketers have the best chance to exponentially increase their revenues.
SOI, DOI, and Other Types of Lead Generation Offers
Lead generation programs such as single opt-in (SOI) and double opt-in (DOI) offers are developed by advertisers that want to build their sales funnel gradually. While these offers are suitable for products that have a longer buyer's journey, they're a popular choice for companies in all industries.
SOI offers are relatively simple to convert because they only require users to leave their name, email address, and other contact information. DOI offers are slightly trickier because, after providing contact information, users also have to verify it through email, text message, or similar means. That said, both of these are considered relatively simple in terms of conversion flow, making them ideal for affiliates of all levels.
Mobile Subscription Offers
Mobile subscription offers fall under the category of CPS programs. The main goal of these offers is to generate subscriptions that translate to periodic fees, which are sent directly to the user's phone bills. As CC submits, these have a much lower conversion rate than other types of sweepstake offers, but they have a relatively high payout.
Also known as carrier billing offers, mobile subscriptions are simpler than CC submits, so they're easier to work with and can serve as practice for affiliates trying to transition into higher-paying programs.
Is the Sweepstake Vertical Still Worth It?
Sweepstakes have been around for decades and this promotion technique was among the first to be used in online channels. Many marketers believe that this industry is in its last legs, but the statistics tell a completely different story.
While it's true that the industry is in full maturity, 67% of consumers are still willing to participate in sweepstakes if they think the main prize is worth it. Additionally, one in three participants is open to receiving information about products and brands, which means a large percent of the audience is engaged.
This makes sense as sweepstake campaigns that have the right structure and creative elements can have conversion rates of up to 35%.
Tops Locations for Sweepstake Offers
As with other industries, two of the most important factors you need to consider when choosing sweepstakes offer is the location and time of year that the ads will be running during.
As a general rule of thumb, tier-1 countries tend to be much harder to convert and sweepstakes in tier-3 regions usually consist of digital content due to shipping issues. Tier-2 GEOs provide a good balance between the two, so it may be the best option for up-and-coming affiliates.
Tier-1 GEOs
The best tier-1 countries for sweepstake offers include:
United States
United Kingdom
France
Germany
Australia
Italy
Tier-2 GEOs
The trickiest part of working with tier-2 countries is the fact that most of these regions have a specific language. That said, they still offer a great chance in terms of campaign potential. The top GEOs include:
South Africa
Saudi Arabia
Spain
Sweden
Singapore
Japan
Holland
Tier-3 GEOs
As we mentioned before, tier-3 GEOs usually have difficulties in terms of shipping, so users are more receptive to sweepstakes that offer immediate access to downloadables and similar content. The best areas include:
Brazil
Mexico
Philippines
Thailand
India
Top Ad Formats for Sweepstakes Ads
In most cases, sweepstakes are successful because users can potentially win a great product or access to awesome content. Because of this, there are a few different ad formats that work extremely well with this vertical.
For example, ads that offer a lot of space tend to produce stellar results when paired with sweepstakes offers. Pop advertising and domain redirect ads are a great fit because they let you create large-scale ads that emphasize the potential prize.
Furthermore, personalized messages that are delivered in a friendly way also tend to generate high conversion rates. Push notifications are a great candidate for sweepstakes campaigns, but these are often limited to Android and Windows users. In-page push notifications are great solutions to help target iOS users, plus these ads don't require opt-in so they have a wider reach as well.
How to Choose a Sweepstake Offer
Choosing a sweepstake offer may take time, but you should be patient and make sure you find the program that gives you the highest chances of success. Some of the main elements you need to look at include:
Conversion Flow
For affiliates that are learning the ropes, an easy conversion flow is the best way to go for a sweepstakes campaign. SOI campaigns are a great alternative because they also require a relatively small budget, plus they allow marketers to practice their ads creation and CTA development processes.
Marketers that have more experience can work with CC submittals and DOIs, both of which are more profitable but require more complex campaigns.
GEOs
Again, the locations will depend heavily on your particular expertise rather than the locations themselves. Tier-1 countries are very profitable, but consumers in these regions are used to sweepstakes. Conversion rates tend to be much lower than in other locations, so this tier is better left to advanced affiliates.
Regions that form the third tier have much lower payouts, plus they still require a learning curve because affiliates need to learn to promote intangible goods or learn to entice users to participate in a sweepstake while overlooking potential delivery issues. Tier-2 countries may be the friendliest alternative in terms of learning and potentially have the best combination of profitability and maintenance requirements.
Product Quality
In affiliate marketing, quality is always king. If the product you're promoting isn't enticing enough, then your campaigns will never perform the way you want them to, even if the ads and all other elements are perfect.
Offer Conditions
Pay very close attention to the conditions of the offer to ensure that they are suitable for your specific case. In addition to the GEO and target audience, also pay attention to the payout for each conversion, duration of the promotion, and whether or not you're allowed to use pre-landers.
Easy Tips to Optimize Your Sweepstakes Campaign
Some industries require little optimization once the campaigns are running, while other verticals require almost constant adjustments. Sweepstake campaigns don't require daily optimizations, but you still need to make frequent adjustments to get the best results.
Let's take a look at some tips to help you optimize the performance of your sweepstake ads.
Wait until you have enough data before optimizing
Start with broad scheduling and narrow down the best times in your first optimization
Increase bids gradually
If you have a high CTR but your budget is running out quickly, try reducing your bids
Cut unprofitable sources only after reaching a 70% win ratio on them
Create a whitelist and blacklist log to use in other campaigns
Ready to Get Started with Sweepstakes Offers? lemonads is Here to Help
Indeed, sweepstakes may not be the most innovative type of promotion on the market, but these offers still have the potential to generate extremely high revenue. We hope that this edition of vertical of the month has helped you understand this industry and give you more information on developing successful sweepstake campaigns.
Want to find the best sweepstake offers? Contact lemonads and our team will be happy to assist you.
Accelerate your Conversions, Increase your Revenue
with lemonads
---
You would like