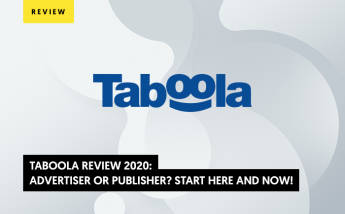 Taboola Review 2022: Advertiser or Publisher? Start Here and Now!
Our Taboola Review will not be an ordinary review!
Not only you will know everything about Taboola's outstanding advertising platform, but you will also discover its huge potential and how this will raise your traffic by acquiring more data than ever!
Are you a publisher? We've also got you covered with every golden tip you'll need to know, to monetize content and acquire visibility!
Why is Taboola so extraordinary for advertisers and publishers? In this article we will tell you how taboola works, what is it great for, and some other options for you to choose from.
Not only Taboola is the largest discovery platform today, but with their exclusive partnerships with many of the world's top publishers, they serve 360 billion content recommendations to over one billion people across the web each month!
That's right, and there is a whole world behind the scenes of Taboola!
So, are you ready to discover it? Let's go and dive deeply to earn that engagement you are looking for:
Taboola Review: Ad Examples, Company, Tips;
Taboola Review for Advertisers: Pricing, Pros & Cons;
Taboola Review for Publishers: Pricing, Pros & Cons;
Taboola Review Conclusions.
Taboola Review
As we've already mentioned, Taboola is the world's largest discovery platform today and it has also been proven to be effective across the buyer journey from increasing awareness to driving online purchases!
So, if you are an advertiser or a publisher, you've landed in the right spot!
Take a look at some facts here below:
Probably you've never realized it, but If you pay attention, you might have seen their feed recommendations on sites like Bild, Bloomberg, NBC News, Le Figaro, MSN, The Independent, and The Weather Channel just like here below!
That's right! And... as you can see...
Sponsored by Taboola!
And we'll check so much more with all the other Taboola Ads Examples in just a sec!
As you can imagine, with their impressive massive scale, unique content consumption data, and world-class AI technology, they've helped and are helping thousands of advertisers and publishers reach their audiences with compelling native ads and in a "brand-safe" environment!
When consumers see your content or product in discovery mode, they are most open to discovering something new and interesting without feeling they've been bothered with unrequested content!
But how does Taboola detect the right consumer that could be interested in your content or product? Simply with their amazing algorithm!
So, let's check some of Taboola's top ads examples, get the idea of what we are talking about, and get right back to their algorithm!
Taboola Ads Examples:
As we've mentioned, you've probably seen them all over the web without even noticing them, so let's take a quicker view and see how Taboola appears as content-sponsored Ads!
Recommended from the Web!
Business Insider – Recommended from the Web!
Related Content:
You May Like…
Taboola With ENTERTAINMENT Example
If you've noticed the personalized sections dedicated to the user are thanks to their web search!
You can notice they select, for that specific person, something they may like, recommended from the Web or related content!
Imagine how much data they could even possibly have for you to use and raise your traffic from potentially interested audiences about your content or future clients about a product.
How? All thanks to their brilliant algorithm!
Yup! It's time to check how Taboola works with their algorithm!
Taboola Review Company
When we've talked earlier about Taboola's platform being powered by Deep Learning technology, it simply means that Taboola uses its unique data about people's interests and information consumption to recommend the right content to the right person at the right time.
Whenever you're launching a campaign or publishing an article with Taboola, their algorithm will straight analyze your content and extract a huge number of "signals" that will help that algorithm match it to that most likely audience, willing to engage and take action with what you are delivering.
This algorithm mainly predicts the best matches across Taboola's publisher network, and it begins recommending your content while gathering results at the same time!
And, of course, we all know that time brings higher results!
Their algorithm keeps on learning through time, based on people's:
Reading preferences,
Browsing history,
Device,
Location,
Time of day.
and so much more, increasing a more "accurate prediction" of those audiences that would most likely engage with your content!
We must keep in mind that, as an algorithm, it's important to give the predictive engine time to optimize your campaign, and to test some content items, titles, and images, but Taboola's in-platform tools and features, will allow you with blind-testing performance suggestions to reach your more accurate targeted audience even faster.
With Taboola, your content and ads will be recommended on thousands of top websites and apps giving you:
Higher engagement across a variety of ad formats Support to drive sales, generate leads, create awareness, drive traffic to your site, or any other goal you're setting;
Discover new audiences with access to over 1 billion users who still have to discover your blogs, articles, videos, apps, and more
Powerful insights and targeting options to reach a possibly interested audience in what you are offering, becoming new customers
Transparent, actionable data with a 360-degree awareness of what's working best and where you can improve to achieve better performance.
Let's take a look below at Taboola's Creative Trends:
As you can notice, under the categories we find a CTR percentage!
What's the most important thing to know about Taboola's algorithm, is that it looks at two important factors which will help you figure out when and where to recommend your campaign items and those factors are:
Click-Through Rate (CTR);
Cost Per Click (CPC).
Check below and notice what's going on:
As you just saw, Taboola's Image Trends showed what could give you a higher CTR and CPC... but what can CTR and CPC do for you?
CTR, or click-through rate, is an indication of how interested users are in your content.
The higher the CTR is, the more your campaign items will be recommended to users.
Meanwhile, the CPC, or cost per click, is an indication of how much you are willing to pay per click.
The higher the CPC is, the more competitive your campaign items will be across the network, which means they will be shown more often.
Of course, if you increase your CPC, there's no doubt you will get more clicks to your campaign items.
But, most important, is that Taboola is known for its creative, engaging, non-disruptive native Ads, which could make your brand or content with a succeeding increase of traffic but acquiring new customers or subscription to memberships.
There is so much you can earn with native advertising, so... let's see what it truly means!
What Is Native Advertising?
"Native advertising is simply a paid advertising where the ad matches the form, feel, and function of the content of the media on which it appears."
This is particularly effective on an open web, but ads are getting more intrusive, annoying, and ineffective than ever!
Have you ever got bothered by those ads that interrupted your reading while you were so concentrated?
That's how native advertising is done wrong!
Non-disruptive ads are those ads, that will not interrupt the experience of the user as they're consuming another content they've originally intended, and they easily blend in with the look and feel of the site!
Taboola Native Advertising
Taboola found the sweet spot for non-disruptive native advertising, engaging more than ever as they spot it right on the open web but at the bottom of the article without interrupting!
Mainly, the benefits of good native advertising are obvious... if it doesn't take away the user experience from the user, the marketer, on the other side, will expect a better engagement.
Mainly, if you already hate something that's bothering your browsing, why would you click on it, right?
This is how sensitive We – Users - are.
And after you got the pinch out of it, check Taboola's Native Advertising case studies!
Now that we are aware of native advertising and Taboola's potential, let's see what their platform can offer to each one of you!
Taboola Review for Advertisers
Hello Advertisers! It's all about you!
Ready to dive into their pros & cons for advertisers and see if Taboola is the right fit for you?
The amazing part of Taboola is having the possibility of reaching a huge audience at a very cost-effective price!
As an advertiser, you would get similar or even better CPA results compared to Facebook, of course, after you carefully optimize.
Another great thing is that you would also have the ability to adjust your CPC bid by site or even block an entire site from your campaign.
To not even mention you would get a large reach and reach your targeted audience on MSN!
Imagine reaching your target demographic through who reads MSN's website and converts! That would be your first white list campaign for sure!
Peek, here below, how Taboola's interface looks like:
It's a simple and user-friendly interflow allowing to switch on or off:
Spent
Clicks
CTR
Actual CPC
CPA
Conversions
Conversion Rate
Impressions
CPM
Taboola Pros for Advertisers:
Large Reach and Volume
Cost-effective compared to Google and Facebook
Successful campaigns run for months or even years
Amazing Native Ads we've overviewed with their case studies in our section above!
The main features of Taboola are:
Targeting
Segmentation and Retargeting
Mobile-ready templates
Predictive Engine
Always In Control
Comprehensive reporting
Traffic and conversion tracking
Revenue From Native Advertising
Maintains Editorial Control
Monetizes Your Site
Reaches Massive Audiences
Content filtering
Email automation
Now... with all these beautiful pros and features, what could the cons possibly be?
Let's check them out!
Taboola Cons for Advertisers:
We do have to admit the Ad creation is a little slow and, to check campaign performance data with your CPC or budget, you would need two tabs opened to optimize.
This is for sure something they could improve since the User Interface makes it a little difficult, especially if you are doing more things at a time.
You could use Brax, which integrates with Taboola, to check campaign performance data on the same page and easily make all your changes without missing out on any detail.
They also have some Data delays and might require a lot of testing to find a "hit".
Taboola Cons for Advertisers:
Taboola's UI is not well organized
API limited compared to backstage UI
Data delays
Requires for a lot of testing
No free trial
Giveaway TIPS for advertisers:
Two main tips we can give you about Taboola are:
Advanced Targeting: Taboola's campaign is based on location, time, browser type, connection type, audience segments, and more. This means that your campaign targeting options will impact based on where your content will be shown.
Publisher Acceptance: Your campaign items will only appear on publishers that accept your specific type of content. Let's say that some publishers might not want political advertisements on their website, and you are running a political advertisement, this means that your campaign items will not appear on that publisher's site. All you'll need to do is to categorize your campaign items carefully and smartly!
Taboola's Pricing for Advertisers:
The cost of your campaign in Taboola depends on your entire setup including creatives, targeting, and budgeting.
An amazing thing is that you will only pay when people click on your ads and when people reach your advertiser's website.
For a self-service option, you can start a campaign at $10 per day.
Taboola's minimum budget for a campaign, with all the setups possible, would be around $100 and the minimum CPC is $0.01.
Most advertisers bid around $0.5 to $1.50 depending on the niche but interactive or video content usually needs a lower CPC compared to credit card offers.
To give Taboola a shot to success, expect to use a test budget of at least $500
Taboola's Integrations:
5 most popular tools integrated with Taboola are:
Firebase
React Native
Flutter
Crashlytics
Outbrain
Brax.io
But also Google AdMo and Actionable. I integrate with Taboola.
Taboola Review for Publishers
Hello Publishers! It's all about you now!
Ready to get to know about Taboola's pros & cons and see if it's the right fit for you?
Taboola's Feed brings an easy and curated scrolling news feed experience that consumers love, right from social networks to your pages!
It's like a game-changer for publisher revenue and audience building!
And Taboola helps you build new audiences from its vast inside network, and what's better than having a huge networking opportunity? That's right!
Peek here below how Taboola's interface looks like:
It's a simple and user-friendly interflow allowing you to check:
Conversion Spike: High conversion rate
Traffic Spike
Instant Hit
Search Deep
Other Traffic
Search Traffic
Filter by user type
Social
Previews
Conversions
... and so much more!
Taboola Pros for Publishers:
Actionable Editorial Insights: Taboola's Newsroom empowers editorial and audience teams to enhance content with actionable data insights, A/B testing, and alerts.
Optimized Paid Acquisition: Acquire audiences at positive ROI, keep them longer on your site, and track revenue per visit.
Audience Exchange: Drive quality traffic to your website by exchanging traffic with a partner and third-party sites;
Engage Users and keep them coming back to you by maximizing time on site, pages per session, and user satisfaction;
Recirculation: Optimize for your desired post-click behavior, from video views to sign-ups.
Organic Video Growth: Embed your video player, including ads and analytics.
Personalization: Personalize the user experience, optimizing for each visitor and situation.
Sponsored Content: Monetize with the largest sponsored content marketplace in the industry.
Sponsored Video: Achieve market-leading monetization with seamless, non-intrusive, in-feed video experiences.
What could we possibly desire more, right?
The main features of Taboola are:
Targeting
Segmentation and Retargeting
Mobile-ready templates
Content library
Increase brand awareness
Predictive Engine
Traffic and conversion tracking
Always In Control
Comprehensive reporting
Maintains Editorial Control
Monetizes Your Site
Reaches Massive Audiences
Content filtering
Email automation (if needed)
Now... with all these beautiful pros and features, what could the cons possibly be?
Let's check them out!
To check your performance and see how your traffic is working and gathering your new audiences, well... that will take time for their algorithm to learn and improve!
Taboola Cons for Publishers:
Taboola's UI is not well organized
API limited compared to backstage UI
No free trial
Giveaway TIPS for publishers:
The main tip we can give you about Taboola:
Publisher Acceptance: Since you're a publisher, you can accept a campaign item to appear on your content and choose if the campaign is about your specific type of content. Let's say that you might not want political advertisements on your website, and an advertiser is running a political advertisement, this means that their campaign items will not appear on your publisher's site. All you'll need to do is to categorize the "accepted" campaign items carefully!
Taboola's Pricing for Publishers:
Because native content is all about engaging users, publishers can offer advertisers competitive pricing based on cost-per-click (CPC) or cost-per-view (CPV) models, monetizing the value of post-click engagement.
Using a platform like Taboola Native, publishers can feel confident in this model, because consumers can be targeted based on their locations, interests, behaviors, and platforms!
(especially important in the mobile age, as consumers engage with different kinds of content in different ways when they are on the go), driving high click-through rates (CTRs) that will optimize publisher revenue.
Taboola Alternatives and Competitors
We listed some alternatives and competitors of Taboola for you to compare and choose the better option for your needs.
Outbrain
Outbrain is a web advertising platform that displays boxes of links, known as chum boxes, to pages within websites. It displays links to the sites' pages in addition to sponsored content, generating revenue from the latter.

Outbrain's Pros:
Access to CNN, Time, ESPN, and more.
Cost-effective
Simple to use
Multiple conversion pixel events
Outbrain Con's
No self-serve whitelist
May need account management assistance for high volume
Hard to get approved at the beginning

RevContent
Revcontent is a leading content marketing and native advertising platform that leverages lightweight, customizable technology to empower the web's leading publishers and marketers to reach and exceed their revenue, engagement, and growth goals.
Check out our RevContent vs Tabula article.
RevConten's Pros
High-quality content and traffic
High paying advertisers
An ideal mobile web monetization platform
Best rates in the industry
Good support team and system
Customizable widgets
A referral program is available
Publishers have full control over the ads on their website
Multiple payment options
RevContent's Cons
High traffic requirements
Small publishers cannot leverage this ad network
Nativo
The Nativo platform is an end-to-end native advertising solution for publishers enabling them to easily activate, deploy and manage native ad placements across all their media properties.
Nativo's Pros
Ease of setting up a campaign
User-friendly interface platform
Great digital performer in the Native space.
Campaigns perform very well
Customer service provides great insights and access to a dashboard.
One of the better performers tested in the Native space.
Programmatic capabilities in the native space involve click-throughs to actual articles, not landing pages.
Nativo helps with content creation with assistance
Nativo's Cons
Difficulty in using different fonts and colors;
Creativity takes time.
Adnow
Adnow is an advertising network company founded in 2014 by a Big Data digital marketing team with more than 10 years of experience, and very popular for its native content ads
Adnow's Pros
AdNow allows non-English websites to join
Have weekly payments,
Competitive rates,
Works with other ad networks safely including Adsense, Propeller Ads, and Adtomatik.
Real-time reporting system,
If your website gets rejected, you can always apply again after fixing the recommended issues.
Adnow's Cons
It is not possible to filter irrelevant or inappropriate ads directly.
You have to contact support every time you are served irrelevant or inappropriate ads.
Taboola's Review Native Ads Conclusions
As we've arrived at our conclusion, we hope we've fully satisfied all your doubts, and don't forget to leave your personal experience with Taboola in our comments here below!
Accelerate your Conversions, Increase your Revenue
with lemonads
---
You would like