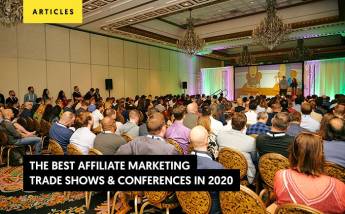 The Best Affiliate Marketing Trade Shows & Conferences in 2020
If you're chasing the next level of success, you need to meet the right people. You won't get too far in affiliate marketing - nor in any industry without business awareness, contacts, and insights into the most up-to-date trends. If you wish to get a full package at once, think about visiting some of the most recognized affiliate marketing events in the world.
This is the best way for you to build up good working relations with your partners, boost your sales, and increase your influence in the industry since your main goal remains the same: to help businesses strike more deals and identify more areas for their growth.
Due to the innovative nature of the industry, affiliate marketers can choose from a huge number of events to attend. Therefore, you must choose your affiliate marketing conferences wisely. While it can be time-consuming and expensive to attend these events, they are so beneficial and an important part of your job, for three reasons :
Networking opportunities. These events aren't full days of work. There is also free time throughout the day and casual meetings hosted by the evening. Therefore, it is highly recommended to spend some time aside from the events, in order to meet new people and (future) partners outside of a work environment. The more you can attend these events, the more people you will know from previous events you have attended. Sounds pretty logical… While you may not do business with all the people you meet during those events, some opportunities may arise in the future. It's always a good time to chat with like-minded professionals and learn from what they are doing. It gives a new perspective on your own position and hopefully gives you fresh ideas.


Brand exposure. This is a specific reason for advertisers: Those events are the best opportunity of exposure for your brand. Get your name visible and clear in front on existing and new customers. There is always the opportunity to showcase your company and what your activities are. You can create a lasting impression on prospective customers. Keep in mind that people have an interest in what you have to offer. So, prepare and share some branded materials, hand out sales material. It's also a great way to collect the email address of prospective customers that you can reach out to after the event. While the attendee badges will have your name and company, another way to gain exposure is to reach out to the organizers about being a speaker or hosting a workshop. While this gives you the opportunity to speak about your brand and services, it is also the best way to reinforce your perceived expertise in front of you target.

Educational opportunities. There is always something to learn and it's good to hear success stories and challenges from others. The knowledge that you gain will improve your skills and help you to expand your business. Take advantage of this opportunity and go listen to what is going on in the industry and gain insight from the best in your field. Industry events will always have a great line-up of guest speakers.
As an affiliate marketer, you're always being pitched on how different products / services can change your life. Keep in mind that most of them are run by marketers, so they know all of our sales tricks. Don't be that guy who attends every single event, and never launches any campaigns. Instead, you rather consider every event by focusing on the finer details of each one. From there, you'll be able to make the best decisions for you and your business. For affiliate marketers, the industry conferences scene is pretty packed all year round, with high-quality events worldwide, from Europe to East Coast USA, West Coast USA, and India. Here are the most famous events to attend in 2020:
Affiliate Summit West Las Vegas, 27 Jan - 29 Jan 2020
What is the best way to start the upcoming year? With a bang for your business, by attending the most influential conference in affiliate marketing. Year after year, the Affiliate Summit West in Las Vegas is the largest meeting place for the industry.
Not only is it the premier performance marketing event in the world, it's the only place where you can network and learn with the majority of the affiliate marketing industry's stakeholders at once.
At the ASW, you'll be surrounded by 6,000 of the world's top affiliate marketers. You'll meet  people who face the same challenges, have overcome similar obstacles and who are looking for the best offers, traffic sources and technology. Visit the meet market, sign up for one of the vertical meet-ups or attend a drinks reception.  Whether you are already active, or are just looking into how you can leverage affiliate marketing, the event will equip, educate and empower you. You can expect over 150 sessions from over 75 of the brightest minds and biggest names in affiliate marketing. The agenda is packed with dozens of tactics covering a range of topics that are guaranteed to help you take your business to the next level. Attending the Affiliate Summit West is the guarantee that you will leave having networked and formed partnerships with companies that will help grow your business.
And of course, lemonads was present at the Affiliate Summit West 2020.
Mobile World Congress, Barcelona, 24 Feb - 27 Feb 2020
MWC is the one of the largest mobile events in the world, bringing together the latest innovations and leading-edge technology alongside today's most influential visionaries. It is the place to build a well-connected global network with professionals from every sector of the mobile industry, including affiliate marketing. The event includes one-of-a-kind events, seminars and experiences designed to help educate and excite attendees. These programmes are developed and presented by some of the top organisations in the mobile ecosystem. There's more than 100,000 attendees from close to 200 countries, and the organizers claim there are more than 1 million business meetings generated – get your slice of this huge potential while learning all the latest from the world of mobile – or as the conference calls it, "limitless intelligent connectivity".
Ad:tech, New Delhi, 19 Mar - 20 Mar 2020
Ad:tech New Delhi is all about what's trending in the digital ecosystem. An unparalleled marketplace where marketing, technology and media communities come together to share trends, insights, disruptive technology that's shaping the digital economy. A melting pot of thought leaders, technology innovators, visionaries and techies alike. Ad:tech New Delhi is an unparalleled marketplace with 6500+ attendees across 31 nations, 19000+ sq ft of exhibition space showcasing 90+ Exhibitors who bring you the latest trends in digital arena. Be a part of the phenomena that could change the way you do business.
MAC Affiliate Conferences - Moscow, 21 Apr - 22 Apr 2020
MAC - for Moscow Affiliate Conferences - may be just the place for you. MAC conferences built its reputation and set a standard over the years of successfully held affiliate-oriented events. Therefore, the brand is expanding its coverage on a regular basis. There are an expected 3500 attendees, 250 companies represented and 30 speakers from all over the world. Top industry experts share their practical knowledge and reveal up-to-date money-making approaches.
On top of that, every digital marketer will find something useful at MAC. Enjoy astonishing topic diversity – SEO, Facebook and Google white hat and black hat strategies, alternative traffic sources, profitable affiliate campaigns, fresh verticals, and actual offers. And don't miss the networking events!
Israel Mobile Summit, Tel Aviv, 10 June 2020
The Israel Mobile Summit 2020 will be held on June 10th, with satellite events before and after. The Summit is one of the most influential mobile apps/games/adtech events in EMEA and the biggest and most international mobile event of Israel. Once again, it will feature keynotes from senior speakers from leading international publishers, panels about the hot mobile topics, an innovation showcase, and contests of the hottest mobile apps, games, and startups! Anyone engaged with the mobile app ecosystem will find interesting content and peers to network within this event.
Affiliate World Conferences - Barcelona 8 Jul - 9 Jul 2020 and Bangkok, Dec 2020
If you want to meet the world's biggest names in affiliate marketing, then Affiliate World Conferences are the events for you. It happens twice a year in Barcelona and Bangkok. But if you are looking for an "extra something" besides the so-called basics of meetings and networking, AWC is the place to learn thanks to world-class speakers, panels and dedicated labs on loads of topics. With every conference, the quality of exhibitors and speakers goes up. They managed to strike a nice balance between affiliate marketing, e-commerce and branding.  What AWC does super well is focusing on value-added content. They are not trying to fill up the agenda with random topics or speakers.
The topics are clearly divided into main topics and covered by thought-leaders. The amount of topics and speeches is also limited with plenty of breaks. During and around the event there were plenty of networking opportunities, some more organized than others. But after each content section, there was a gathering to discuss this topic in a more private environment. This helped in finding like minded people and share knowledge.
If you want to educate yourself about affiliate marketing, AWC is the place to do it.
Affiliate Summit East NY, New York, 27 - 29 July 2020
Thousands of digital marketers will gather at the Javits Center in NYC for one of the performance marketing industry's premier global event, the Affiliate Summit East. These decision makers are comprised of online publishers, influencers, media owners, traffic sources, advertisers, global brands, networks, technology firms, agencies, and other solution providers. A very international event with participants from 70+ countries aiming to network, learn about the latest innovations, newest technologies, and learn about the ways in which the most successful businesses are leveraging them to optimise their bottom line.
DMEXCO, Cologne, 23 - 24 September 2020
DMEXCO is the meeting place and community for key players in digital business, marketing, and innovation, each and every year in Cologne, Germany. This event brings together industry leaders, marketing and media professionals, and tech pioneers to set the digital agenda. Both globally informed and locally focused, DMEXCO offers an ecosystem with seminars, debates, and expositions outlining the future of the digital economy and driving market value. Highly recommended for anyone on the field.
Attending industry events are hugely beneficial in helping to grow your affiliate program, whether you are a publisher or an advertiser. Not only do you get to network with your peers but you also get to meet top partners and hopefully find new prospective partners. Plus there is also the opportunity to hear from industry experts about what makes them successful! lemonads will be there! How about you?

Accelerate your Conversions, Increase your Revenue
with lemonads
---
You would like