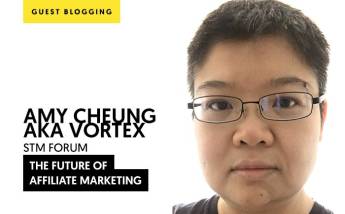 The Future of Affiliate Marketing by Amy Cheung aka Vortex
If you have been in the industry for a while, you most likely already know who Amy Cheung is. STM forum moderator and author of "Make your first dollar online : a step-by-step beginners tutorial", she has been in the industry for many years. Over these years, she has helped with her advice a number of beginners with how to launch their very first campaign and make their first income online and many STM members to a 3-4 figures income per day.

We had the pleasure to have her share with lemonads her vision on the future of affiliate marketing.  
1) How long have you been in the affiliate marketing industry?
I've been a full-time online marketer since 2006.
2) How long have you been working with STM? What is your role there?
I joined STM in 2014 as a member, wanting to learn more about running paid traffic.  Soon after, the 6-week affiliate marketing challenge pilot course was offered by David Savory aka zeno, and I joined up.  I must have made an impression on zeno during the course, because soon after he recommended me for the role of forum moderator - a role I've been in ever since.
3) What is your main project for the second part of 2020?
There are two main problems I see affiliates struggling with:
1) Blackhat practices and misleading offers and advertising angles have become harder and harder to implement profitably. Everything is working against this type of approach:  Browser updates, traffic source policies, mobile carrier restrictions, the FDA, legal restrictions, etc. etc.  
2) The covid situation has expedited a global economic recession, which will throw a wrench (already has actually) into the way online marketers need to do business, as well as the kinds of products and services that will survive over the next few years or longer.
I'm currently working on a beginner's tutorial on how to run whitehat on Facebook, which I've started posting on STM.  It is my hope that this tutorial will help affiliates to run whitehat campaigns on Facebook that will thrive during these difficult times.
4) With the STM team and Matej whom I greet, you realized each year a very interesting report called "What's working in Affiliate Marketing in 2020" in which you are questioning the best opinion leader of the market (whose Nabil Ben Khelifa, CRO of lemonads). For once, I want to question you in return. So Amy, according to you, what's working in affiliate marketing this year?
Actually, I'm already answering that exact question in my entry in that report:
Get the "What's Working in Affiliate Marketing 2020" here!
In addition, I've also done some research and spoken to other experts to find out what types of offers are likely to work well in the years to come (i.e. during the pandemic and for the remainder of the recession).
So - please do get your report from the link above.  I won't bore you by repeating myself here.
5) What is THE vertical of the year 2020?
This question is again covered in detail by various industry experts in the "What's Working" report referred to above.  But basically, products or services with one or more of the following attributes can do well during times of trial:
-Are essential to survival (need vs. wants or "nice-to-haves").
-Help to reduce cost of living or generate/increase income.
-Provide immediate gratification/results instead of benefits in the long run – as people are uncertain about the future.  People will just want to take things one day at a time and survive TODAY.
-Bring peace of mind, reduce stress and anxiety.  
Some examples that have one or more of the attributes above:  Insurance, entertainment, health and wellness, supplements, alternative medicine, yoga, debt-related services.
My personal favorite though is energy healing.  There's been a massive spiritual awakening going on in recent years, and more and more people are starting to see the validity and effectiveness of alternative medicine.  In fact, increasingly more scientific research is being done to prove the effectiveness of energy healing modalities such as reiki, and in the US more and more hospitals are employing reiki practitioners to work alongside surgeons in the operating room.  I have nothing but respect for our doctors and nurses and other healthcare workers, especially during this pandemic where they're risking their own lives to care for the sick.  However, western medicine is limited in what it can do.  In my opinion, a combination of western and alternative medicine can potentially effect synergistic improvements in patients.
6) This interview is an interview about the future. What trends do you think we can expect to see in the affiliate marketing industry in the next 1-2 years?
A major shift from blackhat to whitehat as more regulations of every kind become stricter, and as consumers spend more time on research before buying anything as money will be tighter.
Businesses that bother to nurture a solid relationship with their clients over long periods, by providing massive value and focusing on serving client needs in multiple ways using multiple products/services, will survive and even grow - compared to businesses that want to "sleep with the person on the first date" by going immediately for the sale using clever copy-writing alone.
7) What will be the importance of networks in the Future of Affiliate Marketing?
I predict that affiliate networks will continue to serve a major need, at least in the next 1-2 years.  They make it simple for affiliates to test different offers, and are able to provide short payment cycles compared to many direct advertisers.
Why "the next 1-2 years"?  Because google is planning on phasing out support for 3rd-party cookies in chrome:
https://techcrunch.com/2020/01/14/google-wants-to-phase-out-support-for-third-party-cookies-in-chrome-within-two-years/
Mr. Nana Baffoe from Prosper202 was the one who brought this matter to our attention in his post on STM.  The implication of these browser updates is that a lot of the current affiliate links will be less effective in tracking conversions.
I'm quite sure that many affiliate networks will be able to figure out how to get around this new update within the 2 years.  Alternatively, this update may motivate more advertisers to promote their own products/services themselves instead of relying on affiliate networks.
8) If you could change one thing about the affiliate industry, what would it be?
I wished that affiliate networks would provide affiliates with more whitehat offers - products and services that are actually created to improve the lives of consumers.
I also wished that more affiliates would focus on using honest advertising angles instead of misleading or lying to consumers to make a quick buck.
If we'd all do our part, we could really change people's perception of our industry in general, so that more reputable companies would be willing to work with us, and Facebook for example would look more kindly on affiliate campaigns.
9) We live in a special period with the spread of the Coronavirus. I hope you and your loved ones are fine. Do you think Covid-19 will severely impact affiliate marketing?
Some affiliates are already seeing negative impact on the performance of their campaigns, but not all.  In fact, some affiliates have even reported a positive impact.  It all depends on what it is they're promoting.
As I've mentioned in an earlier reply, the covid situation has expedited the arrival of a global economic recession, which has/will change the needs and buying habits of consumers - which in terms will change WHAT affiliates marketers will be promoting and HOW (which I've talked about in earlier replies).
10) What would you recommend to people who want to get started in 2020?
If you have zero experience running paid traffic, pop traffic is still the cheapest and easiest way to get your feet wet.  The 40-day step-by-step newbie tutorial on STM would be just the thing for you.
After finishing the tutorial, you'll have all the basics.  Start testing push notification traffic, which is similar to pop, but will require for you to create push ads and spend larger budgets on testing offers that have higher payouts.
Make some quick money in push traffic first, then consider testing native traffic if you wouldn't mind spending larger budgets (several hundreds to over 1k/day) on testing.
And please do keep an eye on that Facebook newbie tutorial I'm working on, where I'll be showing how to run ecom and lead gen offers.
11) What would you recommend to "super affiliates" in 2020?
Consider investing your profits into your own products/services.  That way you'll have better control of the entire funnel, be in possession of customer information so you can sell to them again and again, etc. - have advantages that affiliates don't.
Consider building a list or multiple lists (email, chat, push, etc. etc.)  Owning your own traffic will be a big edge.  You'll be able to monetize them with multiple products/services.  After interacting with them for a while you'll figure out what their needs and wants are, which may help you to create your own product/service.
12) Which are the tools all affiliate marketers have to use?
There are a million and a half tools out there, but I guess here would be the basics:
a) Education and Guidance (e.g. STM - which is also a fantastic place to network)
b) Tracking software (e.g. Funnelflux, Voluum, Binom, Prosper202)
c) Spy tool (e.g. Adplexity for all types of traffic, Adpatrol for FB, MagicAdz for FB)
d) Tools for making creatives (e.g. Photoshop, Premiere Pro, creative assets from Envato Elements, Lumen5)
13) ... As such, why is it so important to be active on a forum for affiliate marketers?
First of all, you can and should ask questions and receive guidance on how to run your business.
Secondly:  The more you participate in discussions, the more people will know you. No matter your level of experience, there will ALWAYS be someone you can help. Establishing yourself as a helpful and experienced member will earn you respect. Many of our most active members have transformed their businesses through networking in this way - whether it be to find partners to work with, other affiliates to mastermind with, or get accepted into elite networks or direct advertiser offers.
STM isn't just great for guidance and motivation - it's also a fantastic networking tool.
14) Why STM?
-We're the world's largest super-affiliate community.  We've been online since 2011.
-We have lots of case studies, tutorials and video training that can help you get started, and also help to take your business to the next level.
-We've negotiated many discounts to tools such as trackers, spy tools, and traffic sources.  These savings alone will more than pay for your STM subscription.
-We have motivating success stories to keep you going when the going gets rough.  Nobody ever said affiliate marketing was easy, but seeing so many other members going through the same woes as you and succeeding in the end will really help!
For a detailed description and a sneak peek of the STM forum, please see this page.
15) What is the future of STM?
In recent years, we've evolved from just being an affiliate marketer forum, to also include eCommerce and SEO.
I'm confident that in the near future, STM will become a useful forum not just for affiliate marketers, but all digital marketers in general.
After all, many of the tactics are similar.  The only major difference is in what people are promoting:  Affiliate marketers promote affiliate offers, whereas digital marketers promote either affiliate offers or non-affiliate products and services (whether it be their own or not).
16) What is the future of Amy Cheung?
I'll continue to devote a part of my time to STM this year, finish that Facebook tutorial in the next couple of months, then again return to spending time providing help in follow-along threads where members would update the progress of their campaigns.
We would like to thank Amy Cheung for sharing her knowledge and experiences with us !

Accelerate your Conversions, Increase your Revenue
with lemonads
---
You would like