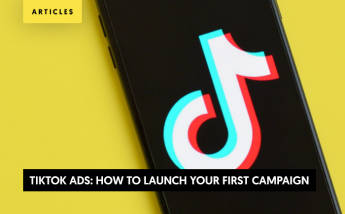 TikTok Ads: Launch Your First Campaigns & Peek on Some Examples!
TikTok Ads: how to launch your first campaign? Guideline for 2021
TikTok's Social media platform has been buzzing in the news and it's on the tip of everyone's tongue nowadays, but what is TikTok all about, what is its potential, and more important, is it truly worth for your business?
Whether you're looking to make sales, drive traffic to your website, or launch a new product, a creative and well-targeted TikTok campaign can drive great and huge results.
TikTok ads have surely been revolutionizing the advertisements world, and TikTok itself, considering that it was used by users for personal usage and in such a short period of time, becoming the spot you surely will desire your brand to be in, so let's delve deeper and see why.
In this article, you'll be guided, discovering everything you need to know about the different creative TikTok Ads options and how to create your Business TikTok Account.
We'll break down some topics with a step by step guidance on how to launch your first profitable TikTok campaign, and how to strike in getting those so desired results through:
What is TikTok Today?
How to set up and launch beautiful, elegant, and profitable TikTok Ads
How Much do TikTok Ads Cost?
Launch your first campaign with TikTok Ads
Peek the Top 3 TikTok video ads ideas
TikTok Ads Final Thoughts
What Is TikTok Today?
How to describe TikTok if not that it is known as the "home of creativity" within short-form mobile videos. In Fact, TikTok's mission is to capture the world's creativity, knowledge, and precious life moments, directly from your mobile phone and within seconds.
Typically, TikTok posts are, as we said, are in a short-form video content, which usually is humorous and has a duration from 15 to 60 seconds - that's right, the perfect length for an aimed ad you've been thinking of creating.
TikTok Ads posts can also range in types of tutorials, challenges, and/or product show-offs, which is what we will concentrate on and will be showing you shortly!
The majority of the content has different iterations of a video and as some users love to follow the trend audios, you could too if you're sponsoring a personal business followed by examples and information you would love people to know, to follow you!
Why trend audios?
Did you know that by sharing the same audio of others when it's a trend, you will certainly have the chance of getting more views? This could only mean that by having more views, you'd have a higher opportunity for your brand to reach that awareness and by getting followed in seconds!
In fact, there is a precise algorithm that clusters the trend audio videos by mostly showing them right on the TikTok home page as your login and ready to discover what's new in the world!
With TikTok, everyone can be a creator! Being encouraged to share your passion and that creative expression through videos is something brands took right as "the occasion" to spread awareness and try out the game.
We all heard about the rumors of TikTok being maybe banned in 40 days in The United States of America, but will this truly happen?
Only time can tell but, The United States of America has clocked TikTok going so far as to sign an executive order to ban TikTok in 45 days unless the company sold ownership to an American company. There's a lot of controversy around this app that's been spreading like wildfire through the news but don't count it out yet, as TikTok threatened legal action against that very same ban.
One thing is for sure – no matter how you slice it, brands have seen traction from this platform and could be pained by its removal, but mainly, will they let that happen? We don't think so.
Why should you use TikTok?
You might be wondering why you should bother with TikTok at all. The truth of the matter is that TikTok itself, as well as the brands who engage with it, are seeing significant results.
In fact, TikTok itself has seen huge success, even coming in as the 6th most popular mobile app in 2021 as well as being the most highly valued startup around $78 billion.
TikTok has seen massive growth in popularity and app usage, and if you're using other socials to expand your brand identities such as on Instagram and Facebook, you surely would want to consider TikTok since it's managed to reach 2 billion downloads worldwide by April of 2020.
Who uses TikTok? Let's check here below!
On a geographical aspect, most of the app's users are from India and China. But the United States ranks third with 123.8 million downloads coming from the country and making up 8.2% of the app's total downloads.
Are you still wondering if TikTok is the right fit for your brand? The reasons for the app's popularity are many and the main reason was in creating a place to be creative but also to spread your message creating a community.
As brands can market on the platform, this turns in making your marketing viral: a style of promotion that relies on an audience to generate the message of a product or service to make your target audience desire in wanting to follow you for advice or to follow you to grab and check your products to solve problems they might not even think about having before.
Besides those marketing tactics, you could also invest in paid advertising on TikTok to further boost your brand's impact on the app's audience if your budget allows you to do so. With the app's immense popularity, TikTok ads could be a great addition to your social media advertising strategy.
TikTok's Ads into the Advertising World
Advertising on TikTok isn't the same as advertising on other social media channels. Let's discover more by giving you a detailed overview of how to run TikTok ads on the platform and what kind of ads you can use!
Reflecting on why you want to go viral in the first place is one of the biggest problems of companies attempting to go viral with not knowing why they want to be in everyone's social media feed.
What are you looking for? Are you looking for more mentions? Brand awareness? More Sales?
Aligning your viral attempts, with your overall goals, will surely guide you towards achieving those goals you've set by creating outstanding and meaningful content, aiming your intent.
Take in mind that you have to have a plan of action with your content, and viral campaigns, are no different.
Years ago, marketers have tried to argue that viral content has to catch on, in whatever way possible, to reach out. Reaching out to who and how? Anybody? We know that's not possible!
Not having a plan of action and throwing something together, hoping that it sticks, could be very dangerous for your brand, ending up by going viral in such a wrong way misleading the message and that could truly harm your brand!
So after you got a clear idea of why you want to bring your marketing viral, let's check which TikTok Ad Type is the right fit for you!
With a variety of different options to choose from, it's hard to know which ad format is best for your brand, which is the reason why we'll dive into the different types of TikTok ads, how they can work for your business and how to begin in creating them!
How to set up and launch beautiful, elegant, and profitable TikTok Ads
Have you been wondering how to set up your TikTok ads and how is TikTok's advertising different from other Social Media Platforms?
Fortunately, things have slightly changed for brands who were interested in advertising on TikTok, which before, it was necessary to contact TikTok's company directly and check to see if the brand was qualified or not for advertising!
Now, all you need to do is simply start creating a Business account on the TikTok Ads Manager!
Once you've created your Account on the TikTok Ads Manager, you'll be requested to choose your billing country or region and to select whether you're using the account for a business or an individual purpose.
Done? Now, you can click on "Next."
Let's check all the types of TikTok Ads and see which one is the right fit for you!
4 Types of TikTok ads You Can Run!
TikTok's platform provides a huge list of options for you to choose from to advertise in the best possible way, fitting the tone of voice you want to give your product or service.
It's all about how to spread out your viral marketing! Choose what will be most effective in reaching your target audience and getting that message reach worldwide.
Which are the different types of TikTok ads you can run? Let's check them out!
1st Type of TikTok Ads: Brand takeover
TikTok's Brand Takeover ad, allows you to dominate the conversation as your message takes over the whole screen within seconds, turning it into an in-feed video ad!
Brand Takeover ads are one of TikTok Ad's best options in delivering mass awareness and helping you drive direct sales! How? Simply by placing your messaging right in front of your target audience!
Not only do these ads show up as soon as users open TikTok, but they can also appear on the "For You" page as still images, GIFs, or videos, including a clickable link which will drive users to a landing page or a Hashtag Challenge within the TikTok App.
There is an important fact though: TikTok makes sure users don't see more than one Brand Takeover per day so that "Brand Takeover Ads" are effective, being seen by a lot of users on your content with just a little competition.
If you're just starting with TikTok Ads, Brand Takeovers may not be your first choice, as yes, it's super effective, but Brand Takeovers are surely expensive!
If you're a bigger brand with a large marketing budget, they are a great option for fast growth and reaching a large group of TikTok users!
TopView Ads build on Brand Takeovers
TopView Ads is a new advertising option that builds on Brand Takeovers.
What makes TopView Ads different is that unlike Branded Takeover Ads, TikTok users aren't overloaded by an ad as they open the app.
In fact, TopView Ads are the first in-feed post after 3 seconds.
TikTok Ads: Branded Effects
TikTok has surely got creative by offering branded shareable stickers, AR filters, and lenses in their advertising mix!
Similar to Snapchat's branded lenses, TikTok's branded effects allow brands to design their own custom filter on the app, let's check more with Branded AR content!
2nd Type of TikTok Ads: Branded AR content
Branded AR content will allow your ads to also appear as branded stickers, lenses, and other types of AR content, to lure TikTok users to use them in their videos!
This is one of the best ways to help your brand awareness spread out worldwide, without struggling in sponsoring it for a long time, but just to the point where the help will come from the others that got inspired by you.
Branded Effects can be live for up to 10 days at a time and are an awesome way to encourage users to directly interact with your brand in a fun way!
3rd Type of TikTok Ads: In-feed video
In-Feed videos are those TikTok ads that will appear among the native news feed of TikTok and it's right where TikTok users will discover you on the "For You" page.
You can get super creative with In-Feed Ads, including multiple call-to-actions, and make your video anywhere between 9 to 15 seconds.
One thing to keep in mind is that like any other video on your For You Page, In-Feed Ads can be scrolled past or skipped pretty quickly. You only have about 2-3 seconds to catch your audience's eye before they keep scrolling.
Check how Adobe uses a clear CTA in their In-Feed Ad!
4th Type of TikTok Ads: Hashtag challenge

Branded Hashtag Challenges are one of a kind advertising opportunity and you've surely seen branded hashtag challenges displayed on TikTok's Discovery page before!
Similar to regular hashtag trends and challenges on TikTok, Branded Hashtags Challenges offer both organic and sponsored opportunities for brands based on your budget or reach!
Hashtag Challenge works on mainly all Social media platforms, and as you probably already know, it's the type of ad that will show up in the "Discovery" section of TikTok, where users not only will discover you, but you'll have to get them inspired by encouraging their participation.
They're for sure a great way to encourage users to generate content and build brand awareness with their creative ideas!
The best part about Branded Hashtag Challenges is that they're an awesome way for brands to collaborate and seamlessly integrate themselves into the TikTok culture and community and users have a blast using them!
It's important to have concrete objectives when you're creating a Branded Hashtag Challenge. So the main questions are: Are you looking to create awareness for a new product? Generate new leads? Or increase general brand awareness? Get that focus on what you truly want to achieve and set it as your goal!
When a user clicks on a sponsored hashtag, they're directed to a landing page on TikTok with the brand logo, linked to their website, check their brief description of the challenge, and showing which popular videos are using the hashtag, tempting users in wanting to participate and create their own!
TikTok Ads with a Sponsored Influencer
Sponsored influencer content is that type of TikTok ad, which we also have in many other social media platforms, where you get to spread your message across a sponsored content from an influential TikTok user.
This option is something that really depends on you since it truly needs to be based on how much you intend to invest in your initial budget.
Influencers Prices could vary based on how many followers that influencer has.
Ready to learn how to launch your first campaign with TikTok Ads? Let's delve into it!
How Much do TikTok Ads Cost?
As TikTok Ads are new, brands and businesses are still experimenting with the platform, meaning that it will surely need some time to understand the average spend or return on investment (ROI).
You can set up a free TikTok Ads account and create InFeed ads setting your own budget and schedule.
Currently, TikTok's minimum campaign budget is $500 and the minimum ad group budget is $50.
As more brands begin to engage and use TikTok Ads, this will define if TikTok will think of following Instagram's and Facebook's ads model where no budget is too small. Maybe they will continue to keep certain ad types, like branded hashtag challenges, as elite spends!
If you're a small business and want to give TikTok ads a try, don't let the unknown scare you off right away! This isn't the only way to advertise on the TikTok app.
Launch your first campaign with TikTok Ads
Let's create your TikTok For Business Account!
As you enter some basic information, such as your email address, password, and a verification code to accept on your email or to sign up with your mobile phone, which will be sent to your number instead.
Read carefully their terms and conditions because TikTok, like all Social Media Platforms, takes seriously any case! Confirm that you agree if you think they fit you you are and in what you believe, and "Sign Up."
You will need to wait for your brand to be approved and only then you will be able to complete the initial account setups into your dashboard!
Ready to create your first TikTok Ads Campaign? Let's follow the next steps and start creating your TikTok ads campaigns to get that boost for your brand!
Step 1: Create a new campaign
Start by clicking the "Create Button" under the "Campaigns" tab and get ready to start creating your first ad campaign!
Name your campaign and set a campaign-level minimum budget.
What does this mean? Simply, it truly depends on you whether you want to set a lifetime budget to quickly reach as many people as possible, or if you prefer to set a daily budget, and gradually reach out to your target audience.
This second option will actually help you test and see what works and which doesn't, making the changes you need to improve your metrics and then set it maybe as a lifetime budget sequentially.
In fact, as you can see here below, you'll also be able to run a split test A/B to improve your strategy in understanding deeper the targeting that fits best your TikTok Ads.
Step 2: Pick your placements and targeting!
What does this mean?
On TikTok's platform, you can decide the placements and targeting for your ad group, meaning that you can determine whether you want your ads to appear on TikTok and its partner platforms!
So, all you need to do is to think if you want to choose an automatic placement or set your targeting placement manually.
Let's get to see which one is the right fit for you!
Automatic placement
The automatic placement is where TikTok will assure that your ads will appear on all the TikTok partner apps, helping especially if you don't have a specific placement in mind.
Select Placement manually
With the "Select Placement" options you will manually choose which of TikTok's partner apps you want your ads to appear on especially if you already have a specific placement in mind by already knowing your target audience and where you will find it.
Now, insert the option to target users based on demographics, including location, gender, age group, language, and interest category.
To target a more specific audience group, you have an option to create a custom audience, but how?
TikTok allows you to upload the IDs of users you want to target in a CSV, ZIP, or TXT file, and you can also calculate certain metrics such as engagement, app activity, and website traffic to improve your targeting.
Now that we have all set up the initial information let's go on and get that ad up and running!
Step 3: Create a new ad
What happens now? With TikTok you will have different options to upload for your first ad:
upload a video
an image file as your ad creative.
follow Here the recommended ad specs of TikTok for your ads to succeed best ensuring it looks great across all the partner platforms.
One great thing you can do is to customize your ad by naming it so it's easier to distinguish between different ads within the same ad group. Enter your ad text using from 12 to 100 characters to make your message reach across more effectively.
Don't forget your calls to action! CTA is very important depending on what you want your audience to do and see.
Would you like them to "Sign Up," "Download Now," "Contact Us," "Book Now," "Shop Now," "Apply Now" or "Learn More", you have them all!
Have you created your ad? Well done! Now choose the option to preview it and get an idea of how it'll appear to TikTok users.
Now you can "Submit" to end the creation of your TikTok ad!
Step 4: Test and Measure your ad performance
Now that your TikTok ad has been created, and you've launched your first TikTok ad, your work has just begun! To not lose what you've done, you must measure your performance to see how your campaign is actually paying off.
TikTok provides native analytics that shows you how your ad is doing in terms of impressions, clicks, conversions and so much more you surely do not want to ignore.
You can even test and compare the performance of different ad creatives and placements to see which ad works better than others, helping you create more quickly TikTok Ads that achieve better results!
Peek the Top 3 TikTok video ads ideas
Which results have brands seen? Let's see how some brands worldwide have taken advantage of TikTok's platform to advertise!
Chipotle took some TikTok Video ideas of the past when they switched up their Queso recipe and used the traditional music over the video post option most used on TikTok!
They effectively showed off their new Queso with just simple cut shots overlaid with a song singing dip, and definitely likely to get you craving their Queso dip.
They've reached over 25k views!
Meanwhile, Elf Cosmetics is known to be TikTok's fresh face in the App.
If you are looking for TikTok video ideas, Elf is making a killing!
Consider that "Elf Cosmetics" even commissioned a song specifically for a TikTok campaign!
The song takes inspiration from Kash Doll's 2018 hit "Ice Me Out" and is called "Eyes Lips Face" after the brand name's acronym and it's believed to be the first original song commissioned for a TikTok campaign.
The brand subsequently worked with a few influencers to initially kick it off, and, the results from there have been massive in scale!
Click here to check out the huge volume of videos that have used the #eyeslipsface hashtag.
The current count at the time of this posting is over 6. BILLION views!
Bill Nye the Science Guy has been teaching for so many years on tv shows maybe when you or your kids were younger, but did you know he continues to educate and get his message across on social media platforms today?
That's right!
Bill Nye keeps educating through TikTok Videos bring his Idea to keep you learning while you're stuck at home with simple experiments and lessons.
TikTok has been a great way to keep the living brand alive that he's become by sharing his lessons from his home directly on the platform.
At 3.9 million followers it's good to take note that educational videos are still a strong choice to make when you're looking for your next TikTok video idea to build your brand!
As you can see, TikTok can truly help you implement immediately to gain that brand awareness you've been aiming for!
TikTok Ads Final Thoughts
As you just overviewed in our TikTok ads "how to launch your first campaign's" article, you might have noticed that advertising on TikTok is completely different from other social media platforms you're advertising on!
This could in some way feel scary, but this is only because it's something new and once you get going, you'll quickly see impressive results for your business.
As we previously said, whether you're looking to make sales, drive traffic to your website, or launch a new product, a creative and well-targeted TikTok campaign can drive great and huge results.
It's unclear by now that whether you can log in to the platform and create a Branded Hashtag Challenge campaign or if you need to work directly with a TikTok sales rep to do so.
According to Digiday, some advertising campaigns are managed and monitored by TikTok's own team! And there you have it, all in our complete guide through TikTok Ads and how to launch your first campaign.
By now, you should have a clear understanding of TikTok's creative advertising options and the early steps on how you can put them into practice for your everyday business strategy!
Take in mind that being direct and simple will easily get your message across to TikTok's App wide-ranging and fast-moving audience, gaining all that attention and desire from users wanting to follow your brand!
Ready to create and launch your first campaign with TikTok? Get creative, impress, and go live!
Accelerate your Conversions, Increase your Revenue
with lemonads
---
You would like