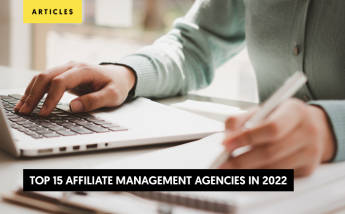 Top 15 Underrated Affiliate Marketing OPM Agencies in 2022
Outsourced program management or OPM is the practice of working with a third party that oversees your affiliate program. Company owners and marketing directors are constantly looking for the best way to promote their brands. Affiliate marketing is one of the top ways to scale a company and OPM providers allow businesses to implement this strategy without putting more pressure on their internal teams.
Countless organizations fall under the mantle of OPM providers, including marketing agencies, traditional OPM firms, and affiliate networks. But, even though many of these OPM specialists provide stellar results, they aren't usually listed among the top options for companies that want to outsource their affiliate programs.
Our team works closely with some of the top brands across a wide range of verticals, so we are familiar with the OPM providers that consistently provide the best results. In this article, we will go over the definition of OPM agencies and the advantages of working with these platforms. We'll also share our picks for top OPM agencies and affiliate networks that don't get enough recognition.
What Are Affiliate OPM Agencies?
Affiliate marketing is an extremely popular form of digital advertising because it's effective and it's compatible with almost all industries. This strategy is relatively easy to scale, but the more affiliate partners a company has, the more resources it has to invest into managing these relationships.
In the affiliate world, an OPM agency is an organization that manages a company's affiliate program. All businesses have unique requirements, so the scope of the role of an affiliate OPM specialist varies from case to case.
That said, a reliable OPM provider should be able to create an affiliate program from scratch, develop resources for the program, find quality affiliates, and manage all aspects of the relationship with these marketers.
The Top 15 OPM Agencies and Affiliate Managers for 2022
Now that we understand the definition of an OPM provider and the different types of organizations you can partner with, let's go over the top 15 agencies that produce great results yet don't receive enough credit.
Here are our picks.
1. JEBCommerce
JEBCommerce is a specialized OPM firm with more than 15 years of experience. In addition to its superb service, the company is known for its growth-boosting program and affiliate strategy development solutions.
2. Lab6Media
Lab6Media provides a limited range of digital advertising solutions that mainly consist of OPM services. That platform offers general OPM solutions as well as services that are designed for specific types of traffic. These include influencers, mobile affiliates, and search engine marketing (PPC) experts.
3. lemonads
The first affiliate network on the list, lemonads specializes in helping both companies and affiliates find the best partners in their respective fields. For this reason, the platform invests a huge amount of resources into improving its network and developing new features for all its partners.
4. Digital Media Solutions
Also known as DMS, Digital Media Solutions is a performance advertising agency that offers a wide range of services. In essence, the platform works like a hybrid between a traditional agency that focuses on direct advertising and an affiliate network that has a small base of recurring partners.
5. Snow Consulting
The team at Snow Consulting claims to have generated hundreds of millions of dollars in revenue through their client's affiliate programs and its reputation backs it. The platform is similar to a traffic aggregator that also provides marketing services, although it specializes in eCommerce providers.
6. Acceleration Partners
Acceleration Partners strives to help brands by managing their affiliate programs and increasing the bottom line of their partnerships. This OPM provider offers four different plans, each designed for companies in a specific stage of the growth cycle.
7. All Inclusive Marketing
Known as AIM, all-inclusive marketing is a multi-specialty agency that provides influencer marketing integration, SEO, analytics monitoring, and affiliate marketing management services. While the platform lacks the affiliate base of a traditional network, it's helped a variety of brands grow and expand through their affiliate programs.
8. AM Navigator
AM Navigator is among the top OPM brands in terms of performance, yet rarely gets listed in top rankings. With satisfied partners like Skype, Forbes, and Unbounce, AM Navigator has earned a place in our top OPM provider rankings because of its consistency and stellar results.
9. Rise Interactive
Rise Interactive is another traditional marketing agency that has fully mastered the art of managing outsourced affiliate programs. The firm's proactive team and in-depth understanding of affiliate marketing structures are the main reasons why it manages to create successful programs from brands in a variety of fields.
10. PartnerCentric
PartnerCentric has earned a reputation for focusing on efficiency and cultivating the most profitable affiliate partnerships thanks to the power of analytics. The platform focuses only on OPM services and leverages tools like Fuse tracking to deliver accurate results to its partners.
11. Clique Affiliate Marketing
Although it's technically a multi-discipline agency, Clique Affiliate Marketing only focuses on services for companies that have an affiliate program. This has enabled them to become a leading OPM agency in terms of performance, while also providing attribution products, influencer marketing services, and strategy development solutions.
12. eAccountable
eAccountable is a full-fledged digital advertising agency that helps businesses with SEO, paid search marketing, and of course, OPM. The platforms work with a collection of networks and other providers to ensure that their partners build profitable affiliate campaigns.
13. ebove & beyond
The team at ebove & beyond only focuses on two things, but it does these two extremely well.
One of these is affiliate OPM services.
The company relies on team members that have extensive experience with affiliate marketing to help partners develop programs that yield top results.
14. iAffiliateManagement
The "i" in "affiliate management" stands for "intelligent" and there's no denying that this platform does a great job helping companies develop and manage affiliate programs.
This OPM provider's unique approach consists of conducting an affiliate audit before working with a partner to determine what type of program is required and whether the partnership has a high chance of succeeding. This means that the businesses that get to work with iAffiliateManagement tend to have a much higher success rate when compared to other platforms.
15. Apogee
With more than 12 years in the industry, Apogee has become one of the most reliable OPM service providers companies can work with. Besides recruiting top-notch affiliates, this digital advertising agency invests a significant amount of resources into helping publishers and strengthening their existing relationships.
Advantages of Outsourcing Your Affiliate Program Management Process
Creating an affiliate program is a great way to grow a company while also building awareness around its brand. That said, you need to understand the affiliate ecosystem to get the best results from your program. Research is a must, but the best way to gain this knowledge is through trial and error. An experienced OPM service provider can help you navigate the basics and shorten your program's turnaround.
If you work with an affiliate network or other type of OPM provider, you can focus on activities that increase your revenue, like sales or customer service. In this sense, working with an OPM agency can relieve a significant amount of pressure from your internal team and have a measurable positive impact on efficiency.
In addition to the above, some of the benefits of working with an OPM firm include:
Contact, Recruit and Manage Top Affiliates
As part of the program management process, you need to find the best potential partners and convince them to agree to your terms.
This step alone can take a huge amount of time as companies that manage their affiliate program need to contact affiliates without prior connections and determine if they are interested or not. Moreover, you have to verify the traffic and conversion quality to make sure that payments are issued on time and in full.
If you work with the right OPM provider, you'll be able to contact, recruit, and manage top affiliates without having to do the heavy lifting. Networks and similar partners have long-standing relationships with affiliates, so these OPM providers are usually aware of the availability as well as the potential interest of each partner.
Cultivate Quality Relationships with Your Partners
Finding and recruiting top affiliates is the first step, but the digital advertising ecosystem is always changing.
So, companies need to adjust their programs and find ways to build quality relationships with their affiliates to produce the best results. After all, affiliates have to develop new content to work with the same companies long-term, so making sure that these marketing experts have all the right resources will only improve their efficiency.
The best way to build strong bonds with your affiliates is to give them great tools to succeed. This means that you should create a solid set of resources for each one of your programs and give affiliates additional tools to generate conversions whenever possible.
Ensure that the Affiliate Content Adheres to All Requirements
In its early days, companies and affiliate marketers could implement any and all techniques that could potentially help them increase sales. The online ecosystem has changed a lot since, with laws and regulations like the GDPR dictating how affiliates can use the data they collect and what types of ads they can display.
While this has had a great impact in terms of the quality of the whole industry, it also means that businesses with affiliate campaigns need to adhere to different regulations and make sure that their affiliates do the same. If you partner with a reputable affiliate network like lemonads, you can focus on growing your business while knowing that all requirements are being met.
Conduct Thorough Research to Develop the Best Approach
Every business has a distinct combination of products, target locations, ideal customers, and best marketing channels. This is the reason why implementing standardized affiliate strategies doesn't usually produce the best results.
Instead, businesses need to thoroughly research their audiences, where these users are located, and all other variables that impact the performance of their program to create the best agreement.
Seasoned OPM providers don't only have the know-how, but also the tools required to conduct in-depth research before developing an affiliate program. These experts can help you decide on the best traffic sources, ad formats, commission structures, demographics, and other variables you need to choose for your program.
Want to Find the Best OPMs and Affiliate Agencies?
Gaining an in-depth understanding of the affiliate marketing ecosystem is the only way to select the best OPM provider for your business. Affiliate marketers are superb additions to your advertising team, but rather than putting pressure on your team, you should strongly consider partnering with a reliable OPM specialist to handle your program.
If you're interested in finding an OPM provider that has a wide collection of leading affiliates in its ranks, get in touch with lemonads today. We have built strong relationships with leading affiliate marketing publishers since we first started and focus on helping our partners get the best results.
Accelerate your Conversions, Increase your Revenue
with lemonads
---
You would like