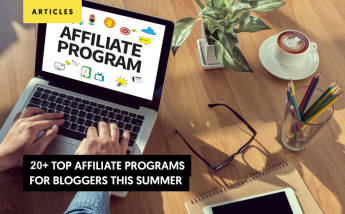 20+ Top Affiliate Programs for Bloggers this summer
2021 is the year where we all have stories to tell and lessons to share, right? This is the ultimate blogger time! But as you might be well aware, your time and your effort in writing cool informative articles can be monetized with affiliate marketing and we picked some of the cool ones for you to have in mind.
You might have a super niche blog and your audience is very specific. That's why we decided to make a top pick to generic affiliate programs that you can use and promote, no-brainers.
We believe that being super cohesive between what you talk about and the products you promote is key for your readers to love you and respect you. They come to you for a reason and that deserves respect. So always try to make a link and be relevant.
1. Amazon Associates

Description: Amazon Associates is one of the largest affiliate marketing programs helping content creators and publishers monetize their content. As they carry all kinds of things on their platform, you can always link your content to a relevant product that amazon sells.
By using easy link-building tools, you will send your public to your recommended product and earn money from your qualified leads.
Affiliate Commission system:
Amazon Affiliate Program has a very complex commission system with commissions that can go up to 10% depending on the product category and a set of rewards for conversions on different partner products or services of up to $25.
Verticale: e-Commerce affiliate programs
2. eBay Partner Network
Description: eBay is a long-standing e-commerce company that brings together buyers and sellers from around the world using an auction-style sales model.
Affiliate Commission:
eBay has a good yet complicated commission rate model. You can earn up to 70% commission on their revenue, depending on the product category.
Vertical: e-commerce affiliate programs
3. Target Affiliates

Description: We all know that as we enter a Target to buy milk, we most probably come out with candles, pillows, a new t-shirt, and who knows what else!
Now imagine the opportunities you have by affiliating with Target.
The Target affiliate program is a great way to earn a competitive commission on over a million products.
Affiliate Commission:
Up to 8% commission on popular categories like apparel & accessories, home, and outdoor living, baby gear and furniture, health and beauty.
Vertical: lifestyle and wellness affiliate programs
Description: Etsy it's a global online marketplace where people come together to make, buy and sell UNIQUE products. This is a great way for you to support artisans, artists, and independent creators and earn commissions on your qualified referrals.
Affiliate Commission: It's based on your location/country and offers between 4-8% commission on all completed sales.
Vertical: E-commerce, clothing and accessories, arts and crafts.
Description: ExpressVPN is a virtual private network service offered by the British Virgin Islands-registered company Express VPN International Ltd. The software is marketed as a privacy and security tool that encrypts users' web traffic and masks their IP addresses.
Affiliate Commission: from $13 to $36 depending on the package your referral gets.
Vertical: VPN affiliate programs
6. GoPro

Description: From cameras to apps and accessories, GoPro is geared to help users capture life as they live it, share the experience and pass on the stoke. They believe that "sharing our experiences makes them more meaningful and way more fun".
Affiliate Commission: 5% on every referral purchase.
Vertical: digital products affiliate programs, electronics and entertainment affiliate programs, lifestyle affiliate programs.
7. Lending Tree

Description: LendingTree is a third-party service that takes a borrower's information and submits it to multiple bankers and brokers, who then contact the borrower.

LendingTree makes it easy to compare loan terms and play lenders off each other, but a borrower does risk getting inundated with calls or emails.
Affiliate Commission: $0.40 - $60.00 Fixed Lead
Vertical: Financial Services Affiliate Programs
8. Expedia Affiliate program

Description: Expedia is one of the world's leading full-service online travel brands. They help travelers easily plan and book their whole trip with the widest selection of vacation packages, flights, hotels, vacation rentals, rental cars, cruises, activities, attractions, and services.
Affiliate Commission: $0.40 - $60.00 Fixed Lead
Vertical: Travel and living affiliate programs
9. Keto Breads Affiliate Program
Description: A compilation of easy-to-follow bread recipes that are both paleo and keto-diet friendly.
Affiliate Program Commission: 74% commission which represents somewhat around $19.
Vertical: Weight loss affiliate programs
10. MasterClass

Description: Masterclass is an immersive online experience, which allows everyone to learn from the world's best practitioners. Every class was created by the instructor and includes extensive pre-recorded online courses, a class workbook, interactive assignments, and community activities.
Affiliate Commission: 25% on every sale
Vertical: education affiliate programs
Description: Sephora is a French multinational retailer of personal care and beauty products. Featuring nearly 3,000 brands, along with its own private label, Sephora Collection, Sephora offers beauty products including cosmetics, skincare, body, fragrance, nail color, beauty tools, body lotions, and hair care.
Affiliate Commission: Up to 7.2%
Vertical: Beauty affiliate programs
12. Fitbit

Description: Fitbit belongs to the apps and gadgets we spoke about earlier on. Counting steps and tracking your weight are some major activities during the process of losing weight. Fitbit is the ultimate gadget and app for this purpose which makes it a weight loss product.
Affiliate Program Commission:
Up to 7.2% per sale
Vertical: e-commerce affiliate programs
13. Turbotax
Description: TurboTax is a software package for the preparation of USA income tax returns.
Affiliate Commission: Up to 15% of each sale
Vertical: Financial affiliate programs
14. Restaurant.com

Description: An online marketing pioneer, Restaurant.com has been helping people in the USA save money and restaurants grow since 1999. They offer savings at a fraction of the price for more than 62k places across the country.
Affiliate Commission: 15% of the sale
Vertical: food affiliate programs
Description: Freshbook is cloud-based accounting software, specially designed for small businesses, freelancers, and service providers. It tracks time, creates invoices, expenses, builds reports, sends follow-up emails, and many other solutions.
Affiliate Commission: $5 per free trial sign-up and $55 per subscription.
Vertical: Saas affiliate programs
16. Rakuten
Description: If your audience is interested in couponing their way to major savings, Rakuten (formerly Ebates) may be a great option.
Affiliate Commission: Up to $25
Vertical: Vouchers and sweepstakes affiliate programs
17. Thinkific

Description: Thinkific is a platform to create and market online courses. This company started over 11 years ago and the customers who use Thinkific have collectively sold over 2 million in courses.
Affiliate Commission: 20% commission on monthly and annual paid plans plus bonuses for annual signups.
Vertical: education affiliate programs, marketing and advertising affiliate programs
Description: Canva is a revolutionary design platform. The super complicated software for graphic design seems almost obsolete besides this amazing tool. It's intuitive and user-friendly and each day it gets better and better.

Affiliate Commission: Up to $30  depending on the subscriptions.
Vertical: Digital products Affiliate Programs, Art & Design Affiliate Programs
19. SEMrush

Description: Semrush is an amazing tool suite for improving online visibility and discovering marketing insights.
Affiliate Commission: 40% commission from sales of all SEMrush plans (Pro, Guru, Business)
Vertical: Saas affiliate programs
20. Interact

Description: Interact is an online tool that's used for creating quizzes to engage your readers and generate more leads. Their tools can also be used to segment a brand's audience and help drive traffic to a website.
Affiliate Commission: 30% monthly recurring
Vertical: Saas affiliate programs
21. Bonsai

Description: Bonsai is one of the highest-rated online business management software providers for freelancers. They offer an all-in-one suite of tools that help freelancers and solopreneurs work together, streamline project management, collect payments and deliver invoices.
Affiliate Commission: 25% commission on each paid subscription sign up you refer
Vertical: Saas affiliate programs
22. Udemy

Description: Udemy is an online learning and teaching marketplace with over 130k courses and 35 million students. Every student who completes a course receives a certification of completion.
Affiliate Commission: 15%
Vertical: education affiliate programs
23. FlexJobs

Description: Flexjobs is an online platform with thousands of job listings. It is a great place for those who need an employment opportunity fast. Most of the job positions offer remote work, making FlexJob one of the first remote websites on the market
Vertical: career affiliate programs, employment services affiliate programs.

24. Diet-To-Go
Description: Personalized selection of healthy, delicious, and ready-to-eat meals, directly from our chef's kitchen to your plate. Rated #1 for taste, their selection of portion-controlled meals lets the client enjoy foods they love, stick to their plan and reach their goals. "It's like having your own personal chef."
Diet to go Affiliate Program: Earn $40 on every sale
As a blogger, you are almost daily putting articles out there and each one of those pieces should be rewarded. The smarter you are with your partnering choices, the more money will be accredited overnight on your account.
We highly recommend you always choose an affiliate network for bloggers that offers the maximum number of solutions to pay you as an affiliate. These solutions should include Paypal, Paxum, e-payment, or even bank transfers.
At lemonads, we do everything to be sure our members have access to the most interesting and exclusive deals with the best affiliate payment solutions. As our affiliate, you can choose to be paid weekly if you already have $100 or more to cash out.
Our payment solutions include Paxum, ePayments, PayPal, or wire transfers. And that's not it.  We have established long-lasting partnerships with the leading platforms that allow us to send these payments to our affiliates' accounts at no additional cost.
Conclusions
There are tons of affiliate programs for your niche but also some great ones that can relate to any niche, like the ones we listed above.
Always try to affiliate with offers that are relevant to your content and that bring a meaningful reason to your audience. The more relevant you are with your affiliate links, the more likely your users will click and convert.
Affiliate with networks that take care of you as a publisher. Evaluate their paying methods and frequency and all the perks you receive by affiliating with them. Are their affiliate programs great to join? Do they have qualitative offers that relate to your niche? Are these affiliate partners offering high commissions?
If you have any questions contact us and we will be happy to guide you on your affiliation process.
If you are ready, just apply as a publisher and start a relationship with the best affiliate network.
Accelerate your Conversions, Increase your Revenue
with lemonads
---
You would like