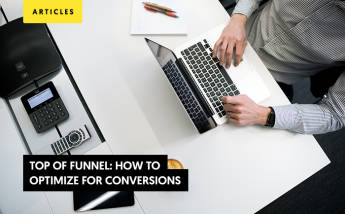 Top Of Funnel: How to Optimize for Conversions
Affiliate marketers need to monitor and adjust hundreds of different elements that influence the performance of their campaigns. The sales funnel, which describes the different stages that prospects go through before making a purchase, is one of the most vital variants in this equation. However, there are many levels within the funnel itself that you need to understand in order to ensure the best results.
Funnel optimization is a common practice in all forms of digital advertising and affiliate marketing is no exception. The top of the funnel tells you where your visitors are coming from and dictates the tone of your relationship as a whole, so many marketers see it as the most important section.
With this in mind, optimizing this area of your marketing plan is challenging in the best of scenarios, so you have to carefully identify the setup that produces the best results.
Let's take a look at the basic structure that all sales funnels follow, go over the importance of optimizing this part of your strategy, and discuss tips for improving the top area of your funnel.
Breaking Down the Sales Funnel
The sales funnel can be described as a visual representation of the buyer's journey. It has multiple stages that vary depending on your industry and audience, but it's usually made up of 4 to 7 steps that fall within the categories of top funnel, mid-funnel, or lower funnel actions.
Upper Funnel
Users begin at the top of the funnel, which is made up of the awareness and interest stages. At this point, users are aware of the issue they want or need to solve, so they start seeking solutions actively. You should also develop marketing materials that push them down to the mid-funnel level once they become interested in the solutions you offer.
Mid-Funnel
Potential customers in the mid-funnel start considering your product as a real solution and want to learn as much as they can about it. They evaluate how well your solution performs and examine your offer to ensure the price and additional features align with their requirements. Once the customer has been qualified, it's time for the sales team to take over.
Lower Funnel
The lower funnel contains steps like purchase, retain, and delight. This means that the buyer's journey doesn't end at the sale, but you also have to find ways to encourage future purchases and increase the chances of getting a referral from your existing clients.
Why is Optimization Important?
Optimization is the process of making adjustments to your marketing strategy based on the performance of your campaign. This practice has become a staple in all forms of online marketing, but this doesn't mean that all marketers get it right.
Remember that you have to collect enough data if you want your optimization to be effective. The exact number of visitors or conversions will vary, so you need to determine what works based on your unique circumstances.
Optimizing your account is crucial because it helps you:
Adhere to Your Goals
A lot of affiliates lose sight of the goals they set early on, so they are not clear what metrics are the most valuable and how these affect their earnings. As part of the optimization process, you have to review your objectives and make sure that your upper funnel strategy attracts the right audience from quality sources that have a higher chance of yielding conversions.
Deliver a Clear and Concise Message
The funnel is broken down into three stages because each one requires a different message from marketers. By optimizing your campaigns on a regular basis, you can deliver a clear and concise message that attracts consumers' attention or moves them down the sales funnel, depending on which stage they're currently at.
Develop Buyer Personas
Buyer personas are representations of your ideal customers, which allow you to create ads that have a higher chance of generating conversions. You should create multiple personas in order to target all the segments you find profitable. Furthermore, you should also develop an intent for each person, or the goal they want to achieve by purchasing your goods.
Ensure a Solid Content Strategy
While the phrase "content is king" has become somewhat of a cliche, it doesn't mean that it's not accurate. Having a solid content strategy can help boost SEO, improve your site's quality metrics, and most importantly, yield happy visitors that find your resources valuable.
Improve Your Platform's Functionality
The optimization process also gives you the ability to identify areas of your site that aren't functioning as they should. This includes broken links, slow loading pages, formatting issues, and other variants that influence how your top of the funnel prospects perceive you.
How to Optimize the Upper Funnel for Conversions
The top of the funnel is arguably the most important part of your buyer's journey because it dictates the volume and quality of your potential leads. Not only this, but many leads drop out while transitioning from the top to the middle of the funnel, so affiliates that find ways to prevent this will enhance the performance of their campaigns.
In addition to the above, affiliates using tracking tools that allow the visualization of the funnel will likely have an easier time identifying the different patterns and developing solutions that don't affect other areas of their marketing plan.
In order to optimize the top of the funnel, affiliates have to:
Evaluate the Traffic Sources
More traffic isn't always good, especially if there's a problem with quality. During the first step of your optimization, you should evaluate the different sources you're using to verify that visitors are engaged and interested in your content. Not only this, but you should use the metrics collected to determine which sources provide the most valuable traffic and invest the majority of your resources in these providers.
Develop Valuable Content
Reviews are the most common type of content in affiliate marketing. But, there are thousands of review sites, so you'll be competing against other world-class marketers. During your optimization, you should identify what type of content engages your visitors the most (in addition to reviews) and focus on developing these materials.
Some of the most valuable types of content include:
Newsletters
Newsletters are delivered directly to consumers' email inbox and it should contain a link to useful as well as entertaining content that's relevant to your products. To find out more about email marketing, read our article: What is email marketing?
Blogs and Website Articles
Blogs and website articles should be informative and use a combination of soft and hard sales tactics. You should research the top competitors to determine the best length, layout, and topics to cover. Likewise, you should develop a distribution system that includes social media sharing, email campaigns, and other actions that send traffic to these posts.
Live Streamed Events
Streaming how-to's and other resources in real-time has become a popular practice in all industries. This type of content is extremely engaging and valuable because they usually provide tips as well as other useful pieces of actionable information that users can implement later on.
Case Studies
Case studies, especially those conducted over long periods of time, can help attract the attention of your audience and keep them engaged for a significant amount of time. While this is mostly used in B2B campaigns, you can create case studies about any product. Just be creative and make sure that the information you present is based on fact.
Videos and Rich Media
Video, images, and rich media as a whole has become a crucial element in affiliate marketing, especially when it comes to top funnel optimization. Humans process images faster than text, so make sure that the creative elements you use are relevant and that they produce the right reaction in your customers.
Slideshows and Online Presentations
Online presentations and slideshows have a very professional feel, which gives your platform instant credibility. Similarly to case studies, you should only include factual information and cite sources whenever you make any assertive claims.
Infographics
Infographics are effective because they usually combine extensive research with attractive graphics, both of which are very important to consumers. Implementing infographics in your top funnel marketing can result in loyal leads that have a better image of your affiliate platform from the get-go.
Monitor the Performance of Your Funnel Post-Optimization
After every optimization, you should monitor the performance of the top of your funnel closely. If you don't notice any change you may still need to make more adjustments, so dive into your analytics and try to identify any negative patterns that you haven't addressed yet.
In case the performance of your campaign has gotten worse, go over the changes you have and loosen your targeting until you find a good rhythm.
Learn How to Optimize the Rest of Your Affiliate Marketing Strategy
The top of the funnel is one of the most crucial parts of your marketing plan, so you have to pay close attention to it and make adjustments that help improve the performance of your ads.
If you are interested in learning how to optimize other parts of your campaign, stay tuned to our blog or contact us today and our team will be glad to help.
Accelerate your Conversions, Increase your Revenue
with lemonads
---
You would like