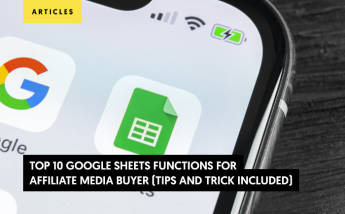 The Top 10 Google Sheets Functions for Affiliate Media Buyers (Tips + Tricks Included)

Have you ever taken a second to think about the variety of metrics that affiliate media buyers handle on a daily basis? These marketing professionals have to track click-through rates, ad spend, conversions, return-on-income, and an array of different statistics, so keeping these organized and updated can be a challenge on its own.
By using a spreadsheet, media buyers can organize all of their marketing campaigns in one place. And, even though Microsoft Excel paved the way for modern spreadsheets, Google Sheets has become one of the leading alternatives because it's a cloud-based, collaboration-friendly platform that's available at no cost.
Besides keeping your campaigns organized, Google Sheets functions can help you automate and simplify certain processes that are applicable to affiliate media buying. But, like all affiliate tools, you need to learn which Google Sheets functions are the most essential to start enjoying their benefits right away.
Let's go over the benefits of using Google Sheets and the top 10 sheets functions that all affiliate media buyers need to know.
What Are the Benefits of Using Google Sheets for Marketing?
Before delving into the most important functions in Google Sheets, it's important to discuss the benefits of using this tool to manage your campaigns.
First, you should know that Google Sheets is extremely versatile. While it's not as powerful as Microsoft Excel, this cloud-based tool can be used for a wide range of applications. Moreover, many of the functions in Google Sheets can be combined to automate complex calculations and give you more time to focus on other areas of your campaign. So, if you spend a significant amount of time learning and practicing, you'll uncover hundreds of different applications.
With the above in mind, the most common uses for Google Sheets in affiliate media buying include:
Project Management
Working with several offers across different networks while running hundreds of ads can require extreme attention to detail. In order to make the process easier, Google Sheets can work as a project management tool that allows you to determine the approximate amount of time needed to achieve your goals.
Many media buyers use a Gantt-style organizer to help them visualize the steps they need to take to build their campaigns. The first column should contain the project name, the second column should detail the steps that need to be taken, and the following columns should show the ideal time frame in which everything needs to be completed.
Google's spreadsheet allows you to place multiple sheets in one single file, so you can have one general organizer as well as dedicated versions for each campaign.
Offer or Traffic Source Database
The affiliate media buying ecosystem is complex on a good day, especially if you consider the number of offers you may have to track. Google Sheets can work as an offer database that operates as a customer relations manager (CRM) for media buyers that need to keep records of the affiliate programs or traffic sources they work with.
Depending on the complexity of the CRM you want to create, you can include the company name, revenue produced, conversion rates, date ranges, and other statistics that help you evaluate the performance of your campaign.
Perform Custom Calculations
Every affiliate media buyer is different. The combination of traffic sources, affiliate programs, budget, and other resources is unique for each marketing specialist. However, Google Sheets is the perfect addition to your toolkit because you can set it up to perform custom calculations automatically based on the information you upload.
10 Best Google Sheets Functions for Affiliate Media Buyers
Spreadsheets are so embedded in the world of online marketing that many affiliate tools allow you to export documents in Excel format. Therefore, having a basic understanding of how Google Sheets works will allow you to create more efficient workflows and accelerate the data analysis process.
Keep in mind that there are hundreds, if not thousands of functions in Google Sheets, which you can check out on Google's list here.
Below, we'll go over our top 10 Google Sheets functions to list all affiliate media buyers need to know.
1. Growth
Analyzing historic performance and making predictions is a crucial part of the media buying process. The Growth function in Google Sheets allows you to do both because it leverages performance data to predict exponential growth trends for a specific period of time.
Function:
=GROWTH(known_data_y, [known_data_x], [new_data_x], [b])
2. Substitute
As the name suggests, this function allows you to replace existing content with new text throughout your entire spreadsheet. This is especially helpful if you want to use the same ad copy for two brands that manufacture the same product.
Function:
=SUBSTITUTE(text_to_search, search_for, replace_with, [occurrence_number])
3. Split
If you're copy-pasting a list of keywords from a document to your spreadsheet, the process of separating them into individual cells can take a significant amount of time. With the Split function, you can instantly separate these values and make sure that they are located in their own space.
Function:
=SPLIT(text, delimiter, [split_by_each])
4. Vlookup
The Vlookup function allows media buyers to scour their spreadsheets to find specific information and transfer it to another set of rows or columns. This is especially useful if you have a large collection of traffic sources that you would like to assess. Simply use Vlookup to identify the traffic sources with conversion rates below your overall average, allowing you to easily identify the top performers.
Function:
=VLOOKUP(search_key, range, index, [is_sorted]).
5. Concatenate
The Concatenate function is relatively simple because it gives you the ability to combine multiple values found across different cells into one area. For example, if you want to associate traffic source name with the overall cost of running a campaign on that platform and the revenue produced during a specific time frame.
Function:
=CONCATENATE(Value1, " ",Value2)
6. Countif
The average media buyer spends a ridiculous amount of time performing overly simplistic tasks like counting cells in a Google Sheet. Fortunately, the Countif function gives you the ability to count the number of cells that meet a specific requirement. For example, you can count the number of empty cells in a row, cells that contain values above or below a specific amount, and set other custom conditions that need to be met for a cell to be counted.
Function:
=COUNTIF(range, criterion)
7. Find
All web browsers give you the ability to find a specific word or phrase in Google Sheets, but this feature isn't case sensitive or flexible. The Find function, on the other hand, can help you track down phrases and words using case sensitive search terms.
Function:
FIND(search_for, text_to_search, [starting_at])
8. Average
Needless to say, all types of marketers need to calculate different averages. Whether it's for ROI or other types of calculations, the Average function can help you determine the mathematical mean of a specific range.
Function:
9. Sum
When it comes to simple calculations, adding up values may be the most basic of them all. However, this process can become tedious if you have to count hundreds of rows. Instead, you can use Google Sheets to add up your values using the Sum function.
Function:
10. Dcounta
Lastly, the Dcounta is similar to the Countif function because it allows you to determine the number of cells in a field. The main difference is that the Dcounta function counts columns that contain values, but it can also be tailored to only include cells that have specific characteristics.
Function:
=DCOUNTA(database, field, criteria)
Google Sheets Tips and Tricks for Media Buyers
In this section, you'll find additional tips and tricks to help you improve your marketing activities with Google Sheets.
Creating Pivot Tables
In simple terms, a pivot table contains a summary of information found in a larger, more complex table. Pivot tables can help you sort, rearrange, group, count, or perform advanced calculations using the values found in the more complex chart in order to improve your data's usability.
Google Sheets allows you to create complex pivot tables in a few simple steps. On the navigation menu, simply click on "Data" and then choose the option that says "Pivot Table". Then, you can choose the number of rows, columns, and the values they would contain as well as make changes to the way the data is used.
Finding the Best Templates
Sure, you'll have to create some of the complex Google Sheets functions you use from scratch. With that in mind, the internet is a wonderful place that's full of almost every single resource you'll ever need, including Google Sheets templates commonly used in affiliate media buying and online marketing as a whole.
If you want to find the best templates at no cost, you should check out:
Getting Awesome Add-Ons
As you may have gathered from the last section, there are many different add-ons you can leverage to improve the functionality of Google Sheets. You'll need to browse through the Chrome Web Store to see the entire list of Google Sheets add-ons, but some of our favorites include:
Get the Latest News on the Best Tools for Affiliates
Google Sheets is one of the many tools at your disposal to help you create better campaigns and manage your time more efficiently. The Google Sheets functions list we discussed above should help you automate different parts of your campaign and result in a more efficient optimization process.
If you're interested in learning more about the best tools for media buyers and other affiliates, stay tuned to our blog.
Want to find out more about our network? Contact lemonads and our team will be glad to help.
Accelerate your Conversions, Increase your Revenue
with lemonads
---
You would like