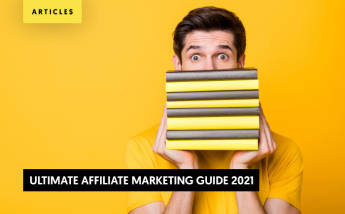 The Ultimate Affiliate Marketing Guide 2021: How to Develop an Affiliate Campaign that Converts
Today, companies can choose from a huge collection of marketing strategies to promote their services. But, 4 out of 5 brands rely on affiliate marketing to boost their overall advertising scheme, making this approach one of the most popular techniques used by modern businesses.
Affiliate marketing is a popular choice because it's a type of performance advertising. In other words, brands only pay for ads that generate results, which can come in the form of website traffic, leads, or sales. However, becoming a successful affiliate also brings a huge number of benefits, like the ability to earn a great living working in an interesting industry from anywhere in the world.
With the above in mind, developing a quality publishing platform and mastering all of the variables that affect the performance of your content can take a significant amount of time. Although new affiliates need to learn from first-hand experience, having a reliable affiliate marketing guide will help shorten the learning curve and allow you to hit the ground running.
At lemonads, we've partnered with renowned brands and world-class publishers, so our team is extremely knowledgeable about everything related to affiliate marketing. Below, we've put together a comprehensive affiliate marketing guide covering everything you need to know, from a brief history of the industry right down to choosing the best niches and offer sources for your next campaign.
A Brief History Lesson
Even though many people associate affiliate marketing with Amazon affiliate program, the practice of paying marketers a commission to sell a company's goods is much older than the internet. However, the modern concept of affiliate marketing was actually developed in 1989 by New York-born entrepreneur William Tobin, who made a commission for every sale produced on the platform he owned.
Fast-forward more than three decades and affiliate marketing has become a $12 billion industry that's employed by more than 80% of all companies on the planet. And, that number shows no signs of slowing down, so individuals that want to generate a profit from affiliate programs still have time to develop a successful platform before the industry reaches full maturity.
Is Affiliate Marketing a Good Way to Make Money?
In simple terms, affiliate marketing is a great way to make money. After all, affiliate programs are performance-based, so their growing popularity is a sign that they are an effective way to promote services and reach consumers. Millions of organizations around the world rely on affiliate marketing to generate the bulk of their business regardless of location or language, making it an ideal option for entrepreneurs looking for alternative revenue channels.
Not only is this type of marketing employed by a stunning number of organizations, but consumers are also more receptive to affiliate content because it's not being promoted directly by the company selling the product.
Plus, there are dozens of profitable niches and many verticals that are just starting to adopt this type of marketing, so any affiliate that puts in the time and effort will have a high chance of success.
What Do You Need to Get Started?
If you're looking to make money online, affiliate marketing is probably the best option you have available. Anyone that has access to the internet can join affiliate programs and launch campaigns that aim to generate conversions. That said, you need to have a basic understanding of the different stakeholders that make up the affiliate ecosystem.
There are some supporting entities, but the main players in the affiliate marketing industry are:
Consumers
As in other types of marketing, consumers are the users that companies want to promote services and products. The consumers you're targeting should be at the center of your campaign and every decision you take, so study the users you want to attract until you have as much knowledge as possible.
Advertisers
In this context, advertisers are the companies that develop affiliate marketing programs (also called offers) to promote a brand, product, or service. In simple terms, these organizations are looking for affiliate marketers to help them sell their solutions. It may vary depending on the offer, but most advertisers pay a commission for every lead, sales, or other types of conversion generated by affiliates.
Direct advertisers are the businesses that develop and manage their own affiliate programs. In these cases, marketers interact directly with these companies, but this can limit flexibility in terms of support and payout options.
Affiliate networks, on the other hand, specialize in connecting advertisers with marketers that can help them promote their products, but we'll discuss these platforms in detail shortly.
Affiliates or Publishers
Affiliate marketers, also called affiliates, are the marketing professionals that specialize in promoting offers developed by advertisers. There are many different types of affiliates, but all of them develop content in one way or another and use it to transform digital prospects into leads and, in some cases, customers.
Conventional affiliates own a website, app, or similar publishing platform. These marketers focus on attracting a large following, producing their own content, and promoting affiliate offers through their publishing platforms, so they are also referred to as publishers. Publishers have full control over the platform where their content appears, but keep in mind that these affiliates need to maintain their sites and ensure that all elements are updated.
Affiliate media buyers are marketers that don't work a publishing platform, but purchase traffic from publishers, ad networks, and different traffic sources. Media buyers don't have to worry about maintaining a website or other platforms, which means that they can invest more time into optimizing their platforms. That said, these marketing experts don't have much control over the platforms where ads are placed, which can result in unique challenges.
Affiliate Networks
Affiliate networks work as a middleman between advertisers and publishers that want to promote offers. Simply put, an affiliate network works as a gallery of offers, so publishers and media buyers can browse through the different options available and work with the programs that align best with their skillset as well as their platform or traffic sources.
Affiliate networks usually provide multiple payment options that are suitable for all affiliates, even marketers that live in remote locations. That said, you need to ensure that the network you choose gives you access to high-quality programs and exclusive offers from reliable advertisers.
Is Marketing Experience a Requirement?
There are many misconceptions about affiliate marketing, but one of the most common misunderstandings is that you need to have experience in advertising to succeed as an affiliate.
Becoming an affiliate is extremely easy, and even though it takes practice, anyone can specialize in this type of digital advertising. In our opinion, the only thing you need to do is ensure that your work with an industry that you find interesting. You'll have to conduct extensive research no matter what, but working with an industry you're passionate about can help transform tedious work into an entertaining and fulfilling experience.
Additionally, keep in mind that affiliate marketing requires constant learning. The technologies that power ads, trackers, networks, keyword research platforms, and other necessary tools are constantly improved. To stay competitive, affiliates need to stay ahead of the latest trends and make sure they acquire essential new knowledge frequently.
The Basics of Affiliate Marketing Success
Before delving any further, it's important to remember that all affiliates have to start somewhere and no one is born an expert marketer. It's normal to make mistakes, but you need to take each one as a learning experience and avoid repeating the same errors. This will help shorten the learning curve and give you the highest chance of getting the right results.
Before you start developing content, you should take the time to create a detailed strategy that includes the goals you want to achieve and how you will attain these. Be as detailed as possible and make sure to include long-term goals as well as short-term milestones that help you assess your progress.
Patience and Practice
You may have heard that affiliate marketing is a quick way to make money, and even though seasoned marketers can whip up a campaign in a short amount of time, beginners need to be patient and polish their skills before expecting a big return.
The best way to learn how to build engaging campaigns (besides reading this awesome affiliate marketing guide) is to get the first-hand experience. When planning their strategies, inexperienced affiliates should always set aside part of their budgets for practicing and testing out the waters.
Constant Learning and Skill Development
We've mentioned this already but we'll say it again, affiliate marketing requires constant learning. Not only are the tools constantly being updated, but fashion, social movements, and other consumer trends change over time. Affiliates need to study these changes and understand how they affect the way consumers perceive the ads they're exposed to.
Besides simply learning, you should make it one of your goals to learn skills that you can apply to improve the performance of your content. For example, learning how to conduct stellar keyword research and find terms that have a higher chance of converting.
Take an Organized Approach
A lot of marketers start developing affiliate campaigns as a side project and become frustrated because they never deliver the results they want. But, the truth is that the amount of effort you put in is directly correlated to your chances of success. Affiliates that don't spend much time monitoring and optimizing their campaigns won't yield the results they want.
Rather than looking at it as a simple side project, you should take an organized approach and treat your affiliate marketing efforts as a business. In addition to registering your business, you should also set a few hours aside to work on it regularly and dedicate more time as you start seeing results.
Find a Good Mentor/Information Source
Navigating the world of affiliate marketing can be challenging for seasoned experts, let alone new marketers. Instead of committing basic mistakes, you should find a good mentor or source of information that gives you valuable insights about being an affiliate.
Finding a physical mentor can be very tough, but there are loads of different affiliates that have created learning platforms designed to help up-and-coming marketers. These can play the role of a mentor and give you the information you need to hit the ground running.
Additionally, you can also opt for online courses and other resources developed by ad networks, expert marketers, research firms, affiliate technology providers, and other reliable parties.
Affiliate Marketing Pricing Models
There are many variables you need to consider when choosing an affiliate offer. From the brand that developed the program to the payout, ad format and traffic sources allowed, all of these elements will have an impact on how well your campaign performs.
That said, the pricing model will help you determine the best formats, regions, and other campaign variables. Affiliate marketing programs are always performance-based, but they can have a variety of different pricing models, including pay-per-sale, pay-per-lead, pay-per-click, and revenue share, just to name a few.
Pay-Per-Sale
As the name suggests, pay-per-sale of PPS is a pricing model where affiliates are expected to generate sales to get a commission. Perhaps the oldest pricing model out there, PPS offers are usually developed by publishers that have relatively low-cost items as consumers are more willing to purchase these goods online. That said, you can also work with jewelry and other high-ticket products that have lower sales rates and monumental individual commissions.
PPS offers are usually designed to be promoted in more direct strategies, so don't be afraid to develop product-centric content that aims to convince users to buy. However, you still want to have personality and deliver value through your content to keep your potential customers engaged.
Pay-Per-Lead
Known as PPL, pay-per-lead is a pricing structure where affiliates are paid for each prospect that leaves his or her contact information and becomes a lead. Despite the fact that it's easier to collect leads than sales, getting users to consistently leave their contact information can be extremely challenging.
Remember, PPL offers don't pay as much for each individual conversion, but if you collect enough leads you may be able to generate the same profits as with PPS. Just keep in mind that the offer will dictate what information needs to be collected to register a conversion, so make sure that you get all the data listed on the program details.
Pay-Per-Click
PPC is a pricing scheme that's common in the world of digital marketing. In simple terms, PPC offers only require affiliates to generate clicks and send traffic to the advertiser's offer page.
The main goal of PPC offers is to generate more traffic, so advertisers may not even promote a specific product or deal. Instead, these companies are happy with increasing the number of visitors on their site, so you get paid by simply boosting their traffic and adhering to the offer requirements.
PPC campaigns are the easiest to convert on this list, but you should also know that they have the lowest average payouts.
Revenue Share
Also known as rev share, revenue share offers are designed to collect subscriptions and pay affiliates a percentage of the profits generated from each client. In most cases, revshare offers last for the duration of each client's subscription, but this may vary depending on the program.
Revenue share deals are popular among well-established companies and brands that are on the rise. These pose a great option for seasoned affiliates looking to bolster their passive income strategies, but these offers usually have a longer conversion flow.
Where to Find the Best Affiliate Offers
Affiliate offers are essential because they include information like the area, demographic, and language being targeted. However, finding the best offers is not always easy, especially if you're not familiar with the options you have available.
When looking for offers, marketers can either research advertisers directly or work with a network that helps them find the best option.
Direct Advertisers
Direct advertisers don't usually have a large gallery of offers for affiliates to choose from, so they tend to be stricter in terms of which marketers are allowed to join the programs. Contrary to popular belief, payouts aren't always bigger than in networks, but these advertisers tend to provide more materials for affiliates to start with.
Affiliate Networks
From an affiliate's perspective, it's much easier to join a network than a direct offer. This is because networks work with a collection of advertisers that want to partner with affiliates of different levels. In other words, there is always a company that is interested in acquiring your type of traffic, even if it comes from a remote location or is made up of one specific demographic.
In most cases, affiliate networks are better suited for beginner affiliates that are still learning the ropes. These platforms also allow seasoned marketers to find the top offers without much hassle, making them an ideal choice for affiliates of all levels.
How to Start Your First Affiliate Marketing Campaign
Now that we've discussed the basics of affiliate marketing and where to find the best offers, let's go over the steps to start your first campaign.
There is no exact formula to success, so you need to assess your resources, niche, and other variables to determine the best approach. For beginner affiliates, the campaign development process usually includes steps like:
Selecting a Solid Niche
The niche you pick will have a massive impact on how well your materials perform, so make sure to choose a vertical that's popular with consumers. That said, the key here is to also find a niche that you actually like because you'll spend a lot of time developing materials, so the more entertained and engaged you are, the better.
You can always work with an industry you have prior experience with, although this is not a requirement. Just remember to consider seasonality and whether the product's popularity is temporary or if it's a long-term alternative.
Choosing Publishing Platforms
We'll go into detail about the specific publishing platforms you have available later in this article. That said, you need to take the time and choose the publishing platforms you will employ in your campaign. There are many different alternatives, but the good news is that you can mix and match publishing platforms depending on which ones give you the most conversions.
The product you're promoting will help you identify the best publishing platforms, so always refer back to the offer if you're having a hard time choosing promotion channels.
Studying the Target Audience
The main goal of every campaign is to engage users and convince them to complete a certain action. With that in mind, the only way to produce engaging content is to understand the audience and the elements that make users interact with your ads.
If you have some experience creating affiliate campaigns, the best way to learn about your audience is to analyze the conversions you've generated in the past. New affiliates can turn to tools like Google Trends to uncover new tendencies and understand the way audience members behave.
Picking the Best Content Types and Developing Materials
After researching the audience, it's easier to select the types of content you want to produce. As a general rule of thumb, younger audiences prefer rich media content like videos, while older generations are engaged by slightly older formats, such as long-form content and image ads.
Once you know the types of content you'll produce, it's time to start developing your materials. It's impossible to develop the perfect campaign from the get-go, so you should develop a few ad variables and run a few tests to find the ideal combination.
Promoting the Affiliate Links
Your content should be interesting and engaging, but it should also feature your affiliate link. Once you finish creating your materials, you can publish them on your site or any other platform you selected. In most cases, social media is a great place to amplify your materials and get more exposure, but make sure that the offer allows you to use traffic from these channels.
Optimizing the Campaign
Unlike conventional marketing, developing an affiliate campaign doesn't stop after launching. You need to monitor your campaign's performance, and once you have enough data, review the results, and make adjustments to improve your results.
This isn't a one-time process either. You should set up a regular optimization calendar and periodically adjust your materials to improve their performance.
Best Tools for Publishers
A good Affiliate Marketer Mantra is: Track, Optimize and automate. Those three words can only give you an idea of the tools you should put inside your toolbox to work smarter.
Website building tools
Hosting Tools
Web experimentation and A/B Testing Tools
Landing Page & Design Tools
SEO & Keyword Search Tools
Spy Tools
Tracking Tools
VPN Services
Check out the best tools for each affiliate marketing task.
Where Can You Promote Affiliate Offers?
We mentioned the different channels you can use to promote affiliate offers briefly, but understanding the options you have available is crucial for success. The most common ways to promote an affiliate program include:
Blogs and Websites
Reviews, listicles, and other types of blog articles provide the perfect opportunity to promote affiliate offers. These articles provide a lot of space to discuss the product or solution being promoted, plus they can be combined with SEO to attract high-quality organic traffic for free.
Social Media Channels
Social media channels have become a part of our identity as human beings, but they are also great platforms to promote affiliate offers.
The main issue with social channels is that most of them have some sort of limitation regarding the links that can be shared. But, affiliates can navigate these challenges by using pre-landers, bridge pages, and similar techniques.
Video Channels
YouTube, Vimeo, and other video platforms can help affiliates share quality content at no cost while also boosting their campaign results. The only caveat is that the development of great video requires more time, but modern phones are good enough to shoot quality materials that can be edited with a few filters very quickly.
Email Marketing
Email marketing is one of the oldest forms of digital advertising, but it's still incredibly effective. By using the right language in the subject line, affiliates can spark consumer interest and generate a significant number of conversions after building their email marketing list in the first stages.
Best Practices for Generating the Most Conversions with Affiliate Links
Every marketer that is approved for an offer or program gets a custom link. Every conversion that's generated on each link is attributed to one specific affiliate, who receives payment for that lead or sale.
To get the best results, you should include your link naturally in your blog or website content. In case you're working with social media channels, also make sure that the landing page where you're sending visitors delivers value and highlights your custom link. This will help drive more traffic without putting the audience under any additional pressure.
Choosing the Products and Niches for Your Next Affiliate Campaign
Out of all the variables you need to decide on, the niches and products you choose may have the most profound effect on how well your campaigns perform and how much money you make. There are dozens of different niches and countless products to choose from, but you need to work with a specialty that you're passionate about and that also attracts consumer attention.
Below, we'll go over some general industries you can think about and choose a more specific vertical based on your preferences.
Health, Fitness, and Nutra
The health, fitness, and nutraceuticals (commonly referred to as Nutra) are evergreen verticals that are relatively easy to enter. Staying fit and healthy are universal concepts, so these offers are perfect for traffic from all over the world. And, there's already tons of content out there, so you can mimic what other successful marketers have done.
Beauty and Fashion
The beauty and fashion industries encompass a large collection of subcategories, but these types of campaigns can produce stellar results at the right time of year.  A lot of affiliates find success when mixing beauty and Nutra offers because they are closely related, but the content should always be reader-centric.
Finance and Forex
Affiliates that love numbers, statistics, and currencies can specialize in finance offers as well as forex exchange programs. From currency converters to banks, stock markets, and brokers, finance offers are developed by a variety of stakeholders that are looking to attract new customers or investors.
Food and Cooking
Besides sleeping, eating is one of the things that everyone does, which makes the food and cooking verticals a superb option for your next affiliate campaign. The best part is that food websites and similar platforms allow for the production of quality content that employs innovative features, which usually results in a more engaged audience.
Delivery Services
The global health crisis has boosted the performance of many industries. While most of these are becoming incredibly competitive, the delivery services vertical seems to have slipped between the cracks, at least to some extent. From grocery shopping to cooked food, medication, and other common household products, affiliates can now work with delivery service offers from a huge collection of advertisers.
Gaming
Gaming is another evergreen vertical that can withstand even the harshest economic downturns, which has been proven in 2020. Even though most economies were plunged into an economic recession, video game sales have remained steady, with major consoles selling out weeks after their new versions were released.
Gambling and Sports Betting
The global gambling industry generates billions of dollars every year and it's positioned to keep growing at least for the foreseeable future. Just remember that many ad networks and social media networks have strict policies against this type of content, so be careful about the channels you promote these offers on.
Moreover, the sports betting vertical experienced a bad period due to the cancellation of major sporting events and leagues in 2020. That said, some entities are already allowing games, which is quickly catapulting the sports betting industry into crowd-favorite territory once again.
Ready to Get Started? Contact lemonads and Start Monetizing Your Traffic Today!
Wrapping your head around all of the concepts that play a role in affiliate marketing is not easy, especially if you're also learning about a new niche. We hope that our affiliate marketing guide above has helped you understand this advertising technique a bit more.
If you already have a publishing platform that's generating a significant amount of traffic and you want to get started with affiliate marketing, contact lemonads today and we'll be glad to help you get started.
Accelerate your Conversions, Increase your Revenue
with lemonads
---
You would like