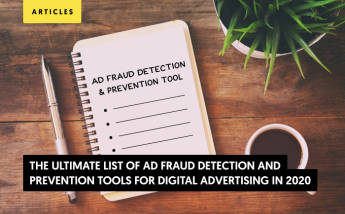 5 Best Ad Fraud Detection and Prevention Tools for Digital Advertising (Update 2021)
Over the last few decades, governments and private companies alike have shifted from paper records to a mostly digital environment. While this has improved functionality and allowed these organizations to deliver better services, it has also opened the floodgates of digital fraud and cybercrime as a whole. From financial institutions to government agencies, cybercriminals have successfully targeted dozens of industries and the digital marketing vertical is no exception.
In the marketing context, ad fraud is a deceitful practice that consists of interacting with a digital advert to drain the advertiser's resources without actually producing results. This umbrella term describes a wide variety of different activities, but all of them have the same goal.
In the early days of ad fraud, deceitful parties used rudimentary techniques to extract money from online adverts. Unfortunately, these fraudulent parties have developed new approaches that make it much difficult to detect unwanted interactions that drain resources without generating profits in return.
At lemonads, we see ad fraud as one of the biggest threats to the entire digital marketing industry. We understand the importance of creating a safe ecosystem for publishers, advertisers, ad networks, affiliate networks, and other members. But, the only way to successfully combat ad fraud is to present a united front and ensure that all stakeholders are taking the steps to secure their marketing resources.
Over the years, our team has developed a robust in-house solution that minimizes instances of ad fraud in our network, so we have a good idea of the features you need to implement to stay safe.
Below, we've put together a list of the best anti-fraud tools for digital advertising in 2021 to help advertisers, publishers, and all other stakeholders protect their marketing resources.
Ad Fraud and the Digital Advertising Industry
Before going over the best anti-fraud tools for digital marketing, it's important to understand the impact of this type of cybercrime.
It's estimated that the digital advertising industry lost more than $42 billion in 2019 alone and that number can reach a staggering $100 billion by 2023 if the problem is not addressed properly.
This could potentially cause irreparable damage to the digital marketing industry, so we need to proactively safeguard the areas that are most vulnerable to fraudulent activities.
What Steps Can Stakeholders Take to Minimize Ad Fraud?
Some forms of ad fraud are almost as old as the internet itself, so you need to invest part of your resources into protecting your marketing dollars. However, one of the reasons why these deceitful practices are still an issue today is because they are difficult to detect. There are also many different types of ad fraud that you need to look out for, so it's normal to feel overwhelmed by the idea of protecting your resources from all of these external threats.
Instead of taking on the bulk of the work manually, your best bet is to find a suitable anti-fraud tool for your specific case. There is no "silver bullet" solution that works in all instances, so you need to examine the different options you have available and find the platform that will help minimize advertising fraud in your marketing activities.
The Best Anti-Fraud Tools for Digital Advertising in 2021
Although protecting your marketing resources from fraud is crucial, dozens of platforms offer protection against deceitful interactions. With this in mind, not all ad fraud detection and protection tools are the same.
Each platform may have a unique structure with distinct features that make it a great choice for some marketers and not so much for others. The best approach is to evaluate each set of features and figure out which one will be the best fit for your setup.
To help you get started, we've taken the time to scour the web and identify the best ad fraud detection and prevention tools for digital marketing. Let's go over our picks for the best advertising fraud protection software for digital advertising in 2021.
FraudShield by 24Metrics
FraudShield is an ad fraud detection and prevention tool designed by security giant 24Metrics. The platform boasts of an intuitive design that was designed by marketers for fellow marketers, so the learning curve is relatively short compared to other tools.
Not only this, but FraudShield is easy to implement into your campaign and extremely granular, which means that you'll have access to large volumes of data while protecting your resources.
Advantages of FraudShield
Designed and developed in Germany, FraudShield is among the leading advertising fraud prevention tools because it features a robust multi-layered structure. The company also provides world-class customer support to create a great experience for each client.
Additionally, the features of FraudShield include:
Protection against different types of fraud, including click spam and other common forms
Extensive reporting
2-way API for easy setup
Multi-user support
Safeguard 50,000+ conversions per month
Dynamic postbacks
FraudScore
FraudScore was developed by a team of elite entrepreneurs that includes data scientists, experienced marketers, and independent developers. It has earned its spot among the top ad fraud detection and prevention tools thanks to its combination of power and flexibility.
Instead of simply protecting your assets, FraudScore also provides information about each accepted and rejected transaction, so you can use these large data sets to fine-tune your anti-fraud efforts. The platform's fraud analysis mechanism takes a unique approach and includes more than 150 variables that help differentiate between legitimate and fraudulent transactions.
Advantages of FraudScore
While many anti-fraud tools simply block out certain interactions, the creators of FraudShield developed a unique scoring system for their platform. Depending on the score they receive, every interaction lands in the categories of good traffic, low index fraud, middle index fraud, or high index fraud. Users can decide how strict they want to set the filters, so they have maximum control over the quality of the interactions allowed.
FraudScore also boasts of features like:
Real-time fraud detection and prevention through SafeClick
Ideal for both desktop and mobile traffic
Algorithms powered by machine learning
Dedicated account manager for each member
Fast integrations
Continuous improvements and new features implemented regularly
Forensiq by Impact
Forensiq is one of the oldest ad fraud detection platforms available today. Despite the fact it was launched more than 10 years ago, Forensiq has remained one of the top platforms because it has adapted to the changes in the marketing industry. Today, this platform provides advertising fraud protection for all parts of the funnel, which includes pre-bid as well as post-conversion events.
Advantages of Forensiq
Forensiq was acquired by Impact a few years ago and the platform has only gotten better since then. This ad fraud detection tool is powered by machine learning, so the algorithms learn from each interaction and make improvements to themselves without the need for manual upgrades. Plus, you'll also enjoy benefits like:
Easy-to-use interface
Detect fraud in real-time
Assistance with chargeback claims processes
Clear and concise reporting
Fraud scoring system that improves accuracy
GDPR-compliant setup
API implementations and cloud deployment are available
Allows manual user behavior analysis
Fraud Defense by InMobi
Fraud Defense is one of the top tools you can employ to detect and prevent ad fraud. This dedicated platform offers a wide range of unique features that allow you to protect all of your marketing resources, regardless if you're an advertiser, publisher, or network. InMobi, the company behind Fraud Defense, is one of the top tech providers in the world of online advertising, and this powerful advertising fraud detection tool has become one of their best resources so far.
Advantages of Fraud Defense
SmartBlock is one of the most essential features in Fraud Defense because it's directly responsible for reducing instances of ad fraud in real-time. It's powered by complex algorithms and machine learning, which helps improve accuracy whenever differentiating between fraudulent and legitimate interactions.
With Fraud Defense, you'll also enjoy features like:
Comprehensive ad fraud detection and prevention
Intricate user interface packed with powerful features
Promotes scalability
Allows high- degree of customization for fraud detection rules
Compliant with GDPR requirements
Built using Microsoft's ultra-secure infrastructure
Ideal for enterprises and corporations
RiskIQ
RiskIQ is the only solution on this list that takes a more holistic approach to ad fraud detection and cybercrime protection as a whole. The platform focuses on attack surface protection, which means that it aims to protect all components of your project that may be subject to a cyberattack.
Advantages of RiskIQ
Publishers, advertisers, and networks can all benefit from implementing RiskIQ because it allows users to reduce their overall ad fraud costs. Instead of analyzing each interaction as it happens, RiskIQ has mapped out the vast majority of the internet, so this advertising fraud protection tool can predict where potential attacks are coming from and prevent them before they happen.
Moreover, the features of RiskIQ include:
User-friendly design
Real-time fraud discovery and response
Information is collected through a network of activity sensors that don't rely on live agents
Customizable watchlists
Seamless integrations
Innovative architecture
Find Out More About the Best Advertising Fraud Prevention for Digital Advertising
The digital advertising industry generates hundreds of billions of dollars every year, but all members of this vertical need to take the steps to protect their assets against ad fraud. There are dozens of different ways fraudulent parties can produce deceitful interactions, so you need a sophisticated defense mechanism to monitor, identify, and combat these unethical practices.
Many different platforms can help you protect your advertising resources, but you need to assess each option and determine which one will be the best fit for your campaign. You have to keep your requirements and setup in mind while analyzing the different features on each platform to ensure that you identify the best option.
We hope that our tips and recommendation above will help reduce your research time and allow you to start protecting your marketing assets right away. If you want to learn more about these platforms, check out each review we've created for each one or get in touch with our team and we'll be glad to help.
Accelerate your Conversions, Increase your Revenue
with lemonads
---
You would like