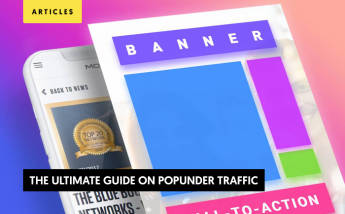 The Ultimate Pop-Under Ads Guide (update 2021)
If you count all devices, affiliate marketers can work with dozens of different ad formats and every single one has a unique set of benefits. With that in mind, pop-unders are among the oldest and most iconic types of ads used in affiliate marketing.
And, even though some marketers have stopped launching pop-under ad campaigns, the truth is that this format can still deliver spectacular results.
Despite the fact that they've been around for some time, pop-under ads work on such a simple premise that they've remained effective throughout the years.
At lemonads, we've seen thousands of affiliates monetizing this type of traffic and launching successful campaigns with these ads for a while now, so we have a good idea of what you need to do to succeed.
That said, we also know that succeeding with pop-under ads is much tougher than it ever has been. To help you understand and succeed with this type of traffic, we've put together a pop-under ads guide that explains this type of traffic and its benefits. Plus, we'll also cover the best pop ad networks for affiliates of all levels.
Without further ado, let's get started!
What Are Pop-Up Ads?
First things first, we need to cover the basics and answer the question: what are pop-up ads?
In the simplest of terms, a pop-under is a type of ad that opens an independent page behind the window that a user is currently on. In most cases, these ads are large in size, so they give affiliates the ability to build complex creatives that take up users' entire screens. Moreover, pop-unders can appear automatically or be triggered by a specific event, like users attempting to hit the close button or clicking on a certain part of a website.
Unlike other types of pop ads, pop-unders always appear behind the screen or window that the user is seeing, rather than on top. In most cases, pop-under ads are powered by Javascript, but there are also alternative technologies you can use to implement these into your sites or apps. We recommend that you follow the recommendations of the IAB for Use of Pop-Up Advertisements.
How Do Pop-Unders Work?
It's normal to think that old is outdated, but this concept doesn't really apply to pop-unders. It's not necessarily due to technology because Javascript has been around since the late 1990s. Instead, we are referring to the simple premise that pop-unders bring to the table.
Users only see pop-unders once they are finished browsing content in a specific window, which automatically makes them more receptive and increases your chances of getting more conversions. For this reason, pop-under ads can be used to drive traffic, but they are also great tools to help collect names, emails, phone numbers, and other types of contact information from your visitors.
Benefits of Working with Pop-Unders
Unlike other formats, pop-under ads are a common choice for affiliates of all levels and types. They are relatively easy to start with, but pop-unders give you the necessary space to develop creative ads while still allowing you to maintain a professional, clutter-free appearance.
Not only this, but pop-under ad campaigns also bring a variety of great advantages. These include:
Disruption-Free Experiences
Pop-up ads were once the most popular type of pop advertising. But, when triggered, these ads would show up on top of the windows that users were looking at, which produced an intrusive experience.
pop-under ads, on the other hand, are not displayed right on top of the visible content, which creates a more pleasant experience for each individual. This results in a more engaged audience that's willing to take an additional few seconds to look at the ad, rather than closing it as soon as it appears.
Suitable for Multiple Industries
As we mentioned before, this type of ad provides a huge amount of space for marketers to develop large-scale creatives. This makes pop-unders the ideal choice for a huge number of industries, including gaming, dating, utility apps, entertainment, video streaming, and other verticals. And, because it's a relatively affordable format, it's also a great alternative for advertisers (as well as affiliates) with a starter budget.
Guaranteed Impressions
Because of their simple mechanism, pop-unders can guarantee that almost all visitors will see your ads. As long as the right targeting settings are in place, this means that affiliates can make more money from the same amount of traffic. Furthermore, affiliates that only show ads that are relevant to their on-page content have a higher chance of getting more impressions and improving their results across the board.
Cost-Effective
Affiliate marketing and performance advertising are regarded as some of the most cost-effective methods for advertisers, but the profit margins for affiliates are also extremely favorable.
For advertisers and media buyers, pop-unders are a great option to build up a list of quality leads at an affordable price. Leading publishers also have the ability to generate large volumes of pop traffic without investing too many resources. This allows them to sell quality traffic at competitive prices while still maintaining high-profit margins.
Flexibility
When working with certain types of ads, making changes to your campaign, editing the creatives, and analyzing test results can take a lot of time. Pop-unders allow a huge degree of flexibility because you can easily track test results and make changes to your ads in a matter of minutes. And, the best part is that you can choose whether or not to work with a pre-lander by running a few tests in advance.
Available for Mobile and Desktop Devices
pop-unders were originally developed for desktop computers, but this ad format is now available for all types of devices including smartphones and tablets. Instead of working with multiple formats and potentially increasing your learning curve, pop ads allow you to take advantage of all the traffic you attract, regardless of the type of device that's being used.
However, remember that users don't behave the same on desktop and mobile devices, so make sure your pop-unders are adjusted appropriately.
Tips to Help You Succeed with Pop-Under Ads
Now that we've covered the definition of pop-under ads and their advantages, let's go over some tips to help affiliates succeed with this format.
Pop-unders are a great alternative for both media buyers and conventional affiliates alike because users are extremely receptive to this type of ad. Whether you're purchasing traffic or monetizing your own visitors, remember to develop ads that provide some type of value to your audience. This means providing a discount code, informing them about promotion, or simply addressing one of their needs through the content in your ads.
Additionally, always remember to:
Develop One Campaign Per GEO
All seasoned affiliates know that each GEO is different, but this can usually be addressed through targeting. However, pop-under traffic providers don't usually allow scheduling by location.
To counter this, you should develop one campaign for each GEO you're targeting. This will allow you to take full advantage of your resources because your ads will only be displayed in the most profitable time period for each location.
Run Split Tests
Split testing is a common technique that can help you improve virtually all areas of your campaigns or publishing platforms. From the main creatives to the font, CTA, and deployment time, you should test out different elements to find the best combination.
What's more, split tests can help you decide whether to use pre-landers or not. Pre-landers can help improve conversion rates and ensure that only interested users get to the landing page. However, these don't always improve performance, so you can find out if they're a good choice in your case by running a few split tests.
Avoid Repetition Through Ad Capping
Ad capping allows you to limit the number of times an ad is shown. This feature is available in pretty much all reliable pop-under ad networks and you can usually choose to limit your ads based on your budget or the number of times a user has seen these creatives. In the vast majority of cases, you'll want to avoid repetition and show an ad to each user no more than twice.
Focus on Data Analysis
Understanding big data sets may take a lot of practice, but it's a necessary skill that affiliates have to learn to succeed with pop-unders. Media buyers can rely on pop-under ad networks to provide large volumes of data, but employing an independent tracker is also a great idea. Affiliates that run their own platforms should also invest in tracking software that helps them monitor user behavior from the most granular perspectives.
Why Should You Work with Pop-Under Traffic?
One of the reasons we decided to create this pop-under ads guide is that this format has earned a reputation for underperforming. While it's true that many affiliates struggle to succeed with pop-unders, this is usually due to a lack of creativity or a poor understanding of the audience. This usually leads to poor content that doesn't spark interest or engage users.
Pop-under ads provide a huge canvas for affiliates to work on and deliver a message in a gently, yet powerful way. If developed properly, a pop-under campaign can have higher conversion rates, CTR, and ROI than conventional formats like banners, producing numbers that are closer to push notifications.
First Steps to Launch Your Campaign
There are many types of affiliate marketers, so you need to take a look at your specific case and determine what elements you need to succeed.
Media buyers need to partner with reliable traffic sources and find quality offers that allow pop-under campaigns. Conventional affiliates can choose to partner with an affiliate network and take advantage of its offers by developing their own ads. Or, these marketers and other publishers can also sell their traffic directly or through a network, but this monetization scheme requires a completely different approach.
How to Create Your Blacklists and Whitelists
Some marketers wait until the first round of optimizations to create blacklists and whitelists, but this can represent a huge sacrifice in terms of resources. Affiliates that need to target popular GEOs should try to research their target audiences and develop basic blacklists and whitelists that filter out unwanted visitors.
As a general rule of thumb, you can check your old campaigns' blacklists and whitelists to determine if any of those sites or IP addresses should also be blocked from your pop-under ads.
Which Are the Best Sources of Pop-Under Traffic?
Today, affiliates can choose from a huge variety of pop-under ad networks to work with, but finding the best fit isn't always easy. Some networks provide better traffic than others, so partnering with a reliable platform will only increase your chances of success.
We've taken the time to analyze the different options out there and created a list of the top 10 Pop Ad Networks, which are listed below in no particular order:
Launched back in 2013, AdMaven established itself as one of the leading pop-under traffic a few years ago and has remained steady ever since. In addition to pop-unders, the platform also offers interstitial, banner, push notification, and light-box ads among others. Additionally, AdMaven also gives publishers the ability to sell large volumes of traffic at competitive prices and monetize their visitors through pop-under ads.
Best For…
AdMaven is one of the leading pop-under ad networks out there and it offers a wide set of advanced features. This ad network also provides a range of popular payment options, but the withdrawal limits may be a bit high for marketers who are just getting started. It's a great alternative for affiliates who employ complex monetization traffics and for experienced media buyers that want to boost their earnings.
Pros
Well-established, trustworthy ad network
Large volumes of quality traffic are available
A comprehensive set of optimization options
Supports multiple ad formats
Various payment methods are available
Ideal for the casino, sports betting, utility apps, sweepstakes, dating, Nutra, and browse extension offers
Multiple bidding models are available
Timely payouts
Cons
The user interface is on the complex side, which may extend the learning curve
Ad creation features are somewhat limited, so you may have to do a bit of work before uploading your creative elements
The relatively slow customer support department
Like AdMaven, Adsterra was founded back in 2013 and it has become one of the most well-known ad networks that specialize in pop-under traffic. Adsterra is based in the US but it serves more than 240+ countries and regions around the world. With a variety of bidding models and ad formats to choose from, Adsterra also allows payments through Paxum, ePayments, and other popular platforms. Affiliates that work with this network will be able to sell their traffic to advertisers and media buyers looking to generate quality leads right away.
Best For…
According to Adsterra, marketers can take advantage of the 25+ billion impressions and 10 million leads that are available through the platform every month. Additionally, you'll receive assistance from your personal account manager while setting up, monitoring, and optimizing your pop-under campaigns. This makes Adsterra ideal for affiliates who are learning the ropes, especially if you take into consideration the platform's budget-friendly requirements.
Pros
25 billion impressions and 10 million leads generator every month
Serves more than 240 countries and regions around the world
Robust security infrastructure
Real-time statistics and accurate conversion tracking feature included in the network
Multiple ad formats and bidding models are available
Solid referral program available
Cons
Publishers with low traffic volumes don't usually get approved
The minimum payout is relatively high
Users may need to provide documents to verify payment methods
As the name suggests, RichAds is a specialized ad network that provides pop and push traffic. This platform was developed by the creators of  RichPush, which is one of the leading push notification networks available to affiliates today.

RichAds offers a unique set of features that help improve conversions while giving you more control of your budget. These include CPA Target, Micro bidding, Automated rules,  easy S2S postback setup, multiple targeting options, and the platform's anti-fraud mechanism.
Best For…
At RichAds, you can develop complex campaigns and make sure they only  target users that have certain devices, carries, connection types, or  meet other specific criteria. The top verticals for this ad network are  usually VPN & Antiviruses, Crypto, Gambling, Betting, Sweepstakes,  and Dating, so it has a solid mix that can help you shorten the learning  curve while still getting great results.
Pros
Easy registration process
Auto CPA campaigns optimization
Premium sources with 61% higher CR
4B impressions worldwide
Multiple targeting options
A dedicated team of ad experts
Powerful in-house anti-fraud solutions
Cons
Limited payment options
Lack of native anti-adblocker
Formed in the UK back in 2011, Hiltopads is among the leading pop-under ad networks out there because of its robust combination of quality traffic, super customer service, and around-the-clock support. Top it off with one of the biggest ad format lists available and multiple bidding models to choose from, as well as the ability to monetize traffic, and the result is an outstanding network that's suitable for all types of affiliates.
Best For…
Hilltopads has a great selection of payment methods and it follows a Net7 model, so publishers receive a payment every 7 days. The platform also offers a decent referral program and a powerful security infrastructure, but this also makes it one of the priciest choices on this list. This means that it's usually a better choice for well-established affiliates that have the ability to invest more in their ad networks.
Pros
World-class customer support
Multiple ad formats are available, including pop-under and chat pop ads
Various payment methods, like Bitcoin, Paxum, ePayments, and Payoneer
Based in the UK
Offers 3 main bidding models, which are CPC, CPA, and CPM
Advanced targeting features
Custom solutions for large advertisers and publishers
Allows edits through a self-service interface or the account manager
Cons
Serves a relatively low number of countries
The ad-blocking feature is only available for users on Chrome browser
TrafficForce is a reliable platform that offers pop-unders for both mobile and desktop devices. This pop-under ad network has developed an array of safety solutions that include SSL connections to ensure that all of your campaign traffic consists of real users rather than bots. And, thanks to the multiple ad formats available, affiliates can start taking advantage of pop-unders while supporting their efforts with other types of ads.
Best For…
It doesn't matter if you're a seasoned media buyer hunting down the best sources or a renowned publisher that wants to sell his or her traffic, TrafficForce is the ideal platform to help affiliates sharpen their skills while also generating great results. Just remember to take advantage of the other formats available at TrafficForce to increase your chances of success.
Pros
Advanced algorithms that help automate complex tasks
Real-time statistics and deep targeting features available
Flexible payment schedule and methods
Among the best support departments in the industry
Separates report data by location
Ad formats include pop-unders, in-stream video, video sliders, and push notifications, among others
Cons
High minimum payment requirements
Lack of referral program
Relatively low fill rate
TwinRed, which was formerly known as Double Impact or DoublePimp, is a well-known network that specialized in pop-unders, but it also offers video pre-roll, banners, and interstitial ads. The platform is compatible with a wire transfer, Paxum, and Paypal, plus publishers can choose to sell their inventory by CPC or CPM models.
Best For…
Every TwinRed member gets an account manager that can help develop new campaigns, implement additional tools, or simply inform users about the features they have available. Furthermore, TwinRed is one of the few networks to have a 100% fill rate across the globe, so you will always get the amount and quality you paid for.
Pros
Self-service, high-quality network
Popular payment options available
100% of ads fill rate
Cons
High minimum deposit and minimum withdrawal requirements
With more than a decade in the game, PopAds has become one of the most reliable sources of pop-under traffic. It allows media buyers and advertisers to develop complex campaigns while giving publishers the chance to sell their traffic at the best possible prices. The best part is that the platform serves a global audience, so you'll be able to run campaigns in different languages and target distinct locations through one single network.
Best For…
It's a flexible platform that you can take advantage of, regardless of the industry you're working with. Because the network usually has a promotion or daily offer available, you'll also be able to score quality traffic at a fraction of its real cost, so it's perfect for affiliates who have some experience but still want to polish their skills.
Pros
Fast and reliable payments
Knowledgeable customer support team
Impressive security features
Robust targeting capacities
Includes features that improve customer experience
Massive inventory
Smart CPM option
Cons
Specializes only in pop advertising
List of publishers not available to members
There's no way to separate pop-unders from pop-ups
PropellerAds has been around for almost a decade and the network is based out of the island-nation of Cyprus. It's one of the top if not the leading pop-under network available today, mostly due to the comprehensive features the platform creators keep adding regularly.
Media buyers and advertisers can now take advantage of more than 1 billion impressions that come from 200+ countries and regions around the globe. Not only this, but PropellerAds has spent years creating valuable relationships with the top content publishers on the internet. Not to mention the fact that the company invests heavily in the creation of educational content for its customers.
Best For…
Although it started off exclusively as a pop traffic network, PropellerAds has extended its ad format offers. Affiliates and other marketers can sell or purchase different types of traffic, including push notifications, in-page push notifications, native interstitials, and on-click ads. PropellerAds offers a unique combination of a robust platform, a comprehensive knowledge library, and superb customer support, so it's ideal for media buyers and publishers of all levels.
Pros
Multiple ad formats to work with including pop-unders
Powerful fraud detection measures
More than 1 billion impressions per month across its most popular formats
Suitable for affiliates, networks, and direct advertisers
Comprehensive educational resources
Constantly updated interface
Referral program available
Cons
Does not support PayPal
User experience and usability need improvement
Lower revenue for English sites than other leading competitors
Special offers are sometimes only available to the best publishers and media buyers
Find Out More About Pop-Unders and Other Great Ad Formats
Pop-unders allow you to develop large-scale ads and present these in a non-intrusive manner, which translates to more engaged audiences and creatives that have a higher chance of converting. We hope that our pop-under ads guide helps you understand this ad format and find a partner that bolsters your chances of success.
Despite the fact that they've earned a somewhat dodgy reputation, the truth is that pop-unders are an amazing ad format that can increase your profits across the board. With that in mind, you need to invest a significant amount of time into developing your campaign and ensuring that your ads are crafted to perfection.
If you are interested in learning more about pop-unders and other effective affiliate marketing ad formats, stay tuned to our blog. Want to find the best affiliate offers? Contact lemonads and our team will be glad to help.
Accelerate your Conversions, Increase your Revenue
with lemonads
---
You would like