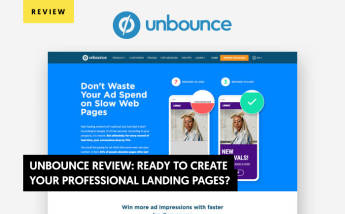 Unbounce Review 2021: Create Top Professional Landing Pages!
Our Unbounce Review is a tailor-made article to deliver the best information you could ever find to truly understand if they're the right landing page builder for your online marketing and campaigns' promotion!
When it comes to promoting yourself in such a crowded place, you must know how to promote your business efficiently to stand up through competition and by having a professional landing page, it can assure you in achieving the main goals you're setting!
Having a landing page is a must in 202! It's that page on your site that is designed to convert visitors into leads that will make the difference for your business.
Professional landing pages have been used to promote businesses in the online marketing field for a long time and they surely are more effective than ever, but you must choose the right landing page builder tool that could truly help you succeed in achieving your goals.
So, let's delve deeper in knowing more about Unbounce, to see how effective they are and how they can easily help you build strategic landing pages converting more than ever with:
Unbounce Review Company
Unbounce Review Features
Unbounce Review Pros & Cons
Unbounce Review Pricing Plans
Unbounce Review Conclusions
Unbounce Review Company
Unbounce is truly a conversion platform that will help you create landing pages optimized for conversions.
Unbounce surely makes it easy to deploy pop-ups and sticky bars that can get you even more engagement with people in your target market and guess what? You can do it all without writing one line of code!
Their landing page builder is not only great to use, but you can also have a wide range in picking thousands of excellent customized templates!
Unbounce is really going to save you way more time than it actually costs and, once you're up and running, it's pretty hard to do without it!
They offer some advanced features and their custom-built landing pages are amazingly smooth to understand with a good user experience in making your work easier to create and, as we stated, with no coding needed.
So, let's check out their advanced features to get a better understanding of their landing page builder tool!
Unbounce Review Features
In terms of performance, Unbounce's landing page builder is one of the smoothest you could ever use and it will give you complete freedom over your design choices, so, let's discover some of their amazing features:
Landing Pages & Templates
Their landing page builder and other tools are at your complete service by helping you smoothly create any landing page by:
Drag-and-drop builder: Add, remove or customize any part of your landing pages with just a few clicks.
100+ templates: Build pages in minutes from a template or create your own from scratch.
Clone & edit: Save time by duplicating and editing your most successful landing pages for new campaigns.
Copy and paste: Simply copy and paste elements from one landing page to another without having to recreate them from scratch and saving a huge amount of time.
Full control: Customize every detail to the pixel and simply add your branding without limitations.
Quick publishing: Publish landing pages straight to your WordPress site with Unbounce's WP landing page plugin or to your own custom domain.
Popups & Sticky Bars
With Unbounce you can easily create popups and sticky bars to generate leads:
Drag-and-drop builder: Fast builder to create your popups and sticky bars.
Templates: Pick a template and customize it to your needs or build your popups from scratch!
Targeting & triggers: Who sees your popups? Discover it by knowing exactly how and when they're triggered and dynamically swap content based on visitors' keywords (Dynamic Text Replacement).
Schedule: Schedule campaigns that run automatically to show your most relevant promotions.
A/B testing: Test different messages and offers to maximise the impact of your popups and sticky bars.
And you won't need to enlist the aid of a developer!
You also have the option to choose when the popup appears:
On arrival
After a specified delay
When the visitor scrolls
On a click
On exit
A/B testing
Test and improve your landing pages through extensive A/B testing! Unbounce provides this feature on all of its plans, allowing you to optimize your landing pages and popups for maximum performance.
Setting up your A/B testing campaigns will help you test different pages, smaller variations testing pages having a lead generation form, and the ones that don't or test specific elements such as calls to actions to check which work better!
This A/B testing feature will change your way in marketing your products or services and you can do it within a matter of clicks! See what works better and apply the same strategy to other campaigns that are succeeding in driving traffic and conversions!
Reports & Analytics
With Unbounce you can measure your landing pages' performance!
This is an interesting insight you could use to see how your landing pages are performing and how your A/B tests are doing and by easily accessing this information from Unbounce's dashboard!
To get better results you can also integrate with Google Analytics!
Dynamic Text Replacement
Match the content on your landing page to the search queries visitors type! This will help you  maximize relevance and increase conversions!
Guess what? You can also combine this feature with dynamic keyword insertion in Google Ads to create paid search campaigns that match user intent at every interaction! Not only would you be boosting relevance, but your messages will have such a greater impact on users, encouraging them to convert instantly!
Smart Traffic™
Unbounce's new feature is jaw Dropping! Unbounce says Smart Traffic™ boosts conversion rates by 20% on average by doing all the work for you!
An AI-powered conversion tool that automatically sends traffic to the most relevant landing page, sounds amazing, right?
How does it work?
AI optimization: Unbounce's AI algorithm starts optimizing in as few as 50 visits.
Automated CRO: Increase conversions without waiting for tests to reach statistical significance.
Fast results: Use Smart Traffic™ to test landing page variations faster.
AMP landing pages
Accelerated Mobile Pages (AMP) are designed to make a web load faster for mobile users, reducing loading times to an average of just one second and helping your visitors remain on your page without bouncing out!
Create AMP landing pages that load up to 85% faster than standard mobile pages:
Create AMP landing pages: Without the usual development hassle.
AMP templates: Unbounce provides mobile optimized AMP templates for you to customize or start from scratch.
Up-to-date: Unbounce will keep your pages and code up-to-date with the latest AMP standards.
Lead Form Builder
Create and add forms to your landing pages to get better results from a dedicated form builder and optimization tool and this is where you really need a specialist tool to maximize conversions!
Unbounce Integrations
When it comes to digital marketing, you're probably going to need more than one tool. Fortunately, Unbounce integrates with some of the most popular marketing tools on the planet. Here's a list of some of the tools you can use with Unbounce:
Marketo
Zapier
MailChimp
HubSpot
WordPress
Kissmetrics
Salesforce
Infusionsoft
Campaign Monitor
Time to discover their full pros and cons!
Unbounce Review Pros & Cons
Unbounce is a great platform to build amazing landing pages, but let's check their pros and cons you would be facing while using their platform!
Unbounce Pros
Quickly build and publish landing pages
Quickly create variants for testing
Excellent templates and third-party sources like ThemeForest for more templates
Highly customizable
Great landing page builder
Split testing - A/B testings
Awesome solution for marketers with very little coding skills
Ease of use
Excellent support
Plenty of integration options
Easy to create mobile-friendly pages
Community is helpful
Unbounce Cons
You can't split test existing landing pages created outside of Unbounce
You can't add custom classes to buttons so you would need to rebuild them in HTML, but will prevent you from tracking goals in Unbounce.
No grids or rulers when designing pages
Not cheap
Reporting on landing pages could be stronger
A/B testing only tracks 30 days worth of data
Landing pages don't always load quickly
Steep learning curve
No "beginners" webinar or tutorial
Time to check their pricing!
Unbounce Review Pricing Plans
They offer 4 pricing plans where you can access most of their features even in their cheaper plans:
Launch: $80/month
Optimize: $120/month
Accelerate: $200/month
Scale: $300/month
Let's check here:
While many software provides the coolest features only on their expensive plans, Unbounce doesn't really engage in this!
All Plans Include:
Unlimited landing pages, unlimited popups, unlimited sticky bars!
There are various integration options associated with each level of service as well.
Extra Pricing with following capabilities:
$200/month for Accelerate (capped at 2k conversions)
$300/month for Scale (capped at 3k conversions)
Since Unbounce allows a vast majority of its features to customers on each plan, this could really help you get started and maybe switch or upgrade later on to access more monthly unique visitors or create more popups!
Unbounce Review Conclusions
We truly hope our Unbounce Review fully answers all your doubts and, if you're looking to create landing pages that convert, you must know they're the right landing page builder you should sign in with!
If you are not quite convinced yet, you can still try it for free for 30 days!
That will give you enough time to make sure it's the right platform for your business to succeed, especially if you want to quickly create and deploy multiple landing pages!
Accelerate your Conversions, Increase your Revenue
with lemonads
---
You would like