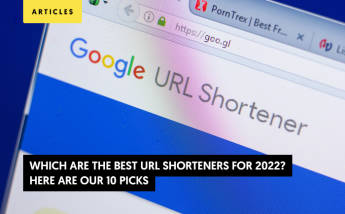 Which Are the Best URL Shorteners for 2022? Here Are Our 10 Picks
Social media networks and other digital channels allow you to share links to your content and drive more traffic to your platform. But, as all seasoned publishers know, all elements within a social media post influence its performance, including the structure and length of the link being shared. And, the longer or more complex the link is, the lower the chances of enticing users to click on it.
This is where URL shorteners come in.
These platforms can help you transform your long site and app links into simple URLs that entice users to access your content. However, there are dozens of different URL shorteners to choose from, all of which offer unique features and capabilities that you need to understand to make the right decision.
In this article, we will cover the definition of a link shrinker and provide our picks for the best URL shorteners for affiliates for 2022 and beyond.
What Are URL Shorteners?
Before going any further, let's take a moment to define URL shorteners.
URLs, which are also known as links, are used to define the exact location of a page and how it can be retrieved. Links play a vital role in the web because they allow us to share pages through a collection of channels. But, as mentioned before, the appearance of a link can influence whether it's engaging or not.
URL shorteners are platforms designed to reduce the length of links to improve their appearance. This doesn't only boost engagement, but it also helps publishers take advantage of the limited space that's available on platforms like Twitter.
Conventional vs. Custom URL Shorteners
It's important to note that there's a difference between conventional link shorteners and custom URL shorteners. As the name suggests, a custom URL shortener allows you to somehow include your branding in the shortened link.
So, instead of using a random link that may potentially discourage a small percentage of users, you'll have a URL that's short but also tailored to your platform.
The 10 Best URL Shorteners of 2022 and Beyond
Many URL shorteners can help you adjust your links and make them more shareable.
But, this doesn't mean that all of them are ideal for large-scale publishing platforms or business use in general. This is the reason why we've put together a list of our top 10 URL shorteners for 2022 and beyond.
For our top 10, we've only included standalone link shorteners, so our picks don't include tools that are integrated into other platforms like Hootsuite's Ow.ly.
Without further ado, here are our top 10 URL shorteners.
1. Bitly
Bitly is a versatile, easy-to-use, reliable URL shortener that's suitable for virtually all types of users. If you don't share links that often, you can simply drop by the platform and get a URL shortened on-demand without creating an account.
However, business users are the ones who enjoy the true power of Bitly. Its superb business dashboard provides 20 different metrics, like organic shares, number of visitors, and the location of each click. Not only this, but you can also conduct campaign-style tracking and observe metrics like click-through rates.
The best part is that users can enjoy many of these benefits by opening a free business account. At the same time, the platform offers paid subscriptions for publishers that need to use it at a higher volume while also providing more features to these users.
2. Rebrandly
Rebrandly is the first custom URL shortener on our list and the platform has specialized in this process because its founders truly believe in the power of branding. Whether it's for a product or company, Rebrandly allows you to tailor URLs and include branding elements in the shrunken domain.
The best part about Rebrandly is that its shortened links don't look or feel random at all. Instead, the links are usually built like conventional URLs and include ultra-relevant terms that users instantly recognize.
For example, a publisher could change the URL of the page www.example.com/blog/how-to-conduct-a-full-blown-system-reboot to example.com/conduct-reboot by opting for the platform's paid subscription.
To only this, but the platform also comes with a solid number of predefined integrations designed to improve user efficiency.
3. TinyURL
TinyURL was launched back in 2002, making it one of the oldest shorteners available. The platform started off as a simple, free URL shortened and it has blossomed into one of the leading providers in the market. As of this writing, the platform offers a free plan as well as two paid subscriptions that bring features like URL branding, campaign tracking, and a comprehensive dashboard.
While casual users don't need to start an account, publishers that use URL shorteners often can create a free account and have access to their shrunken link history. Additionally, the free plan also includes links that don't expire and access to basic monitoring.
4. BL.INK
BL.INK has earned a great reputation for being a tracking-oriented URL shortener designed strictly for business use. In addition to shortening links, the platform allows you to tailor your new URLs, lifetime links, and integrations with leading platforms like Zapier as well as Sprinklr.
Moreover, BL.INK users can also expect superb customer service, which includes access to a knowledge base as well as support via email and live chat. The platform's tracking features allow you to see click totals, unique clicks, the location of each interaction, the type of browser, and many more details.
Note that BL.INK also includes a feature called variable passing, but we will discuss the definition and importance of this later on in this piece.
5. Clickmeter
Clickmeter is a no-nonsense link shortener that has over 100 superb features. These include the ability to set up redirects by user's country, language, type of device, and weighted events. Not only this, but the platform lets users track clicks and see information like IP addresses, timestamps, device type, source data, as well as keywords.
Established more than 15 years ago, Clickmeter has servers that remain online more than 99.99% of the time and it has also implemented affiliate-friendly features like variable passing and comprehensive reporting.
6. Short.io
It's relatively common for URL shorteners to provide data like the location of the users that click on your links and information about the devices they're using. Short.io takes a completely different approach because it allows publishers to change the destination URL based on the user's location or device, effectively working as a smart redirect link.
Besides this unique feature, Short.io does everything else exceptionally well. The platform provides tailored links and it even allows publishers to use their own domains in the new URLs. Already equipped with multiple integrations, the platform provides in-depth statistics as well as links with expiration to manage time-sensitive materials.
7. Linkly
Linkly's identity is built around providing beautiful links that are also functional. The platform provides superb link tracking features as well as branded URLs that can contain advanced redirects. Linkly uses pixel technology and displays the data collected through this technique in comprehensive reports that you can access via the dashboard.
Besides demographic data like device type, Linkly also collects data like the name of the internet service provider, destination page, and referring domain. Moreover, the platform is designed to detect bot traffic and trigger ReCaptcha checks to avoid click fraud.
8. Sniply
Sniply is not only a powerful link shrinker, but it also has a unique and simple feature that can help you monetize your traffic. In addition to providing branded URLs and superb campaign analysis features, the platform also allows you to place a small call-to-action or CTA at the bottom of the destination page.
The goal of this final CTA is to either boost conversions or to build your email list, both of which have a positive impact on your bottom line. You can opt to remove the CTA, edit the wording, and even select from a collection of forms as well as buttons. With that said, Sniply is also among the most expensive alternatives, so it's best left for top-level publishers that invest heavily into their sites.
9. SmartURL
SmartURL is a robust link shrinking tool designed for enterprises and large-scale publishers. In short, the platform allows its users to set up links that redirect web visitors based on a variety of parameters. You can also set up a default URL in case the user's location is not specified.
As for its general features, the platform is deceivingly simple as it lets publishers choose a tailored shortened link, pass on variable information, and set up basic retargeting campaigns.
10. PixelMe
Many affiliates that have used shortened links for a long time trust PixelMe, and good reason. The main feature of this platform is that it embeds a pixel tracker in every shortened link it generates. This gives publishers the ability to track every single user that clicks on the shortened links produced by PixelMe.
PixelMe doesn't offer a free plan, but it has four pricing tiers as of this writing. Depending on the plan you choose, you can enjoy features like unlimited branded links, fully customized domains, micro landing pages, and variable attribution.
Can URL Shorteners Be Used for Affiliate Links?
If you've ever thought about always using shortened links, you're not alone! However, although it's technically possible, publishers need to be careful when shortening affiliate links. For starters, publishers need to ensure that advertisers allow shortened links. So, you should reach out to your network or advertiser to ensure that you won't breach the platform's terms of service.
Additionally, you need to ensure that the shortener also passes on variable information. In simple terms, variable information consists of the data collected from every user that's used to verify and attribute affiliate conversions. If the shortening tool doesn't pass on variable information, then the publisher won't get credited for the conversions generated.
Looking for the Best Affiliate Resources? Contact lemonads Today
Shortening links is a great way to boost the performance of your content, but many elements go into a successful affiliate campaign. To learn more about finding the best affiliate programs, get in touch with lemonads and our team will be glad to help.
Accelerate your Conversions, Increase your Revenue
with lemonads
---
You would like