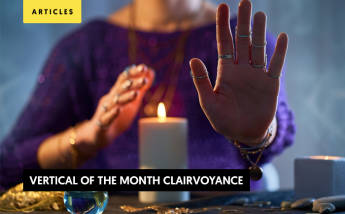 lemonads' Vertical of the Month: Clairvoyance
For this issue of Vertical of the Month, we'll shine a light on the clairvoyance industry, give readers a summary of how it's fared so far in 2020, and share tips to create better clairvoyance campaigns.
Believing in extrasensory and supernatural services is a personal choice, but there is no denying that this vertical has a lot of potential for affiliates. Services like tarot reading, psychic consultations, and clairvoyance are already popular among consumers in tier-1 markets like the US. As a matter of fact, the entire extrasensory services industry is valued at more than $2 billion in the US alone -- and this vertical is popular across hundreds of countries around the world.
Developing a clairvoyance campaign may seem like a great idea, and it is. But, this vertical is special, so you need to understand how consumers behave and are aware of the other factors that will influence the performance of your campaign.
At lemonads, we've seen thousands of affiliates successfully monetize clairvoyance offers, so we know a thing or two about succeeding in this vertical. Below, we'll go over
Clairvoyance and Psychic Services Industry Overview
Research suggests that in the US and Russia, more than 20% of the population has admitted to seeking clairvoyants and other extrasensory services at some point in their lives. Furthermore, 53% of Americans believe in some type of psychic service and hundreds of thousands rely on clairvoyants and similar providers on a daily basis.
All of the above translates into a multi-billion dollar industry that's in relatively early stages, making it a great choice for affiliates of all levels. With this in mind, you still have to work on developing engaging materials that instill confidence in your audience.
For publishers and affiliates that run their own platforms, developing long-form content can help keep the audience interested while highlighting the benefits of the products or services being promoted. And, these marketers also need to get familiarized with the vertical in order to resonate with the audience. Users who are interested in clairvoyance services tend to have a certain degree of knowledge, so they are able to spot low-quality or inaccurate content right away.
Advantages of Working with the Clairvoyance Industry
The clairvoyance industry relies on people's curiosity and their need to find answers to current as well as future challenges. Users who are interested in psychic and other extrasensory offers are often looking for closure or trying to prepare for what's coming.
Affiliates can use this to their advantage because the audience is predispositioned to believe in the products being promoted, which simplified the content creation process (although it doesn't mean quality should be sacrificed). As with any other vertical, testing is crucial at this stage. But, as long as you set up the right split tests, you should be able to find a combination of headlines, copy, and creative content that works.
Additionally, some of the benefits of working with clairvoyance include:
It's a Fresh Vertical
Clairvoyance services date back thousands of years. But, modern consumers haven't fully embraced this industry and the different solutions it has to offer. Furthermore, over the last five years industry growth has been close to 2%, so the steady increase means that it will remain profitable for an extended period of time before peaking.
This is the reason why clairvoyance is considered a fresh vertical because it has significant potential for steady growth and it can still experience one more accelerated adoption stage before stabilizing. And, because no clairvoyance brand has control over more than 5% of the market, affiliates can find a variety of offers that can be relatively easy to monetize.
Many People Employ Clairvoyance Services at Least Once Per Year
A large segment of the market finds value in clairvoyance services because these can help consumers make better decisions. And, interacting with a person said to have extrasensory powers can also provide a degree of comfort as well as confidence.
As a matter of fact, an average of 100,000 people uses clairvoyance services on a daily basis. In places like the UK, almost 400,000 users employ extrasensory services more than once per month, and millions of people around the world see these specialists at least once per year.
Affiliates Can Choose From a Large Library of Quality Offers
Remember how we mentioned that no clairvoyance service provider has a market share greater than 5%? This means that the landscape in the extrasensory service industry is flooded with quality competitors. The goods news for affiliates? You can choose from a huge library of quality offers that can be monetized through different methods.
Best Traffic Sources for Clairvoyance Campaigns
Although the clairvoyance industry is unique, affiliates don't have to rely on obscure traffic sources to get interested visitors to their sites. Luckily, marketers can employ a variety of mainstream traffic sources and distribute their resources across multiple channels.
According to our research, some of the best traffic sources for clairvoyance campaigns include:
Email Sequences
Suggested Advertising Content: eBooks
Developing lead magnets for clairvoyance is relatively simple, so affiliates can build an email list in a short time span. Email sequences are among the best traffic sources for clairvoyance campaigns because they give you a sizable amount of space to include promotional content. Then, you should send users to download an ebook that tells a more detailed narrative designed to entice users to convert.
It's important to note that your marketing content can target people looking for clairvoyance services as well as users who want to become clairvoyant, and ebooks tend to work extremely well for the latter.
Social Media Marketing
Suggested Advertising Content: Comparison Articles
Social media channels like Twitter and Instagram have become a goldmine for clairvoyance service providers. With little to no restrictions on these services (taken for granted you carefully craft your ads), social media platforms can help you access an engaged audience made up of users from all parts of the world.
If you're going to launch a social media marketing campaign, you may want to create comparison articles and use them as landing pages. This will help you create better headlines, plus you can compare clairvoyance services to similar solutions, like tarot readings.
Google Ads
Suggested Advertising Content: Landing Page
Google is one of the top networks for PPC ads and, similarly to social networks, affiliates can freely advertise these offers as long as they watch the language they use. Google users tend to be looking for solutions but keep in mind that the searches can have either informative or purchase intent.
For Google Ads campaigns, landing pages tend to be the best content format because they allow you to deliver content in a non-aggressive way while still being CTA-rich.
Facebook Ads
Facebook ads deserve their own section because it's the best social network to promote extrasensory services on. Today, consumers use Facebook as a substitute for a search engine, so you can develop great ads that engage consumers while they're browsing for answers. As for content, advertorials deliver a good balance between information and sales-oriented content.
Instagram Ads
Instagram is a Facebook group company. However, Instagram ads and Facebook ads can be used to achieve completely different business goals. Instagram is not only growing considerably, but it's also bringing in some serious cash for businesses. It's attracting tons of big brands because it's well worth it to advertise there.
Tips for Developing a Successful Campaign
Building a successful clairvoyance campaign requires in-depth knowledge of the industry as well as the way users find these services. You should take the time to study your potential audience, monitor different trends, and create a list of the best providers on the market. This will help you choose a solid offer and ensure that you work with a reputable brand.
Additionally, some of the areas you need to focus on include:
Ad Formats
As with all verticals, your clairvoyance campaigns should work in unison and complement each other. Therefore, you need to choose a combination of ads that help connect with your audience in a friendly way at crucial points of each user's decision-making process. For this vertical, our suggestion is to work with a trio of established formats like:
Choosing the Right Niche
Remember, the clairvoyance or psychic industry also contains numerous sub-categories, so you can always specialize in working with a specific type of provider, like over-the-phone consultations. Some of the specialties you can work with also include:
Astral projections
Aura reading
Future-telling
Divination
Energy manipulation
Psychokinesis
Telepathy
Levitation
Keyword Selection
Keyword research for this industry is relatively standard, so you should use a set of reliable tools to get the most effective variants. That said, keep in mind that there are dozens of specialties and synonyms for clairvoyance services, so you'll likely work with a high number of keywords that have a low search volume.
Retargeting Campaigns
Because clairvoyance services are a common recurring purchase, this industry provides a great opportunity to monetize off users who have already converted. If you've already launched extrasensory campaigns in the past, you should reactivate these audiences and develop specialized ads to target these users once again.
Learn More About the Top Verticals at lemonads
While clairvoyants have possibly roamed the Earth for thousands of years, this industry can still provide affiliates with a lot of bang for their buck. However, marketers that take a leap of faith and try out clairvoyance offers should take the time to understand the vertical and learn about the most popular trends shaping the landscape at that specific time.
If you want to learn more about the best verticals and how to succeed with them, stay tuned to lemonads' blog or contact our team and we'll be glad to assist you.
Accelerate your Conversions, Increase your Revenue
with lemonads
---
You would like