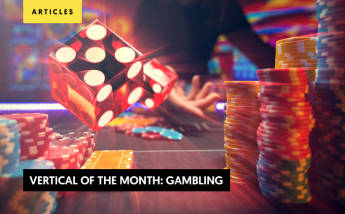 Vertical of the Month: Gambling (Casino, Betting, Lotto, and More)
Affiliates can choose from a huge collection of verticals to work with and each one of them has a unique set of pros and cons. But, even though the list of industries is huge, there's a handful of verticals that have proven to be profitable across almost all regions, cultures, and other key demographic variables. The gambling industry is a great example of an evergreen vertical that has extremely high chances of success, making it one of the most attractive choices for affiliates.
With the above in mind, it's important to note that the gambling industry has been one of the most popular choices since the inception of modern affiliate marketing. Therefore, you need to examine this field, understand how it's changing, and make the right adjustments to get the best results from your campaigns.
At lemonads, we've partnered with some of the leading gambling publishers and advertisers in the world, so we're familiar with the potential this industry has. In this edition of vertical of the month, we'll go over the gambling industry, tell you what sub-verticals fall under this category, and analyze the future projections for these types of campaigns.
What Does the Gambling Industry Include?
Before going any further, let's take a look at the fields that constitute the gambling industry. In simple terms, gambling providers offer gaming activities where participants play games of chance and get rewarded with money or similar remuneration when they win. This can include anything from a card game to wagering on the outcome of an event and everything in between.
As you can imagine, there are many different types of gambling facilities available both online and in-person. These can be defined as:
Casinos
Casinos are establishments that offer a variety of games, including card-based games, roulette, slot machines, and other forms of gambling. While traditional casinos consist of brick-and-mortar locations, consumers can now choose from a huge collection of digital providers that give them the ability to play hundreds of games from the comfort of their homes.
Sports and eSports Betting
One of the reasons sports have become a global phenomenon is that they give us the ability to place wagers. Professional athletes often bring the same level of skill and intensity, so choosing a winner before a match or game begins has become a thrilling and profitable pastime that's loved by millions of consumers around the world.
Lotteries
Lotteries are games of chance where the outcome is decided fully at random, so the participants can't influence the outcome whatsoever. There are many different types of lottery including raffles, tombolas, and similar games. In some countries like the UK, there are regulations as to who can run lotteries and for what purpose, so it's worth checking the small print for each location.
Bingo
Bingo is technically a type of lottery that works similar to a tombola, but this game has become so popular that it can easily be categorized on its own. As a matter of fact, there are countless bingo variations played at online and offline gatherings. Keep in mind that bingo is traditionally more popular among older demographics, but online versions of this game are starting to attract adults of all age groups.
Adult Arcades
Adults arcades combine the fun and exhilarating experience of interactive games with the ability to wager money. This type of casino is perhaps the most uncommon, but it usually attracts consumers who are interested in both the quality of the games as well as the money they can potentially generate.
Hybrids
Hybrid casinos combine two or more of the types listed above. These may be the most common type of casino as almost every single leading platform offers a variety of different games. Hybrid casinos may also be the easiest to promote because you won't have to work with a narrow audience. But, these advertisers are also more likely to develop solid CPA offers that have high payouts.
The Gambling Vertical By the Numbers
According to research adjusted for the effects of COVID-19, the global gambling industry generated more than 443 billion US dollars in 2020. The entire industry is set to grow about 5.6% per year until the year 2027, but sub-industries like online gambling will actually experience an annual growth rate of almost 12%. And, in countries like China, the whole vertical has growth rates higher than 10%.
What does this mean for advertisers and their affiliates? While other industries struggle to recover from the global health crisis, the trends so far suggest that the gambling vertical will continue to grow at a steady pace for the foreseeable future.
Leading Advertisers in the Gambling Industry
More than 25% of the world population plays games of chance on a regular basis, which means that there are billions of gamblers in the world. Despite the fact that there are some exceptions, the gambling industry has penetrated most major economies in the world. But, unlike other verticals, there are actually many companies that have positioned themselves as leaders in the industry.
The list includes:
Co-Gaming Ltd. (Comeon)
Folkeautomaten
Galaxy Entertainment Group Ltd.
Genting Berhad
GVC Holdings PLC
Jackpotjoy PLC
Kindred Group plc
Las Vegas Sands Corporation
LeoVegas AB
MGM Resorts International
Mobilbet
Mr. Green Limited
Mybet Holding SE
NorgesAutomaten
Norsk Tipping AS
Online Casino Deutschland AG
Paddy Power Betfair
Pinnacle (Curacao)
1xbet (Exinvest Limited)
AsianLogic Limited
Bet365 Group
bet-at-home.com AG
Betsson AB
Betway Limited
BML Group Ltd. (Casinoeuro)
Caesars Interactive Entertainment
Camelot Group
Casino Cosmopol
Casumo Services Limited
Co-Gaming Ltd.
Rank Group PLC.
SJM Holdings Ltd.
Sportech PLC.
Svenska Spel AB
The Stars Group
Vera & John
William Hill PLC.
Wynn Resorts Limited
Which Are the Best Ad Formats for Gambling Creatives?
As with other verticals, affiliates can work with a variety of different ad formats. However, there are some ad types that are more likely to produce excellent results, as long as the rest of the campaigns are set up properly
According to our observations, the best formats for casino and gambling offers are pop ads, push notifications, in-page push notifications, and zero-click ads.
Pop Advertising
It's easy to have a love-hate relationship with pop ads, but the truth is that these work. Pop-unders in general tend to produce better results because they don't interrupt users or compromise experience. Plus, this ad format still allows publishers and other affiliates to create large, high-quality creatives that reflect the quality of the casino games.
Push Notifications and In-Page Push Notifications
Push notifications have become a crucial part of every affiliate's toolkit. This format allows you to create a strong connection with your audience by delivering notifications that are presented to users in the same way as other device alerts. In mobile devices, push notifications look like alerts from apps, whereas desktop push notifications appear on the browser window instead.
The only caveat you should keep in mind is that push notifications campaigns aren't suitable for Apple devices, specifically those running on iOS. In-page push notifications are a great alternative because they are suitable for all devices, plus affiliates don't have to wait for consumers to give them permission to start sending notifications.
Zero-Click Traffic
Zero-click traffic is generated when users are trying to access a specific page, but type in the wrong URL. These users are usually ultra-engaged and are readily looking for a gambling platform, so you can generate a significant amount of conversions by creating a relatively simple landing page.
Defining the Best GEOs for Affiliate Gambling Campaigns
Finding the best GEOs for a gambling offer is an important process. This vertical is popular in almost all regions, but countries in higher tiers tend to be more profitable, at least in terms of revenue generated per conversion.
Remember, working with a profitable market can raise your chances of success. But, you also have to get acquainted with this audience. If it's your first gambling campaign, you may be better off working with an audience that you're familiar with until you learn the ropes.
The top countries for running affiliate gambling campaigns are:
United Kingdom
United States
Canada
Germany
China and Hong Kong
Japan
Brazil
India
France
Australia
Singapore
Italy
Argentina
Mexico
South Africa
How to Build a Gambling Campaign that Converts
Understanding the gambling industry is one thing, but learning how to develop a campaign that converts takes hands-on practice. Below, we've put together a few tips to help you craft a better campaign from the get-go and hit the ground running.
Build Credible and Attractive Creatives
Even though this may seem obvious, it's important to understand that consumers who are interested in gambling offers are attracted to quality creative elements. To capture your audience's attention, you should choose attractive images that instill confidence in users and make them feel like they are doing business with a legitimate provider.
Ensure Your Pre-Lander Matches the Offer Landing Page
Pre-landers can have a superb effect on your campaign. But, these may also cut traffic to your landing pages, especially if the creative elements aren't consistent across all channels. To ensure that you get the best from your pre-landers, make sure that the content on there matches your landing pages.
Check Loading Speed and Language
You should check all areas of the appearance and functionality of your ads. But, if there are two areas you should focus on more than others these are: ensure that the wording used resonates with your audience and verify that your ads load quickly. Besides making sure that the ads appear in the right language, read your content to be sure that your audience will understand it. And, if your content is not appearing fast enough, consider switching servers or finding other ways to reduce the loading time.
Create a Sense of Urgency
Implementing timers, deadlines, and other elements that add urgency to your ads can have a positive impact on your campaign. Plus, these also give you the opportunity to jazz up your creatives and even choose a theme that matches the gambling platform being promoted.
Choose Images that Feature Happy People
In your ads, you should always feature images of smiling people and happy faces, which help create a sense of trust and make users feel safe. There may be some exceptions, but images that feature these elements tend to be more engaging and make users feel relaxed when interacting with your content.
Where to Find the Best Gambling Offers
Affiliates can either work directly with advertisers or find an affiliate network that has a solid gallery of casino offers. At lemonads, we work closely with some of the top providers in the industry and share exclusive deals with the best publishers in our network. To learn more, contact our team today and we'll be glad to help you find the best offer.
Ready to Launch Your Gambling Campaign? Get the best affiliate program at lemonads
Interested in learning more about the hottest industries? Contact lemonads and our team will be happy to assist you.
Accelerate your Conversions, Increase your Revenue
with lemonads
---
You would like