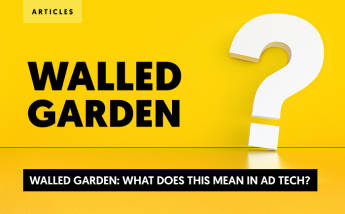 Walled Garden: What Does This Term Mean in Ad Tech?
Website owners, content publishers, and other online promotion specialists are always looking for the best ways to monetize the materials they produce. But, even though innovative techniques may give them a competitive edge, some of the best advertising technology (ad tech) solutions actually rely on well-established concepts, like walled gardens.
By partnering with providers that operate as a walled garden or closed platform, publishers can exponentially increase their revenue without having to make major adjustments to their existing pages. With that in mind, working with a closed platform also means relinquishing control, so you need to understand this concept fully before figuring out the best option for your specific case.
Below, we'll discuss the history and definition of walled gardens. Moreover, we'll also share a list of pros and cons to help you decide whether walled garden ecosystems are the best alternative to monetize your publishing platform.
Where Does the Term Walled Garden Come From?
John Malone, an American entrepreneur responsible for founding the company Tele-Communication Inc. (later acquired by AT&T) is credited for coining the phrase "walled garden." He used this term back in the 1970s to describe a scenario where companies designed hardware specifically designed to be used with their services.
While originally developed for the telecommunications industry, the term "walled garden" has been used across multiple verticals since it was first introduced. And, even though this concept has been outdated in some industries, it's still a relevant term in the ad tech space. For this reason, publishers need to understand how walled gardens work, their benefits, and the elements that might set them back.
What Is a Walled Garden in Ad Tech?
In ad tech, a walled garden is an ecosystem in which a provider doesn't share information, technology, or other data with other third parties. On the contrary, these stakeholders create a closed platform or "walled garden" that works as an enclosed network. This gives providers full control over everything that occurs on their digital property and brings many benefits that range from better data protection to the collection of exclusive audience insights.
Many ad tech platforms rely on cookies and similar tools to collect user information. The problem is that these methods rely on data sharing with third parties, raising significant data privacy concerns. Walled gardens provide a solid solution to these problems while empowering ad tech providers to deliver a superb experience to consumers, publishers, and advertisers across the board.
Understanding How Google, Amazon, and Facebook Control the Landscape
Recent data suggests that Google, Amazon, and Facebook will collect around 63% of all digital ad spending at a global scale, making them the leading ad tech providers in the world. While these three platforms focus on slightly different specialties, the reason why they've become so popular is that their walled garden ecosystems offer powerful features that translate to more accurate data.
The entire digital advertising industry relies on the accurate collection of information. With cookie technology currently being scrutinized more than ever before, walled gardens offer publishers and advertisers a safer alternative to connect with their targets. This has pushed Facebook, Google, and Amazon to compete harder for ad space, perfect alternative data collection methods, and builder gardens that have much higher walls.
Publishers and Walled Gardens: Are They Necessary?
Although leading platforms like Google and well-known for setting up the most popular walled gardens, the truth is that any publisher can set up its own closed platform. For instance, many publications that only provide content to users who have an account and are logged in (like the Washington Post) technically have walled gardens in place.
With the above in mind, remember that having a walled garden means that there is no information flow in either direction. In other words, publishers that have a walled garden in place can't share information with third parties or allow effective tracking through independent platforms. This, in turn, can limit the methods that publishers have to monetize their content.
Is It Possible for Publishers to Leverage a Walled Garden?
As we mentioned in the previous section, publishers can leverage walled gardens, but there are some limitations. However, publishers in niche industries may be able to set up a small community of like-minded individuals and create a walled garden around this specific audience.
With the above in mind, remember that media buyers and advertisers need access to specific tracking data across multiple devices to be successful. If your platform grows beyond a certain point, there's a strong chance you'll need to bring down the walls of your garden at least partially and allow some sharing of data as this will give you the best chance of making money from the people that visit your pages.
Benefits and Disadvantages of Walled Gardens
There is an ongoing debate in the ad tech and digital marketing world as a whole about walled gardens. To some stakeholders, walled gardens severely limit the resources available and force marketers to make poor use of the data at hand. For others, these hyper-controlled ecosystems give publishers the ultimate level of control while also providing a safe environment in terms of privacy and information sharing as a whole.
It's crucial to understand that walled gardens have both advantages and disadvantages, so you need to evaluate these individuals to determine whether or not you should set up a closed platform. Let's take a look at some of the main pros and cons of implementing a walled garden into your platform.
Pros
Walled gardens are an ideal choice for publishers that are involved in very specific niches because these verticals tend to have a smaller user base that's more concerned about privacy. For example, many publishers in adult verticals use walled gardens because it helps them provide the highest level of information protection and anonymity to their members.
Furthermore, providers that have walled gardens tend to provide support around the clock in case publishers run into technical issues or need assistance of some sort. That said, it's important to note that larger providers that employ walled gardens (Facebook, Google, and other leaders) will likely deliver better service to their larger clients, whereas smaller publishers won't receive the same treatment.
Let's take a look at some of the benefits of walled gardens.
Accuracy
As we mentioned before, when a walled garden is in place, the owner has full access to everything that occurs on the platform. For example, if you use Chrome to surf the internet, Google will have access to all of the URLs you visit, how many times you spend on each page, and all other actions completed on the browser.
This is one of the biggest benefits of walled gardens in terms of ad tech. After all, the best way to provide accurate results is to have updated information about the behavior of the audience. Having a closed platform means that all behavioral data is available at the publisher's fingertips.
Tracking
A few years ago, having a walled garden was very limiting in terms of cross-device tracking. Thanks to the development of internet-capable smartphones and similar devices, consumers are now used to accessing the same profile through multiple platforms. This has allowed a superior level of tracking across multiple devices, which produces a more wholesome picture for marketers to take advantage of.
Security
Before delving further into this point, it's crucial to understand that walled gardens are only as safe as the owners make them. For example, a platform may have a walled garden, but this doesn't assure that the owners used top-level encryption or that they are only working with reliable providers.
If you choose to work with a platform that has a walled garden or implement one of your own, remember to focus heavily on creating a safe experience for all members of your ecosystem.
That said, walled gardens tend to provide a higher level of security than other alternatives because the platforms to implement these controlled ecosystems are often aware of the importance of privacy and security protection.
Cons
The implementation of walled gardens promotes a digital ecosystem where most of the advertising dollars are pocketed by Google, Amazon, Facebook, and other leading platforms. This results in an unlevel playing field as smaller and up-and-coming publishers don't have the resources to develop a closed platform. Which, in turn, forces these publishers to partner with a walled garden provider.
Additionally, some of the biggest disadvantages of walled garden ecosystems include:
Management
Having a walled garden doesn't only mean that information isn't shared with any other provider. Closed platforms also require a full stack of in-house solutions including trackers, developers, designers, and a management team to glue all of these individual elements together. This entire setup is extremely resource and labor-intensive, which means that it's only available to a handful of businesses.
Competition
Competing with similar platforms in a walled garden is challenging because you also need to keep users in mind at all times. This means that you can't simply drive traffic to your site. You need to make sure that your content is valuable and makes you stand out so that users will spend more time on your page. Therefore, breaking away from the competition in a walled garden is much more challenging than in an open ecosystem.
Scalability
Lastly, a walled garden ecosystem is extremely hard to scale, even for businesses that have the right resources. As with other environments, growing a platform within a walled garden requires a balanced combination of quality content and technical improvements. This creates logistical challenges that increase expenses as traffic and conversion volumes grow.
Want to Start Your Own Walled Garden? Get in Touch with lemonads Today
Working with a provider that has a walled garden or implementing your own closed platform can bring many benefits, but this doesn't mean that this setup is ideal for every single publisher. We hope that our article above helps you understand walled gardens and figure out if this type of ecosystem is ideal for your platform.
If you're looking for the top affiliate programs to monetize your site visitors, contact lemonads and we'll be glad to help.
Accelerate your Conversions, Increase your Revenue
with lemonads
---
You would like