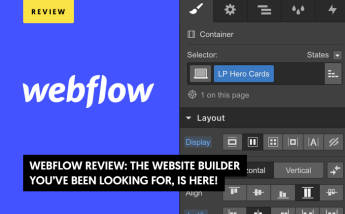 Webflow review: The Website Builder You've Been Looking For, Is Here!
Webflow is definitely an inspiring web design tool that is taking furthermore a new approach to helping users build successful websites stress-free and with no coding knowledge needed!
You heard that right!
No coding knowledge with a simple and user-friendly interface, easy to create, and all thanks to their amazing team that is seriously taking their client's needs at the bottom of their hearts by constantly delivering solutions for them to achieve their goals!
In fact, you'll always be inspired to check for new insights built for you to use and implement on your already existing website!
And all this "improving" is because they truly listen to users' requests and needs, even if their web design tool is having big success among the web building design market to always be on top with innovating changes!
This is why Webflow has at the heart of its innovation its designer tool: when you mix the designer with E-commerce and CMS you can get something that is not only truly new and interesting, but it is also working amazingly.
So, let's delve deeper in knowing all about Webflow and its innovating web builder platform to earn features and tips they can deliver for you, to create amazing responsive websites through:
Webflow & Who Is It Designed For
Webflow Features;
Webflow Templates;
Webflow's Tutorials, Guides & University;
Webflow's Pros & Cons;
Webflow's Pricing Plans;
Webflow's Conclusions.
Webflow & Who Is It Designed For
As we've mentioned, Webflow is a responsive website and landing page builder that has been competing with the likes of WordPress and Drupal. Since Webflow is easier to use and builds amazing websites from just anyone since there is no need for code, it has become the alternative of WordPress!
In fact, Webflow combines a fully customizable CMS with a powerful visual website designing tool for you to easily build a custom database for every site and design around your real content. Nothing to install, automatic updates, and no PHP!
But, who is it designed for?
Thanks to their customizable platform, it allows anyone to create their own website beautifully and successfully by not having to use or know any code line!
If you're not a developer but just someone who is searching for a platform to build custom blogs, portfolios of any kind, marketing sites including e-commerce stores and so much more, you've landed in the right place!
Webflow also comes along with a flexible CMS, so you are really covered 360°.
Why CMS?
The Webflow CMS gives you full control over your content structure and how this content is designed throughout your project and all, as we previously stated, without touching a line of code!
This means that anytime you or your client creates or changes any content in the CMS, it will instantly update all the pages where that piece of content is referenced.
It's where content management meets visual design. You can create the content structures you need, add content by hand, from a CSV, or through their API, and only then, design it visually to blend it in with the rest of your website.
This is a brilliant content management system that works for anyone, especially for editors, designers, content strategists, and developers.
Mainly, you would be experiencing the power of HTML, CSS, and JavaScript in a 100% visual canvas! It's a 100% customizable CMS in an easy responsive designing and building websites tool, to not mention that Webflow is top tier in hosting!
If you have no web design knowledge at all, this might be a little more difficult, but not impossible!
Let's say that you might be intimidated by all the graphics, charts, fonts, and colors to edit in your template and how to apply links or insert interactions, but if this happens, you can still hire an expert from the Webflow designers team to help you creating and building that successful website you had in mind!
Submit a project and you'll be set!
Webflow sets its 3 main steps as:
Build
Build production-ready experiences without the need for coding!
Launch
Go live on a fast, reliable, and hassle-free hosting network that scales with your business — with a click.
Grow
After you create, launch, and iterate on new marketing campaigns without distracting your product team.
Now, it's time to see which features Webflow earns to help you build your amazing responsive website!
Webflow's Features
Their Features are many and all of them have been designed to fit your needs whether you're building a regular website or an e-commerce online store.
So let's divide their features into two parts:
Webflow's Basic Features
Webflow's E-commerce Features
Webflow's Basic Features
Parallax Scrolling, Animations, and Interactions
They have an outstanding design feature and they keep updating with modern web trends for you to add. Parallax scrolling, multi-step animations, and micro-interactions are just a few of the interesting giveaways you can use in Webflow.
Webflow takes security very seriously as your backups.
They provide automatic backups if your page instantly needs a refresh or if your computer accidentally shuts down by saving as you're creating and, trust us, after working hard, you'd be thankful if all your work didn't get lost.
Regarding your security, Webflow comes with a free SSL certificate, helping your site to be shown as protected and trusted as your visitors land on your website as they purchase or insert their personal information.
Search engine optimization (SEO) is what you surely need for your site's content to help it rank higher in search engine results, and Webflow has it!
In the SEO section, you must add your meta description with targeted keywords, create image Alt Text. Are you a little confused on who? Webflow goes one step further, offering automatically generated sitemaps and customizable 301 redirects easing your SEO work more than ever!
Webflow E-commerce Features
Multiple Payment Options on your site
As well as you can accept standard credit and debit card payments through Stripe, Webflow also will let you accept Apple Pay and PayPal!
Automatic Tax Calculations
Once a customer gets to your checkout, Webflow will automatically calculate the sales tax and VAT owed and add it on. This can save you hours of inputting different tax brackets and amending VAT costs.
Facebook and Instagram Integration
Sync products to your Facebook store and Instagram shop letting you not only cross-sell between your website and social channels, but also allowing you to run smarter marketing campaigns!
And another amazing feature are their templates!
Ready to discover Webflow's world of Templates? Let's see them all!
Webflow Templates
Webflow has hundreds of free and premium templates for you to use in building personal, business or e-commerce websites.
Webflow is filled with clean, responsive and fully customizable design templates you must discover!
As you sign in, follow instructions and through their user experience, they'll drive you in finding quickly what you're searching for:
Once you click on what you want to build, Webflow will peek which templates could fit you best!
And come up with solutions you might like!
And if you still didn't find the right one for you, filter templates by:
Industry;
Free;
Premium;
Ecommerce.
And so much more by making it really simple for you to find the right template that suits your needs and preview the designs before making any decision at all to see which ones support dynamic content.
Check some here below:
Webflow Free Templates
Webflow New Templates
Webflow Ecommerce Templates
Webflow Agency Templates
Webflow Restaurant Templates
Webflow Landing Page Templates
Webflow UI Kit Templates
Or click on a Popular "tags" to browse for the right Template you need!
You can also check Webflow's Showcase of their top created templates from others to get inspired from!
Webflow's templates automatically adapt to perfectly fit different screen sizes, depending on the device your audience is browsing on!
The extended template descriptions, is another big thing in Webflow.
As you can see, their template description is shown as you move your mouse on a template you like and a brief description will popup, helping you peek at the right one to start editing by fitting the design and content perfectly.
Webflow's Tutorials, Guides & University
Webflow has an entire section dedicated with tutorials, guides, beginner to advanced classes, Webflow lessons, eBooks and an amazing blog filled with updates and articles on "how to" create and build websites or top examples to get inspired from!
Webflow created a Webflow "University" where you can find classes to master your skills and lessons on how to use their platform from the start!
Webflow's University is an online resource where you can find guides and lessons on everything you need to know to use the platform, on how specific integrations work and so much more!
It's the place you would look if you need to learn, improve, master or even when you just get stuck and need quick tips on where to go and what to do!
With all their beautiful features and templates, let's check some pros and cons to get a complete understanding if Webflow is the right web design tool for you!
Webflow Pros & Cons
As we saw, Webflow is pretty great and it's beating the competition, but what are their main pros and cons?
Webflow Review Pros
Great levels of design customization, without the need to know a line of code
Excellent and huge range of templates, suitable for e-commerce and dynamic content to fit anyone's needs!
Webflow Review Cons
Relatively more difficult to use for a website builder compared to Wix or GoDaddy, but extremely easier than WordPress.
Their plans are more expensive compared to other website builder platforms: prices ranging from $12/month to $212/month, but we'll see more in just a sec!
No live chat or phone support
In fact, if you need to contact Webflow directly, it's not possible.
Webflow currently doesn't provide phone numbers or a live chat service you can rely on if you need to solve something quick: you can only contact them via email, leave a message and attach files to show exactly what the problem is, if needed, and expect a personal reply within 24-48 hours.
Their offices are open from 6am to 6pm (PT) from Monday through Friday so, if you're stuck on a weekend or later than those hours, you'll just have to wait!
Ready to check their pricing plans? Let's go!
Webflow's Pricing Plans
Templates: pricing
Premium templates price ranges from $19 to $149. Most tend to cost either $49 or $79, which may sound steep, but as a one-off cost, you should see it more as an investment.
Webflow's web design tool: pricing
Webflow can get pretty expensive since they market their platform as a more sophisticated website builder, offering users greater creative control with many features and all we just overviewed so, it's actually normal that their pricing plans reflect that.
But a user may not need, want, or know how to use half the things they're paying for so they might turn elsewhere to find cheaper solutions.
Webflow currently has six pricing plans!
Three for websites and three for online stores:
While you can build a website for free, you'll need to launch for it to be online and the cheapest plan is $12/month with Webflow's 'Basic' plan, but this is good only if your site is simple with only a few standard elements such as image galleries, contact forms or menus.
The CMS plan focuses on blogs and content-driven sites, while the Business plan is, unsurprisingly, for businesses looking to market and scale!
Webflow's e-commerce plans are standard, plus and advanced:
Standard plan: selling a few products
Plus plan: selling efficiently in bulk
Advanced plan: from marketing and managing your products in front of a global audience.
There's also Webflow for enterprises, which is available on a quote-by-quote basis: Webflow will actually help build your site for you and support you through the entire process.
This is actually a great service to have, but it's only really suitable for large businesses.
Webflow Alternative
Webflow's Conclusions
As we arrived at our conclusions, whatever platform you end up choosing, be sure to always be confident with the platform and understand how it works before upgrading to any paid plan.
We hope our full Webflow review has cleared all your doubts and despite it's not the cheapest or easiest platform to use, Webflow does stand up when it comes to design.
Their templates are well-designed, mobile-optimized and cover a high range of industries by customizing all sorts, without the need of knowing a line of code!
After that, we think we've said it all and you're ready to create your own dream site!
Accelerate your Conversions, Increase your Revenue
with lemonads
---
You would like