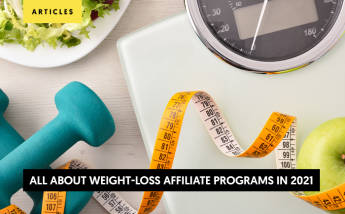 All about Weight-loss Affiliate Programs in 2022
Everything you need to know about the top trending topic this spring and summer.
Affiliate marketing opportunities for content creators in the lifestyle, health, and fitness niches.
Covid-19 vaccines are out. A small ray of sun is finally in sight and we are all looking forward to some summer fun! After long and repeated periods of confinement, 2021 will be THE YEAR when we actually look forward to getting in shape to being seen again. Do you know what this means? Great weight-loss affiliate program opportunities!
The weight-loss and the weight-management market lost a bit of force as people are being encouraged to accept their physical appearance, which is great. However, people are increasingly seeking to be healthy and feel great, which is even greater.
In this article we will cover:
The weight-loss and weight management business
What's a weight-loss affiliate program and how does it work
Types of weight-loss and weight management programs.
Types of diets
Diet Trends
Exercise trends to lose weight
Highest paying weight loss related affiliate programs
Best weight loss affiliate programs
How to promote weight-loss offers
Conclusions
The weight-loss weight-management Business
Only in the U.S, the "weight" market is worth 72 Billion Dollars. Like in any other segment right now, the weight-loss and the weight-management companies are adapting their business models to our new way of living, finding new opportunities, and evolving to new concepts.
More home-fitting exercising machines, online lessons, weight-management apps, increasing digital communities...
What's a weight-loss affiliate program?
A weight-loss affiliate program is a partnership between a business in the weight-loss or weight-management vertical (the advertiser) and you (the publisher) who most probably have an audience interested in fitness, beauty, or health. You as a publisher promote the offer in your channels, the advertiser in exchange pays you a commission.
How does it work?
On your content, you simply add the affiliate link to the offer you want to promote (the product or service the advertiser is selling). The advertiser pays you every time a customer purchases this offer from your link.
Types of weight loss and weight management affiliate programs.

2 main categories are immediately related to the factors affecting weight and health and these are:
1. Eating Habits
2. Exercise
In the affiliate program landscape, we find advertisers that have holistic offers (that include solutions for the 2 main weight loss factors), and others that have built their reputation on just one product.
The holistic approach to weight loss isn't about strict dieting. These programs address both body and mind including not only meal plans or meal kits but tools to monitor your food intake, exercise, and even sleep.
Let's start analyzing the first category
Eating Habits
Weight loss is 75 percent affected by our eating habits. An analysis of more than 700 weight loss studies found that people see the biggest short-term results when they change their eating habits for healthier ones.
This first category includes products we consume to lose weight, like weight-loss supplements, special foods, and drinks, meal kit services or meals prepared for certain diets, and weight management plans and apps.
It's not a secret that to lose weight we need to get into a specific diet. We would be lying if we say that by eating pizza and lasagna day in and day out we could drop those extra pounds. There are a lot of different diets that can be interesting to your niche and all of them offer some affiliate commissions that you will very much like.
What are the different types of diet?
A study made by Statista shows that more than 40% of the people in the United States start a diet each year. Out of that percentage, 100 million people's reason for watching their diet is weight loss, being this the top reason on the list.
There are 45 million people who do a diet to maintain their weight. Just think that every user that successfully dropped weight and hit their weight goal now needs to stay there.
For these lucky and hard-working achievers, there are weight management programs, offering to monitor track and make their lives great.
Other diets are related to cholesterol, sugar blood levels, allergies, heart diseases, calcium deficit, gluten intolerance, lactose intolerance, amongst many others.
This article is just focused on diet affiliate programs related to weight loss and weight management.
Diet Trends to lose weight in 2021
Yes, diets have their 15 minutes of fame too. Even more, now that we are hyperconnected. Some diets we might have done or heard about before, and are just the product of great re-branding.
While in the '80s the low-fat products were taking up all the shelf space in supermarkets, and fast-food restaurants were a luxury, In the 90s low carbs were in vogue. Today we embrace natural fats like avocado or olive oil, ancient grains, and raw food.
We found 3 Diets that are related to weight loss and management: The ketogenic, Paleo, and Mediterranean Diets and 2 Systems for weight loss: Calorie counting and Intermittent fasting.
Better known as "Keto", is based on getting more calories from protein and fat and less from carbohydrates inducing the body to a prolonged ketosis state of burning fat. The system is quite peculiar and it requires previous evaluation and a serious self-preparation to be able to achieve losing weight with a ketogenic lifestyle.
Keto diet saw the biggest increase in adoption in the United States and there are a lot of Keto affiliate programs that might interest you.
From gadgets to programs including meal plans and community support, the keto world has a great landscape of affiliate program opportunities.
This diet is built around what people eat in the places bordering the mediterranean sea.
It encourages users to maximize the intake of fruits, vegetables, and grains. Avoiding red meat and instead eat poultry and fish. Privilege olive oil over animal fats like butter or lard. The carbohydrates should come from unrefined, fiber-rich sources like whole wheat and beans.
The concept is centered on the foods presumed to have been eaten by early humans. It typically includes lean meats, fish, fruits, vegetables, nuts, and seeds. Foods that in the past could be obtained by hunting and gathering.
Paleo diet limits foods that became common when farming emerged about 10,000 years ago. These foods include dairy products, legumes, and grains.
It's not about what to eat or not to eat but when. You cycle between periods of eating and fasting.
What happens with intermittent fasting is that the insulin levels drop when a person is not consuming food. During a period of fasting, decreasing insulin levels cause cells to release stored glucose as energy. Repeating this process regularly, as with intermittent fasting, leads to weight loss.
While some of the calorie counting programs don't restrict the kind of foods you can eat, the goal is to stay within a target number of calories per day.
You can decide between having a slice of pizza or 3 full meals of delicious fruit and veggies. By counting the calories you take, you become more aware of what foods are more caloric and you start choosing a smarter way to feed yourself.
Noom for instance, speaks about caloric density and gives users a huge amount of hacks and tips to change dense foods for others rich in water and vitamins.
These 5 weight-loss diets are the ones we found the most amongst the best weight loss affiliate programs and the ones that have a higher amount of adopters in the US right now.
There are gluten-free, dairy-free, vegan, vegetarian, plant-based diets and so many others that are not specifically meant for the goal of losing weight. Some people claim that these diets can also help in the weight loss process, but they are more related to dietary restrictions or preferences.
This leads us to the second big challenge of weight loss. Get our bodies to burn some fat and our brain to stay focused. Let's talk now about exercise.
Exercise
We hold our hopes high that with the covid-19 vaccination progress, our lives will get back on track, literally. This past year our living rooms were adapted into offices, schools, and gyms or yoga studios.
The fitness business had to adapt also to social distancing and confinement. Apps and plans with virtual instructors gained force and guess what, they also have affiliate programs!
This exercise category includes activewear, fitness, and workout clothes affiliate programs. Being fit is a trend and how you get dressed for this matter is a valuable factor of the business. Leggings, training shoes, and other apparel and gadgets used while training reserve you a good volume of offers to affiliate with.
Some exercise trends to lose weight
During the pandemic, one of the things we had to let go of, was public sweating and sharing, obviously. On the bright side, we slowly adapted to training at home which has the benefit to spare us a couple of hours driving to the gym and back plus taking a shower in our own clean bathroom.
The trend is so huge that 73% of the people who changed the gym for the living room training, express that they will continue to exercise this way once normality is reinsured.
The trends for 2021 are very interesting and obviously, there is a good amount of offers in the affiliate program space.
Trend 1: Virtual Fitness.
We bet you tried a fitness app during confinement too! They are great, need barely any equipment and you can jump straight from your bed to your pair of sneakers, to the shower.
HIIT (High-intensity interval training) is huge in virtual fitness to lose weight and there are some very cool apps and programs to burn calories and help to drop weight offering nice commission rates.
Trend 2: Training Outdoors.
After confinement, we all appreciate nature and the uncrowded spaces. As gyms move their equipment outside, people are also more attracted to walking, biking, or hiking.
One of the consequences of this trend is the need for gear, gadgets, and apps that track improvement, as well as digital fitness communities to support and encourage the weight loss process.
Trend 2: Mindset: Mind and body connection
This was trending before covid, but the need for relaxation intensified the words yoga, meditation, and pilates in 2020.
Yoga can help the metabolism but also gain muscular tone (2 very important things during weight loss) while providing that headspace we all need so desperately nowadays.
Pilates is a popular low-impact exercise. It is effective for toning up, building lean muscle, and improving posture. Pilates also helps us be more conscious of our body developing a strong mind-body connection as we exercise.
Meditation: There are not a lot of studies related to weight loss and meditation. However, being conscious about our thoughts and actions can help us with the food intake issue in an amazing way.
Using meditation to sleep is also a good technique in the weight loss process as sleep issues affect deeply our weight gain and loss.
Highest paying weight loss related affiliate programs
1. Horizon Fitness Affiliate Program
Description: Horizon Fitness has provided exercise equipment since the '80s. With gyms being closed as a consequence of the pandemic, people started investing in their own fitness equipment to be able to train at home.
Affiliate Program Commission: 8% of each sale. The average order is $800 which leads us to an average commission of $64 per sale.
2. Lumen Metabolism
Description: Lumen is a very important accessory for those who want to lose weight with a ketogenic lifestyle. By breathing into the lumen device, the users will know if they are in ketosis.
Affiliate Program Commission: $50 per sale.
3. HealthyWage
Description: Healthy wage gives cash prizes to make weight loss and fitness more fun and effective.  It lets you make a personalized bet on your own weight loss -- prizes up to $10,000.  You can play with the Prize Calculator all you want without commitment.
Affiliate Program Commission: $50 per lead
4. Martha and Marley Spoon

Description: Martha Stewart and Marley Spoon's Meal Kit delivery service, delivers balanced meals to your door and adapts to various diets. This can be a great help if your users are on the path of losing weight and have no time to plan healthy meals.
Affiliate Program Commission: $25 per new
5. Keto-Breads affiliate program
Description: Bread is one of the most difficult things to leave out of our alimentation and a great tool for weight loss that your users will appreciate. KetoBreads is a compilation of easy-to-follow bread recipes that are both paleo and keto-diet-friendly.
Affiliate Program Commission: 74% commission which represents somewhat around $19.
Best weight loss affiliate programs
Description: WW Belongs to the calorie-counting programs. It offers a scientifically proven program for weight loss and wellness, with Digital, Studio, and Personal coaching solutions to help meet the client's goals.
Affiliate Program Commission: $10 per new client
2. Bistro MD

Description: Bistro MD is a meal kit subscription plan that combines a love for great-tasting real food with the unique knowledge that food is medicine. This program has the benefit of being designed by real doctors to address issues like weight or diabetes.
Affiliate Program Commission: $45 per new client purchase
3. Fitbit
Description:
Fitbit belongs to the apps and gadgets group we spoke about earlier on.
Counting steps and calorie intake are some major activities during the process of losing weight. Fitbit is the ultimate gadget and app for this purpose.
Affiliate Program Commission: Up to 7.2% per sale
4. Bulletproof
Description:
Bulletproof is a "biohacker plan" that promises your users to lose weight and be stronger and healthier than ever. Besides the program, they sell high-performance food, drinks, and supplements.
Affiliate Program Commission: 10-50% per sale
5. Do fasting
Description: DoFasting is an easy 3-in-1 solution for weight loss. Choose a fasting method that fits best into your lifestyle, learn to prepare healthy meals, and implement simple workouts into your daily routine.
Affiliate Program Commission: $10 for each sale you deliver
How to promote weight-loss offers
Weight loss is related to health and this carries a very important responsibility. We will never get tired of repeating how important it is to know everything you promote in-depth and be conscious of the niche you are talking to and the benefits or risks this certain product brings to your audience. For the promotion of weight-loss affiliate programs, choose to promote things or services that are respectful to your audience.
Social Media Marketing
Social media marketing simply is the use of social media to promote and market a company's products and services.
The great thing about social networks is that they allow us to provide detailed demographics which let us target and reach almost exactly the people we need to reach with our ads.
You have built or are building a community of people that likes something specific and they see you as an authority in this subject. You know your people, at least you know exactly why they follow you, and if you are thinking of weight loss as a product or service that your public can relate to, they most probably will.
Tiktok:
In simple terms, TikTok is a superb alternative that allows you to promote affiliate offers and connect with ultra-engaged users.
That said, setting up a TikTok affiliate marketing campaign isn't always easy, especially if you're new to this network.
Fortunately, at lemonads we've seen hundreds of affiliates develop successful campaigns using TikTok traffic, so we're familiar with the steps you have to take to monetize this type of traffic.
We have built a very complete guide on how to use TikTok for affiliate marketing that we suggest you read if you are active in this platform and have the correct audience to promote weight-loss products and services or any other product or service.
Facebook
Facebook does allow you to do affiliate marketing on your fan page, but, that doesn't mean that you are not allowed to spam everyone with your affiliate links on your Facebook ads. If you do so, Facebook will pretty simply ban your page.
Facebook provides very important insights about your page's activity such as views, likes, reach engagement, and other statistics.
If you do your SEO and affiliate marketing wisely, Facebook is a great opportunity indeed.
If your social platform of predilection on Facebook, here you have a complete article about Facebook page affiliate marketing that will help you promote in a perfect way some weight-loss or weight-management products and services.
Instagram
If you are more about gorgeous pictures and stories, you are maybe an Instagrammer and you are so right to be it!
According to Statista, as of January 2021, Instagram counted 1.2 BILLION active users.
Instagram doesn't allow you to place outgoing links. The solution: a permanent link in your bio where you have all the promotions you are promoting.
You can also opt to change the link on the profile description to match the product in every individual post. This represents an additional step every single time you schedule a new publication.
All customers behave differently on social networks, so you need to make the right adjustments to ensure that your posts have a higher chance of converting.
If you want to learn more tips and all about IG for affiliate marketing we have you covered as well. You can read Instagram for affiliate marketing to learn how to monetize your IG activity step by step.
Youtube
YouTube Affiliate Marketing is the process of making money by creating videos that lead viewers to buy recommended products through affiliate links placed in your videos via annotations, or in the video descriptions.
In theory, it is ok but in the practice, it would be super weird to just paste links in your description that no one will click on.
You really need to create video content that relates to the offers you are promoting and that encourages your viewer to click on the links and convert. Remember to tell them to go and click to discover more about the product, otherwise, you are losing your time and those affiliate bucks will never cash in.

Comparison websites
Comparison sites have become much popular almost immediately after the E-commerce revolution. What's great about the price comparison websites, is that they help customers save a lot of time and money while online shopping.
Just think like the client booking a flight:
The route from A to B has at least 6 airline offers and multiple schedules. For this client traveling on a budget, it would take hours and hours to find out which flight at what time is cheaper, or faster!
Now think about the opportunities in your niche.
Comparison price websites are great and they provide a profitable business opportunity by drawing noteworthy revenue from affiliate advertising and sales.
If you want to learn more about comparison websites in affiliate marketing at lemonads we have crafted a special article about it.
Content marketing
It refers to the marketing that involves creating and posting online material such as blogs, videos, e-books, infographics, and more.
Content marketing is meant to answer your audience's questions. You can build trust with your audience, improve conversions, connect with your customers and generate leads.
To do content marketing these are a few steps we would suggest you take:
1.Topic Hunting
If you are going to create content about weight loss, the first thing you should take into consideration is to choose a topic with a proven track record.
Go and check what your competitors are producing content about. Make a list of the topics that have the most social share, comments, or likes.
A great way to find topics is by checking all of your competitor formats. Maybe, besides their blog, they have a youtube channel or a podcast. Check their episode list on iTunes or Spotify. Which episodes were more successful?
This way you can learn that users informing themselves about losing weight are more attracted to 30-day challenges, or magic pills… Maybe your competitors are lacking the extra sauce you have on your shelf? Make a similar piece of content but make it even better, more complete, less complicated...
Google trend is a search-trends feature that shows how frequently a given search term is entered into Google's search engine relative to the site's total search volume over a given period of time.
You can get a good idea of what cities or countries are most likely searching for a topic and this can be useful to target your social media ads too.
Another great idea for topic hunting is going to the online communities. Reddit or Quora is great to check for trending topics. On Reddit just type the topic you have in mind and see which themes have more interaction.
2. SEO
Once you have chosen your topic, plan your keywords with SEO. How?
Easy: Type on Google, Youtube, Bing, and Amazon "weight loss" and see what are the top phrases these networks suggest to you. Those are not simple sentences but valuable keywords for you to use.
3. Content Format
Is it going to be a blog post, a youtube video, an e-book, a podcast, or a quiz? Content formats are diverse. The most important thing about creating content is to know what format better works for you.
Example: If you are a great writer maybe you'll create a unique blog post about weight loss. Or if you are great with the camera, you will create a very complete video about the different diets to lose weight.
Connecting with your audience is easier if you do it in the way you have the most talent.
4. Why is it important to publish amazing content?
2.6 Million Blog Posts are being posted in a single day. This means you have to create really good content if you want to stand out and be relevant to your audience.
Always think about bringing solutions or answers to your readers, viewers, or followers. Don't write for the sake of writing, or shoot for the sake of shooting. Study the subject, give valuable insights and be as original as it gets in your proposition.
Conclusion
Weight loss hosts a great number of opportunities for you in affiliate marketing. However, this topic is strongly linked to health. You need to be very responsible for whatever you promote and suggest to your audiences.
Study the theme, give your audience good and valuable information and make sure the product or service you promote makes sense in the context. Publish good pieces of content that bring you high-quality traffic.
If you are working on content related to losing weight you don't necessarily have to promote offers of meal plans or supplements. There is a safe bunch of products in the app, gadget, and apparel sections that may sound less intrusive to your audience.
If you do go all-in with diets, there are healthy offer options that can be valuable for your public with no risk and 100% compatible with your principles.
If you need some guidance or have any questions, contact us! We sure have great offers in the weight-loss affiliate world.
If you are ready to rumble, apply as a publisher on our network.
If you want to keep learning, subscribe to our newsletter.  We have 3 super interesting posts a week.
Accelerate your Conversions, Increase your Revenue
with lemonads
---
You would like