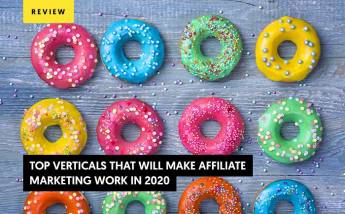 Top Verticals That Will Make Affiliate Marketing Work (Update for 2022)
Focusing your advertising efforts on one niche is crucial for affiliate marketers. There are probably many theories to affiliate marketing and running up for your business in the particular industry but it depends which strategy works for you. But the first step you'll have to take into consideration is choosing the right vertical for you.
The vertical market definition is "a market within which sellers provide products or services that serve the needs of a specific buyer demographic or niche, such as a certain type of person, interest, business, or profession."
Verticals in affiliate marketing follow the same principles as those for any other type of business model, and you might want to work with a vertical marketing network to sell products or services that are bespoke-designed to appeal to a specific niche.
If you are all set to start your journey as a successful affiliate marketer, you need to have a good understanding of what an affiliate marketing vertical is. At lemonads, we tend to go a little bit further and give you some insights on what verticals will be trendy in 2022.
"From what we see at lemonads, some verticals are being more and more explored by publishers, such as Home Improvement and Astrology, these non-classic categories will keep being developed. We also notice more publishers specialized in Finance offers. It is not an easy vertical to work on but if you make your way on it, it can be very profitable. Then, we always have the usual ones: Food, Nutra, Sweepstakes, and Ecommerce that will continue to be on the top verticals for next year", explains Nelson Nascimento, Head of Publishers at lemonads.
Each affiliate, working in different niches, will give you his own unique answer. We won't dictate any vertical you must choose. But in order to help you differentiate between the industry's verticals, we have narrowed down some of the large verticals that are still going strong in 2022. Forecasts that are very interesting...
Love Dating:
Dating affiliate networks are a specific niche of the wider affiliate partnership world that specialize in promoting products and services pertaining to dating websites and hook-ups. To put it clearly, to the extent that people will continue to be attracted to others, Online Dating will continue to be one of the main verticals of affiliate marketing with a continual stream of awaiting buyers looking for services of this type. Given the size and appeal of the dating industry, many creators and marketers want to profit from it.
Why dating affiliate partnerships tend to be so lucrative for committed affiliates? It comes down to a combination of factors, which provide a range of advantages to the affiliates that promote them in terms of making it easier to achieve success. Those include a high level of probability of achieving ongoing or repeat sales, a range of effective ways to market and promote dating content, including both paid adverts and free promotions that simply require your time and input rather than any financial commitment. But also, a continual waiting stream of new buyers looking for content from within the niche, and a high degree of flexibility open to affiliates in terms of where and how you promote your content, ranging from banner ads and external links to the blog posting, social media engagement, and much more. To conclude, it is easy to find high-converting traffic with Dating, especially through Facebook that is a good traffic source highly appreciated (we mean qualified...) by advertisers. Read Affiliate Dating Case Study.
Nutra:
The term "nutraceuticals" encompasses all products that come from food sources and have an additional benefit besides nutritional value. Nutra affiliate networks connect publishers with affiliate programs that advertise health and beauty related products or so-called Nutra. Given the nature of these products, there are several channels that are more efficient than others for publishers to promote Nutra offers, such as native traffic, Facebook, Instagram, paid search and driving traffic to a landing page via Search Engine Optimization. Particularly Instagram, being the number one choice for people to express themselves visually, allows publishers to present various cosmetics front and featured and yield high returns. According to predictions, The Nutra industry is expected to surpass the 300 Billion mark by the year 2023, and affiliate marketing has a huge role in these predictions.
Sweepstakes:
People will always love to participate in contests for the chance to win something! That is why Sweepstakes offers will be always one of the most interesting and stable offers in affiliate marketing. Another reason explains the importance of this vertical: many mobile content advertisers have switched to Sweepstakes due to the new regulations coming from the carriers. Affiliates have been able to promote these offers successfully on multiple traffic sources and on multiple GEOs.
To be a part of the sweepstakes, the client needs to put in their name and surname, email, phone number... Some of the most popular prizes to win from sweepstakes are mobile phones, shopping gift cards, and travel offers. The affiliate marketer gets a commission when a user completes a sign-up process. The chance of winning top prizes means publishers can drive traffic through exciting sweepstake offers. Entering to win the latest IPhone, for example, could boost sales conversions and revenue for publishers. There are three main types of sweepstakes : the CC Submit where the user needs to enter bank card data and subscribing through it. From the user write off a certain amount of money. This is the most difficult option but it is also the most profitable one and not all affiliate programs work with it. Then, you have the SOI, referring to the sweepstakes with simple registration (you only need to specify your data). This is the easiest type of offer and has the lowest payout among sweepstakes. And you also have the DOI, referring to the sweepstakes with the need to confirm through your email (follow the link from the letter that arrives after registration). This is a more difficult option to work with but the payouts are higher than in SOI. Therefore, you need to be very strategic about the type of sweep you want to run.
eCommerce:
eCommerce is going to certainly stay on top in 2022. With online retailers, there is always a sale, always a promotion and you as an affiliate need to take advantage and promote as hard as you can. Keep in mind, however, that the success of certain e-commerce offers may be very short-lived, often because of their expiration date. That's why you should implement an aggressive bidding strategy for all your e-commerce campaigns during the shopping-frenzy season. Typically, the CPS model is the most frequent payout type for eCommerce Affiliate Programs.
With e-commerce, there is a wide variety of products and services to choose from. You will never be out of options. Do you want examples of best niches to consider ? Clothing and accessories, education, careers, consumer electronics, family, entertainment. To learn more about the e-commerce vertical in affiliate marketing.
Finance:
A top-trending vertical couple years ago, finance is back at the top of the stage! Ever since the 2008 crisis, banks have been given cheap money by most central banks. In some kind of effort to avoid another dangerous economic catastrophe. Therefore, this is a great opportunity to do some affiliate marketing, because banks need to earn some awesome financial margins from this huge volume of money that was created. Offers which are related to finance appear to pop up like mushrooms when you are talking about personal loans, insurances, home equities, etc. Those traffic sources have to be very well managed, but these offers can be incredibly expensive. Affiliate marketers can focus their attention more on finance than cryptocurrencies, who are touching down after having skyrocketed for a couple years.
Gambling:
The latest technological advancements and commercial initiatives (e.g., gambling with cryptocurrencies) turn online gambling into a very dynamic and constantly changing sphere. Today Asian and African casinos are on the rise as the gambling industry is growing at a significant pace in China, Singapore, and South Africa.
The online gambling niche can bring in huge commissions if properly mined. Casino affiliate niche provides publishers with lots of high-paying offers that are capable to generate high income even with a limited number of offers. Make sure you fit with rules when you promote gambling industry. But even if gambling is more and more regulated, it will be a strong vertical these next years. Another advantage of casino affiliate programs is the fact that they are backed by popular household name brands that greatly help to build trust. Finally high conversions and payouts are available thanks to well tested and high-converting mobile landing pages.
Gaming:
Unless you've spent time as a gamer or around gamers you probably have no idea how utterly obsessed most of gamers are with their hobby. Gamers are happy to spend an almost unlimited amount of time, but also money, on their hobby. That's why the gaming industry is currently worth more than US$113 billion, with the potential of being worth more than US$300 billion within the next five years. So you would assume there are plenty of affiliate programs in the gaming niche and you would be right. The gaming audience has expanded now to include not only consoles but mobile devices too, which makes the gaming niche – generally speaking –  one of the more competitive affiliate marketing niches. And there are plenty of other new innovations in this industry that are gathering momentum. To learn more about the Gaming vertical in affiliate marketing.
Astrology :
Although less famous, other verticals are always strong and stable in 2022. Astrology is the study of the movement of celestial objects and how it can affect a person's destiny based on their birth place and time. The most common type of astrology is your daily horoscope, which has become mainstream and published each and every day in many newspapers. Other types of astrology include Mayan, Indian or Chinese...
Astrologers utilize their expertise in astrology to offer advice about your life and future based on the stars. Therefore, with the potential of this niche, it becomes very attractive to affiliate marketers. As with gaming, there are plenty of innovations and new channels that affiliate marketers can use. Therefore, astrology is not only stable, but still trendy in 2022. To learn more about the Astrology vertical in affiliate marketing.

Home improvement :
Affiliate marketers are looking to capitalize on the very hot remodeling industry and Home improvement are one of them. Many people are looking to remodel and renovate their kitchens, bathrooms, floors, windows, roofs, and other rooms to improve their standard of living and increase the value of their homes. Homeowners take on new home improvement projects to make their home more comfortable, save money on energy, extend the life of their home, or increase their home value. A such, Home improvement could be the top vertical to look at in 2022.
Voice search :
Voice search is a rather new topic, but with a massive push from big players like Siri, Cortana, Alexa, and others. This will have a big impact on our business in the future, when all recent study affirm that half of all internet searches, according to ComScore, will be done on voice searches by 2022. Around 30% of searches will be done without a screen, via third-party tools. You can't put this vertical aside when you want to be a great affiliate marketer.
Bottom line, we all know that the digital world is constantly and rapidly changing, and affiliate marketing is no exception. The market is more diversified now, several new types of offers are appearing. This is also a consequence of more competition in Affiliate Marketing. As an affiliate marketer, you should strive to be ahead of the competition and see where the market is heading before everyone else does. It is so important to be a leader in one vertical before you can start thinking of expanding into other ones. Although it may be overused, there is truth to the phrase 'find your niche'. Marketers are much better off specializing in one concentrated area, than to try and advertise everything and achieve mediocre results. Once this is done, you can then begin to conquer other niches.
To find out more about the dominant verticals at lemonads, visit our dedicated page for publishers.
Accelerate your Conversions, Increase your Revenue
with lemonads
---
You would like