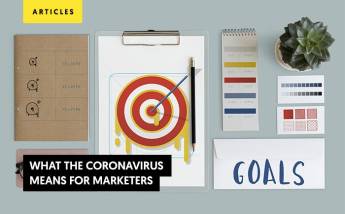 What the Coronavirus (Covid-19) means for marketers
If you're reading this post, then you're familiar with the coronavirus and the disease it causes, which is known as COVID-19. Businesses, as well as affiliate marketers, need to make adjustments and adapt to our new reality. The coronavirus has already had a huge global impact, causing economies to falter and hindering financial growth projections.
Needless to say, it will likely have an effect on your business as well.
So, how can you prepare for the inevitable changes that are already taking place?
This article will discuss some of the trends that are emerging during the coronavirus pandemic and what affiliates should do to keep up.
But First - Avoid Exploiting the Situation!
First and foremost, you should not try to exploit people's fear in order to make a profit.
This is a global emergency and necessary supplies are starting to run low. Hand sanitizer, toilet paper, and protective masks are just some of the items that are being bought and resold for 20 to 100 times the retail price - which is simply outrageous.
Profiting from the fear and chaos is not smart marketing nor entrepreneurship, it's just a type of exploitation that you should avoid at all costs. And, in addition to being immoral (and sometimes illegal), it's an unsustainable business model.
Instead of wasting your time to make a quick buck, you're better off investing your resources into building something that will last.
Now that we've covered this important point, let's move on to the coronavirus and what it means for affiliates.
Come to Terms with the Fact that Business Will Slow at a Global Scale
Even when assuming that the infection rate will steadily decline, global economic projections have already taken a major hit. Most businesses will struggle for at least a year in order to make up for their losses.
Even well-established verticals like the travel industry have seen a major drop in demand. For example, in the US, the tourism sector is expected to lose close to $24 billion by the end of 2020 - and that's counting just foreign spending.
Large companies shutting down indefinitely usually translates to smaller profit margins for everyone. Yes, large entities may be able to cover employee wages for a limited period of time, but smaller businesses can't usually do the same.
It's important for business owners and marketers to understand that their company will be affected in multiple ways. Losing money is almost certain. But you'll also lose web traffic and conversions, so you have to take steps to mitigate this problem as well.
Adapting to Traffic Fluctuations Cause By the Coronavirus
At lemonads, we collaborate with affiliates, publishers, and advertisers from all over the world. As the coronavirus is a global pandemic, we won't be focusing on the impact it will have on a single country or industry. Instead, we'll go over the effect it's having on all industries, businesses, and marketers alike.
Below are three of the most important factors that affiliates and marketers in general need to focus on.
Maneuvering New Organic Traffic Patterns
First off, it's worth noting that the volume of organic traffic decreased for almost all major industries over the last few months. These verticals include agriculture, construction, energy, retail, manufacturing, real estate, and travel, just to name a few.
The good news is that companies in certain industries experienced a major increase in web traffic including finance, healthcare, food, exercise gear, and news outlets.
Traffic volumes for e-commerce related searches decreased in general, but many essential sub-industries saw a big boost, including baby food and grocery deliveries. That said, luxury items and other non-essentials experienced a significant reduction in web activity.
Significant Drop in Conversions
As you can imagine, conversion rates have decreased for most industries across the board. Even industries that experienced traffic boosts are seeing a decline in conversions. Financial services are a good example because consumers want to know about the different options they have available, but it doesn't mean they are ready to convert.
But, similarly to web traffic, several industries saw an increase in conversions. Some of these include:
Healthcare
Media outlets
Pharmaceuticals
Supplements
It's worth noting that some media outlets have gone above and beyond with their marketing and social responsibility. For instance, after identifying a rise in demand, many news outlets in the US have started providing a certain amount of free content before requiring registration. This resulted in a nice conversion boost while allowing these platforms to build a good relationship with their audiences.
Additionally, companies in the travel industry have also taken a head-on approach and are offering massive discounts on bookings for next year's holiday seasons. And, even though the industry is still struggling, this is countering some of the negative effects.
Pay-Per-Click Costs and Performance
Pay-per-click (PPC) costs and performance statistics are harder to track because they are not readily available. So far, some of the trends suggest that there hasn't been a major shift in the cost of most PPC platforms, but the reduction in conversions means that the price per acquisition has significantly increased.
Why is this occurring? Simple, the volume of PPC traffic has remained steady, but it now generates fewer conversions and, therefore, smaller profits.
This appears to be the reality even for verticals that are experiencing a decline in traffic, such as travel and electronics. We predict that most industries will see a rise in cost per acquisition in PPC campaigns, with the exception of those already selling hand sanitizer and the likes.
So, what should affiliates do to mitigate the effect of the coronavirus?
It's Time for Affiliates to Seize the Moment
One of the most important skills you need to develop as an affiliate is the ability to adapt to different trends.
The coronavirus pandemic is a tragic event and a global emergency that will cost almost 3 trillion dollars. For this exact reason, protecting your livelihood and learning how to make the best of the situation is crucial.
So, what can affiliates do to succeed during the coronavirus outbreak?
The most important thing that you should keep in mind is embracing the opportunities you have available.
Again, this doesn't mean that you should set up a temporary project to make a quick buck.
Instead, invest more resources into building solid campaigns. Think about it for a second. Many affiliates are choosing to put everything on pause with the intention of resuming after the crisis is over. Moreover, many marketers will have to find other ways to support themselves, so they are likely to take an indefinite hiatus from the affiliate world.
In other words, the competitive landscape won't be as crowded as it usually is, which can have a great effect on your results.
Take It Step-By-Step
As part of your coronavirus response strategy, you should take the time to identify the industries that are performing well, adjust your buyer personas to help improve performance, and keep an eye out for good deals.
We've already covered some of the verticals experiencing a boost, but you'll also want to identify industries that will remain stable for longer periods of time. When adjusting your buyer personas, keep in mind economic changes as well as social distancing rules and how they affect your audience's interest. And, many traffic providers and CPA networks are also struggling to stay afloat, so you may be able to enjoy some amazing deals thanks to the many platforms making price adjustments.
Affiliates that are lucky enough to have money during the crisis and don't have their own publishing platform will probably be able to make the leap during this time. Many publishers will be looking to sell off their platforms during the upcoming recession, which will give you a bit more power while adding a new venture to your portfolio. Sure, this can mean investing all of your capital, but there's a chance you may be able to cover your investment a few months after the pandemic.
What we are trying to say above is that opportunity comes in the strangest of times. You may see your competitors taking a step back, but this should only push you to increase your efforts. Consumers are still active and interested - now it's up to you to attract their attention.
Stay Tuned for More Tips to Help You Adapt to the New Affiliate Landscape
We all hope that the coronavirus pandemic comes to an end very soon, so the best thing we can do is listen to the guidelines from our local authorities.
Besides staying safe, the main goal for business owners and affiliates should be to seize the opportunities that are currently arising. Don't be afraid to make a bold move, but trust your instincts and immerse yourself in your campaigns.
The lemonads team wishes you to please stay safe!
Want to find out more? Stay tuned to our blog and pick up more tips to adapt to the new affiliate landscape today.




Accelerate your Conversions, Increase your Revenue
with lemonads
---
You would like