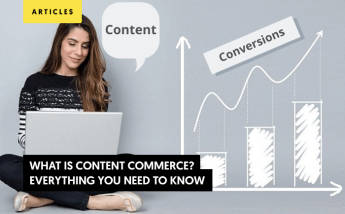 What Is Content Commerce? Everything You Need to Know
As a publisher, your main goals are always to deliver great content and monetize your traffic without sacrificing your page's user experience. But, even though banners and other traditional formats have been around for a while, these types of ads don't always enhance the content on your site or encourage users to explore more pages. Fortunately, content commerce has allowed publishers to weave their affiliate monetization strategies right into their existing content production process.
Our main goal at lemonads is to help publishers find the best advertisers and identify the top monetization strategies for their platforms. Many of our partners actually employ content commerce as one of their top revenue channels, so we understand the benefits as well as requirements of this technique.
In this article, we'll go over the definition of content commerce, its advantages, and explain what you need to know about this monetization strategy.
What Is Content Commerce?
Content commerce is a marketing technique that focuses on promoting products and services using articles, web pages, infographics, and other forms of online content.
Also known as content marketing, editorial content, or content-led commerce, this approach doesn't work like direct advertising. Instead, content developers focus on creating materials for different parts of the funnel in order to inform, educate, and gradually convert readers into leads or paying customers.
When applied to the affiliate marketing ecosystem, advertisers are the companies that want to promote their goods. In this context, affiliate publishers are the content developers that distribute blogs, videos, and other materials through different platforms. But, in order to be successful, publishers need to adjust the way they search for advertisers and build promotional content.
The Benefits of Focusing on Content Commerce
All publishing platforms have unique elements. That said, sometimes it's very easy to identify an affiliate platform because of the small amount of content on it.
Rather than focusing on monetizing all possible areas of your platform, content commerce leverages the power of written words, images, and the other elements that make up your website or app. The goal with content commerce is to establish yourself as a leader in your industry and use your reputation to influence the decisions that readers take.
There are many benefits to focusing on content commerce, with the first one being that your platform will automatically stand out. Content developed for this monetization technique tends to be much longer and comprehensive than the average affiliate article. So, when users read an article designed for content commerce, they tend to trust it more than a direct piece of advertisement.
In addition to the above, some of the advantages of content commerce include:
Engagement
Content commerce isn't only more influential, it's also more engaging than direct advertising. Instead of promoting products to audience members who may have non-buying intents, content marketing materials actually answer the questions that users are actively searching for. Therefore, in-content links and other types of CTAs often get better results when combined with this approach.
Reach
It's no secret that the vast majority of product searches begin and end online. That said, online users are very selective with the content they consume and try to avoid being influenced by ads as much as possible.
Informative, quality content doesn't fit the traditional description of promotional materials, so content marketing techniques allow you to connect with a larger percentage of users without having to boost your traffic.
Profitability and Cost Reduction
Content marketing is known as one of the most profitable online promotion techniques out there, whether it's used directly by advertisers or by publishers. The reason for this is that online users trust reviews, comparison articles, and other forms of content that take a more informative route rather than a direct sales approach.
Simplicity
As we mentioned earlier in this piece, publishers should always focus on developing quality content. For this reason, implementing content commerce should be relatively simple. Instead of just creating engaging content, publishers should study their audiences and figure out what industries can be a good content fit.
Publishers also need to find advertisers within these niches, but once this step is complete, affiliates simply need to follow the same content creation process and include affiliate links in their new materials.
Low-Risk Levels
Let's be clear: content marketing does represent a huge investment in terms of your own time and effort. To be successful, you need to craft quality content that holds value and users will benefit from reading. This takes a lot of time and research, not to mention the fact that you'll also want to find non-affiliate links to prove any claims you make.
With that said, content commerce doesn't bring additional risk in the sense that you won't be sacrificing the user experience, performance, or even other ad formats on your site. All you need to do is create additional pages to place the content in, which can actually result in a higher number of impressions and conversions on your other ads.
How Does Content Commerce Fit in Your Affiliate Platform?
The concept behind content commerce is not new, but it's difficult for many affiliates to make the transition from a direct approach to a more informative angle.
Let's take a look at how content commerce fits in your affiliate platform and how you should incorporate it.
Supporting the Customer Journey Using Content Commerce
Conversions are always the most important result, but the best way to transform users into leads or customers is to support the buyer's journey.  This is why this type of content delivers better performance when it's built for different stages of the funnel.
Top of the funnel materials should be informative while also moving users to the later stages. Middle and low-funnel content can have a more commercial tone, but you should always remain unbiased and avoid using aggressive CTAs.
Synchronize Across the Sales and Marketing Departments
Content marketing requires perfect synchronization between the sales and marketing departments. But, since the sales department isn't usually under the publisher's control, this means that content developers have to work closely with advertisers when creating campaigns.
This is a great benefit because it takes time and resources to craft long relationships, so advertisers are willing to work with affiliates even during low seasons.
Foster a Positive Relationship with Visitors
User experience is everything when it comes to content marketing. As soon as your site has too many pop-ups, annoying banners, or slow loading times, you will lose your credibility. So, for this strategy to work, you have to prioritize your relationship with visitors and ensure that all elements contribute to a great experience, even the marketing content you produce.
Tips to Build the Best Content Commerce Campaigns
Developing a content commerce campaign requires a huge amount of planning and hours of content development work.
Here are some tips to help increase your chances of success.
Keep the Branding and Messaging Consistent
As mentioned before, you need to be in constant contact with advertiser partners to ensure that the content you're producing aligns with their brand. All branding should align with both the landing page and the rest of the advertiser's site, including color scheme, tone of voice, and logo.
Personalize Content as Much as Possible
Besides researching your audience, content personalization requires the implementation of technological elements like web cookies and location identifiers. With that said, online users absolutely love personalized experiences, so tailoring your commerce content can improve the performance of your materials.
Target Creative Markets
It's normal for advertisers to ignore certain market segments because they don't know how to connect with these audiences. Publishers can take advantage of these opportunities and target these creative markets, assuming that these users can be engaged through articles, videos, or a similar type of content.
When Is Commerce Content a Good Idea for Publishers?
Despite the fact that content commerce can produce superb results, this monetization strategy is not a good fit for all platforms. For example, if you own a mobile game or similar publishing platform, you may not be able to incorporate content commerce without a major revamp.
Besides compatibility with your current platform, some signs that content commerce may be a great idea for you include:
You Already Implemented a Customer Management System
Content marketing isn't as easy as adding a piece of code to your site that displays different ads. It requires a planned, organized approach. If you already have different teams that collaborate using a customer management system or CMS, then implementing the changes you'll need to make will be much easier.
You Update Content Regularly
It's true that, after being posted, content marketing materials don't go offline (unless removed proactively), so they don't have to be updated to remain visible. That said, consumer interests, preferences, and overall desires change.
If your content doesn't reflect this, then there's a very small chance it'll perform well over prolonged periods of time. But, if you already work on improving evergreen content on a regular basis, then this requirement won't be a deal-breaker by any means.
You Need to Scale Campaigns Quickly
There are many reasons why you may need to scale your campaigns quickly using strategies like content commerce. For example, consumers in tier-1 regions are not as receptive to traditional forms of advertising. So, if you receive a lot of traffic from these areas, you can use content marketing to scale your campaigns and drive a higher number of conversions.
Examples of Advertisers with Content Commerce Strategies
We have all read materials developed for content marketing, even if we didn't realize they were created for promotional materials. And this is exactly the point.
Take major publications that implement this technique and publish promotional content along with their purely informational articles, for instance. These platforms include affiliate links as well as a disclaimer to inform users, but they don't sacrifice their content or warp it to match the advertisers' goals.
Here are three great examples, as well as the affiliate program they are promoting in the content:
Looking for the Best Content Commerce Programs? Get in Touch with lemonads
Joining an affiliate program from a content commerce advertiser is a unique experience. That said, publishers need to know where to look and how to evaluate partners in order to find the best opportunities. At lemonads, we focus on helping publishers find the top content commerce advertisers in their niches, so get in touch with us today and our team will be glad to help.
Accelerate your Conversions, Increase your Revenue
with lemonads
---
You would like