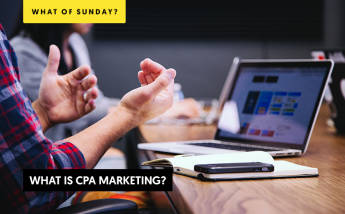 What is CPA marketing?
In this article, we will explain what CPA Marketing is and the different aspects of CPA Marketing.
CPA marketing is an affiliate marketing business model. This is a third parties system where the publisher (you) gets paid for any actions the user is taking on the advertiser's product (the company's offer). In the middle of that comes the CPA network, putting in contact with the publisher and the advertiser.

We are going to explain to you what is CPA marketing, plus we are giving you some strategy tips at the end of this article, so keep reading!  CPA means Cost Per Action or Cost per Acquisition. It is one of the pricing models available to define the prices of online advertising and affiliate marketing. There are many ways to define the conditions of an agreement between an advertiser and a publisher, but CPA is a pricing model that has many advantages, both for the publisher and the advertisers.
So how does CPA marketing work exactly?
The CPA network has a very important role as it will discuss and make it work between the publisher and the advertiser. If you need to read a more detailed explanation of what affiliate marketing is, we suggest you have a look at this article.
You have different options within affiliate marketing to make money, payout type in CPA Marketing : CPL:  Cost per lead CPS: Cost per Sale CPI: Cost per Install  This also means you have to put on a lot of work to make your audience buy this specific product from your affiliate marketing links. So technically, you are working with the company because you are working hard to make a sale for them. On the contrary, CPA marketing is just about creating a lead for them. A little less work, but very good results.
The amazing aspect of CPA marketing is that you can earn money without even selling a single item. You get paid for any action taken on your affiliate tracking link. Now let's be honest, it is not as simple as that. A great CPA marketing strategy will make wonders but you have to work hard for it to be successful. CPA marketing is a great way to make money fast, but it should never be set as your main income. We recommend you use it as a bonus or as an extra income.
What is a CPA in CPA marketing?
CPA is a pricing model often used in affiliate marketing and online advertising and means cost per action (CPL, CPS, CPI). The publisher promotes an advertiser and gets paid after a certain "action" made by the internet user, usually a purchase. It allows the advertiser and publisher to work hand in hand, as they will be driven by the same goal.
How does affiliate marketing work
Affiliate marketing and online advertising are based on a partnership between a publisher and an advertiser. You can beneficiate from the audience, image, and visibility of another website and promote your own business through them.

As a publisher, it's an excellent way to make money from your content, as you will receive a commission on the sales made thanks to the traffic you send to the advertiser. You will be an ambassador of the brand.
Steps of affiliate marketing:
publisher as online content and audience
the publisher promotes an advertiser through banners, links, social media posts…
web users click on the banners, links, posts… and are tracked by a cookie
web users end up purchasing on the advertiser's website
the publisher receives a commission on that sale
A publisher has online content and an audience. There are many different types of content: comparison sites, blogs,  content websites, social marketers, emailers, cash backers, voucher code websites… Each of them has a specific way of promoting other websites, and it can be interesting to adapt your commission to the publisher, as well as to your goals. Those publishers also each have different audiences. Some have a rather feminine young audience, another appeal to deal seekers, or to parents and families. Depending on your target web user, it is interesting to work with publishers whose audience matches yours.
The publisher will promote the advertiser's products through different Marketing tools: banners, social media posts, advertorial, marketplace, newsletters…
Some of the audience of the publisher will be interested in the brand or the products and click on the banners/links. They will be tracked by a cookie, and their whole path after that click will be traced.
They might end up making a purchase (or any other "action" defined by the CPA, such as subscribing to an email, filling up a contact form, etc).
In exchange for that sale (or other action), publishers receive a commission. It is usually a percentage of that sale, but it can also sometimes be a fixed price per action (i.e. $5 per subscription to a newsletter).
The CPA pricing model is a way for publishers and advertisers to work hand in hand. Publishers become ambassadors of the brand, promoting their products with the hope that their audience will end up buying them.

What is a CPA in affiliate marketing?
CPA means cost by action or by acquisition. It is one of the pricing models available in online advertising. It means that the advertiser will pay a commission to the publisher when that action or acquisition is made.
What that "action" or "acquisition" is, needs to be defined in advance by the advertiser. It usually refers to purchase on the website, but it can also refer to a lead generation (especially in B2B), a subscription to a newsletter… It depends on the advertiser's strategy and needs.
In affiliate marketing and online advertising, publishers have online content and an audience. They promote advertisers on their Marketing tools through different marketing mediums such as banners, links, product catalogs... When web users click on those mediums, they are redirected onto the affiliate's website. Their internet path is followed by a cookie. It allows us to know which actions the web user takes once on the website. If their visit leads to the determined action (i.e. to a purchase), that action will be tracked and the publisher will receive a commission.

How do you make money through affiliate marketing?
As a publisher, you might be wondering how you can monetize your audience or make money from your blog. Affiliate marketing or online advertising can be the way to do that. It will allow you to promote other websites, brands, or businesses on your content, and earn some money through it. In other words, it allows you to monetize your audience.
There are different ways to promote an advertiser, depending on your content, the advertising spaces available, your habits, and the way you interact with your audience. You might want to put banners on your website, or write articles about a brand with tracked affiliate links, or even promote their products directly.
The internet users that will click on your banners or links will be redirected toward your advertiser's website or Landing Page and will be tracked by a cookie. If they end up making the "action" defined by the CPA, you will receive a commission.
Most of the time, that "action" defines a purchase on the website of the advertiser: when one of your readers clicks on a banner, gets redirected to the advertiser's website, and makes a purchase there, you will receive a commission on that sale's amount. However, that action can sometimes also be defined differently. For example, with B2B advertisers, an acquisition can be a so-called "lead generation", such as the filling of a contact form or subscribing to a newsletter. B2B advertisers' goal is to collect leads (potential buyers) and stay in contact with them until a sale is agreed upon. As the buying process is very different for them than on an e-commerce website, their goals in advertising are also different. But B2C e-commerce websites might also sometimes define that acquisition differently, for example, if they want to increase their newsletter subscription, they might have an online marketing campaign with a CPA for newsletter subscription.
As a publisher, you will be the brand's ambassador. CPA marketing is a very rewarding way to make money through your blog, as you will share your favorite products with your readers, and you will be remunerated if they buy them. It doesn't cost anything to your readers, so it's a win-win situation for everyone!
What are the advantages of the CPA pricing model?
Affiliate marketing and online advertising rely on a partnership between a publisher or advertiser that wishes to promote their business (i.e. increase sales, brand awareness, or traffic on their website), and a publisher that has an online audience and advertising spaces. The publisher promotes the advertisers' products and earns a commission in exchange. That commission is called CPA (cost per action) and is defined as a percentage of the sale value (i.e. 5% CPA means you will receive 5% of the amount of the sales).
CPA means cost per action. It is a pricing model used in affiliate marketing and online advertising. The action can be a purchase, a lead, a subscription… This pricing model ensures the advertiser a good ROI.
Over time, pricing models in online advertising have evolved. The double click rule created over 20 years ago already attempted to help advertisers receive qualified traffic. They would only pay for clicks followed by a second click, therefore avoiding paying for useless traffic. It was also set up to avoid misuse such as site under, robot generated clicks, and so on, and to generally improve traffic.

The tracking and cookies on the web allow being extremely accurate when following internet users' paths from a website to another and allow to create of new pricing models based on the end of that path rather than on a click.

What pricing model should you choose?


The CPA pricing model has many advantages for publishers and affiliates. It's the best model to ensure strong collaboration between advertisers and publishers, it makes publishers feel committed to the brand and included in the sale process, and it allows affiliates to have excellent control over their ROI.
For advertisers, the CPA model is the best model to ensure a good ROI. With CPA, they will only pay a commission to publishers when a certain action (sale, filling of a contact form…) is made. It allows them to have complete control over their costs, and to pay only when their goal is reached.
If you are an e-commerce website, paying a commission to publishers when a sale is made allows you to have complete control over your ROI. Affiliate marketing, therefore, becomes the most stable marketing channel you can have. You will be sure that your ROI will always respect the goals that you have been assigned. You will never pay for unqualified traffic or useless impressions: you only pay when a sale is made on your website.
As a publisher, receiving a commission on sales from a brand you like is very rewarding. You become an ambassador of that brand. It's completely free for your readers, so it's an excellent way for them to support you if they like your content, without spending any more money than they would have anyway. If you work with brands that suit your audience, you are just sharing products or brands you love with your audience and get paid for it. For example, if you have a blog about fashion, you can write about your favorite styles and post pictures of your outfits. If you include tracked links in your article, your readers have an opportunity to buy the clothes they like, and you receive a commission. In other words, your readers buy things they love, and you receive a commission on the sales. It's a fair game for everyone.
How to make the most of CPA marketing?
CPA Marketing is performance-based, so if you give time and energy to it and some hard work and effort will eventually pay. The good part is, you only have to work hard once in the beginning, and from there, it's pretty easy to make some serious money out of it. Now you probably want to know how you could get started with CPA Marketing? Let's give you some guidance and you will let us know if you feel like taking the step. Here we go.
1. Find the right offer
For your CPA marketing campaign to perform, we highly suggest you find an offer that suits you as a person or your business. People following you on social media or regularly visiting your website probably trust you already. Now you want to keep this. It will be a very precious friend to have by your side during your CPA marketing campaign. That is the main reason why you need to find a good fit to blend the offer you are going to sell within the content you are already posting.
The goal is to attract the right audience, not to scare people away because you are spamming them with content they did not sign up to see or because it is really obvious that this item you are promoting has nothing to do with your lifestyle whatsoever. There are a lot of offers out there including weight loss products, insurances, dating apps… you can find something that will suit your approach to life and the content you share with your audience. Keep it real and sincere.
2. Choose a CPA Network
Choosing a CPA network is a big choice. We recommend you check every detail of their offer. Who are they partnering with (and also if they have partners in your area of the world)? You also want to know if they have perks and benefits, for example:
A dedicated and expert support
A real-time performance monitoring system
The platform is easy to use
They have a good tracking technology
They have extra content to share with you, like tutorials, etc.
It's important to choose wisely your network because your whole experience is going to depend on that.
Once you find your perfect match, you need to apply to that network. Now if you are only just starting, you won't have a lot of experience. CPA networks are looking for people that have some experience in terms of affiliate marketing, or that generate a lot of traffic on social media or their websites. Just because this increases the chances of earning more money thanks to you. Let's admit this is quite logical.
But don't lose hope, that doesn't mean you won't get accepted. If you have an engaged community with a good following, chances are you will get the contract. What you have to keep in mind is that you need to first grow your audience, then apply it to the network. Get traffic, then apply.
Continue growing your following then come back and try again. CPA marketing is worth the effort. We highly suggest you always stay honest about your experiences and traffic with the networks as it could just ruin all your efforts if they find out the information you gave about your previous experiences wasn't true.
3. Make efforts to enhance CPA on your website
CPA marketing is very easy to share on all of your different platforms. You can place it on your website, in your newsletter, on your social media, anywhere really. The good thing is that as long as you have traffic, you will have results. The key to a successful campaign is to cover every angle. You need to make an adapted version of your CPA marketing affiliate links for every device, platform, or segmented audience. Mobile CPA marketing is trending at the moment and you could generate a lot of income just through that channel. Think smart and think of all the possibilities to share your offer.
4. Plan a strategy to bring traffic
Okay, putting links on your website or socials is great. But you need an action plan. Here are our best tips to bring traffic to your platforms and make the most out of your CPA marketing offers.
SEO (Search Engine Optimization)
SEO is probably the number one thing to focus on in the long term. Organic growth of your website to go up the ranking will significantly increase traffic as your website will show up on the first page of the Google search results. Search Engine Optimization works with keywords, so starting a blog and talking about a topic close to your offer would be the smart move in the long shot.
SEM (Search Engine Marketing - Google Ads or Bing Ads)
On the other hand, SEM makes you pay to sponsor your keywords to the top of the list in the search results. But this does not guarantee you conversion, so it's a big risk to invest in AdWords if you never did CPA marketing before. We suggest you start by trying to promote the offer within your community first.
Social media is a subtle way to redirect your followers to your website or your offer. It's an easy principle: you share what you love, you share what you think your friends will love. It's a more direct approach and the proximity feeling makes it easy for users to take action.
Now, this is a great way to convert your audience into action takers. Emails have the power to be a very intimate way of sharing content, as it feels like a one-to-one conversation. Plus, you can segment your audience into interests, and that is the most amazing tool you could use for your CPA marketing offer, as you will know, who will be more likely to take action. Don't forget to always place a call to action in your emails, leading to your CPA offer, with of course a tracking link (so you know which link worked best).
Same as Google Ads, Facebook Ads or Instagram sponsored posts will allow you to target your audience and you will have high chances that people will take action on your ad. Make sure to always work on your visuals and choose impactful images to spark your audience's curiosity.
If you are interested in learning more about affiliate marketing, check out our article for the best affiliate marketing course list.
What is CPA marketing? conclusion
CPA Marketing may seem like an easy task to earn a lot of money, but it requires a lot of effort to make it work. It may take time to take off, but eventually, you won't have to do anything anymore to make money. You must choose an Affiliate Network with CPA campaigns that work well. CPA Marketing is known to be a great passive income. Some marketers even made a few million with only CPA marketing affiliate programs. So what are you waiting for? If you have what it takes, you should give it a try. Remember: everyone has to start somewhere. Grow an audience. Choose an offer. Apply for that network. Plan a strategy. Stay honest and build trust within your audience.
Accelerate your Conversions, Increase your Revenue
with lemonads
---
You would like