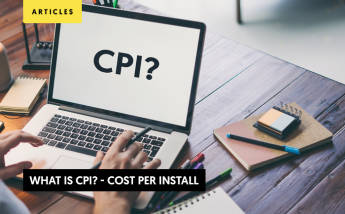 CPI - What is Cost Per Install?
Have you been searching and wondering what CPI, Cost per Install truly means? In mobile marketing having clear acquisition, metrics is crucial for successful planning, and this is why we'll explore the meaning of various costs in user acquisition to clear up your thoughts.
The cost-per-install simply indicates the cost for each installation of your mobile app on the various channels used.
It doesn't matter if your app was launched as its own product, or used to supplement your existing company; it's still a business. Like any other business, your app needs to be profitable to survive and earn profit from achieving the goals you've set!
How? Naturally, this means you'll need to keep track of certain metrics that are relevant to your business model.
Before we proceed any further, let's check and delve deeper about what we'll cover in our article through:
What Does CPI Truly Mean?
The Importance of CPI
CPI - Cost Per Install's Formula
CPI - Cost Per Install Campaigns
CPI Mobile Marketing Strategy Tips
CPI - Cost Per Install Statistics
CPI - Cost Per Install Pros & Cons
CPI - Cost Per Install Final Conclusions
What Does CPI Truly Mean?
CPI, as the might of you know as Cost-per-install, is mainly the metric per excellence when it comes to mobile marketing performance campaigns.
What does this mean? The cost-per-install indicates the cost of each installation of your mobile app on the various channels used. It is important to underline that, in performance campaigns, cost-per-thousand (CPM) or cost-per-click (CPC) is not important for ROI purposes, since in most cases, advertisers pay per installation, rather than per impressions or clicks.
Surely, there are other metrics you need to keep an eye on, but CPI should be at the top of your priority list and since some of you may have heard of CPI, but don't really know what it means or how to use it, we're here to uncover all you need to know to understand its importance.
The Importance of CPI
Cost-per-install is not only important in install app campaigns because it represents the actual cost of acquiring an active user, but it is also important at the beginning of mobile marketing, as we often referred to the CPD (cost-per-download).
CPD was limited to trace the time when a mobile app was only downloaded and not opened on the mobile device, but over time, advertisers have begun to realize that downloading is not a metric of interest as it does not represent any activity and may result in fraudulent activity.
To understand this concept better, let's see how it works!
With CPI campaigns, digital ads are placed to drive installs to a specific mobile app, and Businesses are then charged a fixed rate or bid rate whenever the app is installed.
Let's see the CPI's Formula!
CPI - Cost Per Install's Formula
How do you calculate an app's cost per install? It's actually not that complex at all! All you need to do is divide the total spending on ads by the number of installs, so the equation to work out the cost per install couldn't be simpler than this:
CPI = Ad Spend ÷ Installs. What does this mean?
Simply the total ad spends, which is the amount of money used on a set of ads, and the total measured installs, which is the total number of installs of an app that are counted by the advertiser's server.
The total spending on ads will vary on different factors:
Pricing can be based on a fixed amount or bid amount.
The rates will also depend on the advertising networks and publishers that you're using to display your ads.
CPI - Cost Per Install Campaigns
CPI campaigns are strictly made for mobile apps and let's see how the campaigns work out!
Let's imagine a mobile app owner or developer that decides they want to promote their app with paid advertisements.
They will then start working with advertising networks or publishers directly to increase the exposure of the app.
Then, advertisements are placed within other apps or mobile websites, in various formats. There are so many various formats to choose from, so let's check some of the most popular options:
Banners
Videos
Native
Interstitial
OfferWall
As a user clicks on the advertisement, and that click leads to an installation, the advertiser (which is the app owner) gets charged, and this is just one of the many pricing models!
So let's check other options of pricing models for the app advertising campaigns, including Cost per mile (CPM), Cost per click (CPC), Cost per action (CPA), and Cost per view (CPV).
In the case of a CPM campaign, advertisers get charged just for ads being shown. The other models are pretty self-explanatory.
If you compare the CPI to these other campaigns, you'll realize that it's much more important since as a business, you know that you're paying for ads that are actually working as users get directed and are led to app installs.
With that said, CPI campaigns will usually cost more than these other formats, and now that you have an idea about how the cost per install works, here are some tips on how to optimize your mobile marketing strategy with CPI!
CPI Mobile Marketing Strategy Tips
Target the right audience
Targeting the right people is crucial to guarantee how successful your campaign is going to be, so let's see what you should do!
Something you could really point in focusing on would be starting to concentrate on users that you know have downloaded apps with similar features to yours.
For example, if you're advertising on animal's food, you should target people who already have installed some apps to keep them informed on animal's food.
How? Keep in mind that there are several tools out there that allow you to target app audiences according to the apps they have installed on their phones! This would be a very good start!
Next, it's time to optimize those post-install actions!
Optimize Post-Install Actions
It's time to move beyond the install to find a new currency through analyzing and optimizing the app marketing by considering the Post-Install Event!
What is A post-install event? It's simply any event or action taken by the user after she/he has downloaded the app.
Post-install events can include an app start, registration, usage metrics such as time spent or pages viewed, achievement or level, app content views, adding items to cart, and even by making an in-app purchase!
Focus On Income
If your app doesn't charge any amount to be downloaded and relies on in-app transactions to make money, it means that a simple download will not be enough for your application to get a return on investment.
We usually recommend that you focus on your target allowing you to achieve that main goal you've been setting: earning actual audiences which simply means that the audience that got directed to your app, might be more interested in what you're selling, they would likely make their first purchase or spend a certain amount of money!
Remember, it is important to choose a platform that can provide different metrics to track payouts, make the right adjustments when necessary, and optimize your campaign to generate revenue!
So, let's check now, some CPI statistics!
CPI - Cost Per Install Statistics
Let's delve deeper into the different CPI rates!
This will be very precious for you to know how to negotiate prices with a publisher and check if what you are currently paying is in line with the average rates!
Of course, if you realize you're paying a bit more but your campaigns are successful, don't let them go, they could be more efficient than others!
The average cost per installation for mobile apps worldwide, states that the average CPI for iOS devices is $2.37 in the US, $0.98 in China, and $0.22 in Brazil, with Android apps at $0.44, and iOS apps at $0.86.
Overall, the average global CPI is $2.24, when taking every region, platform, and device into consideration.
The average cost per installation for Android devices is nearly half the cost of iOS devices. This means it's less expensive to get Android users to install your app.
Let's check the Cost per App Install by Device:
So if you're running CPI campaigns, the rates shouldn't be the same for iOS and Android devices.
Choosing a CPI Network
Now that you have acquired a basic understanding, it's time for you to pick that CPI Affiliate Network (or CPI Network) for your mobile app which fits your needs better.
As you think "So many networks … which one to pick?" These are many factors that you need to take into consideration, so let's check the following factors:
Prices
Surely, you want to pay the right price for your advertising. Most platforms have the technology to track market averages and bid at levels set by you, but there may be a commission on top of that for the platform, the ad network, or the process.
There are other times when you could be paying a premium rate, such as if you add an action contingency to the agreement. In this case, you wouldn't be charged until a user completed a specific action in the app after the install!
Remember though that the least expensive isn't necessarily the best...
Category
Some certain publishers and networks specialize in specific niches. It's better to go with a niche network, assuming your audience falls into that category.
This is much better than targeting a mass audience, but remember that installing an app doesn't necessarily mean that it will be "exploited", so, make sure people actually use it!
Ad networks
Ad Networks aggregate advertising inventory from a large number of publishers and combine it with requests received from the advertiser side. Sources that offer traffic to an Ad Network are usually composed of publishers or direct mobile applications.
Certain advertising networks work with publishers in specific locations. So you'll want to make sure that you're getting a wide enough reach to hit your target market.
Many Ad Networks offer advertisers a wide range of advertising formats, banners, native ads, videos, but you can also find Ad Networks that focus exclusively on a specific format.
Are you thinking if CPI is really worth it? Like everywhere, there are some pros and cons, so let's get a better view!
CPI - Cost Per Install Pros & Cons
Here are some pros and cons that many advertisers have incurred:
CPI Pros
CPI campaigns target your app's niche audience.
Guaranteed Installs, get what you paid.
Swiftly creates buzz around your app. During the app launch or in other moments when you need to increase the popularity of your app this is the solution for your intent.
CPI Cons
Costs get higher in accordance with competition in each app category: If you want to promote a game that runs on iOS in a country like Australia, then you must prepare your budget for this type of plan.
It is a complicated process for Advertisers to create a successful campaign: because you need to go and try several ad networks to get the best ROI out of your ad campaign.
Drive low-quality users: The main goal is to attract users. To engage them you need to create additional plans.
CPI - Cost Per Install Final Conclusions
CPI is truly important for the success of an app and it's also an easy formula to calculate. What would be very important is to concentrate on costs that vary by device, operating system, and location, so make sure you find the right networks and publishers to meet your needs while staying within your budget.
We hope our article "what is CPI ? - What is cost per Install ?: what it is and how it works" truly
helped you understand better the concept of the importance of CPI - Cost per Install that will drive you into launching a successful campaign!
Accelerate your Conversions, Increase your Revenue
with lemonads
---
You would like