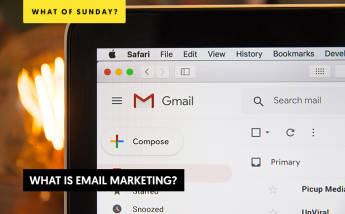 What is email marketing? Definitions, practice examples and tips.
In terms of marketing strategy, there are some methods you need to know about. We made you a very complete email marketing guide and added a few tips and tricks at the end to help you grow your business the right way. Hop on, and let's get started.
Definitions
Email marketing is one of the main methods to generate some serious leads and build trustful relationships with your audience. With over 3.9 billion email users all over the world, emailing is not to put aside. We believe that more than half of all the Internet users are checking or sending emails every single day. That means emails are providing one of the largest reach for marketing strategies. Plus, emails are versatile enough to follow us through the years and will always be as useful as they were back in the early days of the Internet.
So what exactly is email marketing? And why is it important in a marketing strategy?
Per definition, emailing consists of sending a message directly to someone through the Internet. Same principle as mail, but virtual. Which means that it is a more personal way to communicate with customers than social media for example. In this case, social media is exposing content for anyone to see, whereas emails consist of sending a private message to someone specific. To be very clear: if you are speaking to a crowd, you won't get everyone's attention. But if you talk to each person individually and face to face, you will get their attention every time. Well it is the same for email marketing. Experts have proven that you have more chances to be heard and seen by sending an email than posting something on social media. Plus you have the ability to target your audience, and that is the reason why email marketing makes a massive difference in your marketing strategy.
Why do email marketing?
We will give you a few reasons to believe in the power of email marketing. Listen up and take notes:
Acquire new customers and generate leads
Email marketing is a great way to get new customers. All you need to do is grow a good email list through your platforms, whereas it is your website, social media… and plan a strategy around those emails.
Email marketing is an amazing channel to get directly in touch with your crowd! You can get personal in your emails and share content you didn't share anywhere else on your socials. Your content will feel more intimate and special.
Another great use for email marketing is to promote your content. Keep your subscribers updated with what's going on on your website. A new blog post, a new interview, podcast... Keep it fresh and alive.
You are also inevitably allowed to promote your products in your emails, but make sure to build trust and share something more than your products. Nobody likes to receive emails with no thought to it, just a raw invitation to buy cheap discounted products. Which links us back to building a relationship.
Why should your business do email marketing?
Let's go straight to the point here. Email marketing is cheap. It is successful. It is easily measurable. You can see who opened your emails, who didn't receive it, if it went directly in the spam filter… the feedback is incredible and makes it easy to adapt your emailing campaigns.
It's no secret that emailing lists are a great way to acquire customers and to actually make sales. In fact, two thirds of customers made a purchase through an email marketing message and it is 40 times more effective than Facebook and Twitter combined. And if you are still not convinced, email marketing has a high ROI. An email usually generates around $38 for every dollar spent, and that makes a 3,800% return on investment.
Practice examples
There are a few different ways you can use email marketing to get in touch with your crowd. Here is a short list of a few examples on how to use this method to significantly improve your relationship with customers.
1. Personalized emails
The amazing part about email marketing is that you can segment your customers to make it personalized. The more data you have about your subscribers the more you can send relevant content to each of them separately. Break your list into sub categories including: interests, age, preferences, region… This data is precious for your marketing strategy.
2. Scheduled newsletter
Sending a newsletter with exclusive content is a great way to make your customers feel special and keeping them in the loop. It's a common practice for brands to send newsletters regularly and it's a great way to include CTA (Call To Action) in your emails. The goal is to invite your readers to visit your website. And to invite your visitors to subscribe to your newsletter.
3. Transactional emails
Email marketing also includes transactional emails. These emails are automatically sent to a customer to confirm an order, a payment or sometimes only to remind the customer that they forgot an item in the shopping cart. These emails are very often triggering emotions, making the customer feel guilty and making him rethink about buying that item. It's important to add impactful visuals, power words and all the necessary links to your website in those emails.
4. Don't buy emailing lists
To finish this list of practice examples, we had to show you a bad practice of email marketing. Here is the common mistake brands make when they start emailing as a strategy: buying an email list with thousands of emails. First of all, the people receiving your emails will probably feel spied on, if not attacked, privacy-wise. The other negative aspect of buying a massive email list is that there is a higher chance that your emails end up in the spam box. Your emails' delivery rate will decrease and you will end up with poor statistics and a low ROI. In a few words: always get your emails organically.
Now you know the basics about emailing and why you should definitely consider implementing an email marketing strategy to your business plan. Because we are amazing, we concocted a list made of our best tips to get some performing emails sent to your customers.
5 email marketing tips
1. To grow your own list, offer a freebie on your website
We don't know a better way to grow your list. This technique has been proven to be really effective, the customer won't hesitate to give you his email in exchange for great free content. It can be a free ebook, some free worksheets, free phone wallpapers… Possibilities are endless in email marketing. Get creative.
2. Build a connection with your subscribers.
We will never say this enough: don't just sell. Get to know who you are addressing your emails to. It is crucial to build trust between you and your crowd. It's about getting personal and treating your subscribers the way you would treat your friends and family. Put thought into it, people will see it and feel it. It will trigger their emotions and will make them feel more connected to you.
3. Be consistent
Choose to send your emails on the same day each week (or month) and at the exact same time every time. It's important to create a habit for your subscribers so it becomes automatic for them to read it at a certain time (while going to work in the bus or subway for example). It is recommended to send your emails between 8am and 10am or between 1pm and 3pm. But the perfect time (and it has been studied) to send an email seems to be on a Tuesday at 11am.
4. Be creative
Use images that catch the eye. A pretty (but short) email is more likely to stimulate the reader which will lead to an action. Make sure your images have an alternative text in case of poor connectivity on mobile phone for example.
5. Verify all your links before you send it
We recommend verifying each of the links you inserted in your email. You also need to add a tracker at the end of each URL to be able to have more insights and feedback on which link performed best in that specific email.
6. Write a good subject line
A subject line that sparks the subscribers curiosity is the most important part of your email. It will determine your opening rate and will invite your subscribers to open it. You can read more about how to improve your opening rates with this article. (link)
7. Always follow the CAN-SPAM rules
CAN-SPAM means Controlling the Assault of Non-Solicited Pornography and Marketing. It protects users from unsolicited emails.
Here are a few tips to avoid falling in that category:
Always write your address and company name in each of your emails.
Place a visible "Unsubscribe" link at the bottom of your emails so that users can easily unsubscribe.
The subject line should always be a hint of what is actually in the email.
Conclusion
We know what email marketing is, we know why your business should consider this as a part of your marketing strategy and we have all the tools to create a great emailing campaign. The good thing about emails is that they will always be around, and they will always be a communicative tool between brands and customers.
No matter what technology people use, they will still use emails. In fact, 55% of emails are opened on mobile and that is a promising number for marketing specialists. Emails accommodate any device and can be read anywhere, anytime. Just make sure that your emails are optimized for all platforms and that it contains relevant and personalized information. An email is an amazing way to connect with your customers and you should really work on it. Send each email as if it was the last chance you had to prove how good your business is. Put love and care into it and it will pay.
Accelerate your Conversions, Increase your Revenue
with lemonads
---
You would like