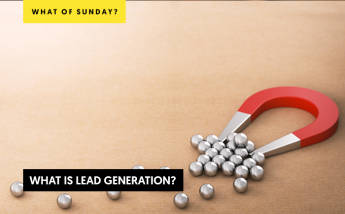 What is lead generation?
In this article, we will define with detail lead generation. But to do so, let's start by defining what a lead is. A lead is a potential buyer, and lead generation is the process of finding, attracting, and raising a purchasing desire in those leads.
In marketing, those leads are generally gathered in a contact list or an e-mailing list. Lead generation can be defined by the different actions taken to encourage potential buyers to fill a contact form or subscribe to a newsletter. That term is particularly used in B2B, where deals and sales are of high value, and the purchase decision process is long.
What does lead generation mean?
Lead generation is the whole process to attract more consumers to a business: finding potential buyers and increasing brand awareness.
What is the lead?
A "lead" is a person who has expressed an interest in the products or services of a company. It can also be described as the contact details of a potential buyer. They can sometimes come with demographic information.
We have to differentiate between sales leads and marketing leads. Sales leads are usually based on demographic criteria such as age, income, geographic information… They are sold in bulk to different companies that are interested in those leads. Marketing leads are brand-specific leads. They have shown a specific interest in the product or service of this particular company. They are only sold once, and have different levels of "qualification", depending on the level of interest of the lead.
Example of leads
For car insurance companies, a lead is a person who is seeking to insure their car. They can find those leads through car insurance portals: when that person gives their contact details on a comparison website, they are a lead for car insurance companies. If that person specifically fills the contact form of a specific car insurance company, then they are supposedly particularly interested in that company's services, and they are a more qualified lead. A list of persons who recently purchased a car is a list of sales leads, as those persons are likely to be looking for would-be car insurance soon, but they are not interested in a brand in particular.
For a company that sells an app allowing users to virtually try clothes, sales leads would-be owners of clothing online shops, as they are likely to be willing to promote their products through such an app. Marketing qualified leads would be a person who specifically subscribes to that app's newsletter, or who fills a contact form on the company's website.
What is lead generation?
Lead generation is a whole process to find those potential buyers, get their attention to your brand, and get their contact details. In other words, it's finding the best ways to attract people to your business.
Qualified leads are essential to a business, as they have shown an interest in your products or services, and you will then be able to nurture them and develop their interest in the products until they purchase them.
Lead generation is the second step of inbound marketing. The first step is to increase awareness around your brand, especially among people who could potentially be interested in your brand. For example, if you are selling car insurance, you can increase brand awareness by advertising on blogs related to cars, car insurance, driving license tips, car purchase… If you are a clothing company, you might advertise on fashion-related blogs, so that fashion lovers know the name of your brand, and have it in mind when it comes to buying clothes. Basically, the idea is to transform sale leads (who are interested in the type of products you sell) into marketing leads (who are specifically interested in your brand's products).
Once you have raised awareness around your brand and attracted potential buyers to your products, you enter the lead generation step.
Here are the steps of lead generation:
A person becomes aware of your brand. They are interested and click on a banner, post, or link redirecting to your website, blog, or social media page. They get to know your brand, products, and services better, and their interest grows. Their interest grows so much that they want to know more or be kept informed. They fill a contact form, subscribe to your newsletter, call you… You have a new lead!
Online lead generation
Originally, leads would be generated through events (i.e. for a wedding decoration brand, by taking part in a wedding fair). At those events, businesses would be in touch with sales leads (people interested in the type of products they sell), which they would then convert into marketing leads (people interested in their products). With the development of the internet, the concept remains the same, but the channels have evolved. You can find your audience and raise brand awareness through different online channels such as search engines, blogs, social media, online advertising…
Attract more leads through the internet
Whether you are an online business or not, the internet can be a very powerful tool to help you reach and nurture new leads. There are many online marketing channels that you can use for lead generation.
Most used channels for lead generation:
Search engine
Social media
According to several studies, email is one of the most used online marketing channels to attract new potential customers. You can buy a list of sales leads with a potential interest in your products and target them per email to increase their interest in your brand.
Content marketing is the creation of quality content to attract new potential customers (your content will be ranked in search engines), share your knowledge and establish a reputation as an expert, and nurture your leads (they will keep reading your blog or newsletters if the content interests them). You can include CTAs (call to action – buttons that redirect to a page) toto redirect them onto a contact form if they develop an interest in your products and want to be contacted by your sales team.
Search engines are a powerful way to attract visitors to your website and increase brand awareness. You can promote your brand organically, thanks to search engine optimization, by producing high-quality content on your website (or blog, social media page, video page…), which will be ranked on search engines (such as Google). Your content will have to be SEO-friendly, but also interesting for your audience. You can also promote your website thanks to search engine ads – also called search engine management. You probably have noticed the first results on search engines are sponsored results. It is possible to boost your traffic by appearing among those ads when specific keywords are entered. You can redirect traffic to your content or directly to a contact form.
Affiliate marketing can be a great way to generate leads. The concept is to develop a partnership with a content creator (publishers) that will sell you advertising space or promote your brand in exchange for a commission on sales or leads. It's a great way to work hand in hand with quality content editors who have an online audience and to generate new leads. You will beneficiate from their expertise and visibility, whilst they will have the opportunity to make money from their blog or content.
Last but not least, social media can be an excellent way to promote your business and attract new customers. You can use paid ads on social media to target potential buyers depending on specific criteria of your choice. You can redirect them to your contact form, or encourage them to follow you on that social media. Another strategy is to encourage social media users to promote your posts, for example by posting a contest where participants have to share your post. Finally, you can attract leads by using hashtags on social media and increase brand awareness.
What is the CPL pricing model?
CPL means Cost Per Lead, and is one of the pricing models available for online advertisement spaces such as banners, search engine ads, social media ads…
Online publishers who have content and an audience can sell you advertising spaces. I.e. a blogger with readers matching your target buyer can sell you a space on a specific page for your banner. There are different ways you can pay for that space:
CPM, which means cost per thousand or cost per mille, is a cost you pay for 1000 views of your ad. It means that you will pay that fee in exchange that your ad appears a thousand times on users' screens. It's great to increase brand awareness because you will pay for visibility. However, the number of clicks or leads you will receive is not guaranteed. CPM can be a good pricing model if you are seeking to make your business more well-known or to secure your image as a leader, but it might not be the best pricing model if you are specifically looking for lead generation.
CPC means cost per click, and with that pricing model, so-called lead you pay a fee for each click that redirects to your website. It's a great price model if you are seeking to increase the traffic on your website, but it's important to make sure that the traffic you get through it is qualified (that the web users are potentially interested in your products or services).
CPL means cost per lead. It means that the publisher promoting you will receive a commission for each lead they provide you – in other words, they will receive a fee for each filled contact form or subscription to your newsletter. It's the best pricing model to ensure that you only pay for leads. Your publishers will be involved and your lead generation process as they will share your drive: generate as many leads for you as possible.
CPA, which means cost per action, is a commission that you pay to the publisher when a certain action is taken by an online user. This "action" is usually defined as a sale on which advertisers pay a commission. However, the definition of that action is up to you. CPA can be a form of cost per lead if this "action" is defined as a subscription to a newsletter or the filling of a contact form. You can also do leadGen via Facebook pages you can read our article: Facebook Affiliate marketing.
Lead management and lead nurturing
Once you have generated new leads, those leads will be in your so-called "lead pipeline". In other words, you now have a list of potential buyers, that you need to lead through the pipelines until they become buyers. This process is called lead nurturing.
There are different ways to nurture a lead. You can send them newsletters that will allow you to keep in touch with them regularly and create a reputation of an expert in their mind. You can also have your sales team email or call those leads according to their process to develop a commercial relationship with them. Social media can also be a good way to keep in touch with your leads and nurture them.
Accelerate your Conversions, Increase your Revenue
with lemonads
---
You would like